My readers have been asking me, " Where are Jill's Deals and Steals from the Today Show? The Today Show deals often feel like secret deals because they often change up their schedule. I will share them here whenever they are live, so bookmark this page or Sign up to get my free email newsletter and have them delivered to your inbox.
Summer's over and it's time to get back in action.




Get organized with these great deals for the busy season ahead!
Chic jewelry cases, trendy beauty organizer sets, personalized photo books, stylish wallets, and versatile canvas bin trios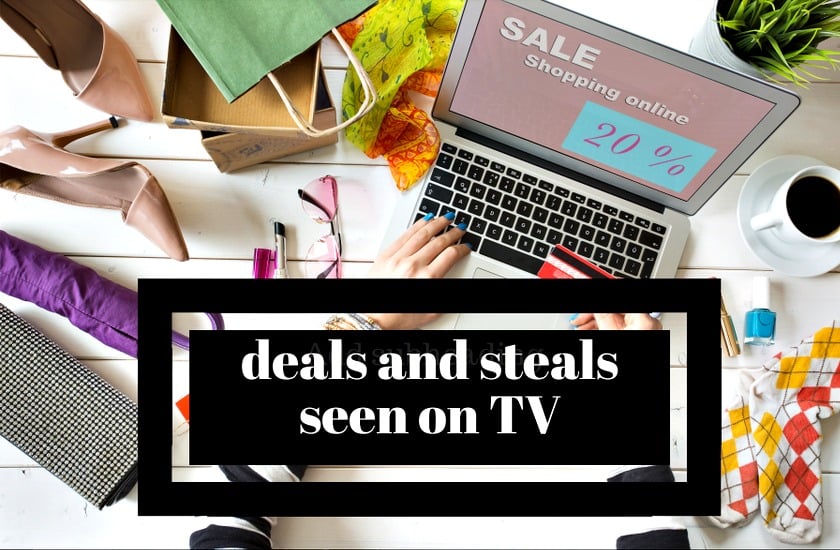 *Important note from More with Less Today —-I am not affiliated with the Steals and Deals from The Today Show, I just share them here along with our other favorite TV deals for our  savvy readers to evaluate. Many deals are non-returnable. Please write down the contact info if you make a purchase. I cannot help you with your purchase or follow up on your purchase. Prices were accurate at the time of posting but we all know they can go up or down quickly, so double check pricing before you order. 
We have affiliate relationships, so we may get a small share of the revenue at no additional cost to you from your purchases. 
Jill's Steals and Deals contains great deals offered by retailers to TODAY viewers.
Please click on the following links to be directed to the offers from the companies we featured, and be sure to read the details. Conditions and restrictions may apply. If you have any specific questions about these details, please contact the retailers making the offers.
Jill's Steals and Deals for September 12th 
Although these Steals and Deals seen on The Today Show have expired, we will share the new ones with you right here just as soon as they are available so check back soon.
We found Amazon dupes for many of the products featured on past Jill's Steals and Deals. You can find them many of them at the end of the post or leave a comment or send an email and our team of deal finders will do their best to find your deal!
MailPix: 8×8 Hardcover Photo Book
MailPix 8×8 Hardcover Photo Book offers over 100-page styles and designs. Includes 20 full bleed 100lb. glossy pages
Steals and Deals Price: $12.00
Regular Price: $76.00
Tahari: Beauty Organizers and Travel Sets
Keep your beauty and makeup goods organized in style with these water-resistant tote and travel case sets. Each set comes in fun prints and colors that are inspired by today's trends.
Steals and Deals Price: $17.00
Regular Price: $50.00 – $64.00
Frog Hill Designs: Canvas Bin Set of 3
Our set of three canvas bins is a stylish way to tidy your home. 100% heavy canvas is strong enough to hold or tote whatever you put inside.
Steals and Deals Price: $52.00
Regular Price: $157.00
Urban Originals: Luxury Vegan Leather Wallets
We create drop-dead gorgeous wallets that are uber practical. We only use materials that are cruelty-free.
Steals and Deals Price: $21.00
Regular Price: $60.00
Hudson+Bleecker: Travel Jewelry Organizers
TSA lines may be tangled up, but your jewelry doesn't have to be. Hudson+Bleecker jewelry cases will keep you perfectly organized on-the-go.
Steals and Deals Price: $25.00
Regular Price: $70.00
Where do you find past deals seen on The Today Show Jill's Steals and Deals?
If you missed out on past Steals and Deals, we found many of them on Amazon. You can check prices, read reviews and see your shipping options in the Amazon Deals and Steals shop we put together.
FAQ's
When do they have new Steals and Deals online?
It varies but we share all the new 2019 Steals and Deals here just as soon as they are available so check back often.
New! Fab home decor from Jill Martin!
Do you love Jill Martin's style? She is often featured in style segments on The Today Show. Did you know that she has her own very successful celebrity clothing line on QVC? It is called
G.I.L.I.
which stands for Got It Love It.
See the Jill Martin fashion line at QVC. 
Want More Deals and Steals?