My readers have been asking me, " Where are Jill's Deals and Steals from the Today Show? The Today Show deals often feel like secret deals because they often change up their schedule. I will share them here whenever they are live, so bookmark this page or Sign up to get my free email newsletter and have them delivered to your inbox.
You will find the ultimate kitchen appliances, can't live without prep tools, gourmet cookbooks, and delectable ingredients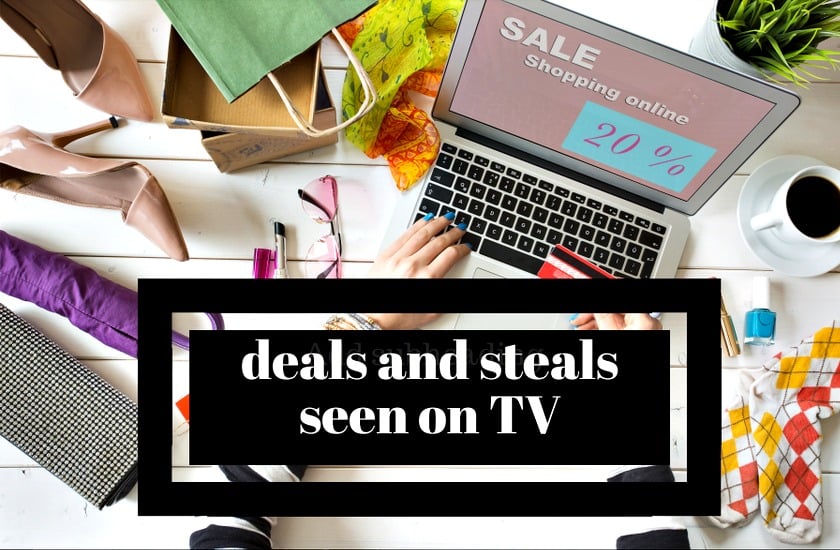 *Important note from More with Less Today —-I am not affiliated with the Steals and Deals from The Today Show, I just share them here along with our other favorite TV deals for our  savvy readers to evaluate. Many deals are non-returnable. Please write down the contact info if you make a purchase. I cannot help you with your purchase or follow up on your purchase. Prices were accurate at the time of posting but we all know they can go up or down quickly, so double check pricing before you order.  We have an affiliate relationship as an Amazon Associate and may earn a small referral commission at no additional cost to you if you shop.
We have affiliate relationships, so we may get a small share of the revenue at no additional cost to you from your purchases. 
Jill's Steals and Deals contains great deals offered by retailers to TODAY viewers.
Please click on the following links to be directed to the offers from the companies we featured, and be sure to read the details. Conditions and restrictions may apply. If you have any specific questions about these details, please contact the retailers making the offers.
Although these Jill's Steals and Deals  from the  Today Show have expired, we will share the new ones right here just as soon as they are available so check back soon!
We found many of these expired deals as well as past deals on Amazon so check them out at the bottom of the post. You still may be able to find a great deal!
Penguin Random House: Cookbook Sets
Cook delicious meals and learn from top chefs in gourmet cuisine with these cookbook sets. Penguin Random House is home to more than 50 Nobel Prize Laureates and 100 Pulitzer Prize Winners.
Steals and Deals Price: $24.00
Regular Price: $57.50 – $78.97
Sharp®: Superheated Steam Countertop Oven
Revolutionary Cooking Experience! Save the large oven for "special-occasion cooking" and start cooking with pure, healthy, water. Perfect for Sheetpan Dinners!
Steals & Deals Price: $249.99
Regular Price: $499.99
Phantom Chef by Phantom Cookware: 2 Piece Cookware Set
Shop a wide selection of beautifully designed, easy to clean and highly functional cookware sets that are environmentally friendly.
Steals & Deals Price: $19.50
Regular Price: $79.99
Remy Olivier: Promix Plus Stand Mixer
For the kings and queens of baking, the Remy Olivier stand mixer is a must! This 600 Watt, 6 Speed, Professional Series mixer presents a simple yet modern design.
Steals & Deals Price: $125.00
Regular Price: $325.00
Magefesa : Fast-Cooking PRISMA Pressure Cooker Combo Pack
Preserve vitamins and minerals with this set of two 4 Qt. and 6 Qt. high-performance stainless steel pressure cookers that reduce cooking time and are dishwasher safe.
Steals and Deals Price: $95.00
Regular Price: $249.99
J.A. HENCKELS INTERNATIONAL: Kitchen 6-Piece Prep Set
Make your cooking easier with Henckel's Definition 6-Piece Prep Set with the most commonly used and precision designed knives and accessories.
Steals & Deals Price: $42.00
Regular Price: $131.00
Alder Creek Gift Baskets: Baking and Breakfast Gift Set
Share delicious morning treats with this Springtime Baking and Breakfast Gift Set in a teal mixing bowl to create memories with family and friends.
Steals and Deals Price: $47.00
Regular Price: $117.99
Is it really a deal? see for yourself…
RELATED

: 
Do you love Jill Martin's style? She is often featured in style segments on The Today Show. Did you know that she has her own very successful celebrity clothing line on QVC? It is called
G.I.L.I.
which stands for Got It Love It.
See the Jill Martin fashion line at QVC. 
Want More Deals and Steals?