My readers have been asking me, " Where are Jill's Deals and Steals from the Today Show? The Today Show deals often feel like secret deals because they often change up their schedule. I will share them here whenever they are live, so bookmark this page or Sign up to get my free email newsletter and have them delivered to your inbox.
Planning a fun summer getaway? Jill found great deals on travel essentials.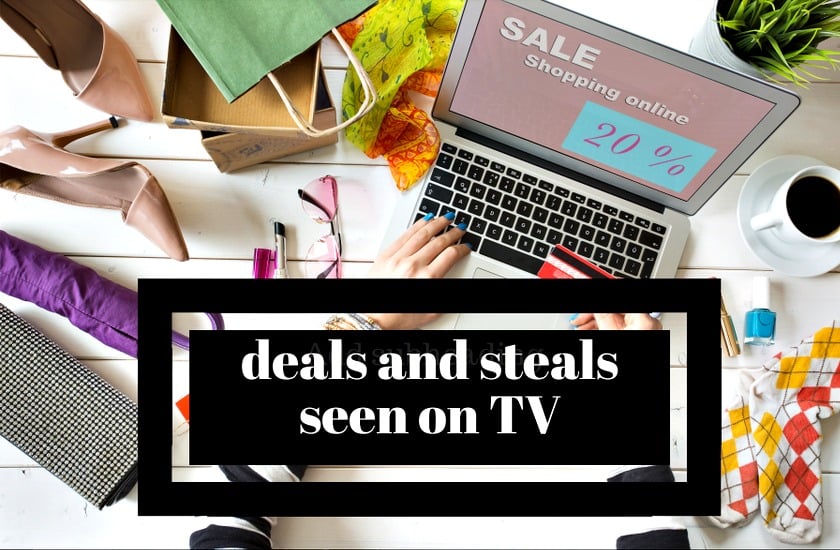 *Important note from More with Less Today —-I am not affiliated with the Steals and Deals from The Today Show, I just share them here along with our other favorite TV deals for our  savvy readers to evaluate. Many deals are non-returnable. Please write down the contact info if you make a purchase. I cannot help you with your purchase or follow up on your purchase. Prices were accurate at the time of posting but we all know they can go up or down quickly, so double check pricing before you order.  We have an affiliate relationship as an Amazon Associate and may earn a small referral commission at no additional cost to you if you shop.
We have affiliate relationships, so we may get a small share of the revenue at no additional cost to you from your purchases. 
Jill's Steals and Deals contains great deals offered by retailers to TODAY viewers.
Please click on the following links to be directed to the offers from the companies we featured, and be sure to read the details. Conditions and restrictions may apply. If you have any specific questions about these details, please contact the retailers making the offers.
Deals We Love Segment for June 11th Seen on The Today Show
Vista Shops: Back-up Solar Power Banks & Chargers
Choose from two water-resistant travel power bank chargers with back-up solar charging in a variety of fun summer colors. Has USB port so you can charge your devices on-the-go.
Deals We Love Price: $19.00
Regular Price: $89.95 – $119.95
Evabella Collections: Palm Sized Jewelry Box
Keep your precious jewels safe and secure while you're on-the-go with this easy to carry jewelry box.
Deals We Love Price: $17.00
Regular Price: $49.99
Soap & Paper Factory: Summer Hydration Sets
Keep your skin glistening for summertime fun, from Soap & Paper Factory!
Deals We Love Price: $19.00
Regular Price: $36.00 – $38.00
Soul Journey Scarves: Modal Scarves with Tassels
Soul Journey presents their Summer collection of colorful scarves! Wear as a shawl to keep you warm on cool nights, or as a sarong with your bathing suit!
Deals We Love Price: $29.00
Regular Price: $58.00
Is it Really a Deal?
We found  some of the same or very similar items on Amazon. You can double check prices, read reviews and see shipping options.
Past Steals and Deals Seen on The Today Show
Although these Jill's Steals and Deals from last week are now expired , the deal spotters on
the More with Less Today team
found similar items on Amazon. You can see for yourself, read reviews and check prices comparison. There are still good deals to be discovered!
FAQ's
When do they have new Steals and Deals online?
It varies but we share all the new 2019 Steals and Deals here just as soon as they available so check back often.
New! Fab home decor from Jill Martin!
Do you love Jill Martin's style? She is often featured in style segments on The Today Show. Did you know that she has her own very successful celebrity clothing line on QVC? It is called
G.I.L.I.
which stands for Got It Love It.
See the Jill Martin fashion line at QVC. 
Want More Deals and Steals?