My readers have been asking me, " Where are Jill's Deals and Steals from the Today Show? The Today Show deals often feel like secret deals because they often change up their schedule. I will share them here whenever they are live, so bookmark this page or Sign up to get my free email newsletter and have them delivered to your inbox.
Get warm and cozy this fall! We've got deals on everything to keep you toasty and enjoying the season indoors and outside!
Stylish women's coats, functional & fashionable men's jackets, luxurious loungewear, beautifully scented candles, chic cashmere hats & gloves, and take with you everywhere hot or cold beverage containers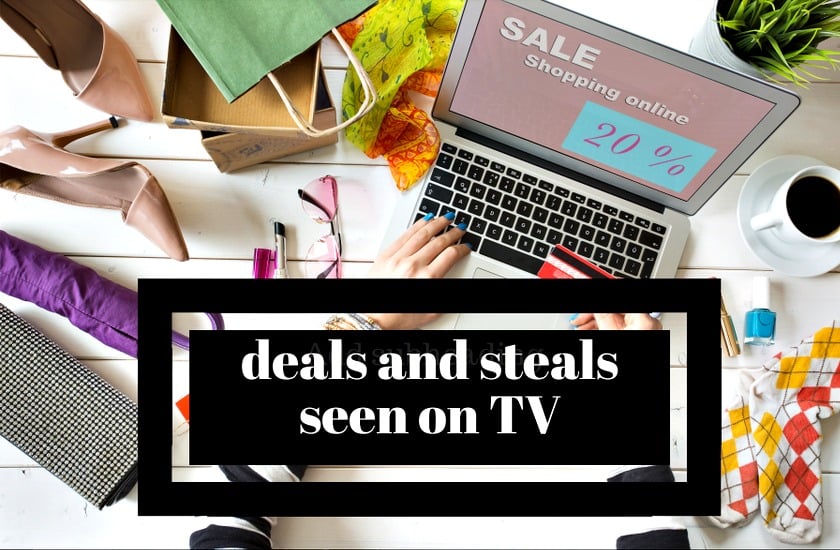 *Important note from More with Less Today —-I am not affiliated with the Steals and Deals from The Today Show, I just share them here along with our other favorite TV deals for our  savvy readers to evaluate. Many deals are non-returnable. Please write down the contact info if you make a purchase. I cannot help you with your purchase or follow up on your purchase. Prices were accurate at the time of posting but we all know they can go up or down quickly, so double check pricing before you order. 
We have affiliate relationships, so we may get a small share of the revenue at no additional cost to you from your purchases. 
Jill's Steals and Deals contains great deals offered by retailers to TODAY viewers.
Please click on the following links to be directed to the offers from the companies we featured, and be sure to read the details. Conditions and restrictions may apply. If you have any specific questions about these details, please contact the retailers making the offers.
Jill's Steals and Deals for October 10th 
Via Spiga: Stylish Women's Coats
Wear these exceptionally fashionable and cozy coats, and stand out from the rest with details that make women feel special!
Steals and Deals Price: $59.00 – $79.00
Regular Price: $220.00 – $400.00
Tracy Porter: Three Wick CandlesThese Tracy Porter candles are composed of a multitude of notes which create beautiful and intoxicating scents.
Steals and Deals Price: $14.00
Regular Price: $50.00
IZOD: Men's Jackets
Stay warm with these men's jackets with fashion and functionality in mind – from the classic American brand, IZOD by S. Rothschild & Co.
Steals and Deals Price: $36.00 – $52.00
Regular Price: $125.00 – $180.00
Portolano: 100% Cashmere Hats or Gloves
Cozy and stylish hats or gloves made of 100% Cashmere make for a perfect fall fashion staple.
Steals and Deals Price: $29.00
Regular Price: $75.00 – $85.00
Pure Fiber: Two-Piece Hooded Robe & Pant Set
Beautiful sleepwear can go a long way. The Pure Fiber two-piece hooded robe sets will keep you extra cozy this Fall season.
Steals and Deals Price: $36.00
Regular Price: $95.00
S'ip by S'well: Reusable Vacuum-Insulated Stainless Steel Products
Vacuum-insulated stainless steel products that bring style, joy, and innovation to sustainable living, keeping beverages hot or cold longer
Steals and Deals Price: $12.50
Regular Price: $24.99
Where do you find past deals seen on The Today Show Jill's Steals and Deals?
If you missed out on past Steals and Deals, we found many of them on Amazon. You can check prices, read reviews and see your shipping options in our Today Show Steals and Deals shop that we put together and are updating all the time! 
Jill's Steals and Deals – September 26th, 2019
For product inquiries or customer service, please contact the brands appearing on September 26th, 2019, Jill's Steals & Deals directly:
Pearl Collective
Featuring one the world's most valuable pearls – a large baroque, natural-color Tahitian Pearl on a long chain.
Frette
Bring luxury to lounging with these plush bathrobes used in the finest 5-star hotels.
Generation Clay
Enjoy a set of 2 clay masks and up your face masking game to keep all your beauty problems at bay!
Sedafrance
Hand-poured long-lasting candles inspired by French design – in signature packaging renowned as "The Gift That Needs No Wrapping."
Panier Des Sens
This aromatherapy collection was developed in France by master perfumers using only the finest natural essential oils, is rich in active substances and free from synthetic ingredients.
FAQ's
When do they have new Steals and Deals online?
It varies but we share all the new 2019 Steals and Deals here just as soon as they are available so check back often.
RELATED: 
New! Fab home decor from Jill Martin!
Do you love Jill Martin's style? She is often featured in style segments on The Today Show. Did you know that she has her own very successful celebrity clothing line on QVC? It is called
G.I.L.I.
which stands for Got It Love It.
See the Jill Martin fashion line at QVC. 
Want More Deals and Steals?