Here are 10 tasty avocado recipes that everyone will love. We all know that avocados are the key ingredient in guacamole but I wanted to find other great ways to use avocados in the kitchen.
Avocados are high in monounsaturated fat, which is a "good fat" that may help lower cholesterol. They are also high in anti-inflammatory phytonutrients, antioxidants, fiber, B vitamins, and many other essential nutrients. I find that by eating avocados, they help to keep me feeling full longer so I have been incorporating them into our meals as often as I can.
So I reached out to my favorite food bloggers to find more tasty avocado recipes for us to try.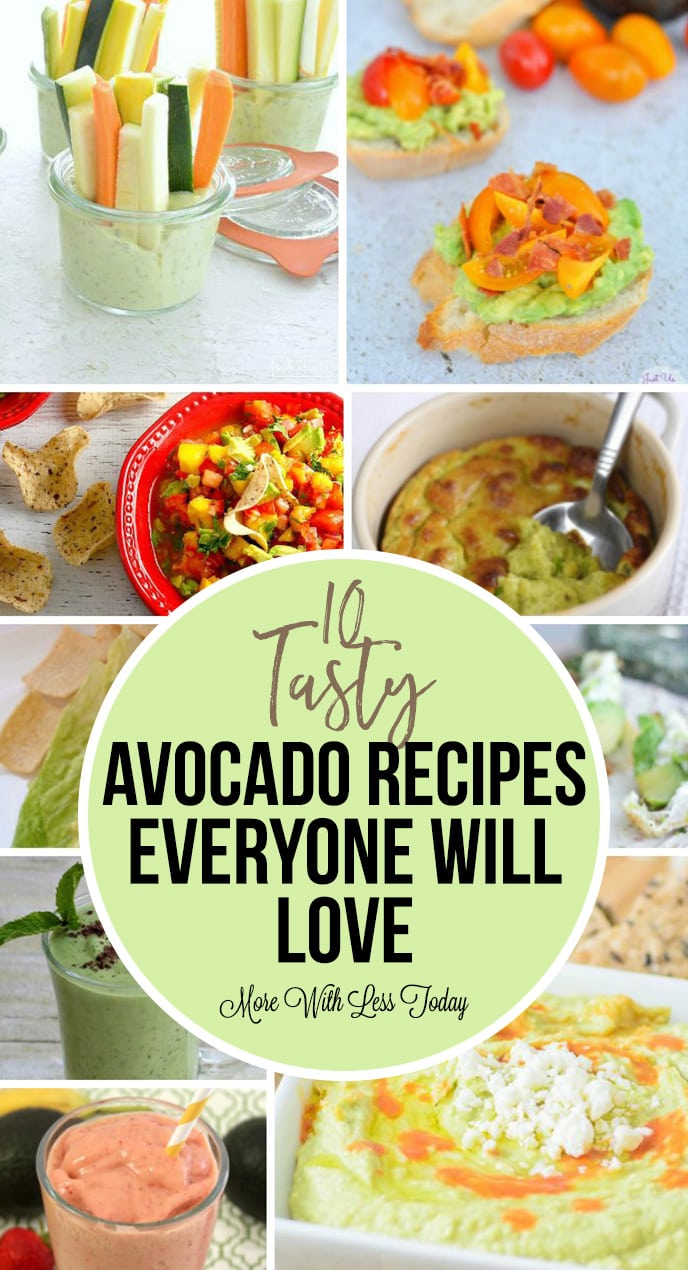 10 Tasty Avocado Recipes Everyone Will Love!
Zesty Avocado & Feta Hummus by Almost Supermom
Avocado Mango Salsa by A Dish of Daily Life
Dill Avocado Dip by Table and Hearth

Bacon Avocado Crostini by My Suburban Kitchen
Bacon Avocado Ranch Egg Muffins by The Pinning Mama
Cheesy Avocado Soufflé by Amuse Your Bouche
Egg Salad Made with Avocado by More With Less Today

Chocolate Avocado Milkshake by 52 Kitchen Adventures
Avocado Sunrise Smoothie by Happiness is Homemade

Do you have a favorite Avocado Recipe? We'd love for you to share it in the comments below.
You May Also Like:
Broiled Alaskan Rockfish with Avocado Lime
Save for Later on Pinterest!