This Greek Salad with Steak Recipe is a delicious and satisfying entrée salad or hearty enough as a main dish. I like to make extra dressing because it is so tasty.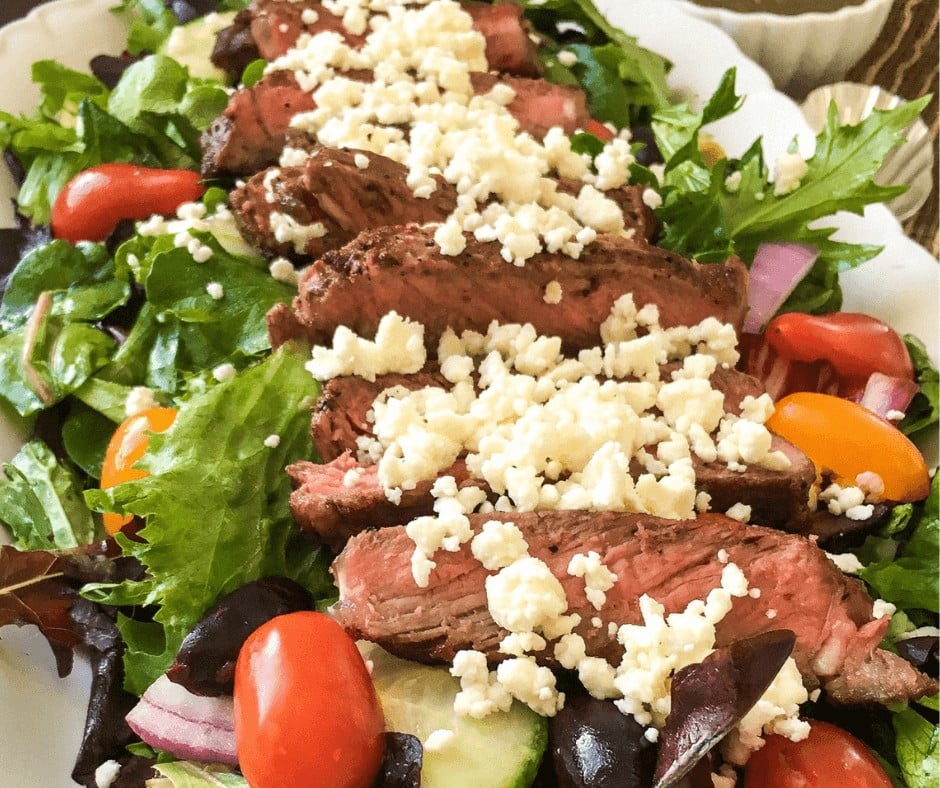 You can work ahead and gather the ingredients ahead of time including marinating the steak overnight. I like to serve hummus with veggies and pita bread as side dishes. We have a recipe for making your own hummus from garbanzo beans here.
We have affiliate relationships which means we may earn a small referral commission at no additional cost to you if you shop using our links.
Prep time: 10 minutes (+ time to marinate)
Cook time: 15-20 minutes*
Serves: 4-6
Kitchen Note
The actual cooking time will vary depending on different factors. Namely, the starting temperature of the beef, thickness, desired level of doneness, and individual oven differences. For best results, allow the meat to rest at room temperature for 30 minutes prior to cooking.
Supplies Used
Ingredients for Greek Salad with Steak
For the Salad Dressing
¼ c. balsamic vinegar
½ c. extra virgin olive oil
1 T. fresh lemon juice
1 t. Dijon mustard
2 t. Italian seasoning
Sea salt and black pepper, to taste
For the Greek Salad with Steak
1 lb. New York strip steak, approximately 1½" thick
1 T. extra virgin olive oil
One large avocado, chopped
1 T. fresh lemon juice
4 c. mixed salad greens (or romaine lettuce)
1 English cucumber, chopped
1 c. grape or cherry tomatoes, cut in half
½ medium red onion, thinly sliced
½ c. Kalamata olives, sliced
½ c. Feta cheese, crumbled
Substitutions: You can also use skirt steak or rib-eye.
How to Make Greek Salad with Steak
#1. For the first step, get a medium bowl and combine the balsamic vinegar, olive oil, lemon juice, and Italian seasoning. Season with salt and black pepper, to taste, and whisk to combine. Set aside.
#2. Add the steak to a large, sealable freezer bag. Pour half of the balsamic dressing on top and seal tightly. Gently turn the bag to make sure the steak is thoroughly coated in the marinade.
Marinate the steak for at least 30 minutes at room temperature (but not more than 2 hours) or place it in the refrigerator overnight. Transfer the remaining half of the dressing to an airtight container and set aside until ready to use.
#3. When you're ready to prepare the salad, place the top oven rack in the center position and preheat the oven to 400°F.
#4. Turn the exhaust fan to the highest setting. Heat olive oil in a large oven-safe large skillet over high heat. Remove the steak from the marinade and discard the bag. Cook steak on a hot skillet and sear on all sides, approximately 2 minutes per side.
#5. Transfer the skillet to the preheated oven and roast the steak to the desired level of doneness, approximately 8 minutes for medium-rare.
**Use a meat thermometer to check for doneness. For this, the steak should be 5-10°F below the desired temperature (e.g., 135°F for medium-rare) when removed from the oven. The internal temp will continue to rise while resting.
#6. Remove steak from oven and transfer to a plate. Cover loosely and set aside to rest for 5-10 minutes.
Making the Greek Salad
#7. Meanwhile, toss the freshly chopped avocado with the lemon juice to prevent browning. Set aside.
#8. Layer the mixed salad greens (or place lettuce). Get the cucumber, tomatoes, red onion, olives, and avocado on a large serving platter and season with salt and black pepper, to taste.
#9. Once rested, pat the steak dry. Place it in a serving bowl with the slices of steak placed on top of the salad. Place crumbled Feta cheese on top and serve immediately with the remaining balsamic dressing on the side. Serve and enjoy!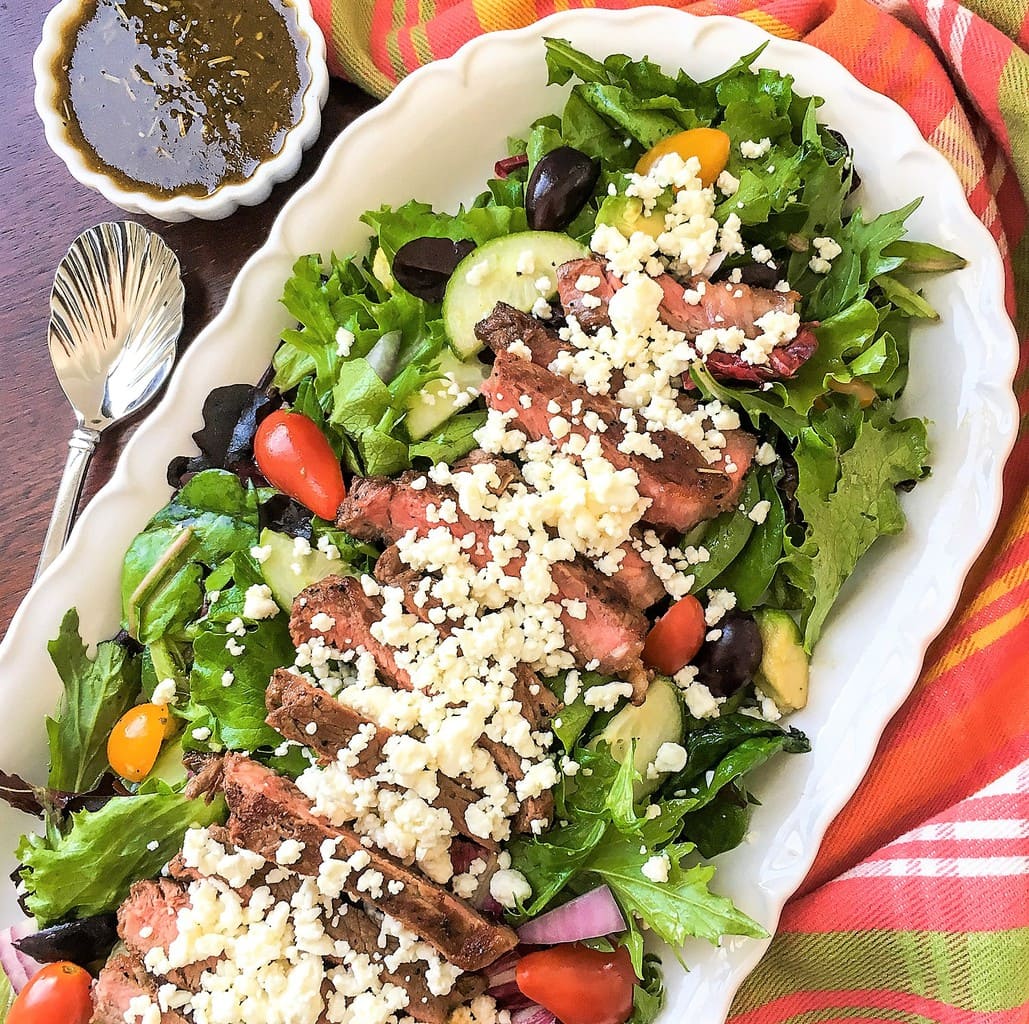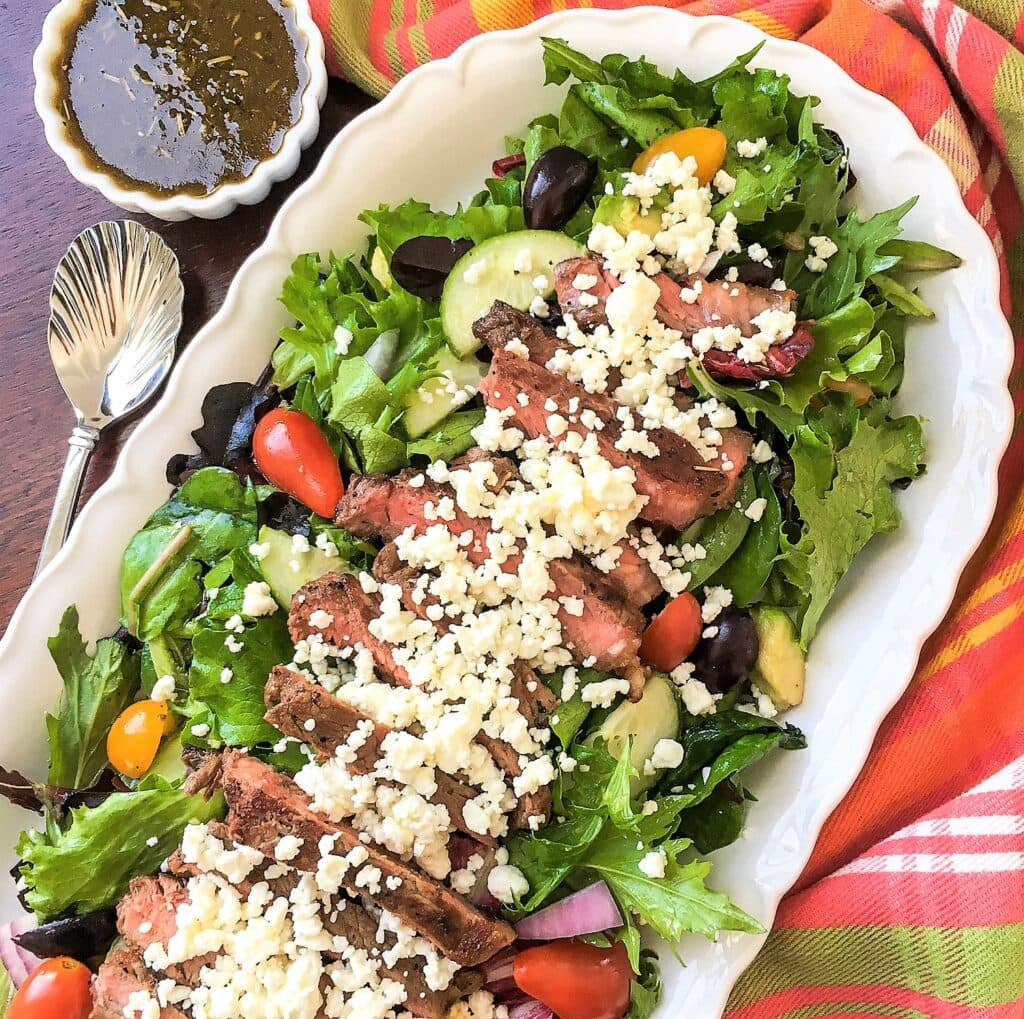 More Salad Recipes To Try
If you've enjoyed this Greek Salad with Steak, I highly recommend trying these delicious recipes:
Make the Most from Your Amazon Prime Membership (try it for FREE!)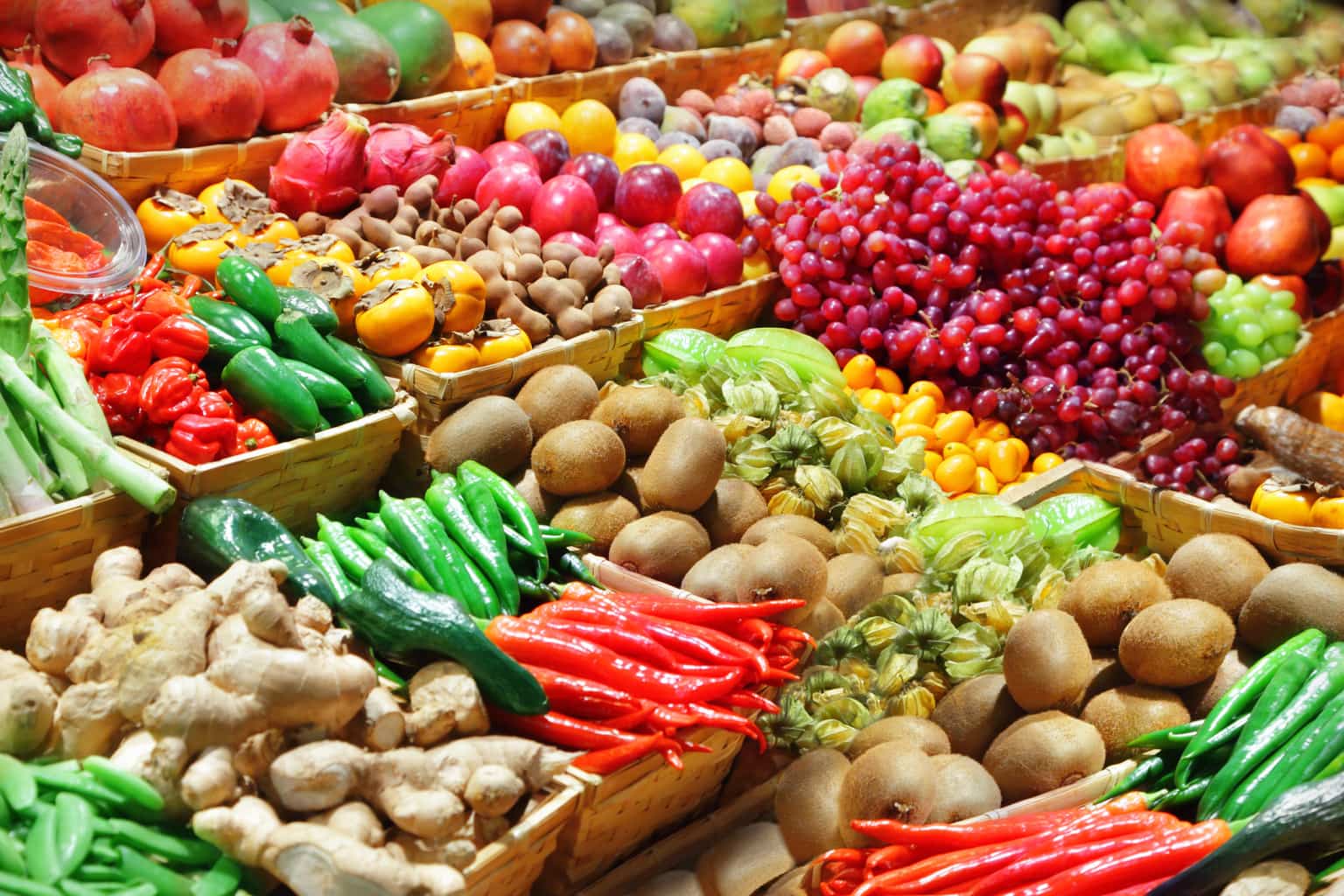 Join Amazon Prime
Try Amazon Prime for FREE with a one-month free trial. After one month, you can decide if the cost of the membership makes sense for you and then cancel before you get charged for the membership. You do need to enter a credit card to access the free month so write the ending date on your calendar and set up an alert so you can decide if you want to keep it or cancel right before your free month ends.
Try Amazon's Subscribe & Save Feature
Have you ever tried Amazon's Subscribe and Save feature? It will save you at least 5-15% on your reoccurring purchases. Plus you won't run out which is especially helpful these days. I use this for our favorite snacks, dog food, vitamins, household supplies, and more. You can pause or cancel orders easily from inside your account.
Save at Whole Foods Market
Find many exclusive weekly deals all over the store, and save an extra 10% on hundreds of sale items. Keep up to date on featured Prime Member Deals every week.
Skip the trip to the store
With Amazon Fresh, get 2-hour delivery on just about anything. Check here for availability in your area.
Here are 30+ Tips to Save More at the Grocery Store
Kitchen Gadgets To Make Cooking Easy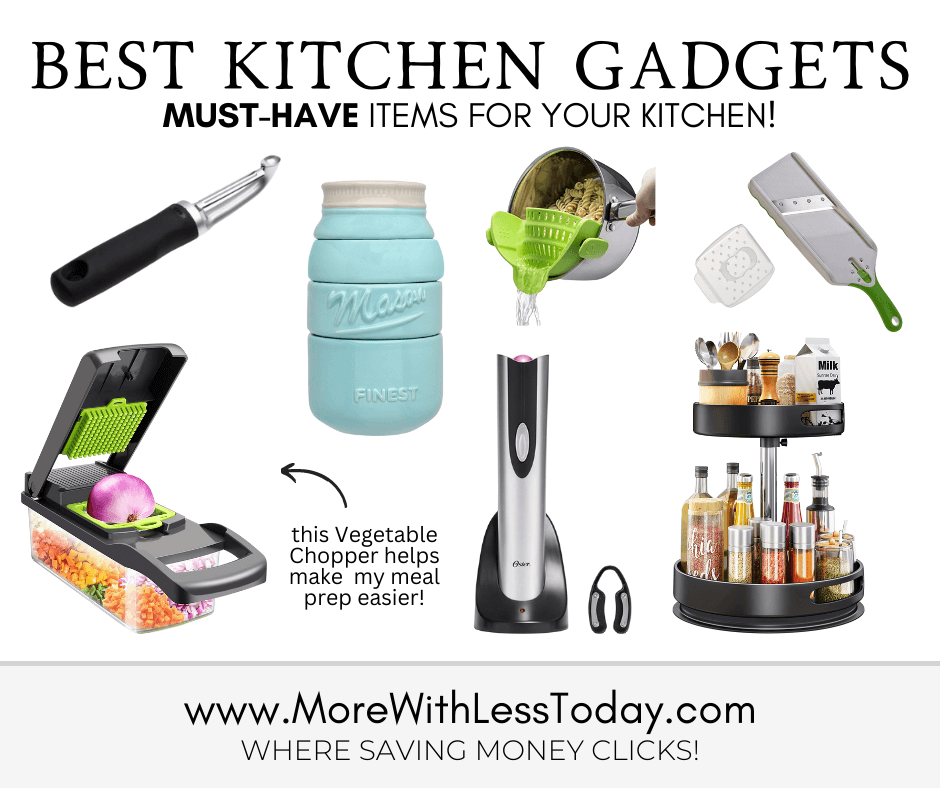 Click here to see my favorite affordable kitchen gadgets that make cooking easy!
Sign Up for Our Email List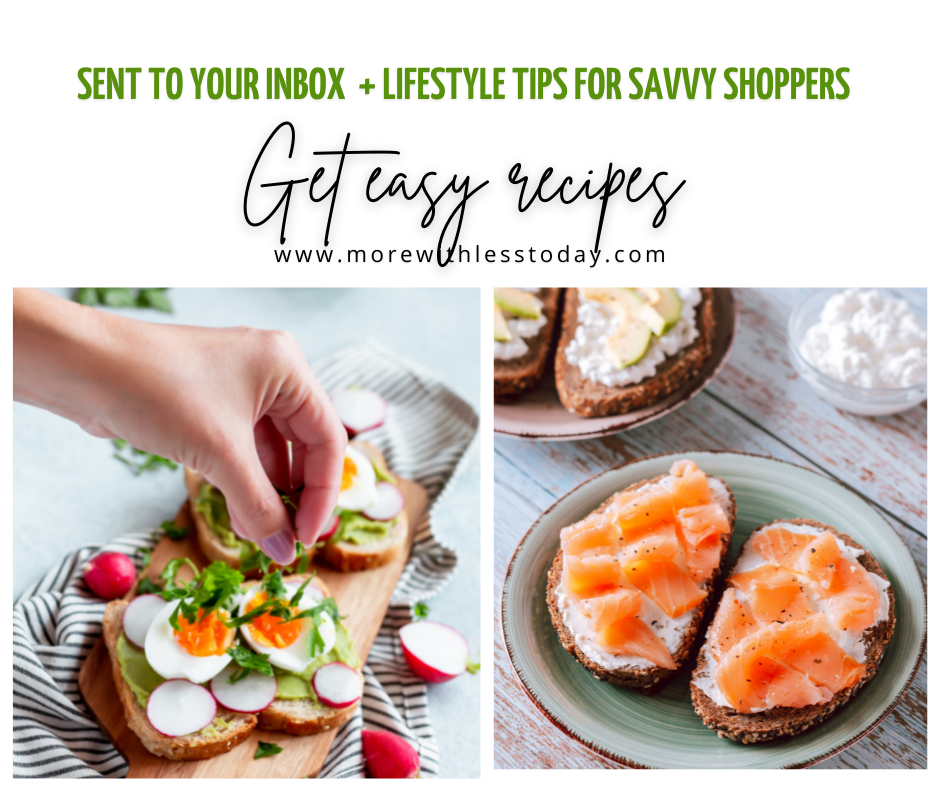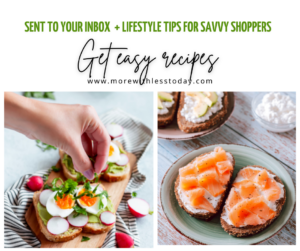 Have more delicious recipes like this Greek Salad with Steak recipe sent straight to your inbox! We also share lifestyle ideas for shopping, travel, pets & more. We would love to connect with you.
Sign up for our emails and know we respect your privacy and will never share your email with anyone else.
PIN for Later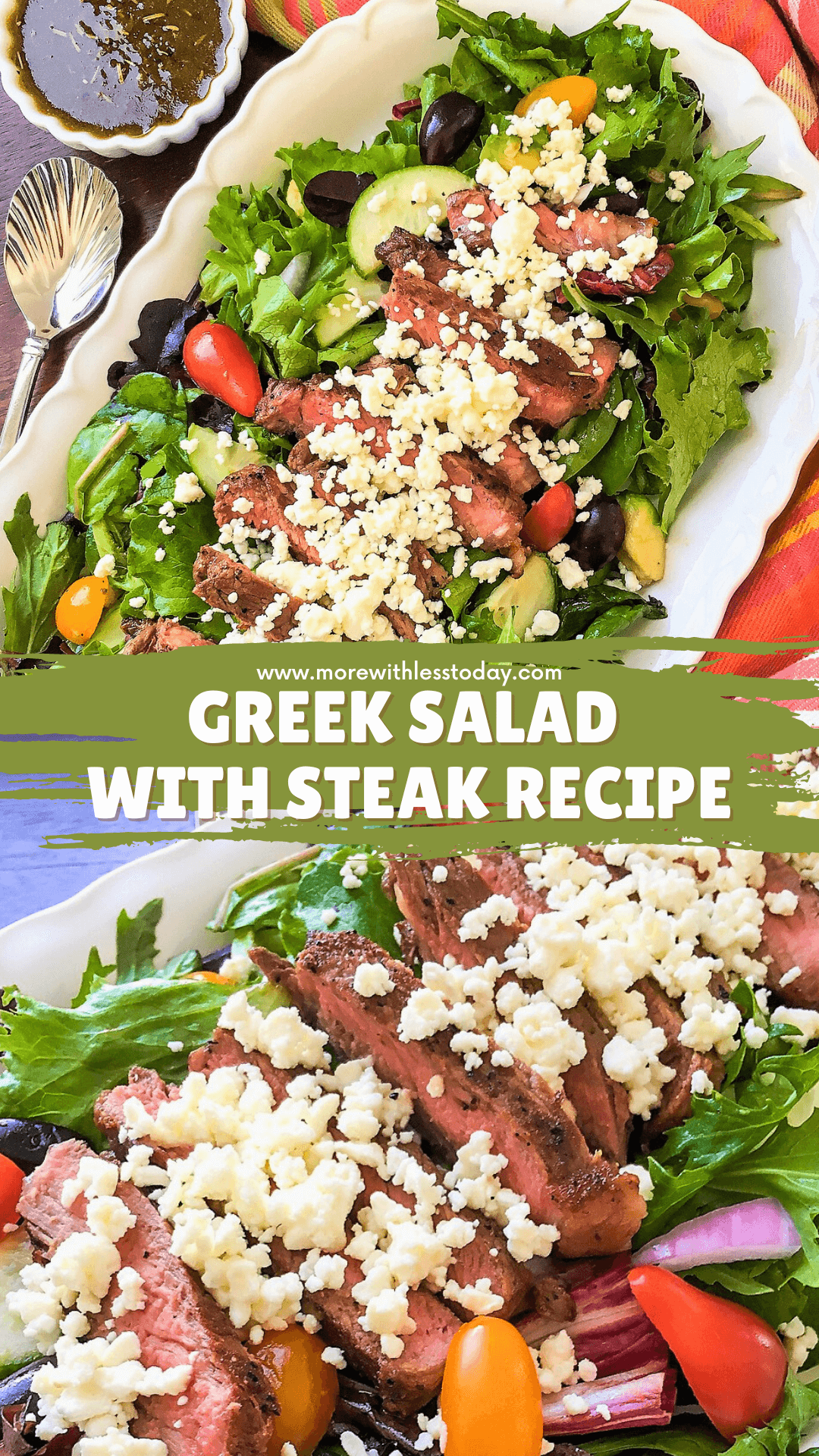 Are you looking for more recipes to add to your weekly meal plans? You've come to the right place! Click here to view all my recipes.
If you are on social media, I would love to connect with you on Facebook, Instagram, Pinterest, or Twitter. Just click on the links to visit my profile. Leave a message and I will follow you back!
Have you tried this recipe? Let me know what you think in the comments!