I've been serving more fruits and vegetables to my family as we strive to eat healthier. Serving and enjoying fruit has always been easy, but truthfully, eating more veggies takes a little more effort. Now I've found an easy solution that everyone loves. My plate of vegetables that I served with my easy homemade hummus recipe made with Garbanzo Beans to tide us over until dinner, disappeared in no time.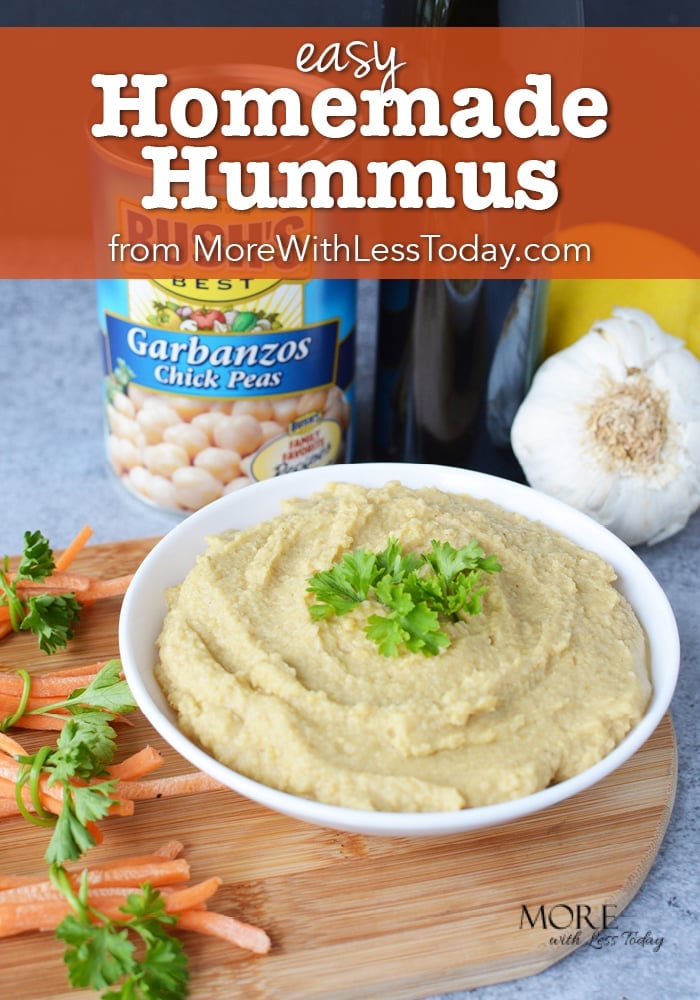 If you have made a homemade hummus recipe from canned beans, you'll notice that I left out the tahini. I didn't have any and so I thought I would just try the recipe without it and truth be told, I like this hummus even better. Trust me, I had no complaints from anyone else. If you are not familiar with tahini, it is a paste made from ground sesame seeds. So I am going to make a bold proclamation and tell you it is optional.
Homemade hummus is typically made in a food processor, but you can also use a blender if you do not have one. Another great reason to serve homemade hummus to guests is it is gluten-free so those with most common food intolerances can enjoy hummus with abandon!
Growing up in New England, we called these beans Chick Peas. Now that I live in California, everyone calls them Garbanzo beans. What do you call them?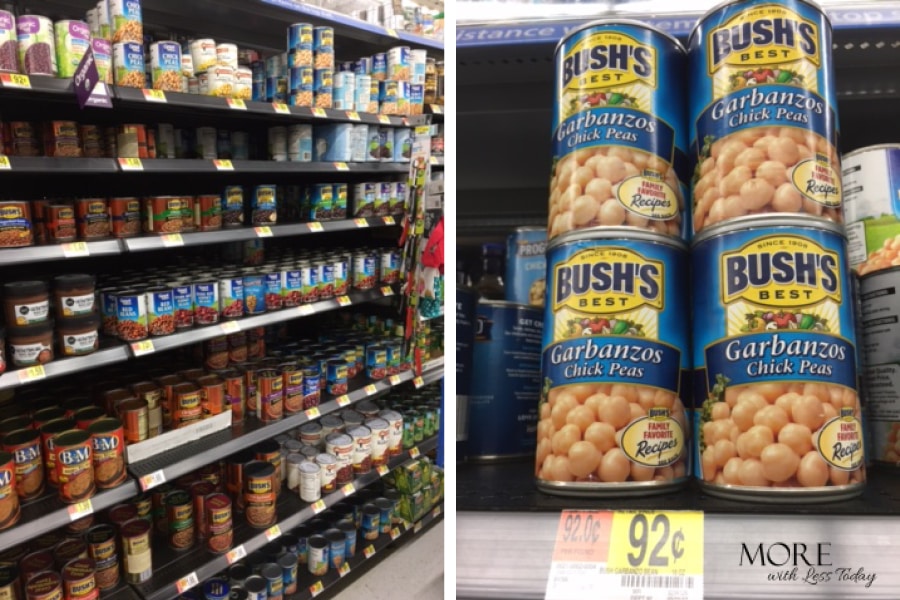 Garbanzo Beans are now a pantry staple for me. I just got an air fryer and I've heard they are delicious cooked in an air fryer. Have you tried them? For lunch, I often have a big salad made with whatever vegetables and product I have on hand. I add about 1/3 can of garbanzo beans, rinsed and drained and it adds bulk to my salads.
They are an inexpensive staple to have in your pantry.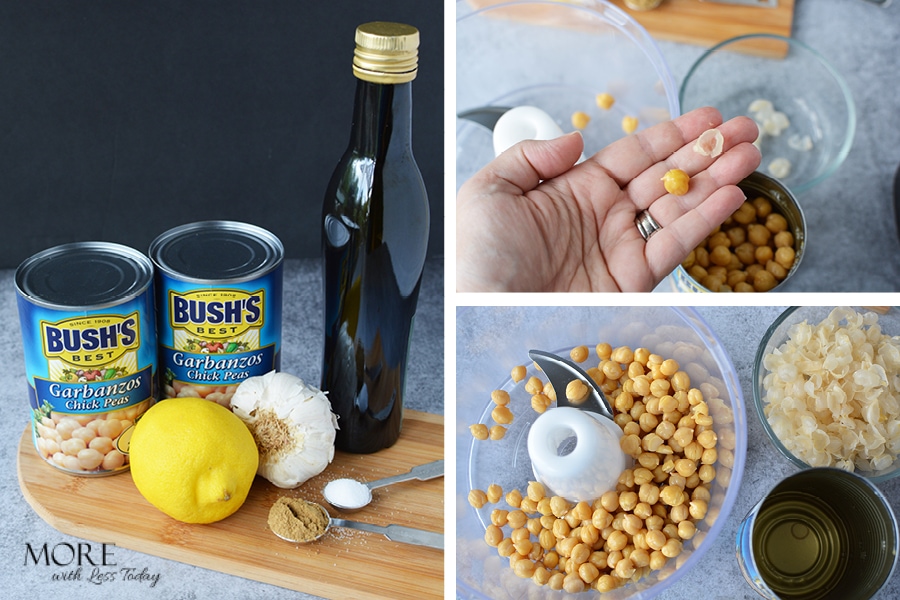 INGREDIENTS:
1 can, Garbanzo Beans, drained with the skins peeled (gently squeeze the bean and the skin will pop off)
2 tablespoons olive oil
1 tablespoon lemon juice
1 teaspoon minced garlic
1 teaspoon ground cumin
1/2 teaspoon salt
3 tablespoons water
Red pepper
Matchstick carrots
Fresh parsley
Cucumber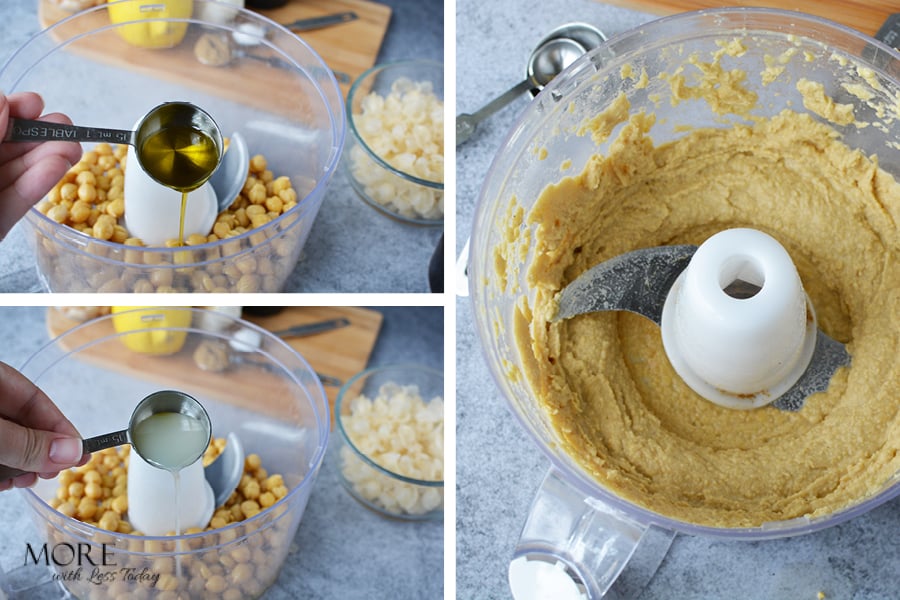 Making the homemade hummus takes no time at all.
DIRECTIONS:
Peel the Garbanzo Beans by removing the skins and discarding. To remove, simply gently squeeze each bean and the skin will pop off. Place beans into a food processor.
Add remaining ingredients to the food processor and process for about 10 seconds. Scrape down the sides and process for another 10 seconds. Add additional water if necessary until smooth.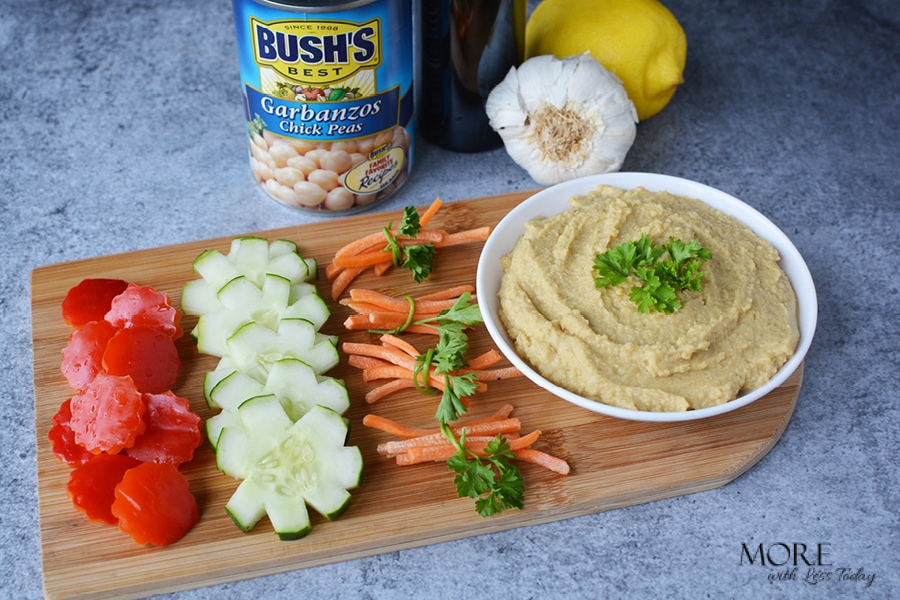 Serving vegetables in cute shapes is a tried and true way to get the kids to eat more veggies. Try serving them with this easy hummus recipe.
If you want to cut your vegetables into "fancy" shapes, here is how I did it:
Use a small round cookie cutter to cut the red peppers into shapes.
Create shaped cucumbers by cutting triangles out of the edge of the cucumber as shown.
Separate parsley and set aside long pieces. Place a small stack of matchstick carrots on a long piece of parsley and tie. Tuck the loose end and repeat until you have the desired number of carrot bunches.
Homemade hummus is also great with celery, jicama, mushrooms and more. Of course, it pairs perfectly with pita bread and pita chips. Experiment and see what your family enjoys!

Are you on Pinterest? PIN this for later!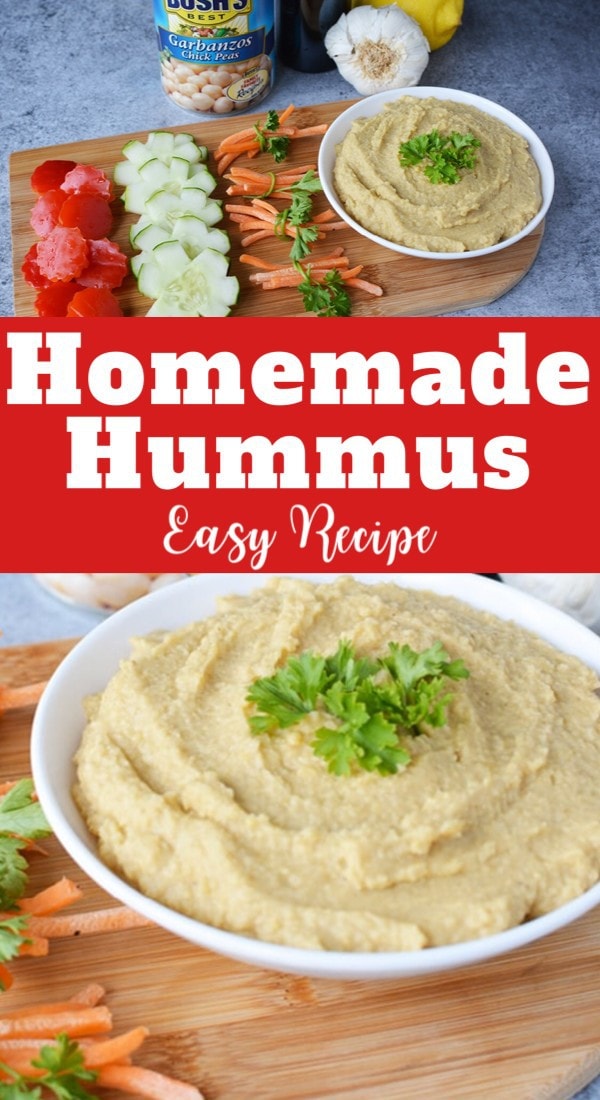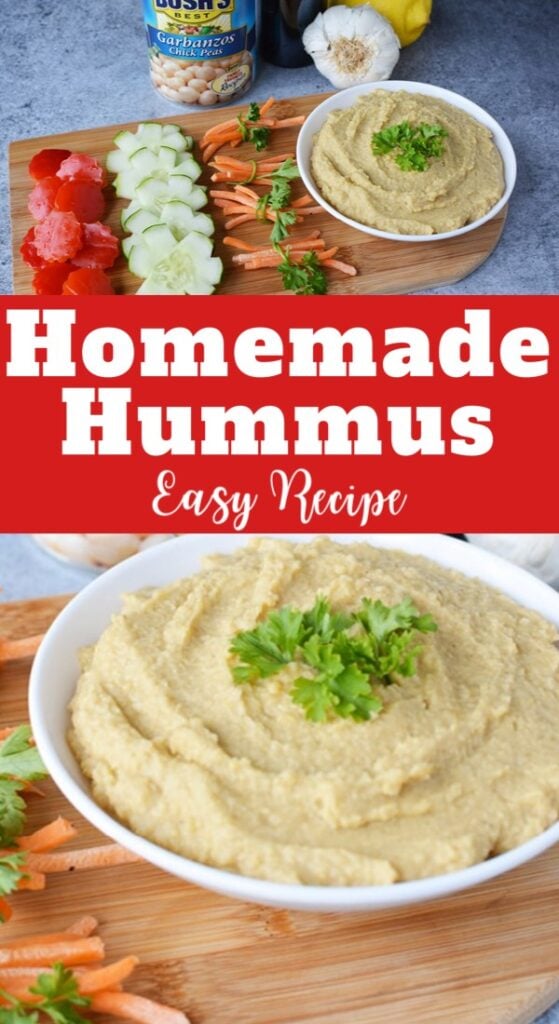 A big thank you to Bush's Beans and Soapbox Influence for sponsoring this post.