If you want to impress your family and friends without difficulty, these Fruit Pizza Recipes should be your go-to dessert. They are so pretty to look at and the fruit can be customized to your liking or to whatever is in season. There are so many options!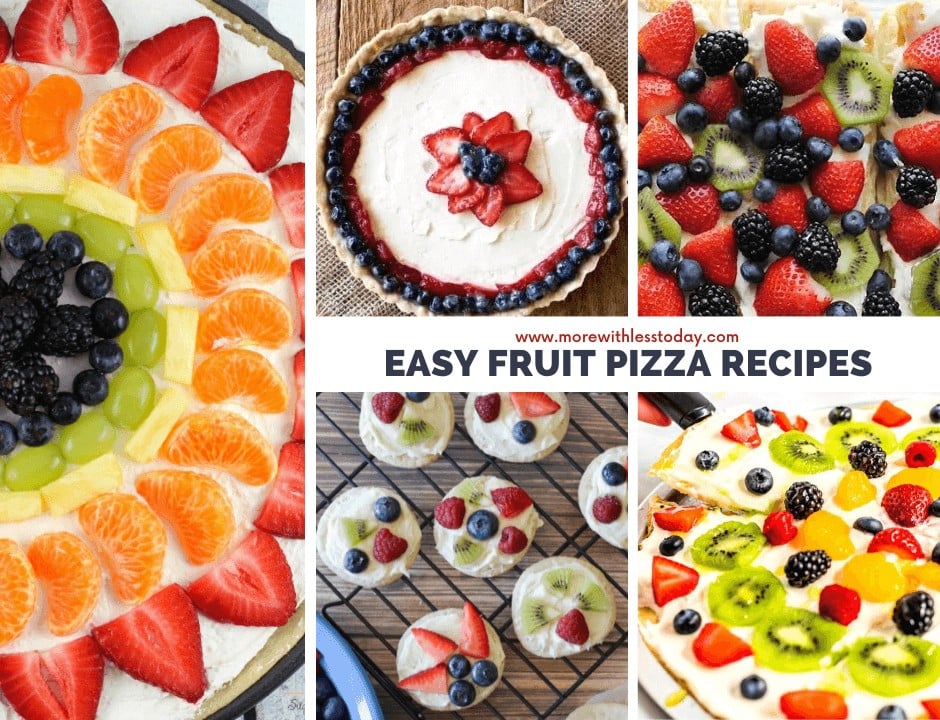 Get inspired by these visually stunning fruit pizza recipes. You will find options that include chocolate, a sugar cookie crust, a brownie mix, cream cheese frosting, and all kinds of delicious fruit options.
The first time I made a fruit pizza, it was from a Pampered Chef recipe and it was such a hit!
What kind of fruit can you put on a fruit pizza?
The only limits are what is available at your local market. Popular fruit pizza recipe toppings include pineapple, kiwis, strawberries, blueberries, and mangos.
Can you make a fruit pizza the night before?
These recipes come together so quickly that you probably don't need to. You can assemble your ingredients and prep some fruit the night, but often strawberries, apples, bananas, and berries can get mushy or discolored. I don't recommend making it more than a few hours before serving so the crust does not get soggy.
What icing or toppings do you use on Fruit Pizza?
These recipes will give you some great ideas from marshmallow fluff, and melted chocolate chips, to chocolate cream cheese.
Fruit Pizza Recipes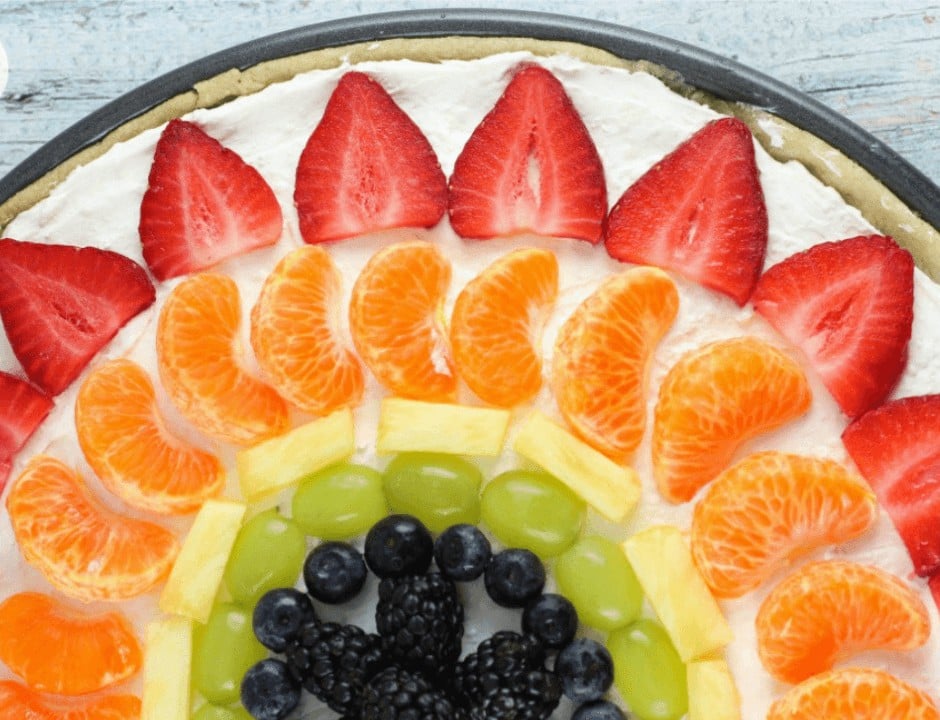 Recipe by Sugar, Spice, and Family Life
This fruit pizza has a sugar cookie crust with a delicious cream cheese frosting!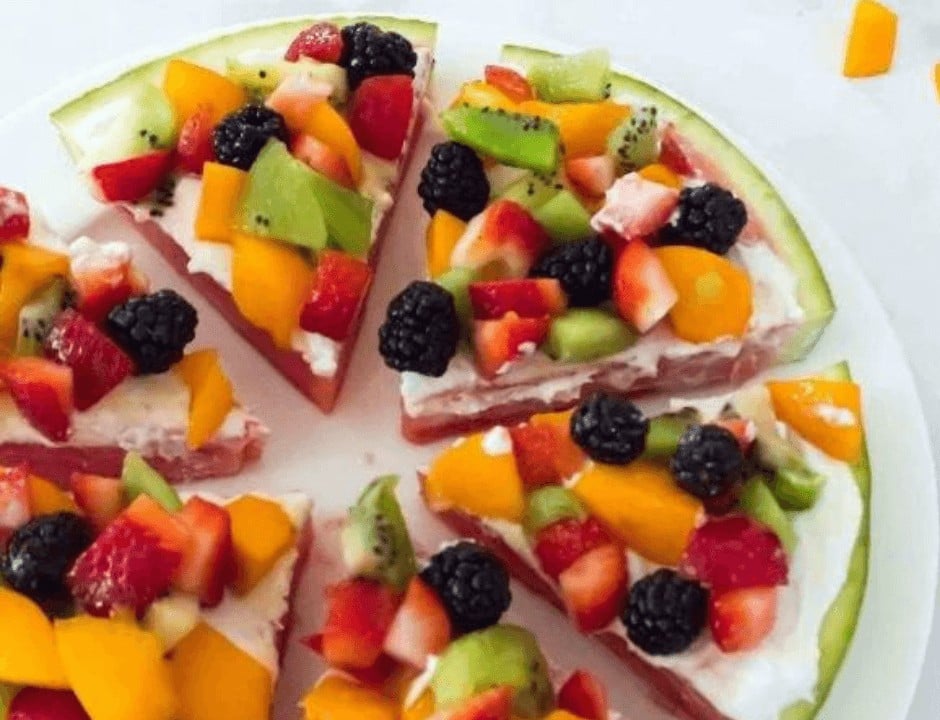 Recipe by Today's Creative Life
"Watermelon Pizza is made with thickly sliced watermelon topped with whipped cream and your favorite fruits, then sliced into wedges. This makes a great summer treat for snacking or BBQs."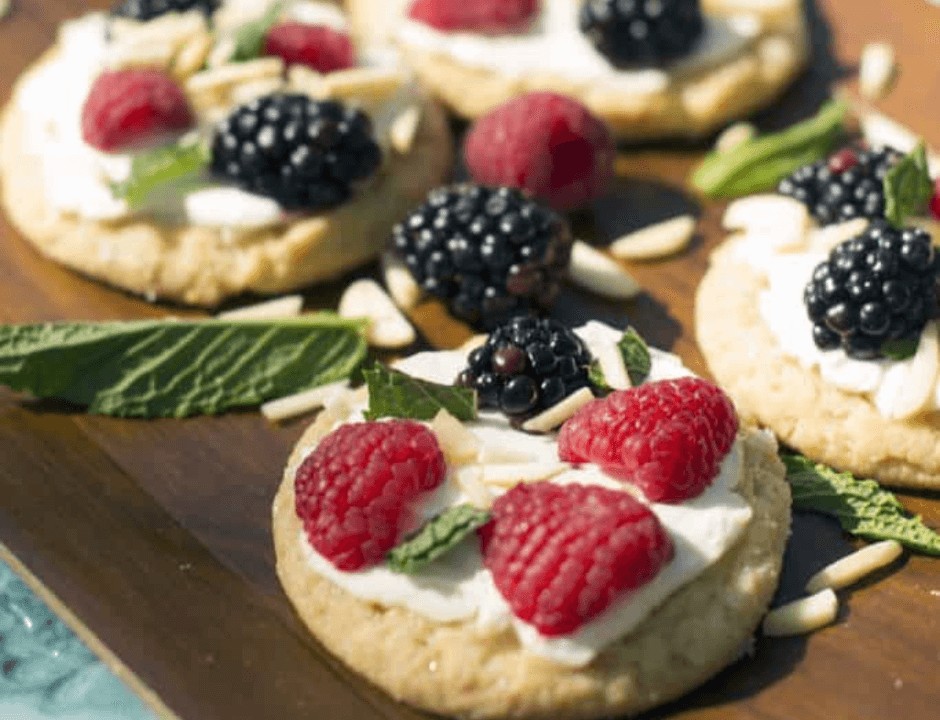 Recipe by Nellie Bellie
"These Sugar Cookie fruit pizzas look GORGEOUS, don't they? The best part is that, if you get purchased sugar cookies, these are made up 10 minutes flat. They are a fabulous addition to a summer party, birthday party, or just for a sweet treat after supper. I made these for a summer picnic we had and they looked amazing!"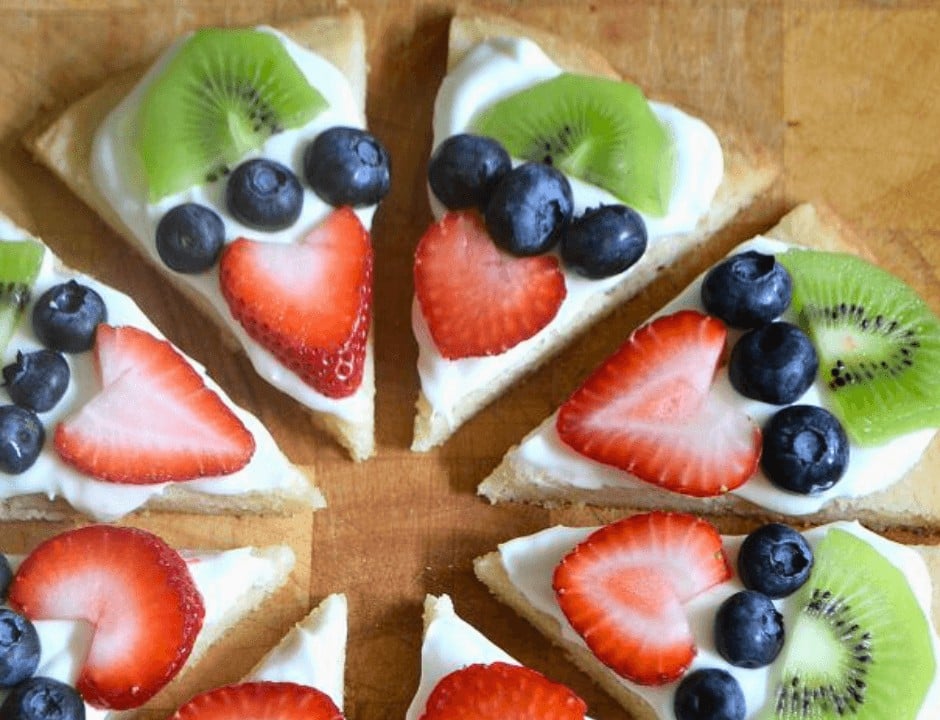 Recipe by Hello Little Home
"Treat yourself to these adorable, delicious Fruit Pizza Cookies … they're the perfect way to show off fresh fruit!"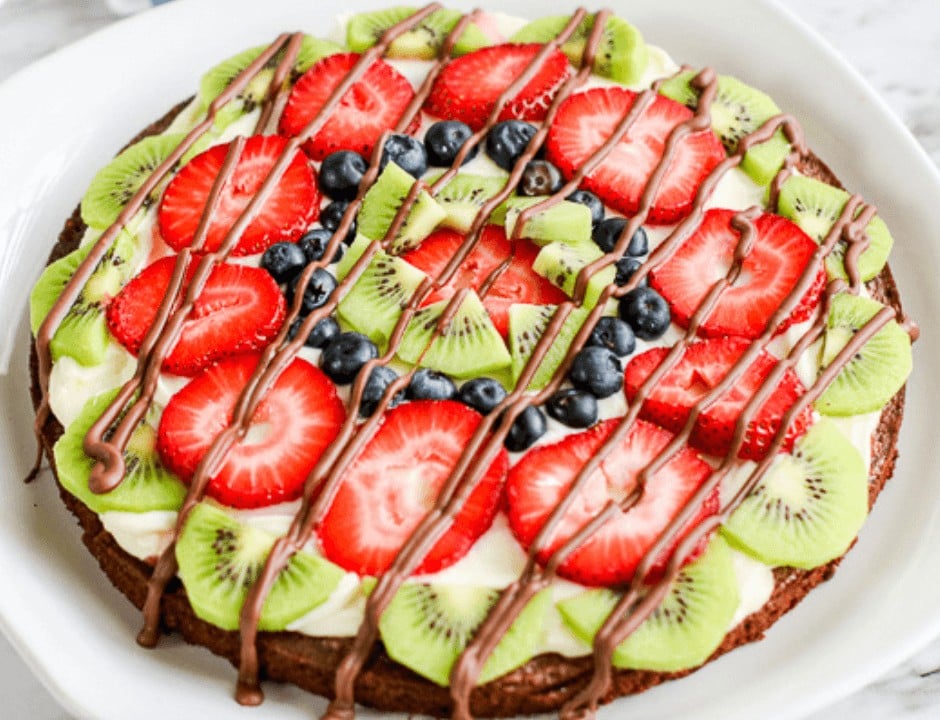 Recipe by The Country Chic Cottage
Make this delicious dessert using a brownie mix and then drizzle on some chocolate-so divine!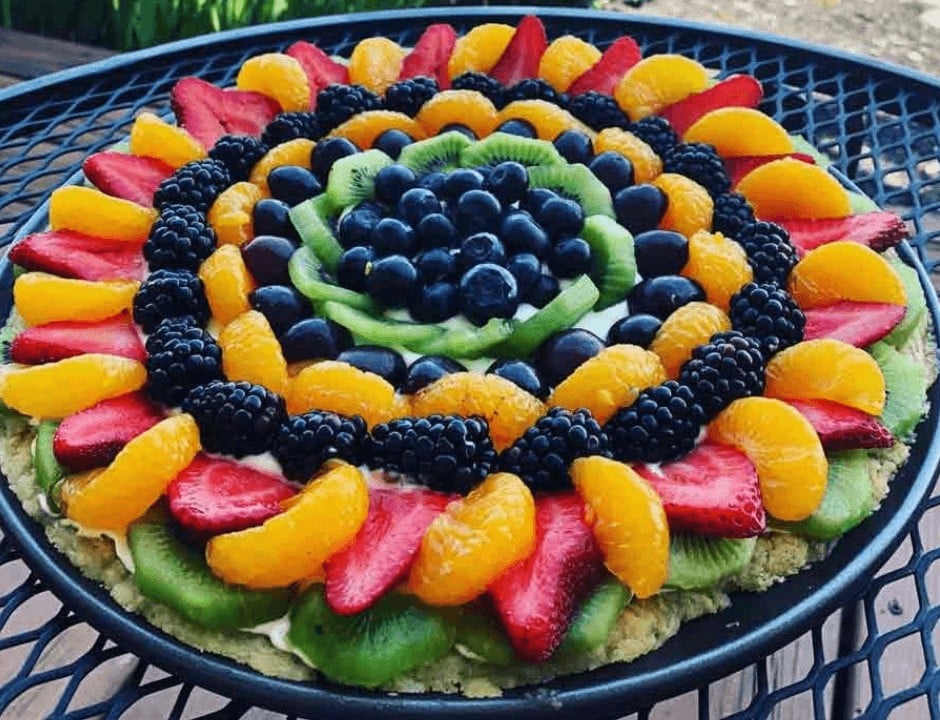 Recipe by Sassy Townhouse Living
"If you love fruit and pizza and cheesecake, then you are going to love this Fruit Pizza Cheesecake Tart! It's delicious and easy to make too."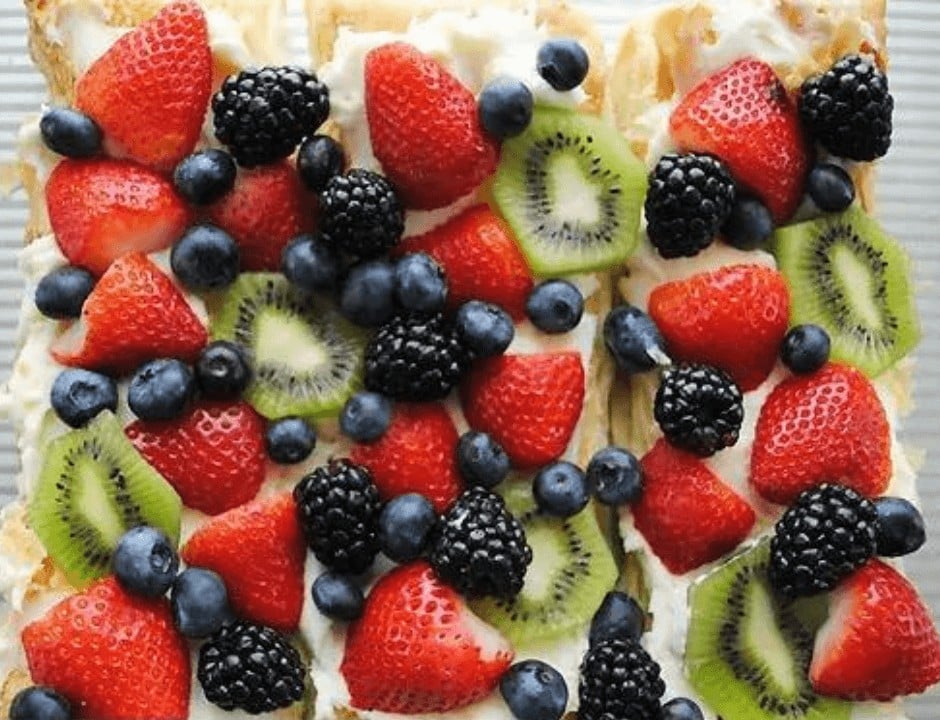 Recipe by Adventures of Mel
"How to make the most delicious fruit pizza with puff pastry, a variety of fresh fruit, and a cream cheese filling."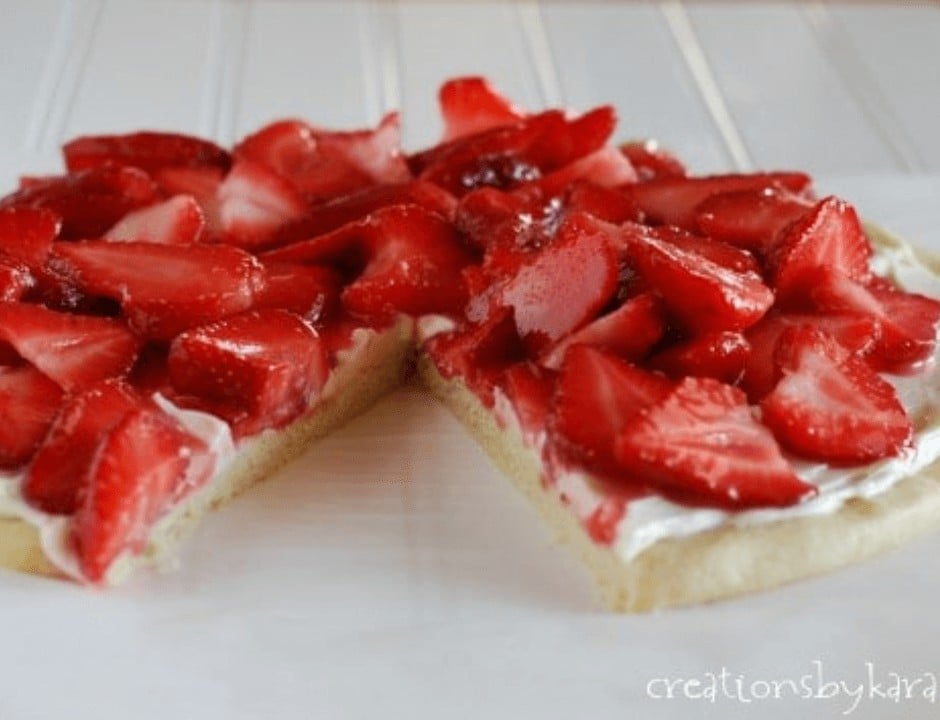 Recipe by Creations by Kara
"Sugar cookie crust, cheesecake filling, and a fresh strawberry topping combine to make one unforgettable dessert pizza!"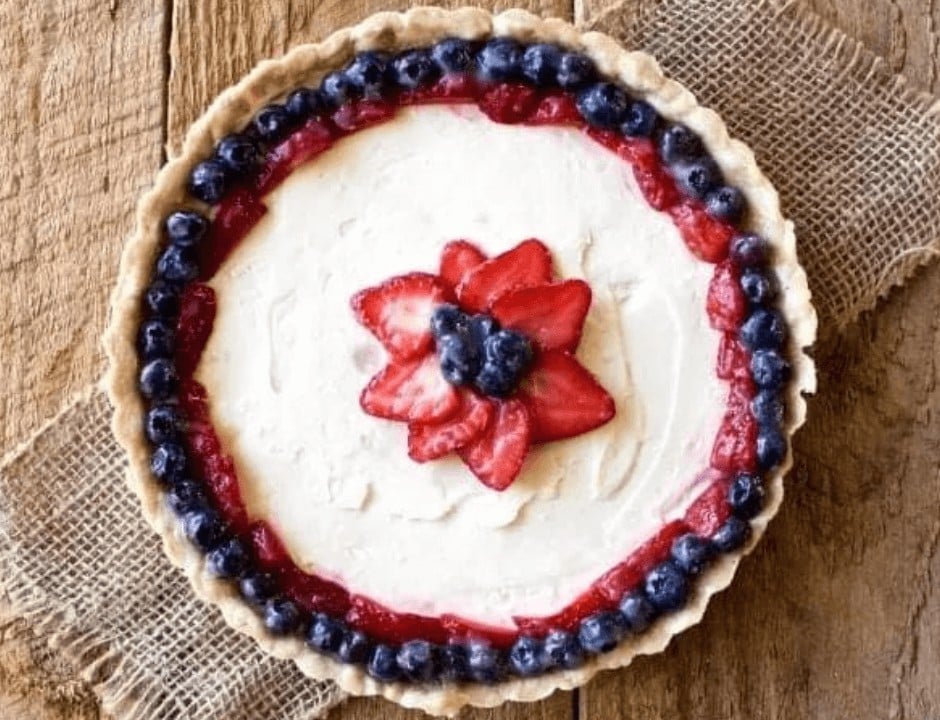 Recipe by Homemade Food Junkie
"Make a festive vanilla cream fruit tart or two for a fun addition to the party table. Dress them up in red, white, and blue or any ole colorful fruit, for a tasty treat! Change out the fruits to theme colors for your party!"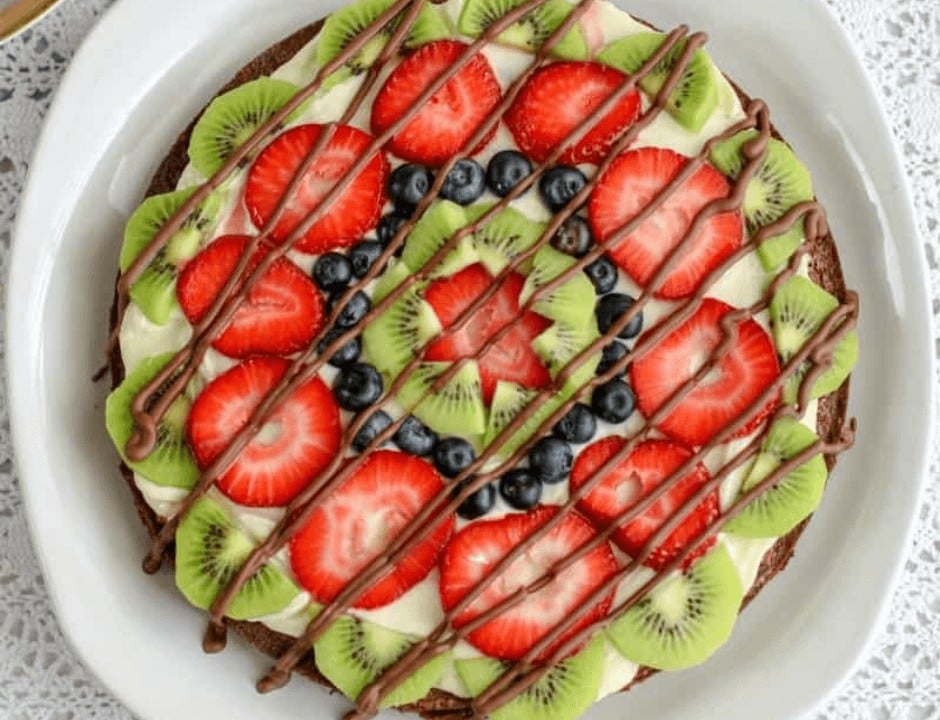 Recipe by Confessions of an Overworked Mom
"You're going to love this delicious dessert fruit pizza recipe with a brownie chocolate chip crust."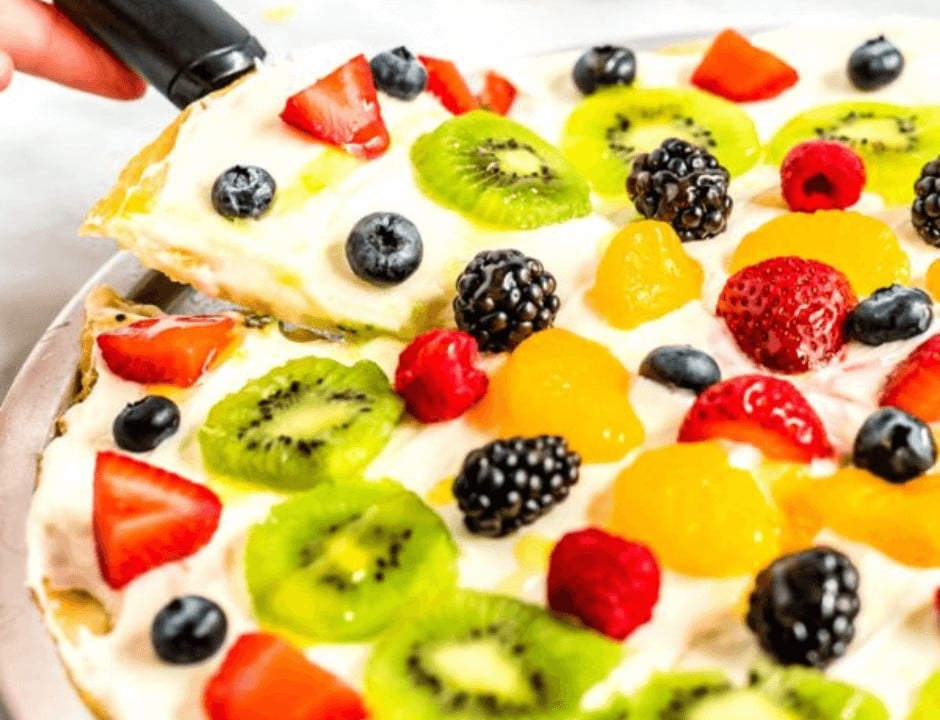 Recipe by Food Folks and Fun
"Fruit Pizza is a summertime classic that everyone loves. It has a sugar cookie crust, cream cheese-marshmallow frosting, loads of fruit, and a citrus glaze."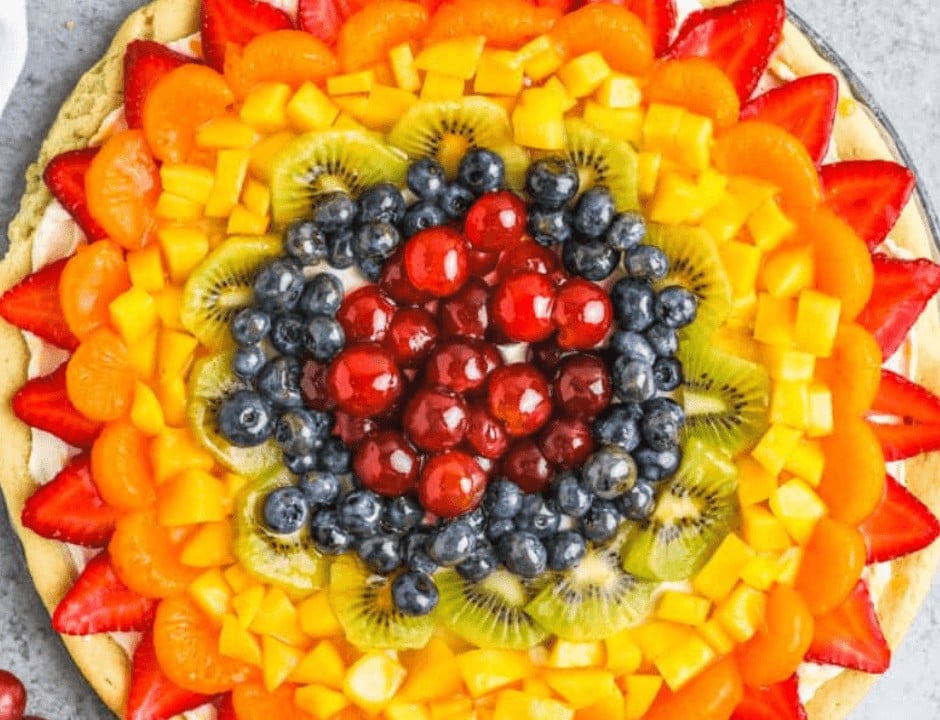 Recipe by Spend with Pennies
"Fruit Pizza is the perfect summer treat. This dessert can easily be made ahead of time for a sweet ending to any meal!"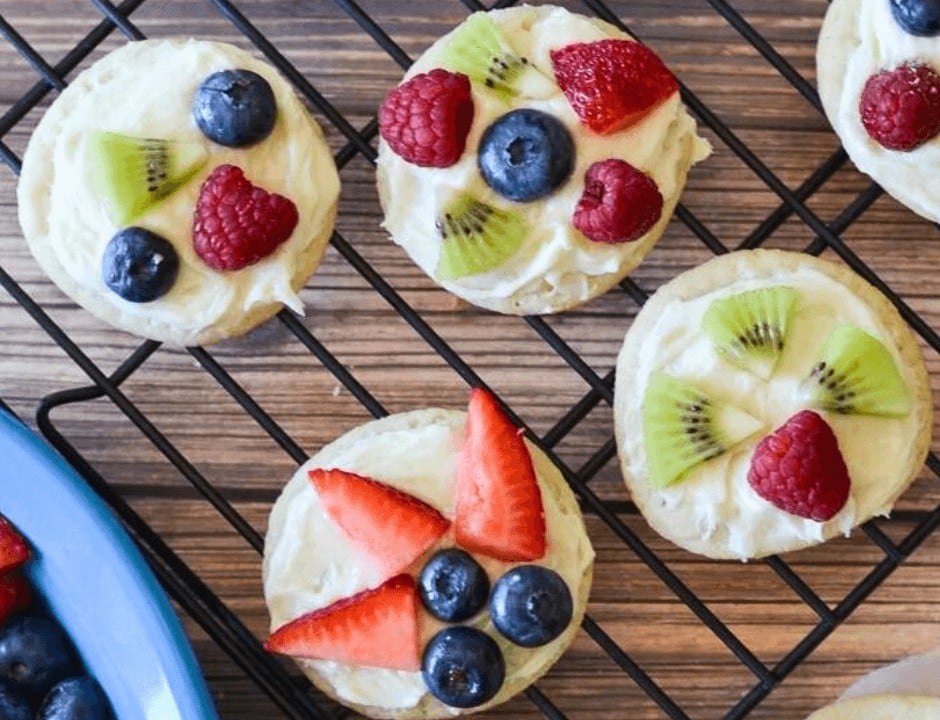 Recipe by Typically Simple
"A simple dessert that only requires a few ingredients, these mini fruit pizza cookies are a delicious treat to make with the kids!"
Don't these look so good! If you have any leftover fruit, add it to a big glass of water for some fruit-infused goodness, or freeze it in ice cube trays.
More Recipes To Try
Make the Most from Your Amazon Prime Membership (try it for FREE!)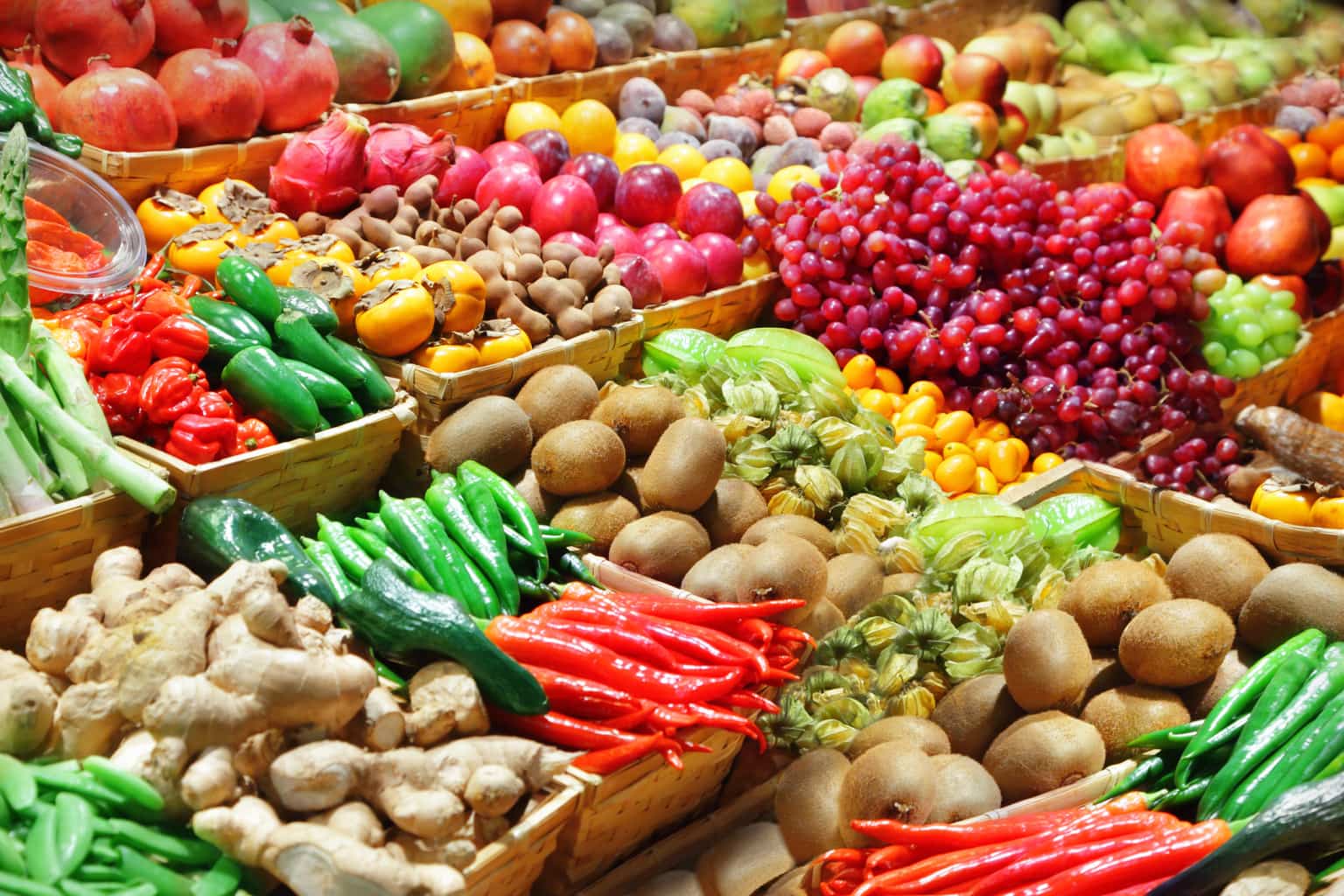 Join Amazon Prime
Try Amazon Prime for FREE with a one-month free trial. After one month, you can decide if the cost of the membership makes sense for you and then cancel before you get charged for the membership. You do need to enter a credit card to access the free month so write the ending date on your calendar and set up an alert so you can decide if you want to keep it or cancel right before your free month ends.
Try Amazon's Subscribe & Save Feature
Have you ever tried Amazon's Subscribe and Save feature? It will save you at least 5-15% on your reoccurring purchases. Plus you won't run out which is especially helpful these days. I use this for our favorite snacks, dog food, vitamins, household supplies, and more. You can pause or cancel orders easily from inside your account.
Save at Whole Foods Market
Find many exclusive weekly deals all over the store, and save an extra 10% on hundreds of sale items. Keep up to date on featured Prime Member Deals every week.
Skip the trip to the store
With Amazon Fresh, get 2-hour delivery on just about anything. Check here for availability in your area.
Here are 30+ Tips to Save More at the Grocery Store
Sign Up for Our Email List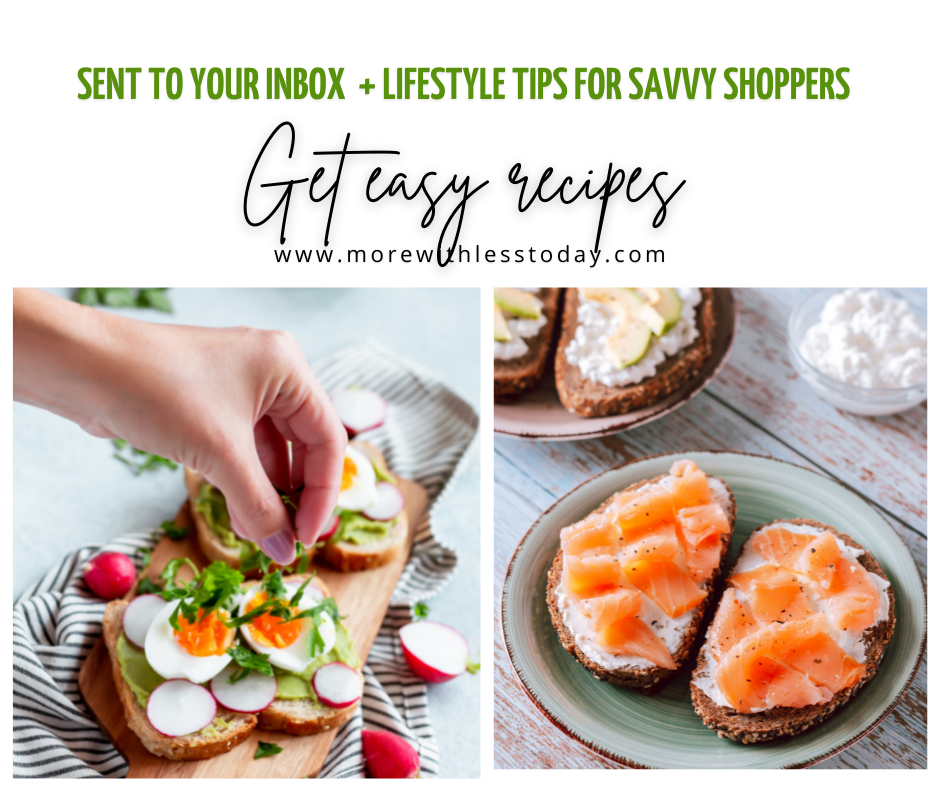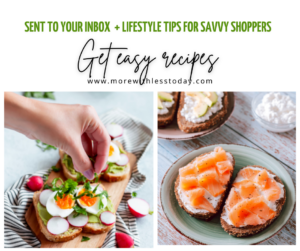 Have more delicious recipes sent straight to your inbox! We also share lifestyle ideas for shopping, travel, pets & more. We would love to connect with you.
Sign up for our emails and know we respect your privacy and will never share your email with anyone else.
PIN these delicious fruit pizza recipes for later!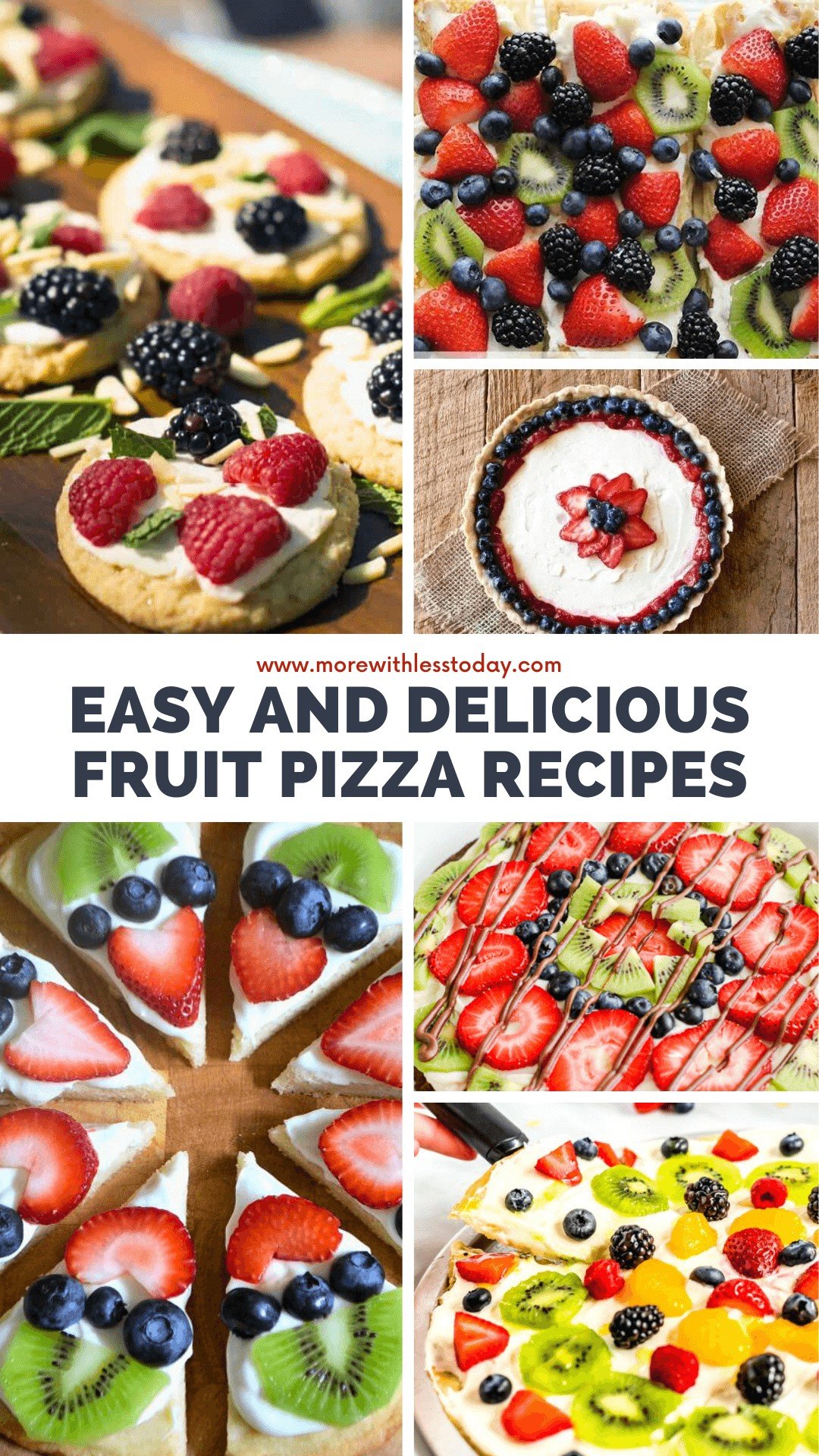 Don't forget to share this recipe with your friends and loved ones. If you are on social media, I would love to connect with you on Facebook, Instagram, Pinterest, or Twitter. Just click on the links to visit my profile. Leave a message and I will follow you back!
Do you have a favorite fruit pizza recipe to share? Let me know in the comments!