If you want to impress your family and friends without difficulty, these fruit pizza recipes should be your go-to dessert. They are so pretty to look at and the fruit can be customized to your liking or to whatever is in season. There are so many options!
Get inspired by these visually stunning fruit pizza recipes. You will find options that include chocolate, a sugar cookie crust, a brownie mix, cream cheese frosting, and all kinds of delicious fruit options.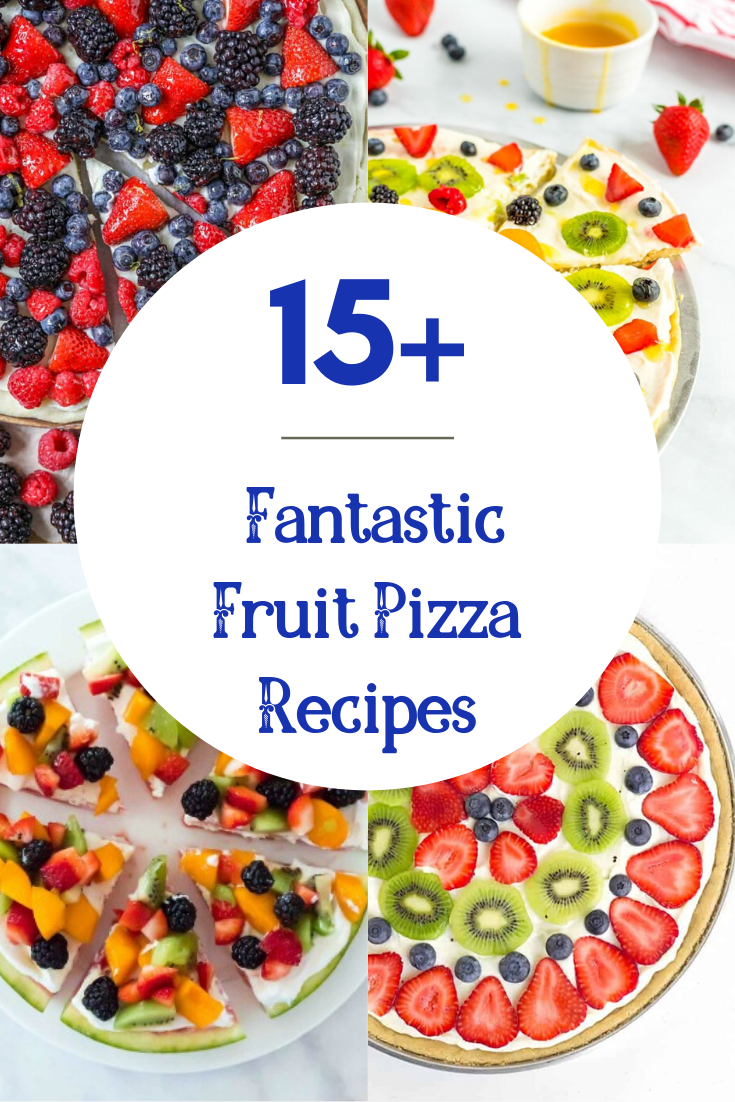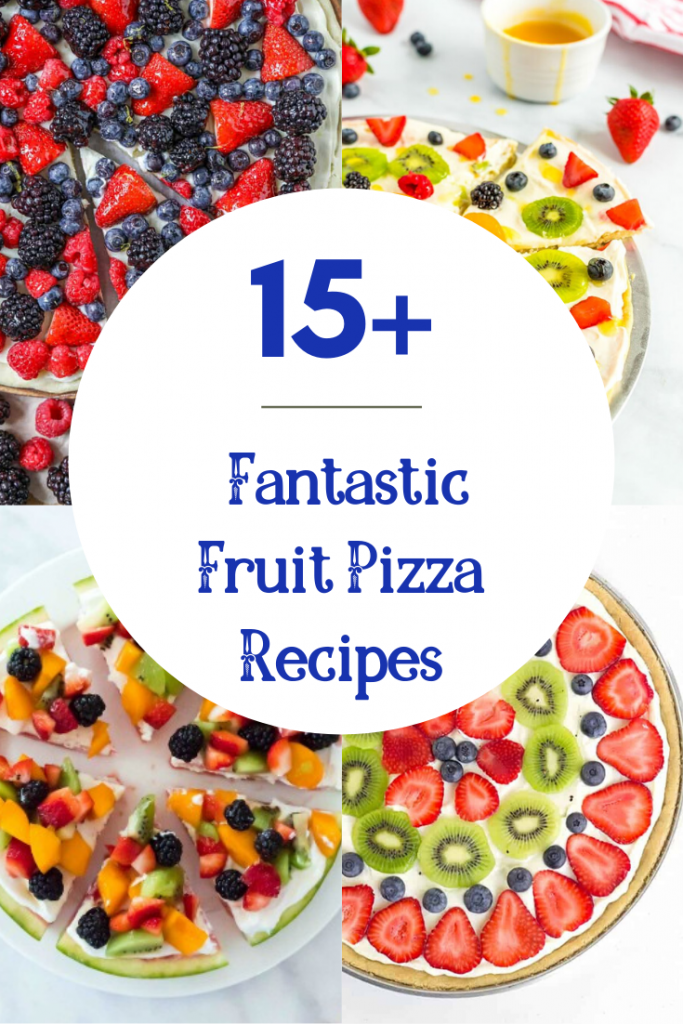 The first time I made a fruit pizza, it was from a Pampered Chef recipe and it was such a hit!
Rainbow Fruit Pizza by Sugar, Spice and Family Life
This fruit pizza has a sugar cookie crust with a delicious cream cheese frosting!
Watermelon Pizza by Thrifty Diva of DIY
This easy fruit pizza is made with the watermelon as the crust, so clever!
What kind of fruit can you put on a fruit pizza?
The only limits are what is available at your local market. Popular fruit pizza toppings include pineapple, kiwis, strawberries, blueberries, and mangos.
Watermelon Pizza by Today's Creative Life
This one is topped with yogurt!
Sugar Cookie Fruit Pizzas by Nellie Bellie
You can purchase the sugar cookies to use in this cute version. Talk about easy!
Fruit Pizza Cookie Slices by Hello Little Home
This recipe makes mini-desserts with your favorite fruits.
Can you make a fruit pizza the night before?
These recipes come together so quickly that you probably don't need to. You can assemble your ingredients and prep some fruit the night, but often strawberries, apples, bananas, and berries can get mushy or discolored. I don't recommend making it more than a few hours before serving so the crust does not get soggy.
What icing or toppings do you use on Fruit Pizza?
These recipes will give you some great ideas from marshmallow fluff, melted chocolate chips, to chocolate cream cheese.
Brownie Crust Fruit Pizza by The Country Chic Cottage
Make this delicious dessert using a brownie mix and then drizzle on some chocolate-so divine!
Cheesecake Fruit Pizza Tarts by Sassy Townhouse Living
This recipe has the tastiest fruit pizza icing!
Chocolate Fruit Pizza by Creative Southern Home
Chocolate cream cheese? yes, please!
Puff Pastry Fruit Pizza by Adventures of Mel
This recipe is made with store-bought puff pastry so it is very easy!
Strawberry Pizza by Creations by Kara
If you like cheesecake then this recipe is for you!
Vanilla Cream Fruit Pizza by Homemade Food Junkie
This one is perfect for a patriotic holiday!
Brownie Fruit Pizza by Confessions of an Overworked Mom
This recipe gives you great ideas to customize your fruit pizza!
Citrus Glazed Fruit Pizza by Food Folks and Fun
I can't wait to try the citrus glaze, yum!
Easy Fruit Pizza by Spend with Pennies
She has great tips for how to keep your fruit fresh along with her delicious recipe.
Fruit Pizza Cookies by Typically Simple
These mini desserts are great for the kids!
Don't these look so good! If you have any leftover fruit, add it to a big glass of water for some fruit-infused goodness or freeze in ice cube trays.
Do you have a favorite fruit pizza recipe to share?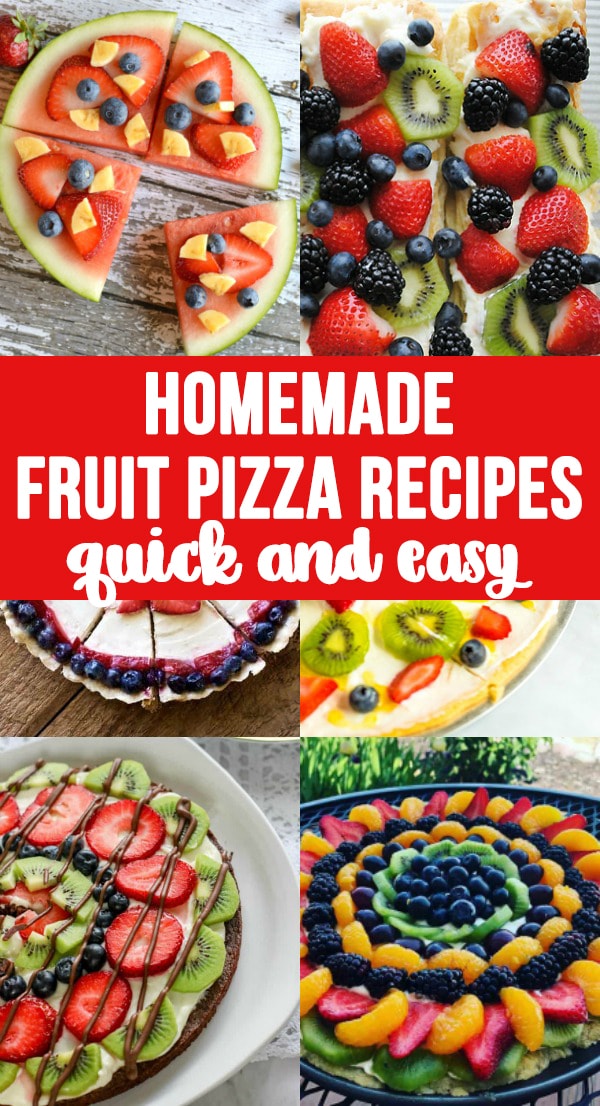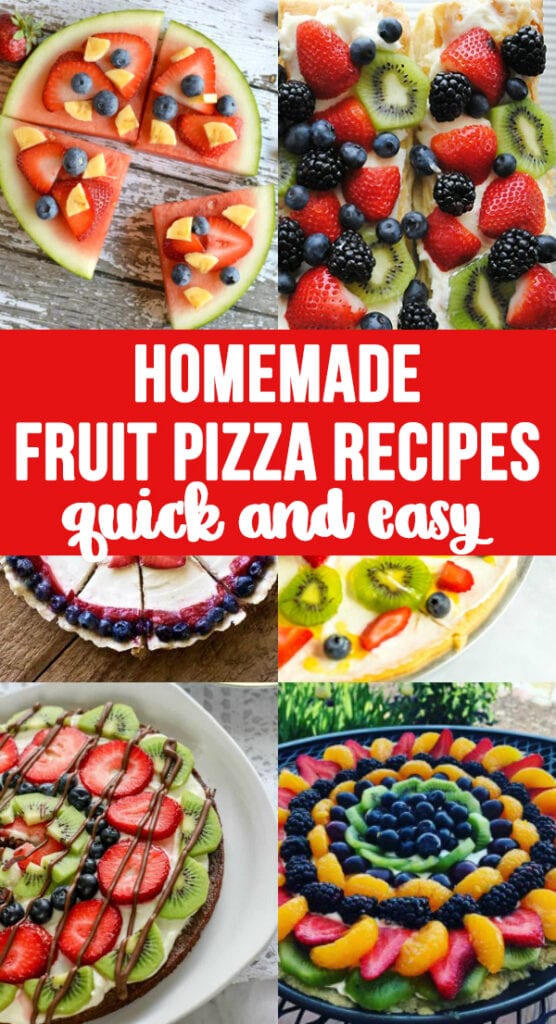 PIN these delicious fruit pizza recipes for later!