Mango Recipes
These easy Mango recipes are the perfect treat for a hot summer day. You will often find that the fruity flavor of mango is combined with flavorful spices, various fruits, and delicious meats to create a tasty mango dish for any occasion. Sweet juicy ripe mangoes are one of my favorite fruits.
Because mango is a versatile tropical fruit, we often find them combined with chicken and other tropical flavors like pineapple as a salsa, dip, or delicious dessert. Mango salsa is delicious!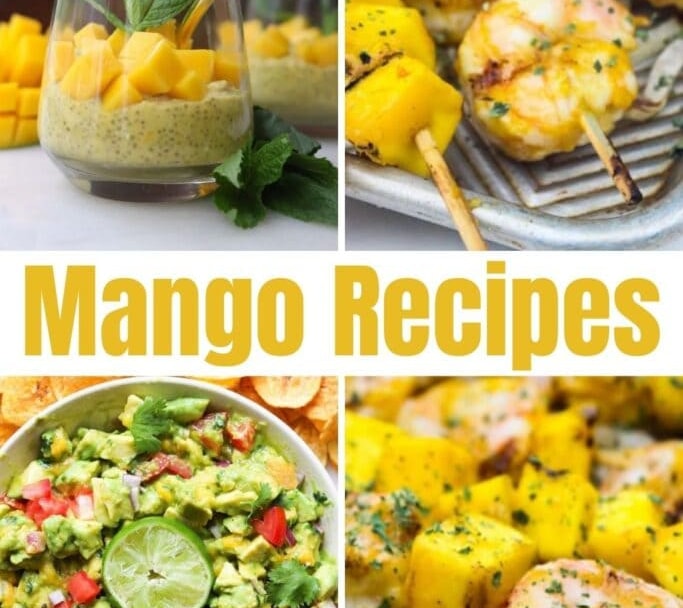 If you love the taste and flavor of mango, these mango recipes range from main dish meals with chicken to fruity tropical desserts that you can enjoy after a tasty meal. Serve them at your next summer party to impress your guests!
If you don't want to deal with mango pulp from fresh mangos, or if it is not mango season, then buy them frozen. It is an easy option!
Homemade Pineapple Mango Salsa
Serve it with chicken, fish, or just chips. It is delicious!
"These mango shrimp skewers will make the perfect grilled summer treat that friends and family won't get enough of."
Curry Chicken Thighs with Fresh Mango
"Delicious and tropical, these curry chicken thighs are topped with fresh mango that is sure to delight."
"With a spicy jalapeno kick, this mango guacamole is sweet, spicy, and delicious."
"A delicious healthy dessert to enjoy after dinner, this mango chai pudding only takes 3 ingredients to make."
"Easy, delicious, and satisfying, these mini mango cream cakes are a light dessert to enjoy during the summer."
"Topped with a sweet mango salsa, this chicken dish will make the perfect summer meal for family dinners or parties."
"This delicious mango coconut smoothie only takes 2 ingredients and is a refreshing treat that you can enjoy throughout the day."
Mango and Coconut Sushi Dessert
"The perfect Thai dessert, this mango and coconut sushi dessert will be a delicious treat you are sure to enjoy."
"Another perfect summer dessert, this mango ice cream will be the perfect after-dinner treat to cool you down."
"Looking for an adult dessert that is sure to be a hit? This mango margarita cheesecake is delicious and full of flavor."
"A salad that you can enjoy as a main dish or side with your favorite summer meal, this mango and avocado salad is full of flavor."
"Full of fruits and veggies, this mango pizza is sure to be a filling and flavorful dish that you can enjoy for dinner or lunch."
"Made with mango pulp, this creamy and thick mango lassi is sure to be a hit with mango lovers."
Puff Pastry Squares with Pineapple and Mango
"Full of tropical flavors, these puff pastry squares are topped with pineapple and mango for a tasty, sweet treat."
"The perfect appetizer or quick lunch, these crab cakes are topped with a sweet mango relish."