Ham Side Dishes
These delicious side dishes will go with your weeknight ham dinner or they will make a great side dish to serve with your ham.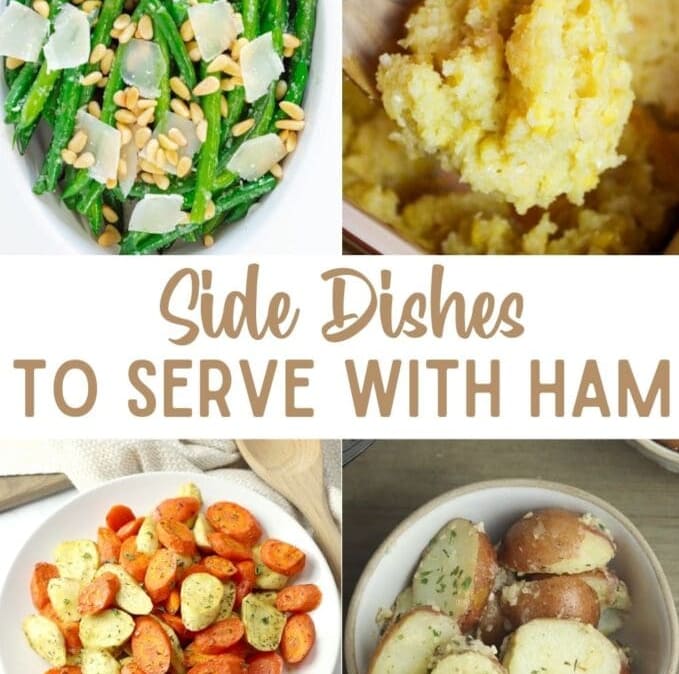 Full of flavor, easy to make, and delicious, these side dishes for ham are sure to be a hit with friends and family. You will find a variety of different dishes on this list. While many of them may be traditional dishes, included are nontraditional side dishes you may not think of pairing with ham.
If you are looking to change up your ham side dishes, these delicious side dishes are a great way to introduce some new recipes.
"Easy and delicious, these garlic butter green beans will make a delicious side dish when you are serving ham."
Instant Pot Red Parmesan Potatoes
"Quick and easy to make, these red roasted potatoes are mixed with the flavors of garlic and parmesan for a tasty side dish."
Rustic Potato and Brussels Sprouts Au Gratin
"Creamy and cheesy, this tasty potato and brussels sprouts dish is fragrant and easy to make."
Macaroni and Cheese with Caramelized Onion
"Full of flavor, this macaroni and cheese side dish will pair well with your ham main dish."
Honey Roasted Parsnips and Carrots
"Add a side of tasty vegetables to your ham dinner with these flavorful and easy-to-make honey roasted parsnips and carrots."
"Slow-cooked until the veggies are tender, these cheesy vegetables will make for a delicious side dish."
Blueberry and Goat Cheese Salad
"Mixed with a creamy basil dressing, this blueberry and goat cheese salad is a flavorful dish that pairs well with ham."
"Carrots and ham pair together nicely and these instant pot glazed carrots will make a tasty side dish recipe."
Roasted Ranch Seasoned Broccoli
"Oven-roasted and tossed with a tasty ranch seasoning, this roasted broccoli side dish is easy and delicious."
"Loaded with corn and cheddar cheese, this cream corn casserole will make a delicious side dish everyone will love."
"Flavorful and vibrant, this golden rice pilaf dish will take any meal to the next level."
Roasted Butternut Squash with Apples and Kale
"A hearty and delicious side dish, this roasted butternut squash with apples and kale will go great with your ham."
"Cranberry and ham go hand in hand which is why this delicious apple cranberry salad will make a great side dish."
"Delicious and easy to make, this easy potato Romanoff side dish is sure to be a hit with the family."
Roasted Brussels Sprouts with Balsamic Glaze
"Cooked and coated with a balsamic glaze, these roasted brussels sprouts are an easy side dish to go with your ham."
YOU MAY ALSO ENJOY: