Looking for comfort food recipes? Lighten up your dinner menu with this homemade turkey meatloaf recipe with sweet tomato glaze.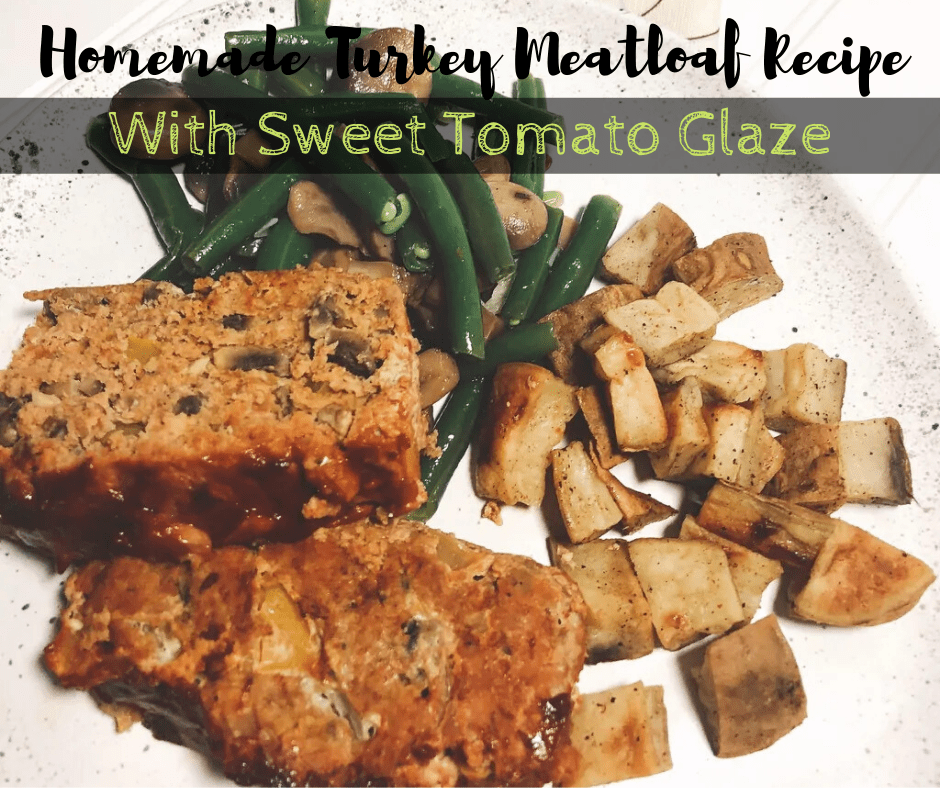 The meatloaf recipe is made entirely from scratch – down to the blend of spices.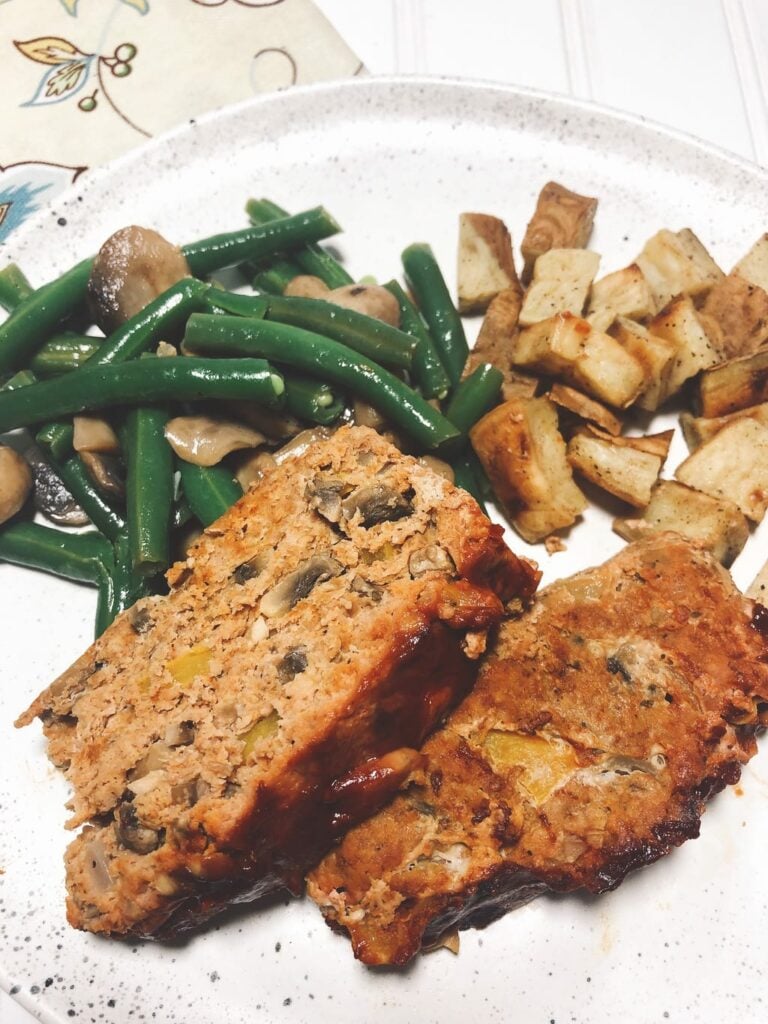 Homemade Turkey Meatloaf
What is on your dinner menu this week? If you are looking for something fresh and different but are familiar enough that everyone will still enjoy it, this is the recipe for you!
This meatloaf meal has a long list of ingredients and all of them are whole foods from the earth. Using fresh foods enhances the flavors of the entire dish.
I'll break down the recipe so it's easy to understand and even answer some common questions about it.
How to Save Time on Food Prep
This recipe calls for peppers, onions, and mushrooms all diced and cut up. If you are hoping to make this meal on a busy night, here are some shortcuts you can make that will save you time.
Buy prepped veggies – You can find frozen chopped peppers and onions at your grocery store and chopped mushrooms in the produce department.

Do you veggie prep ahead of time – Some people do the chopping and prepping on the weekend and store them in plastic containers in the fridge.

Use a food processor – Just put the veggies in, push a button, and done!
What are the best spices to use in meatloaf?
Another shortcut you could use is to buy a packet of meatloaf seasoning. This will save you a little bit of time since you won't have to search through your cabinet for all the spices.
But I have my own blend of seasonings that I adore in meatloaf. It consists of:
Cayenne Pepper

Garlic Powder

Smoked Paprika
That's it! You could make a small batch of it and store it in a glass container labeled "meatloaf seasoning" so you have it later.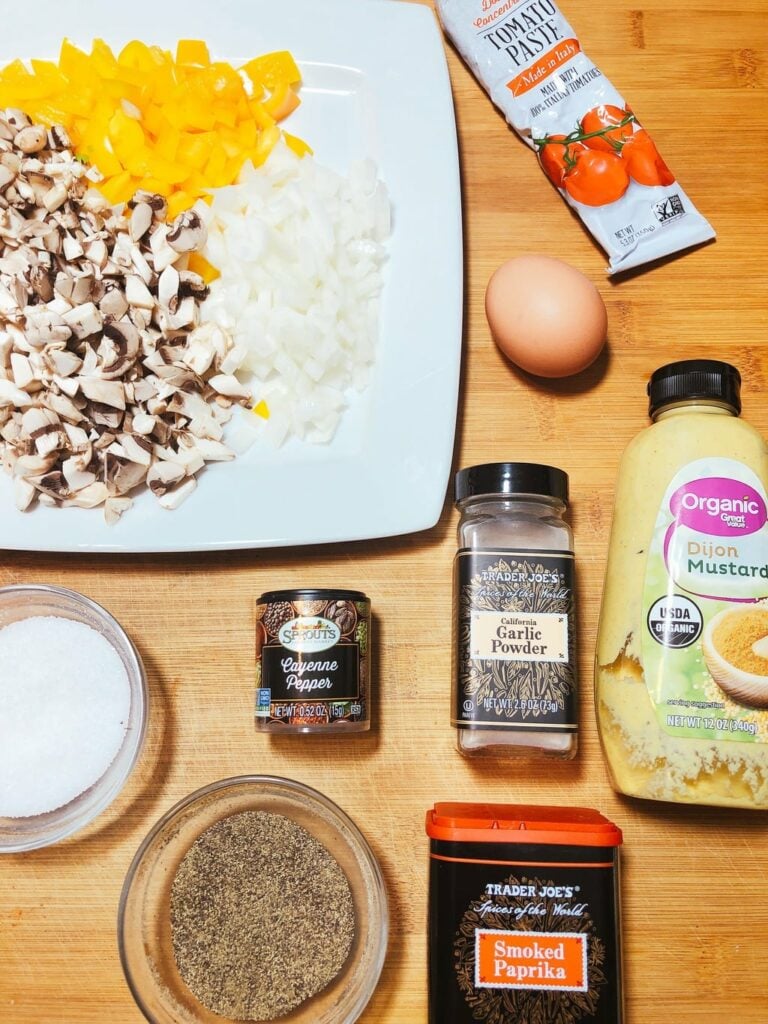 Turkey Meatloaf Shopping List
This is what you will need to have on hand before you make your own homemade turkey meatloaf recipe:
1 1/2 Lbs Ground Turkey

Yellow Bell Pepper

White Onion

Mushrooms

Egg

Salt

Pepper

Cayenne Pepper

Garlic Powder

Smoked Paprika

Tomato Paste

Honey

Coconut Amino Sauce

Dijon Mustard
Is this Turkey Meatloaf recipe gluten-free?
Yes! This is a gluten-free turkey meatloaf recipe. There aren't any breadcrumbs. It doesn't need it. The veggies add all the filler it could want. Just make sure all of your spices and condiments are gluten-free too.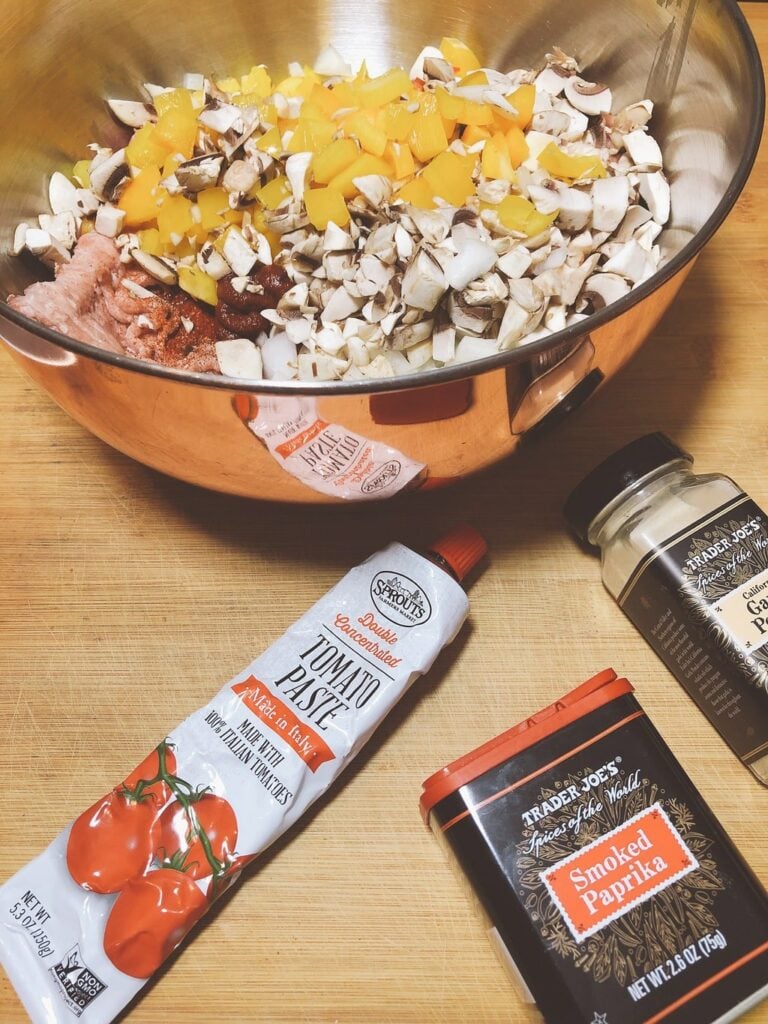 How to Make Turkey Meatloaf in the Instant Pot
If you have an Instant Pot, this recipe can be changed up to use it. Simply Happy Foodie has the instructions. It only takes about 35 minutes. She put her meatloaf in the oven broiler to crisp up the glaze – it's a really great idea!
How to Make Turkey Meatloaf in the Slow Cooker
The slow cooker is my least favorite way to make meatloaf. If you want to try, use the recipe on 365 Days of Crockpot. Their idea puts the entire loaf pan in the crockpot. This makes sure it stays in a loaf shape instead of a glob. They also broil the meatloaf for a few minutes to crisp it up.
How To Make Homemade Turkey Meatloaf in the Oven
I personally prefer to make my meatloaf in the oven.
First, mix up all your ingredients. I find it is easier to do this with my bare hands, just grabbing everything and smashing it together.
Then, place it all in a loaf pan and prepare the tomato glaze.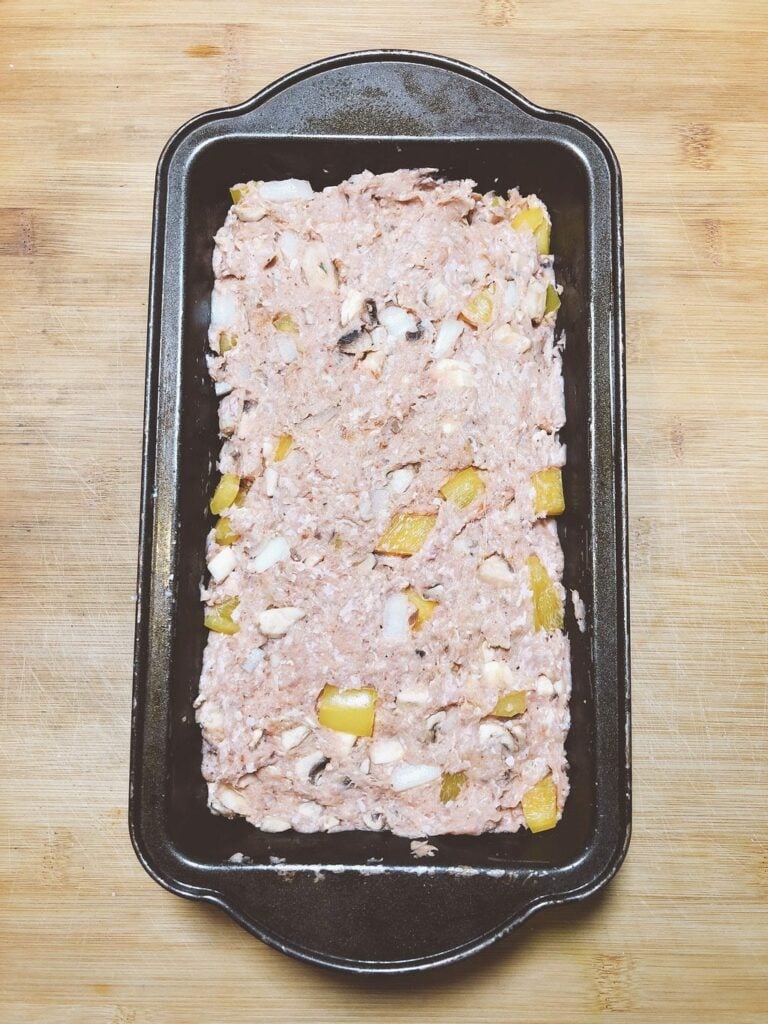 How to Make a Sweet Tomato Glaze
Do you know how some meatloaf recipes use ketchup? Or is it Catsup? No matter how you spell it, my little concoction replaces it and tastes way better. There are just 4 simple ingredients and it has a ton of zest.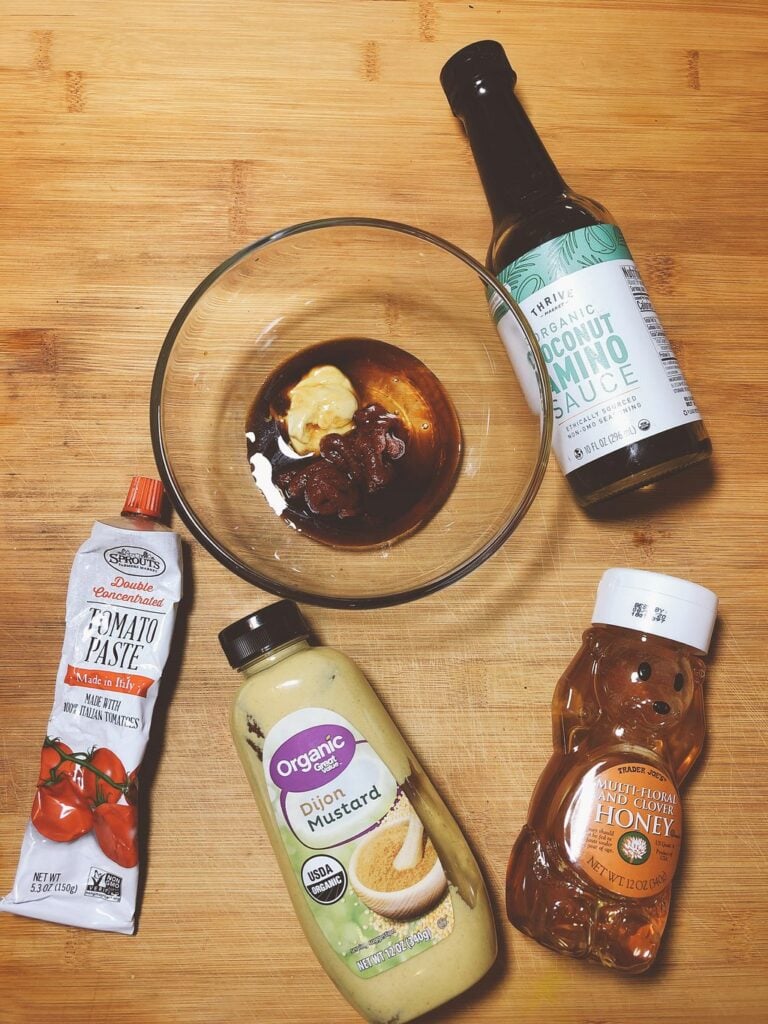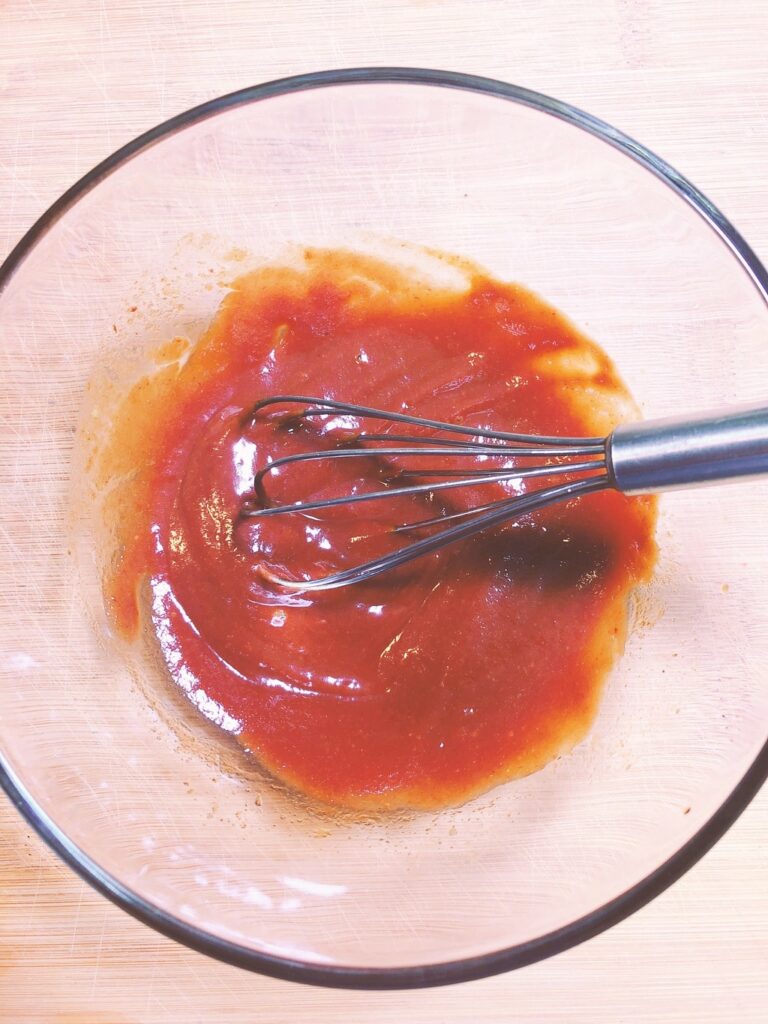 Do you put the glaze on before or after it cooks?
I prefer to take the cooked meatloaf out and brush it with the glaze at the end. If you want, you could put the glaze on during the last 5 minutes of cooking to add a bit of crispiness.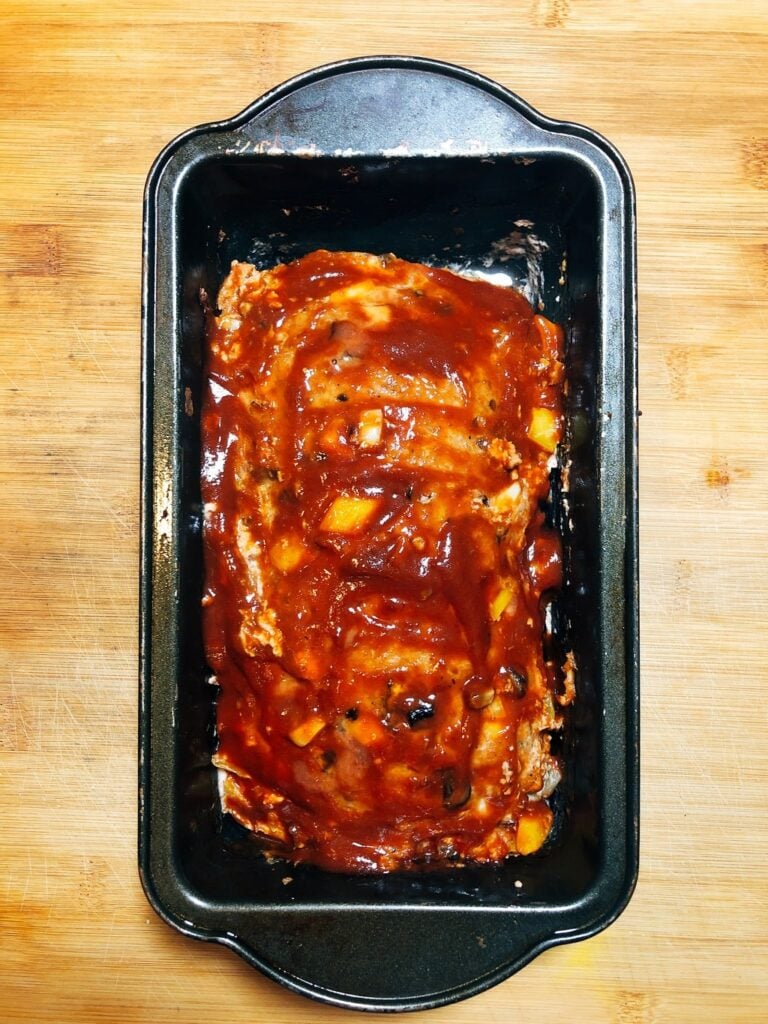 What to Serve with Turkey Meatloaf
This is pretty filling. So you can serve it with just a few small sides for a satisfying dinner. Some of my favorite things to serve with turkey meatloaf are:
Steamed green beans with mushrooms

Homemade creamed corn

Roasted potatoes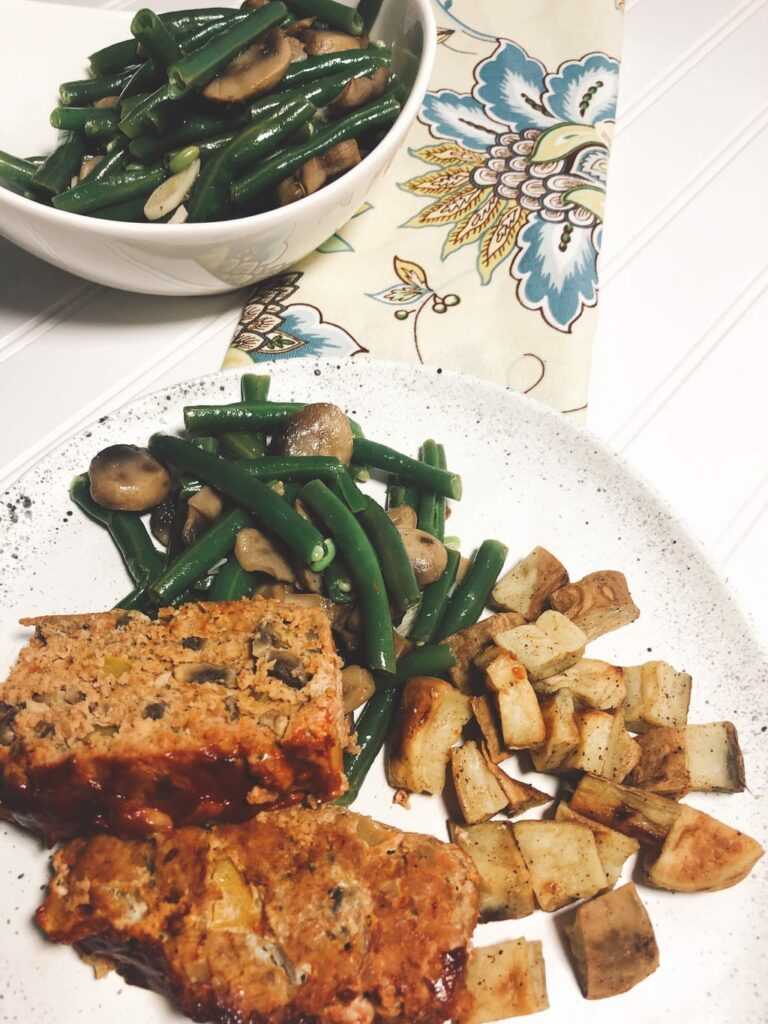 Turkey Meatloaf Recipe
Here is a printable recipe card for you with my entire recipe on it. Don't forget to pin this post so you can find it later!
Ingredients:
1 1/2 Lbs Ground Turkey
1 Diced Yellow Bell Pepper
1/2 Diced White Onion
1 1/2 Cups Chopped Mushrooms
1 Egg
1 Tsp Salt
1 Tsp Pepper
1 Tsp Cayenne Pepper
2 Tsp Garlic Powder
2 Tsp Smoked Paprika
1 Tbs Tomato Paste for Meatloaf Mixture and 1 Tbs for Tomato Glaze
1 Tbs Honey
2 Tbs Coconut Amino Sauce
1 Tbs Dijon Mustard
PIN for Later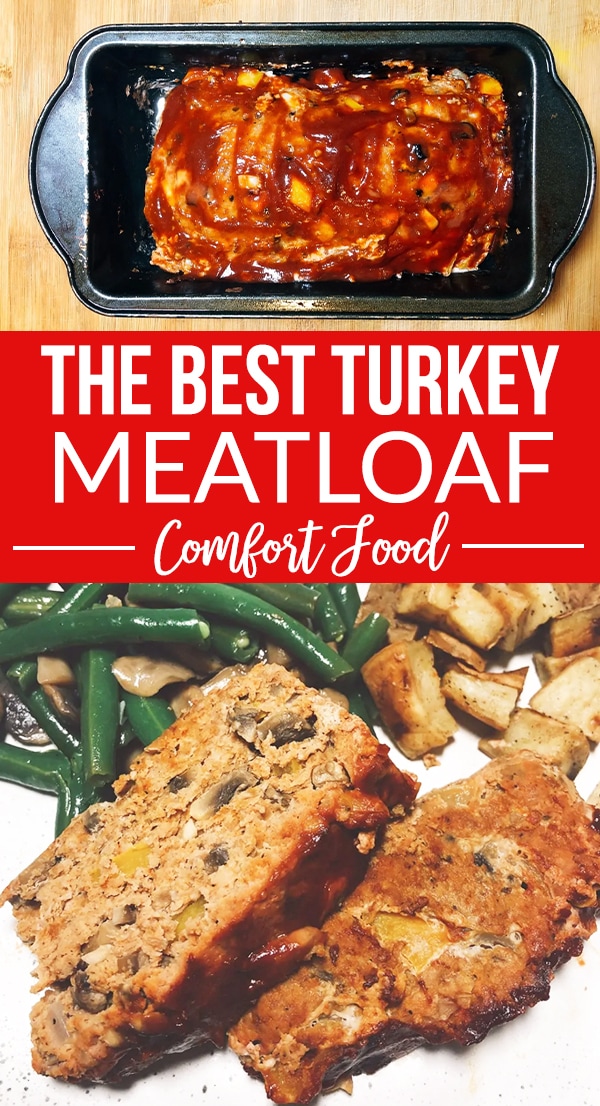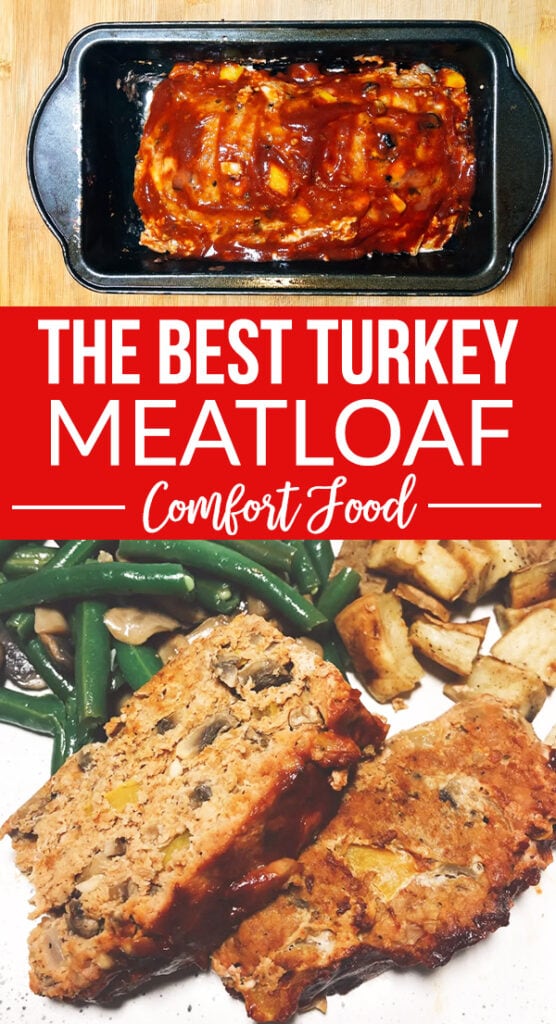 More Dinner Recipes
Here are some more of my favorite dinner recipe ideas to help you with your menu planning.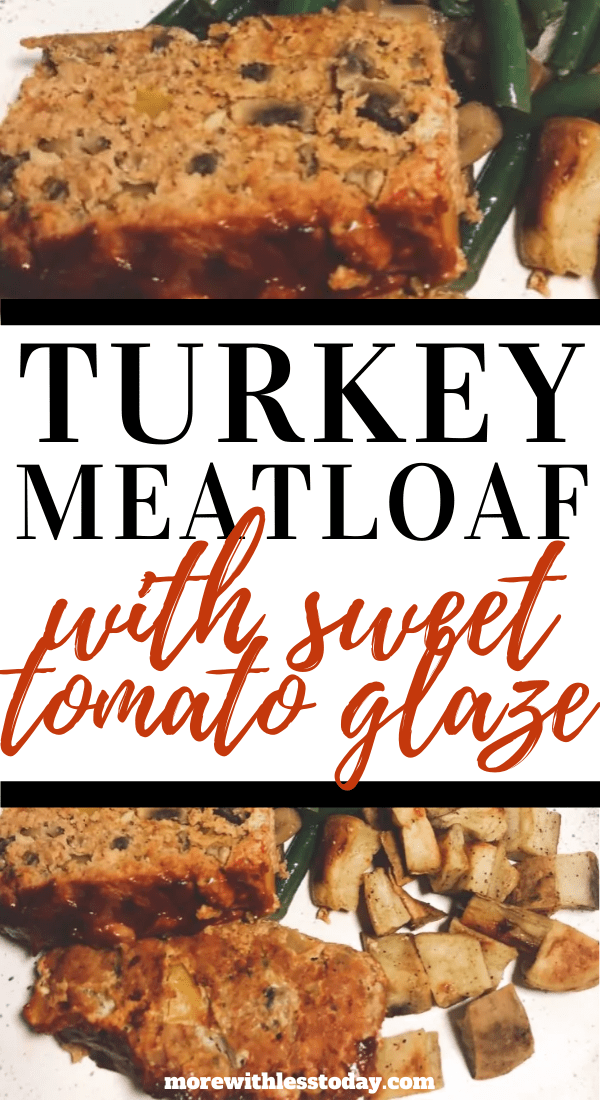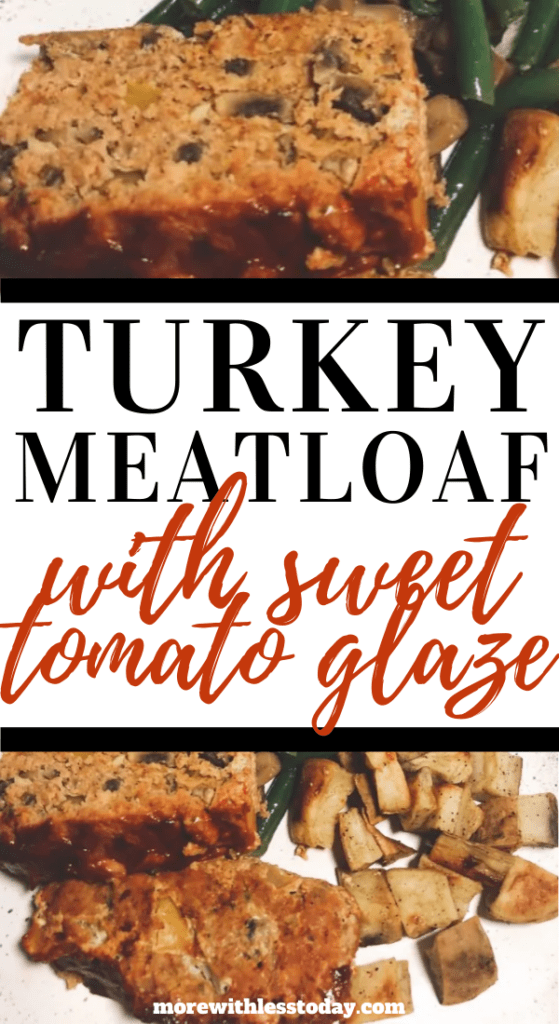 PIN It Now and Make it Later