Pineapple Recipes
Nothing says warmer weather like some delicious pineapple recipes. If you have leftover pineapple whether it is fresh pineapple, canned pineapple slices, or frozen pineapple, you can always find a pineapple recipe everyone will enjoy.
Fruit is not just for desserts anymore and if you enjoy the taste of pineapple, you will be glad to know that you can use pineapple in many different dishes. From sweet to savory, there is always room for the sweet taste of pineapple.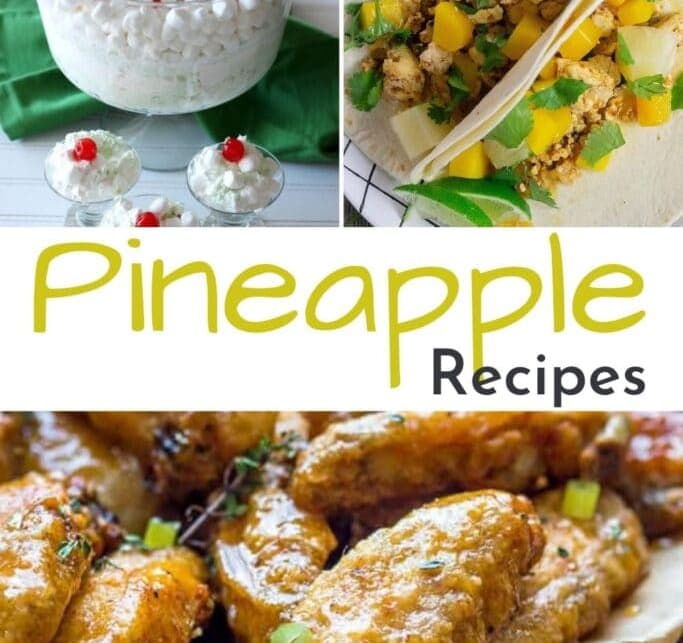 These pineapple recipes combine the best of both worlds. From pineapple flavored dinner dishes to appetizers and pineapple desserts, these recipes will be a hit with everyone who tastes them.
Combining two of my favorite fruits, this salsa is so good with chicken, fish or just chips!
Pineapple Pistachio Marshmallow Dessert
"This delicious pineapple dessert is light, fluffy, and gluten-free. Bursting with flavor, this fun and delicious dessert will be a hit."
"Perfect as an appetizer or summer snack, these bacon-wrapped pineapples are easy to make and delicious."
"Made with fresh pineapples, these pineapple cookies are a delicious sweet treat everyone will enjoy."
"Enjoy this tasty pineapple salsa with your favorite corn chips or serve during your summer gathering for a delicious treat."
"Sweet and savory, this pineapple casserole is a flavorful dish made with pineapple, cheese, buttery crackers, and more."
"Another delicious appetizer or summer meal, these spicy wings are covered in a sweet pineapple glaze."
"Easy and delicious, this grilled pineapple is probably one of the best ways to enjoy fresh pineapple."
"This pineapple fried rice is a vegan dish that consists of a combination of veggies, herbs, and papaya for a delicious weeknight meal."
Vegan Tacos with Pineapple and Mango
"Vegan and delicious, these tacos are filled with a tasty pineapple and mango filling that is sure to delight."
"Enjoy a delicious glass of tea with a pop of pineapple. This pineapple iced tea is easy to make and full of flavor."
"A delicious pineapple dessert that will be a hit with the family, this tasty pineapple crisp is easy to make and flavorful."
"This pineapple gin cocktail is bursting with the flavors of pineapple for a delicious summer drink to enjoy."
Pineapple Carpaccio with Honey & Ginger
"Pineapple, coconut, honey, and ginger come together to create a delicious pineapple treat you are sure to love."
Air Fryer Honey Glazed Pineapple Fries
"These honey-glazed pineapple fries will make a deliciously sweet side dish or tasty snack that friends and family can enjoy."
"Sweet and tangy, this pineapple chicken stir fry will make a filling and delicious weeknight meal."
"If you love pineapple, you will love these sweet pineapple bars. Like a lemon bar, this dessert uses fresh or canned pineapple."