As our country's birthday approaches, it is time to celebrate and see our neighbors and friends again. The kids are out of school, the nights are longer, and we have missed being with people!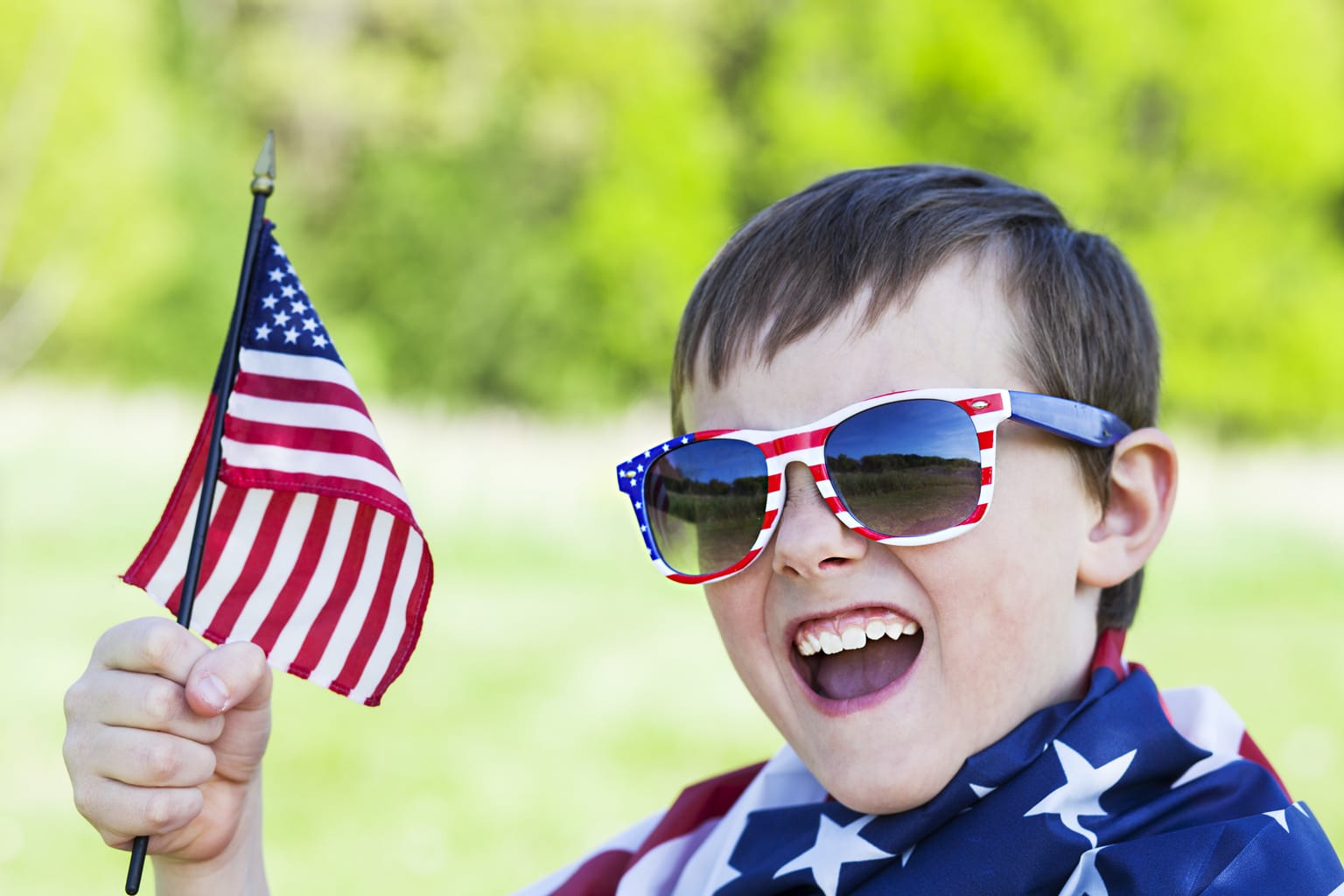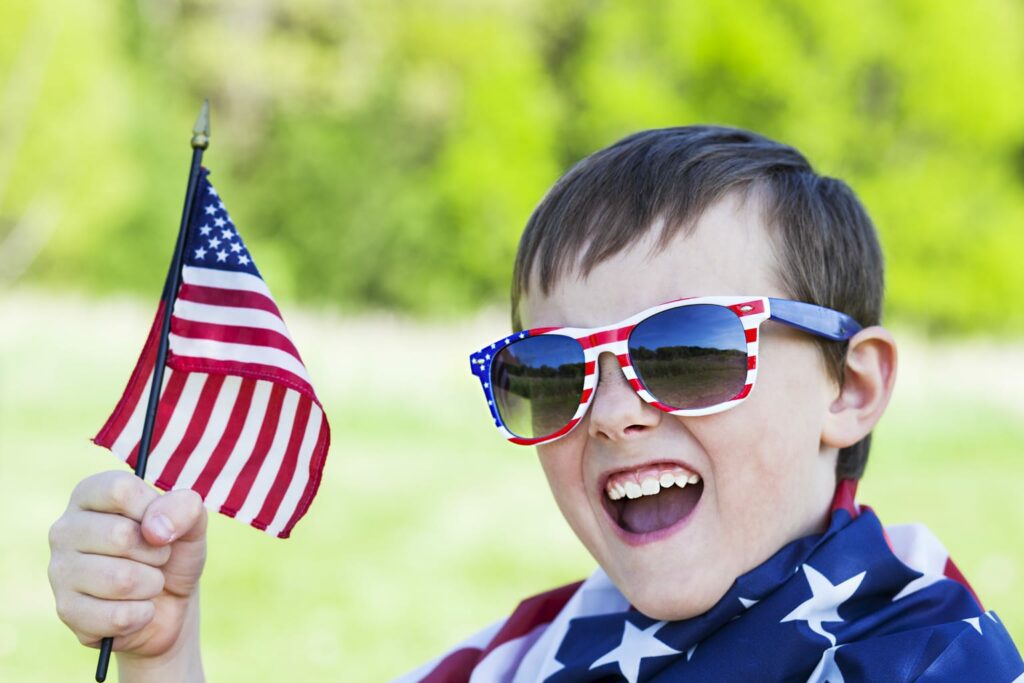 Throw the Perfect Independence Day Block Party – Easy Entertaining Tips for the 4th of July
Find a party coordinator if that is not you. You will need someone to email or pass out invitations and delegate the setup and the potluck dishes. Don't forget to have a sign-up for clean up so that one family doesn't get stuck with all the work at the end.
This year, you may want to have each family bring their own food if you are not comfortable with a potluck meal.
When planning your block party, plan a parade for the young ones complete with decorated wagons, bicycles, and homemade instruments. You can also include old-fashioned games such as a watermelon seed spitting contest, flashlight tag, sack races, water balloon games, or a scavenger hunt.
Set up the party in one area of your neighborhood or ask someone to host it in their backyard. Find out if you will need a special permit from your city and/or homeowners association if you plan to block off the street.
Decorate with flags, bunting, and all things red white, and blue. You can have the older kids make tie-dye or special T-shirts to commemorate the party.
Don't forget to take a group photo!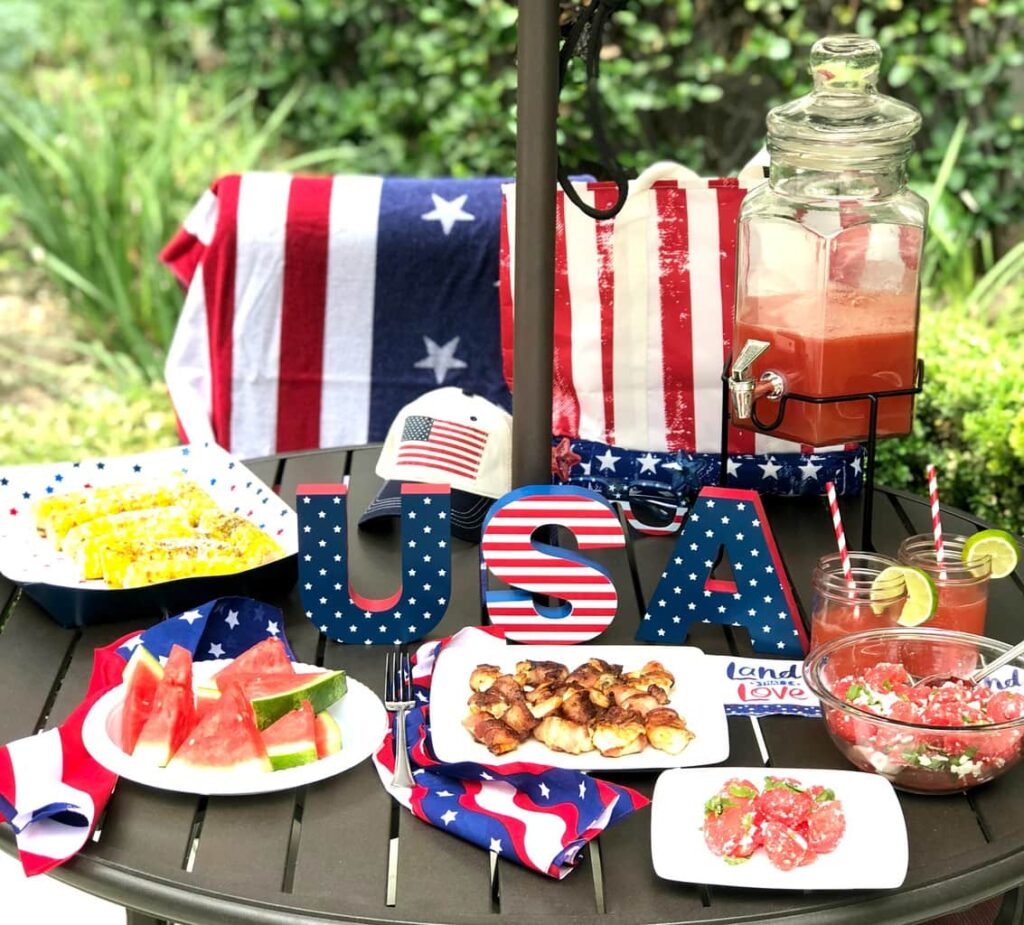 Recipes to Make for Your Independence Day Block Party
I remember these neighborhood parties from my own childhood. Throwing a block party doesn't have to be fancy or complicated.
Of course, no summer party is complete without a watermelon. Try our refreshing and festive watermelon feta salad and watermelon lemonade punch.
Watermelon Feta Salad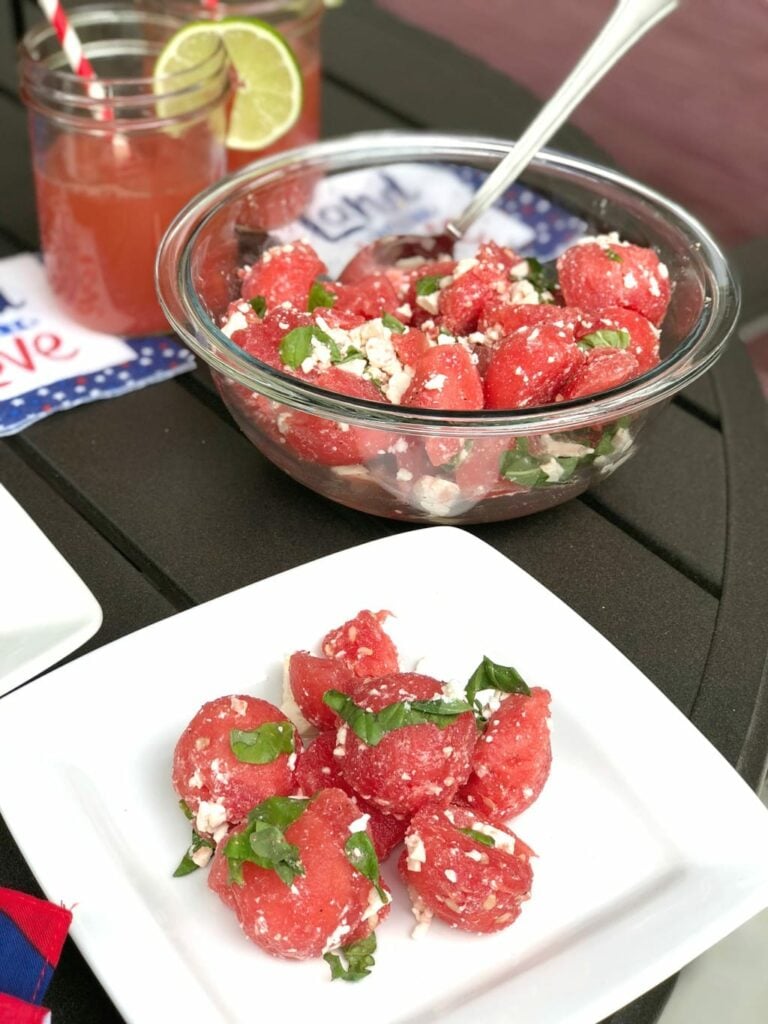 This light, refreshing Watermelon Feta Salad comes together in just a few minutes. My husband had some reservations about combining Feta with watermelon but he will now tell you that the combination is simply delicious.
Serves: 4
Watermelon Feta Salad Ingredients
8 Cups Cubed or Balled Watermelon
1/4 Cup Chopped Basil
1 Cup Feta Cheese
2 Limes
¼ tsp Salt
¼ tsp Pepper
Instructions
#1. Add the watermelon to a large bowl.
#2. Squeeze in the juice from the limes, add salt, pepper, basil, and toss.
#3. Top with Feta Cheese. Chill until ready to serve. Enjoy!
Watermelon/Lemonade Punch
Here is a quick and easy tutorial to make a delicious and refreshing watermelon/lemonade punch: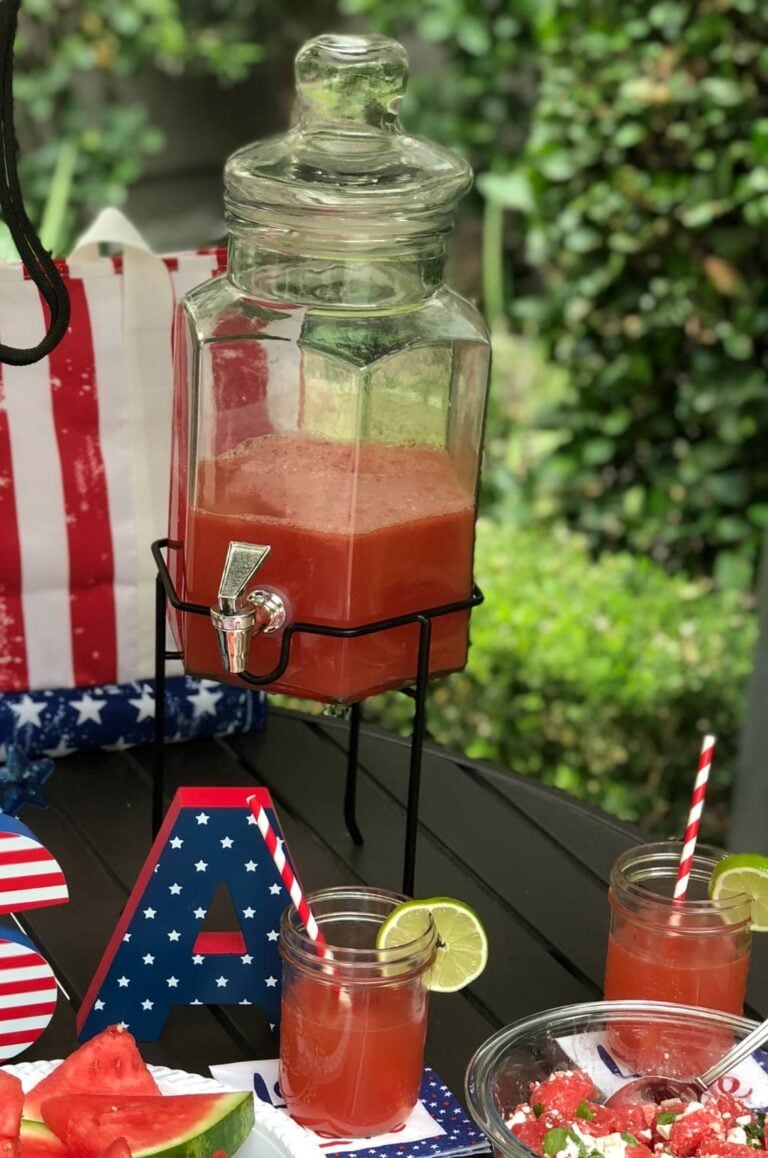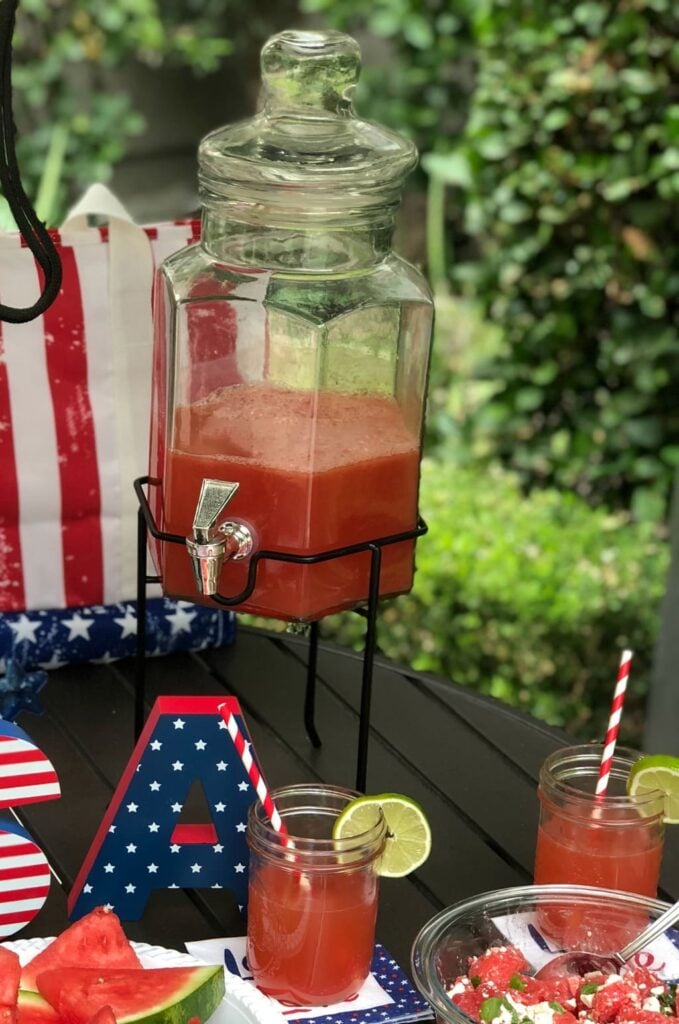 Ingredients for Watermelon/Lemonade Punch
10 cups Cubed Watermelon
1 ¼ cups Fresh Squeezed Lemon Juice
1 ¼ cup Simple Syrup ( 1 Cup Sugar and 1 Cup Water)
10 cups Filtered Water
Mint for garnish
Instructions
#1. Blend 10 cups of watermelon and strain it.
#2. In a drink dispenser, add the watermelon juice, simple syrup, lemon juice, and water. Enjoy!
Other Independence Day Block Party Recipes
Corn on the Cob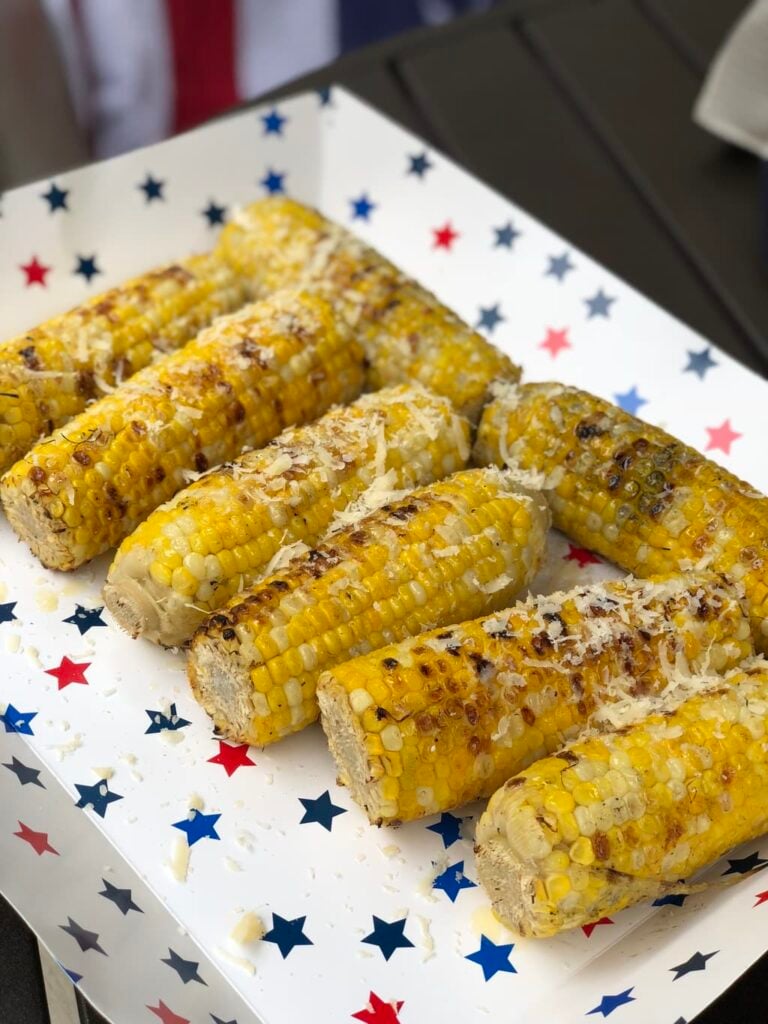 Corn on the cob is another must-have at any summer get-together. If you have never tried it on the grill you don't know what you are missing! It will cook right along with whatever you are grilling. Add grated parmesan cheese while the corn is still warm and that is the taste of summer.
Bacon-Wrapped Shrimp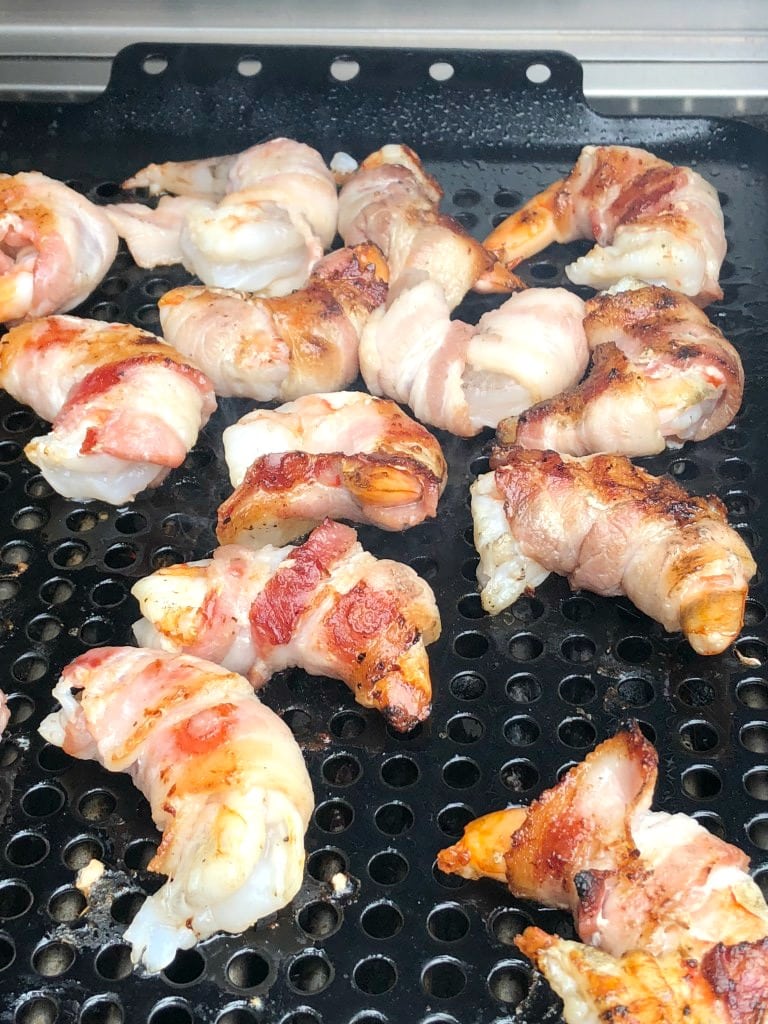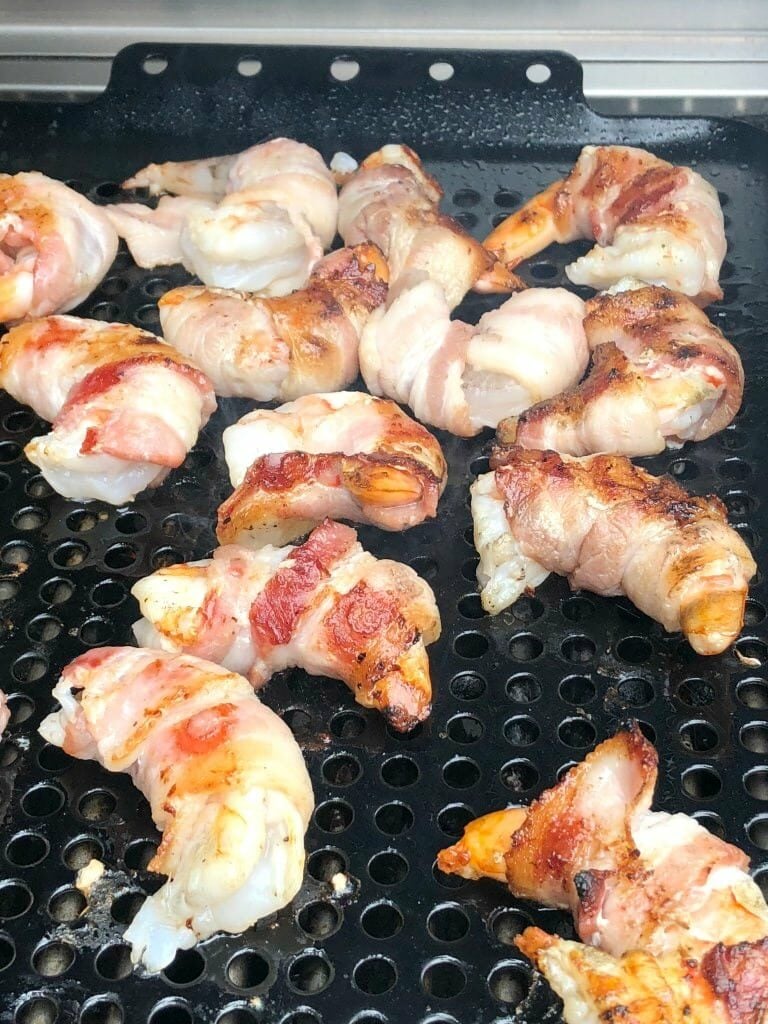 When we made this bacon-wrapped shrimp, our mouths were watering! What is better than the smell of bacon? When you combine it with the jumbo shrimp, it is a combination that has no equal.
Ingredients for Bacon-Wrapped Shrimp
1.5 lbs Raw Jumbo Shrimp (about 14)
1 lb Bacon (about 7 Slices Thick Cut Bacon)
Salt, to taste
Pepper, to taste
Instructions for Bacon-Wrapped Shrimp
#1. Peel and clean the shrimp, and then dry it well. Sprinkle it with salt and pepper. Cut the bacon strips in half and wrap one half bacon slice around the shrimp.
#2. If needed, use a toothpick to hold the bacon. Refrigerate until ready to grill. Remove toothpicks before grilling.
#3. Place on the grill, flipping occasionally until the bacon is fully cooked and crispy.
#4. Remove from the grill and enjoy!
You Might Also Like