If you are attending a baby shower or want to buy some classic books to welcome a new baby, we put together a list of 20 Books Every Nursery Needs. This list includes some of my favorites and others are from a post I read on The Today Show website.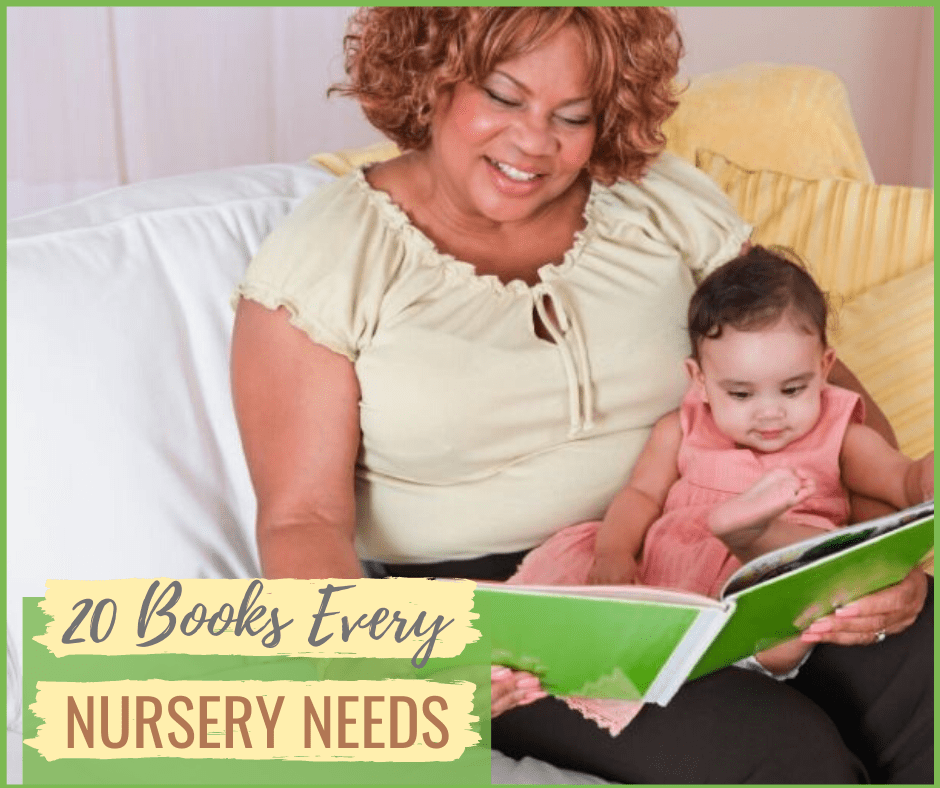 I love the trend of buying a book for the baby and writing a note instead of buying a card, don't you?
We have affiliate relationships which means we may earn a small referral commission at no additional cost to you if you shop using our links.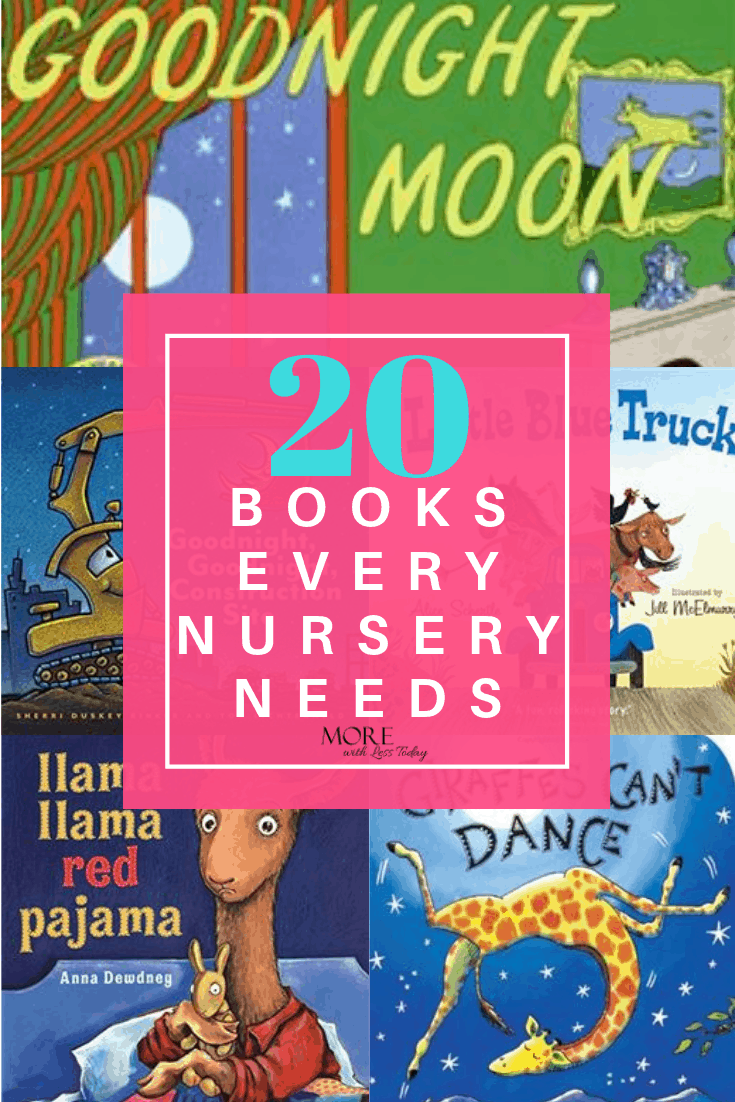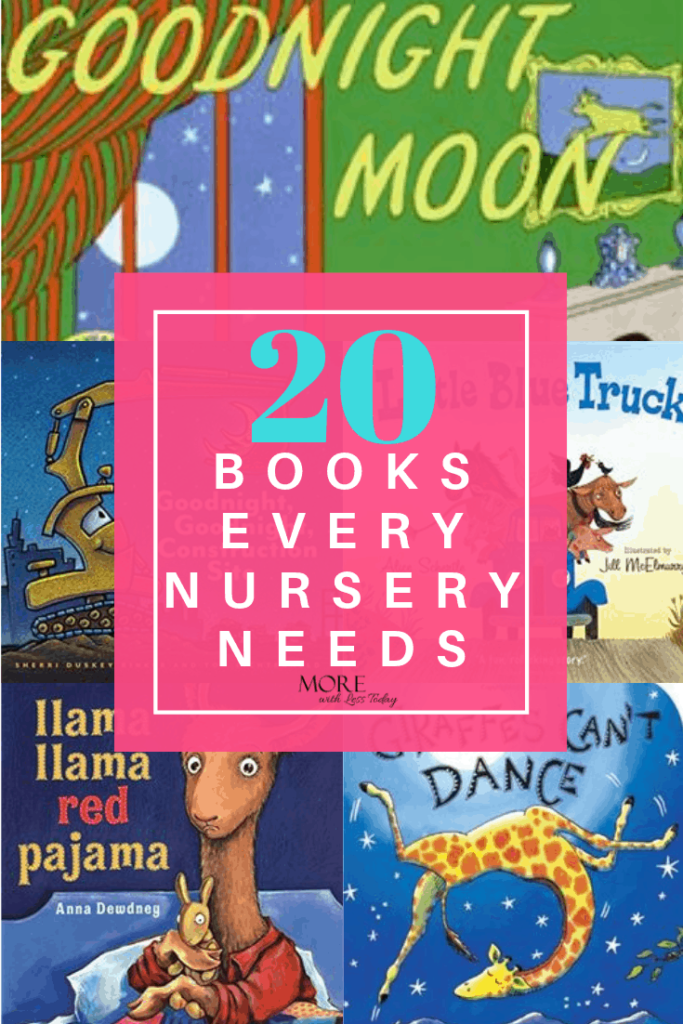 20 Books Every Nursery Needs
The Very Hungry Caterpillar // Eric Carle
"THE all-time classic picture book, from generation to generation, sold somewhere in the world every 30 seconds! Have you shared it with a child or grandchild in your life?"
Where the Wild Things Are // Maurice Sendak
"Maurice Sendak's Caldecott Medal-winning picture book has become one of the most highly acclaimed and best-loved children's books of all time. A must for every child's bookshelf."
Goodnight Moon // Margaret Wise Brown
"In this classic of children's literature, beloved by generations of readers and listeners, the quiet poetry of the words and the gentle, lulling illustrations combine to make a perfect book for the end of the day. This board book edition is the perfect size for little hands."
The Going To Bed Book // Sandra Boynton
"This classic bedtime story is just right for winding down the day as a joyful, silly group of animals scrub scrub scrub in the tub, brush, and brush and brush their teeth, and finally rock and rock and rock to sleep."
Goodnight Gorilla // Peggy Rathmann
'A must-have board book for all babies."
The Snowy Day // Ezra Jack Keats
"No book has captured the magic and sense of possibility of the first snowfall better than The Snowy Day. Universal in its appeal, the story has become a favorite of millions, as it reveals a child's wonder at a new world, and the hope of capturing and keeping that wonder forever.'
Knuffle Bunny: A Cautionary Tale // Mo Willems
"Using a combination of muted black-and-white photographs and expressive illustrations, this stunning book tells a brilliantly true-to-life tale about what happens when Daddy's in charge and things go terribly, hilariously wrong."
Harold and the Purple Crayon// Crockett Johnson
"From beloved children's book creator Crockett Johnson comes the timeless classic Harold and the Purple Crayon! This picture book is an excellent choice to share during homeschooling, in particular for children ages 4 to 6. It's a fun way to learn to read and as a supplement for activity books for children."
Chicka Chicka Boom Boom // Various Authors
"The complete edition of the bestselling children's favorite, Chicka Chicka Boom Boom, is now available as a Classic Board Book!"
Llama Llama Red Pajama // Anna Dewdney
"Children will relate to Baby Llama's need for comfort, as much as parents will appreciate Mama Llama's reassuring message."
Click, Clack, Moo: Cows That Type // Doreen Cronin
"The quirky, hilarious farmyard tale that started it all from New York Times bestselling duo of Doreen Cronin and Betsy Lewin! Now the inspiration for a new Christmas special, CLICK, CLACK, MOO: Christmas on the Farm."
Giraffes Can't Dance // Giles Andreae
"With light-footed rhymes and high-stepping illustrations, this tale is gentle inspiration for every child with dreams of greatness."
Owl Babies // Martin Waddell
"A tender tale to remind the youngest of children that Mommy always comes back."
Goodnight, Goodnight Construction Site // Sherri Duskey Rinker
"With irresistible artwork by bestselling illustrator Tom Lichtenheld and sweet, rhyming text, this construction book for kids will have truck lovers of all ages begging for more."
Snow // Uri Shulevitz
"Uri Shulevitz' playful depiction of a snowy day and the transformation of a city is perfectly captured in simple, poetic text and lively watercolor and pen-and-ink illustrations."
Little Blue Truck // Alice Shertle
"With a text full of truck sounds and animal noises to read aloud, here is a rollicking homage

to the power of friendship and the rewards of helping others.
Includes a downloadable party kit for even more fun!'
The Wonderful Things You Will Be // Emily Winfield Martin
"The New York Times bestseller that celebrates the dreams, acceptance, and love that parents have for their children . . . now and forever! This is the perfect gift for Mother's Day, and any day."
Dear Zoo: A Lift-the-Flap Book // Rod Campbell
"Rod Campbell's classic lift-the-flap book Dear Zoo has been a firm favorite with toddlers and parents alike ever since it was first published in 1982."
Global Baby Bedtimes // Maya Ajmera
"Babies get ready for bed differently around the world, but they are all cuddled, snuggled, and loved! Part of the best-selling Global Babies series."
All The World // Liz Garton Scanlon
"This simple, profound, Caldecott Honor story is now available as a Classic Board Book."
Do you have a favorite book for a nursery to share?
PIN to Save!