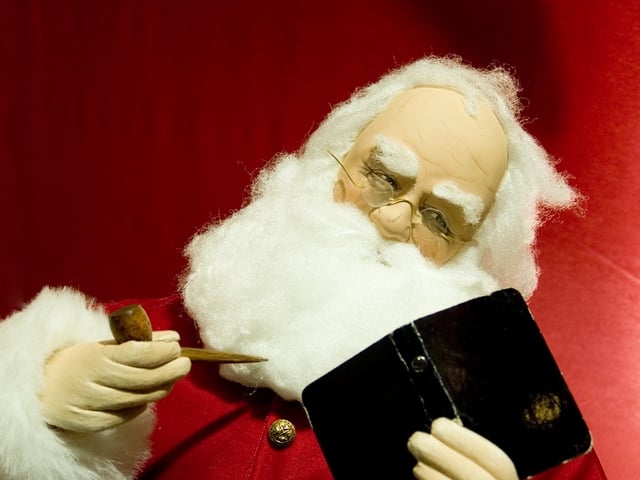 Every year when I unpack my Christmas decorations, I enjoy looking at my collection of favorite Christmas books for kids. I cannot part with them. If you love them too or enjoy giving them as gifts, here is a terrific list of classic Christmas books for kids along with new favorites that you can quickly order online. As an Amazon Associate, I earn from qualifying purchases.
Favorite Christmas Books for Kids
"When the mayor of Mouseville announces the town snowman contest, Clayton and Desmond claim that they will each make the biggest snowman ever. But building a huge snowman alone is hard! They work and work, but their snowmen just aren't big enough. Soon they have an idea. As the day of the contest approaches, Clayton and Desmond join forces to build the biggest snowman ever."
"In The Berenstain Bears and The Joy of Giving Brother and Sister Bear can't wait for Christmas and all the presents they'll open. But during the Christmas Eve pageant, something special happens! The Bear cubs learn a very valuable lesson about the joy of giving to others."
"Oliver may be the littlest elf in the North Pole, but he has a big desire to discover his very special job in Santa's workshop! But after getting lost in the toy shop, making a mess at the book shop, and falling in the mixing machine at the bakery, is the littlest elf just too little? Perhaps he just needs the littlest reindeer to remind him what Christmas is all about!"
"Stinky Face loves Christmastime…but he still has plenty of questions. What if a big, wintry wind blows his Christmas tree away? What if one of the reindeer gets his antlers stuck in the branches that hang over the roof? Luckily, his imaginative Mama knows how to reassure him that Christmas will be magical!"
"Long ago, a brave little girl named Anja wanted to be one of Santa's elves. So she leaves a note for her family and helps her elderly neighbor prepare for the holiday, then she straps on her skis, and heads out into the snowy landscape. From a red bird to a polar bear to a reindeer, a menagerie of winter animals help Anja make her way to Santa. A generous trim-size, matte cover, extraordinary photographs, and foiled title make this a special book for the holiday season."
"You've been waiting all year long, and now it's finally Christmas Eve! Is this the year you'll finally catch an elf? Start a new Christmas tradition with this hilarious children's book from the creators of the New York Times best-seller How to Catch a Leprechaun!"
"When Santa was young and needed a job, no one was looking for a man in a red suit to deliver gifts on Christmas. So Santa tried just about everything — from a chimney sweep to a postman to a circus performer. But none of these worked out. It wasn't until he met a group of elves who helped him use all his special talents, that Santa was able to find his dream job."
"As Little Cub and her family prepare to celebrate the most special day of the year, the curious young polar bear begins to wonder… "Who invented Christmas?" Mama's answer only leads to more questions like "Is God more important than Santa?" So she and Little Cub head off on a polar expedition to find God and to see how he gave them Christmas."
"Every Who down in Who-ville liked Christmas a lot . . . but the Grinch, who lived just north of Who-ville, did NOT!" Not since "'Twas the night before Christmas" has the beginning of a Christmas tale been so instantly recognizable. This heartwarming story about the effects of the Christmas spirit will grow even the coldest and smallest of hearts. Like mistletoe, candy canes, and caroling, the Grinch is a mainstay of the holidays, and his story is the perfect gift for young and old."
"The holiday season just got a whole lot merrier now that Rob Elliott is back with another instant classic full of fresh, frosty fun to bring the whole family together. These pages are bursting with laughter to warm up the fireside, the sledding slopes, and everywhere in between."
"Join Little Bear as he prepares for the holidays, all the while giving readers a chance to smell six wonderful scents including apple pie, Christmas tree, hot chocolate, and more! This delectable treat is a perfect way for families to spend the yuletide season."
"Celebrate the holidays with Bear and his friends in this sweet picture book from bestselling author Karma Wilson! Bear's friends are determined to keep Bear awake for Christmas! So they wake Bear up and have him help them find a Christmas tree, bake cakes, hang up stockings, and sing Christmas songs. Bear stays up—by discovering that giving is one of the best Christmas presents of all!"
"In Llama Llama Jingle Bells, little llama and his friends give gifts, sing songs, and decorate cookies. It's a very merry holiday indeed!"
"This charming tale of an overgrown pine always being passed by for Christmas, and what his woodland friends do to help him, is sure to become a Christmas classic. With delightful illustrations by wildlife artist Michael Monroe and enchanting text from Colleen Monroe, the birds, deer and squirrel of this story help make their special friend's wish come true."
"The Littlest Christmas Tree wants to find a home for Christmas in this companion to the bestselling favorite The Littlest Pumpkin. There are only five days until Christmas, and the Littlest Christmas Tree is still waiting for a home. All it wants is for a family to take it home, decorate it, and sing its favorite song, "Oh Christmas tree, Oh Christmas tree, how lovely are thy branches…""
"Join the Bear cubs as they learn all about Jesus' holy birth. From the Angel Gabriel's announcement to Mary to the visit from the three wise men, join Mama, Papa, Brother, Sister, and Honey as they discover the story of the very first Christmas."
"Children ages 3-6 will love to read this Little Golden Book retelling of the classic 1964 holiday TV special, Rudolph the Red-Nosed Reindeer. All of the other reindeer make fun of Rudolph and won't let him play in their reindeer games because he's different. But when Christmas is almost canceled because of a huge snowstorm, Rudolph comes to the rescue with his wonderful shiny red nose."
"Christmas is coming, and Corduroy has a list of gifts he'd like from Santa-until he discovers the true meaning of Christmas is not about train sets and ice skates, but about good friends. Celebrate the season with Corduroy in this Christmas story that is sure to be a holiday read-aloud favorite."
"Share the meaning of Christmas with your children this holiday season with this classic picture book retelling of the Christmas story. First published in 1952, this Little Golden Book adaption of the Christmas story was illustrated by beloved artist Eloise Wilkin. Its simple but poetic text gently invites children to hear the story of Jesus' birth in a stable in Bethlehem."
"Laughs abound in this bestselling Christmas classic by Barbara Robinson! The Best Christmas Pageant Ever follows the outrageous shenanigans of the Herdman siblings, or "the worst kids in the history of the world." The siblings take over the annual Christmas pageant in a hilarious yet heartwarming tale involving the Three Wise Men, a ham, scared shepherds, and six rowdy kids."
"After waiting for days and days and days, it's finally Christmas Eve. And that's when you can try to catch Santa. . . . From Jean Reagan and Lee Wildish, creators of the bestselling HOW TO… series, comes a delightful new offering, written again in a hilarious instructional style. Two sibling narrators give clever tips for "catching" Santa (be crafty! be clever! be gentle!) on Christmas Eve. Filled with humor and holiday warmth, this is a jolly read-aloud for the whole family to enjoy!"
"A fun and playful seasonal twist on "The Itsy Bitsy Spider" makes this favorite nursery rhyme perfect for wintertime! The itsy bitsy snowman went sledding into town, looking at the snowflakes softly falling down. Out came his friends to lend a happy hand. And everything was perfect in his winter wonderland. Little ones will love this fresh winter spin on a classic nursery rhyme, as one little snowman sleds through a winter wonderland."
"Mercer Mayer's Little Critter is getting ready for Christmas in this classic, funny, and heartwarming book. Whether he's making wreaths, eating gingerbread cookies, or putting the star on the top of the tree, both parents and children alike will relate to this beloved story. A perfect way to celebrate the holiday season!"
"Christmas is almost here, which means ice-skating, Christmas carols, and sparkly lights everywhere—even on Snoopy's doghouse! Everyone is enjoying holiday celebrations except Charlie Brown. Can the Peanuts gang help Charlie Brown discover the true meaning of Christmas?"
"Celebrate Christmas with Clifford! It's Christmas time for Emily Elizabeth and Clifford! While they count down the days to their favorite holiday, Clifford makes a snowman, gets a tree, and finds a surprise in his stocking. Featuring a full page of stickers!"
"1986 Caldecott Medal Winner. A young boy, lying awake one Christmas Eve, is welcomed aboard a magical trip to the North Pole . . . Through dark forests, over tall mountains, and across a desert of ice, the Polar Express makes its way to the city atop the world, where the boy will make his Christmas wish. "
"Everyone knows the famous beginning to this beloved holiday poem: "'Twas the night before Christmas, when all through the house . . ." Clement Moore's poem was written in 1822 and has been a holiday classic ever since. This edition, with gorgeous illustrations by Jessie Willcox Smith, was first published in 1912 and is considered by many to be the definitive version of the story."

PIN It to SAVE It!