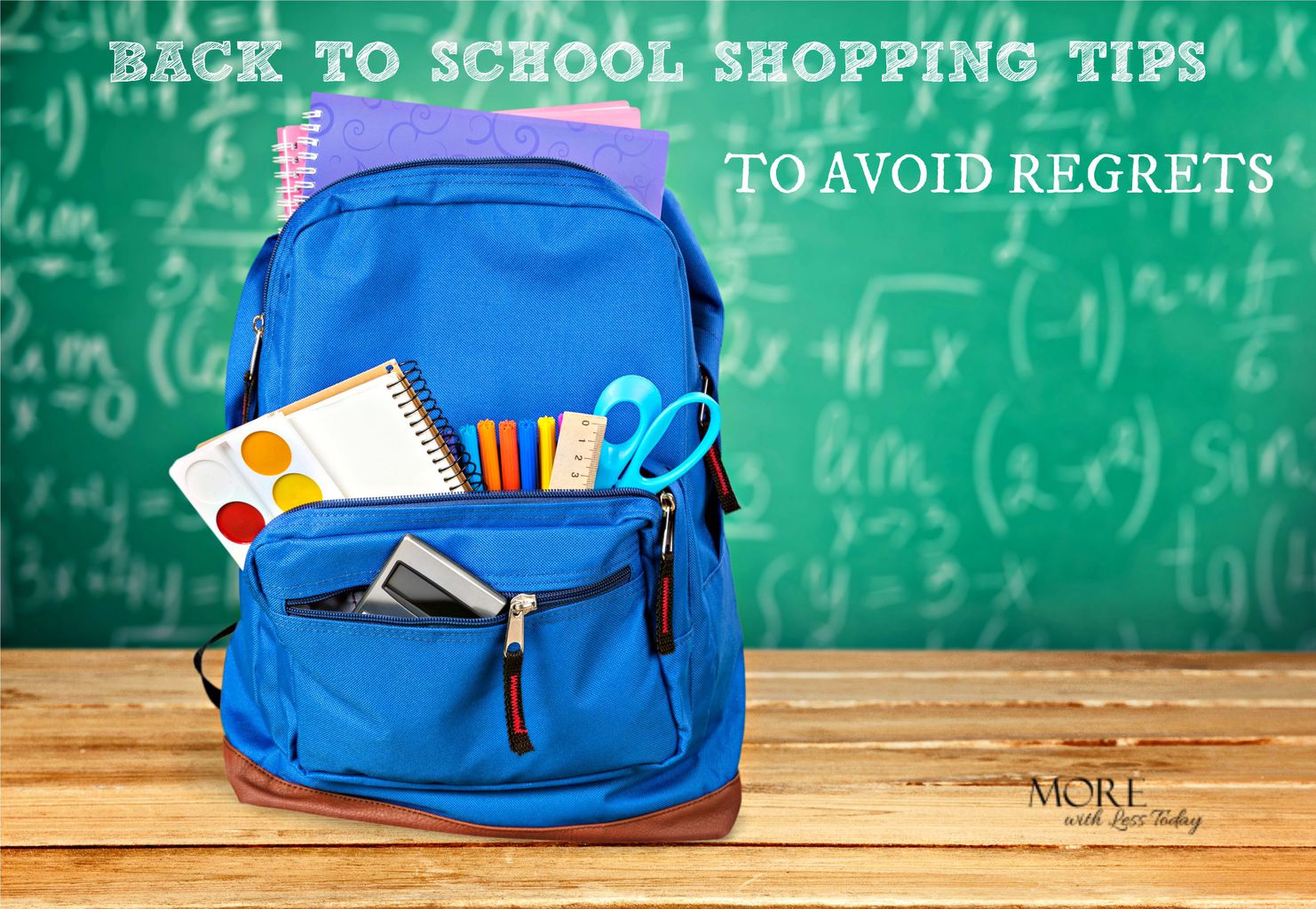 Back-to-School Shopping Tips to Avoid Regrets
While back-to-school shopping can be fun and exciting, it can also be stressful and expensive. As an experienced back-to-school shopper with five children, I have some back to school shopping tips to share to avoid regrets.
There are so many new back-to-school clothing styles and school supplies in all the stores now and kids think they NEED everything. While there are some things that are absolute "must haves" based on lists provided by your child's teacher, often individual teachers will have additional specific supply requests once school starts.
My kids head back to school September 8th. As of now we do not have teacher assignments or a supply list. I'm sure it will come any day, but I am ready to shop now while the stores are having sales and the supply is still good. If you need to get started on back-to-school shopping before you have a supply list from your teacher, begin by picking up the basics and things that you're pretty sure your child will need. Keep everything in original packaging and hold onto receipts in case you need to return or exchange something.
Speaking of picking up the basics, school supplies are typically really inexpensive this time of year. Pick up extras and tuck them away for when they might need refreshed. Markers, crayons, pencils and such often need replenished mid-year. These items can make great stocking stuffers at Christmas, just in time to head back to school after the holiday break.
While back-to-school clothing is important since your child has probably outgrown a lot of clothes or they are showing significant wear, don't go overboard on clothing purchases now. Kids are going to want what other kids have, so let them see what some of their classmates are wearing once school starts. Purchase some basics that can work with a few more stylish and trendy pieces. Check online to see what the trends are for fall and hit the consignment shops or thrift stores to see if you can find similar items your child will love. This can save you so much money and let you buy more for your child over a longer period of time.
Also think about the seasons. I know that my kids will need jeans for school but I also know that the first month or two is really warm and they'll be wearing shorts most of the time. If I buy a lot of jeans right now, I know that come fall and winter they will likely be too small because of how quickly they are growing. This goes for other winter and fall items too.
Spend a little more on things that take heavy wear and tear like backpacks and lunch bags. We typically try to purchase these items every other year since they are not subject to trends as much and can't really be out grown. But because we don't buy these every year we make sure we purchase a durable backpack that will last a long time, that can be easily cleaned, and will hold up to two years of use. I'm okay with spending a little more on these items knowing they will last a much longer time and I won't have to replace them frequently.
Sticking to a budget can be difficult, but if you plan ahead and lay out some shopping rules it can be much easier. Look online with your child ahead of time and decide what items are must haves for their back-to-school wardrobe. Search for good deals online and sign up for store rewards programs if you are a frequent shopper. If you do your research online, before hitting the stores, you are less likely to "impulse buy" and spend more than you planned.
What are some regrets you have from past back-to-school shopping seasons? Do you have any money saving tips for back to school shopping to share?