I love a good salad because of how simple and satisfying it is to make. This Classic Salad with Spinach and Warm Bacon Dressing recipe is a simple spinach salad with a tasty salad dressing.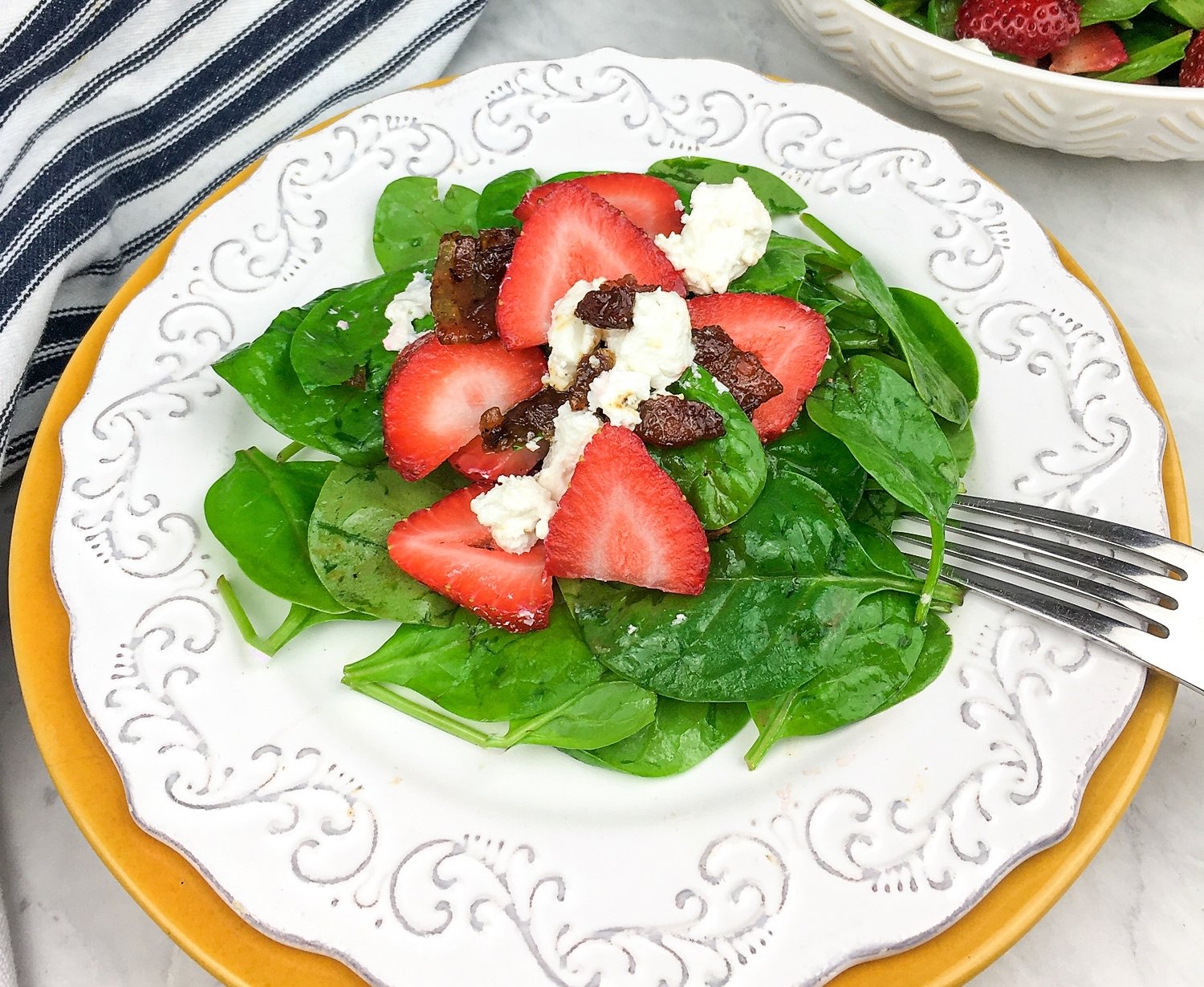 I enjoy this recipe mostly because of the hot dressing. My family loves it so I make sure to make an extra batch every time. I store the warm vinaigrette in an airtight container and the salad in a separate container to maintain freshness.
There are health benefits of spinach (see the nutrition facts here), The crispy bacon and the taste of the delicious warm bacon dressing make this salad a favorite.
We have affiliate relationships which means we may earn a small commission at no additional cost to you if you shop using our affiliate links.
Notes
Turn ventilation on over the cooktop before adding the red wine vinegar to the skillet. This will lessen the impact of the fumes.
If you're not a fan of goat cheese, you can replace it with feta cheese.
We have affiliate relationships which means we may earn a small referral commission at no additional cost to you if you shop using our affiliate links. As an Amazon Associate, I earn from qualifying purchases.
Prep time: 20 minutes
Cooking total time: 15-20 minutes
Serves: 4
Warm Bacon Vinaigrette Ingredients
6 slices thick-cut bacon, cut into 1" pieces
½ c. Red Onion, diced small
¼ c. Red Wine Vinegar
2 t. Honey, preferably local
½ t. Dijon Mustard
¼ c. Extra Virgin Olive Oil
Sea Salt and Black Pepper, to taste
Salad with Spinach and Warm Bacon Dressing Ingredients
4 c. fresh Baby Spinach leaves, rinsed and patted dry
8-10 large fresh strawberries, sliced
4 oz. Goat Cheese, crumbled
Sea Salt and Black Pepper to taste
Supplies Used
How To Make a Salad with Spinach and Warm Bacon Dressing
#1. Fry bacon in a large skillet set over medium heat. Cook, stirring frequently, until crispy, approximately 10 minutes. Transfer bacon with a slotted spatula to a plate lined with paper towels. Blot excess grease from bacon with a paper towel and set aside.
#2. Carefully drain and discard all but one tablespoon of bacon grease from the skillet and return to medium-high heat. (Wipe any bacon drippings with a thick, damp cloth to prevent a flare-up if cooking over flame). Add the sliced onions and cook, stirring occasionally, until soft, approximately 4-5 minutes.
#3. Add red wine, honey, and Dijon mustard. Season with salt and black pepper, to taste, and stir to combine. Cook, stirring constantly, until thoroughly combined and heated through, approximately 2 minutes.
#4. Reduce heat to low and place bacon strips and extra virgin olive oil into the skillet until combined. Continue simmering on low heat while preparing the salad.
#5. Place spinach, sliced strawberries, cooked bacon, and goat cheese into a large bowl. Pour the warm dressing on top and toss to combine the flavors.
#6. Transfer the Wilted Spinach Salad to a large serving platter or individual plates and serve immediately. Enjoy!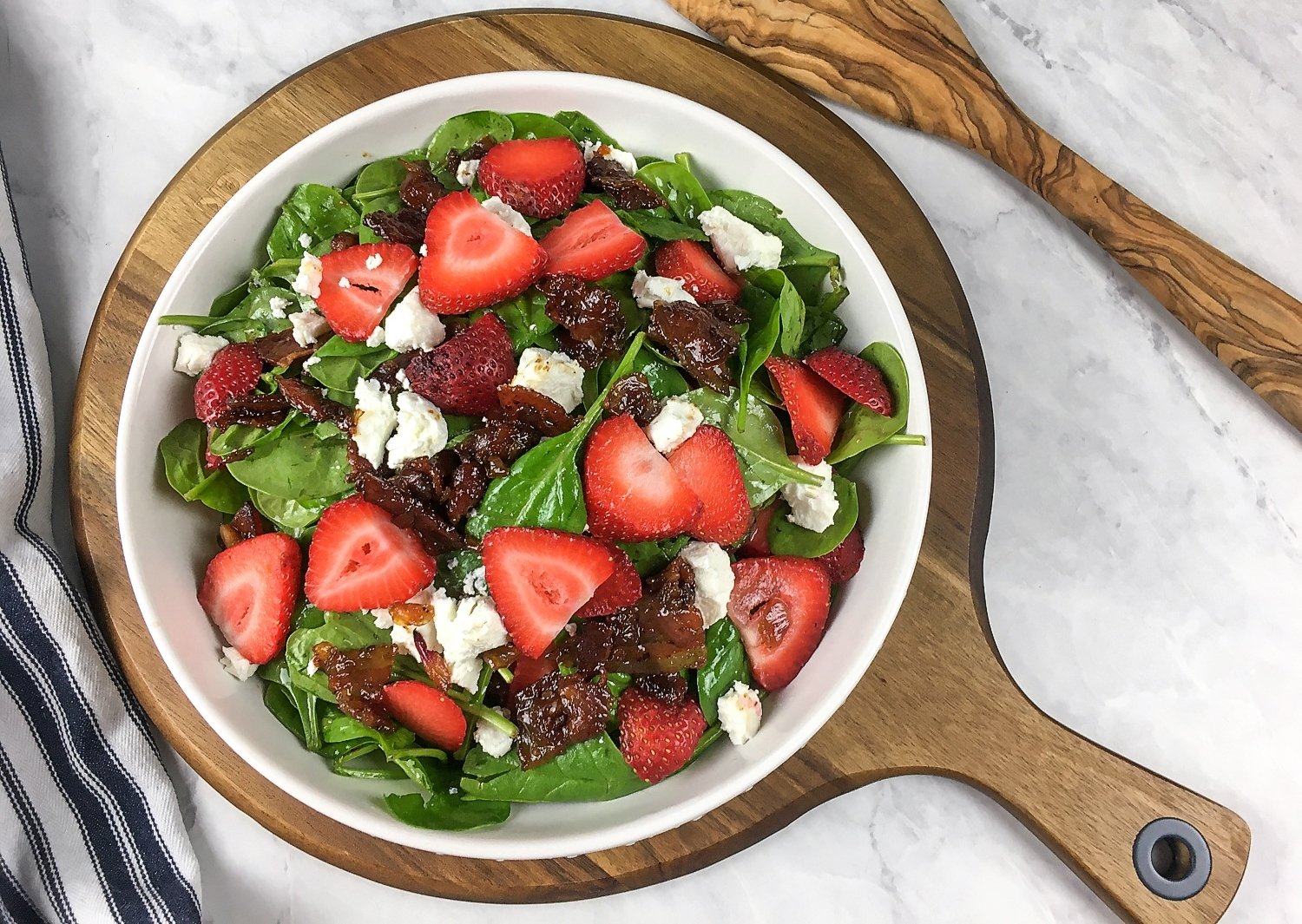 More Salad Recipes to Try
Looking for more recipes to try like this classic spinach salad? You've come to the right place! Click here to view all of my delicious recipes.
Make the Most from Your Amazon Prime Membership (try it for FREE!)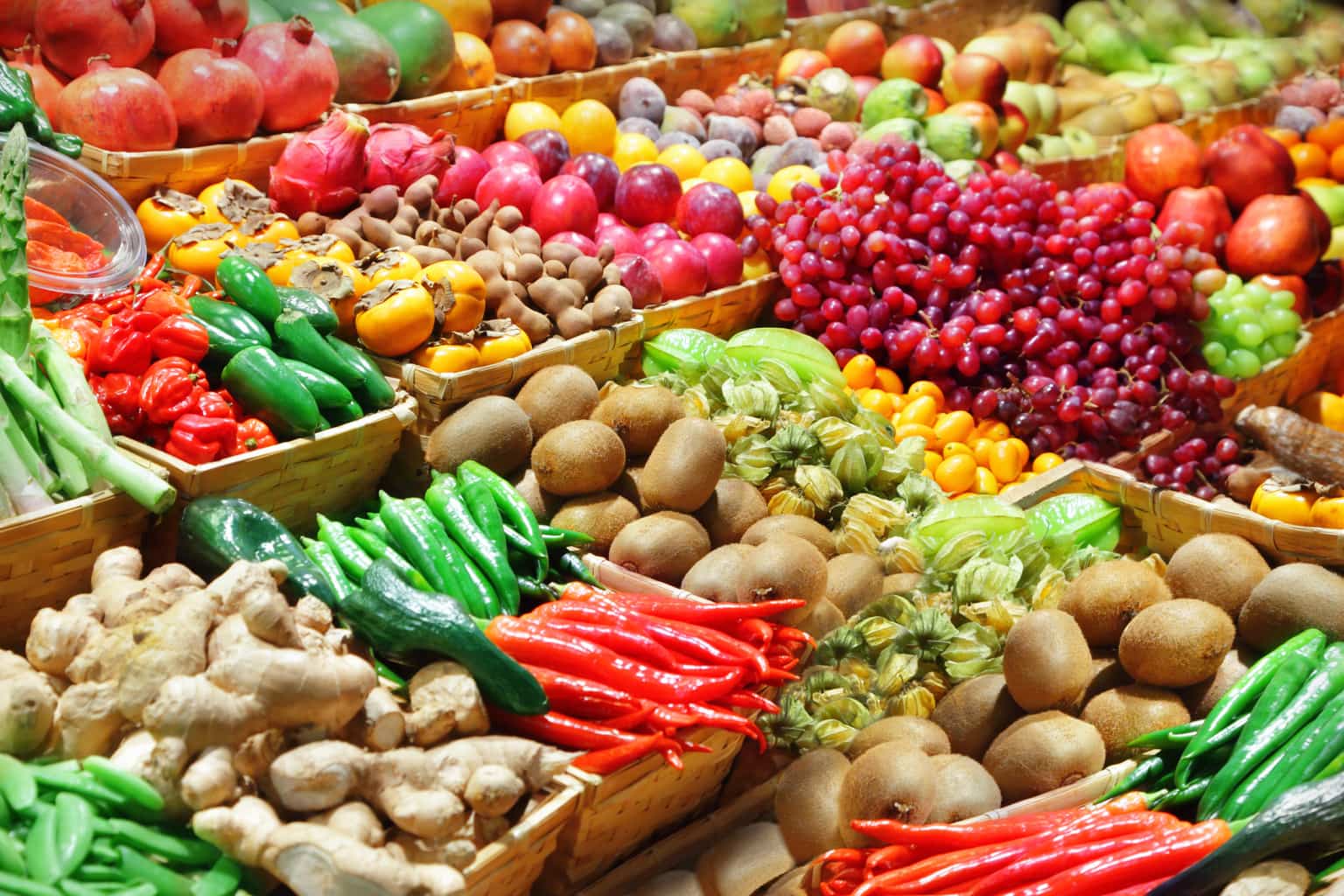 Join Amazon Prime
Try Amazon Prime for FREE with a one-month free trial. After one month, you can decide if the cost of the membership makes sense for you and then cancel before you get charged for the membership. You do need to enter a credit card to access the free month so write the ending date on your calendar and set up an alert so you can decide if you want to keep it or cancel right before your free month ends.
Try Amazon's Subscribe & Save Feature
Have you ever tried Amazon's Subscribe and Save feature? It will save you at least 5-15% on your recurring purchases. Plus you won't run out which is especially helpful these days. I use this for our favorite snacks, dog food, vitamins, household supplies, and more. You can pause or cancel orders easily from inside your account.
Save at Whole Foods Market
Find many exclusive weekly deals all over the store, and save an extra 10% on hundreds of sale items. Keep up to date on featured Prime Member Deals every week.
Skip the trip to the store
With Amazon Fresh, get 2-hour delivery on just about anything. Check here for availability in your area.
Here are 30+ Tips to Save More at the Grocery Store
Kitchen Gadgets To Make Cooking Easy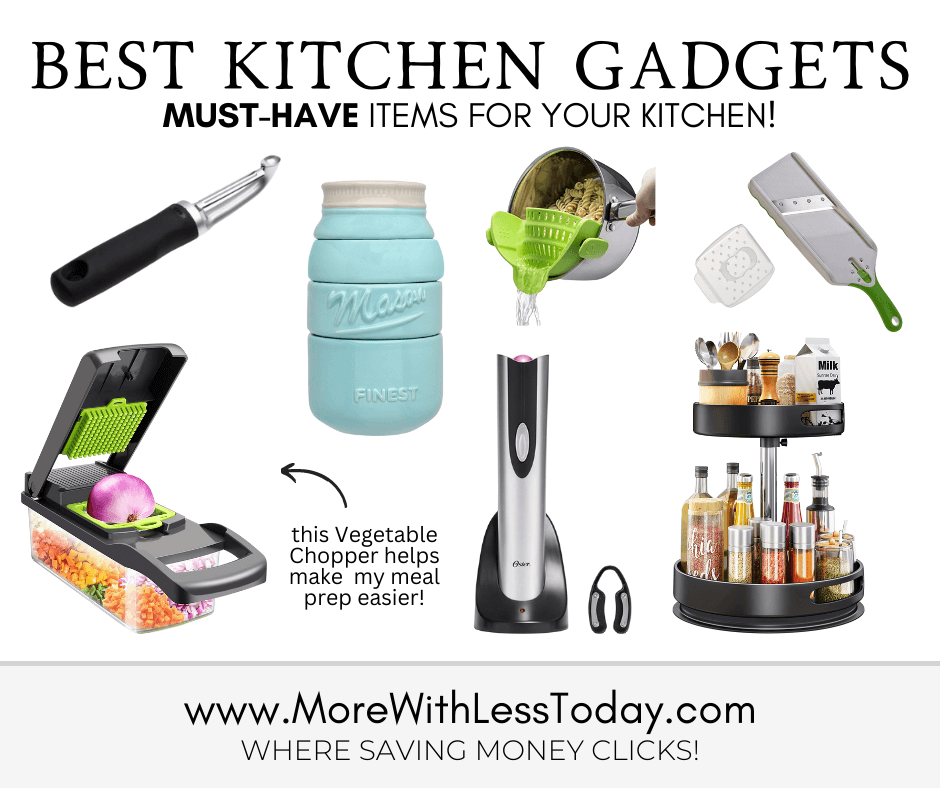 Click here to see my favorite affordable kitchen gadgets that make cooking easy!
Sign Up for Our Email List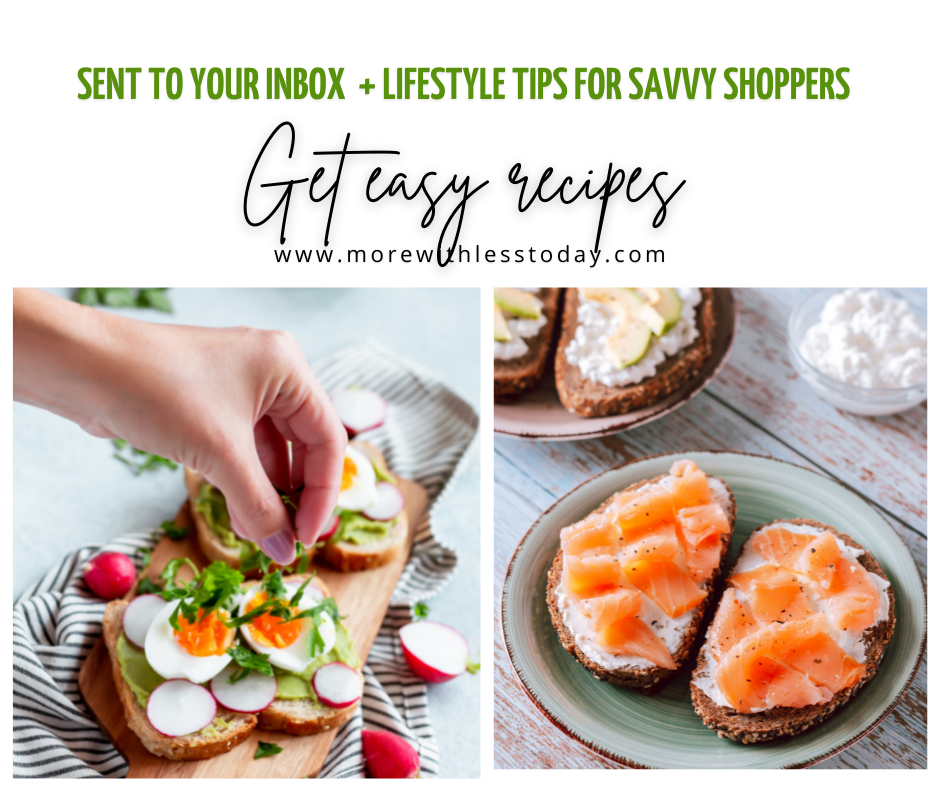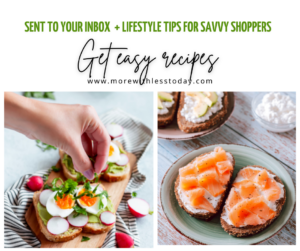 Have more delicious recipes like this (recipe name) recipe sent straight to your inbox! We also share lifestyle ideas for shopping, travel, pets & more. We would love to connect with you.
Sign up for our emails and know we respect your privacy and will never share your email with anyone else.
PIN for Later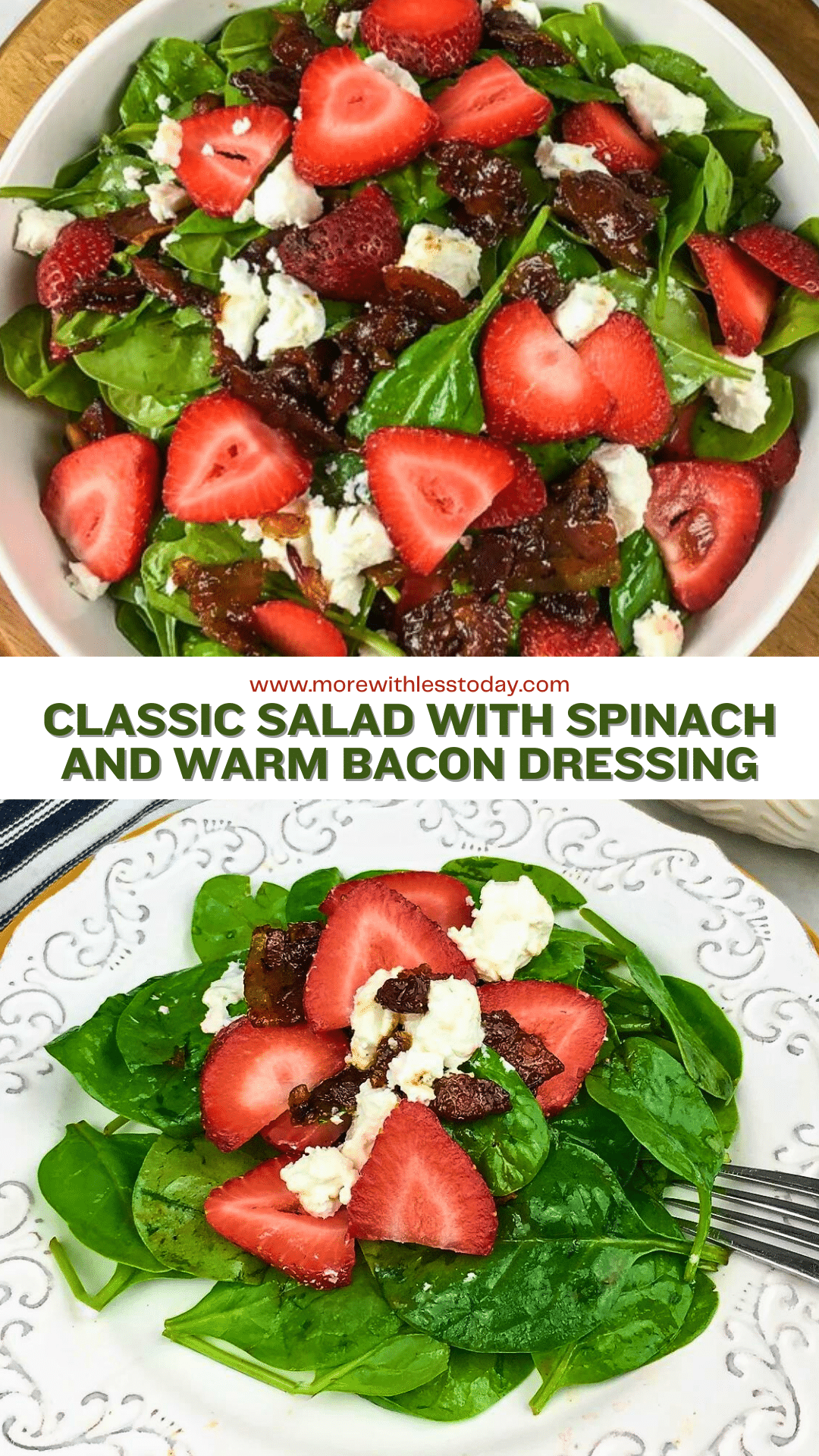 Don't forget to share this Salad with Spinach and Warm Bacon Dressing recipe with your friends and loved ones. If you are on social media, I would love to connect with you on Facebook, Instagram, Pinterest, or Twitter. Just click on the links to visit my profile. Leave a message and I will follow you back!
Have you tried this recipe? Let me know what you think in the comments! Click here to see all my recipes.