This Easy Deconstructed Waldorf Salad is a lighter version of the good old-fashioned Waldorf Salad. It's an easy recipe and is absolutely delicious!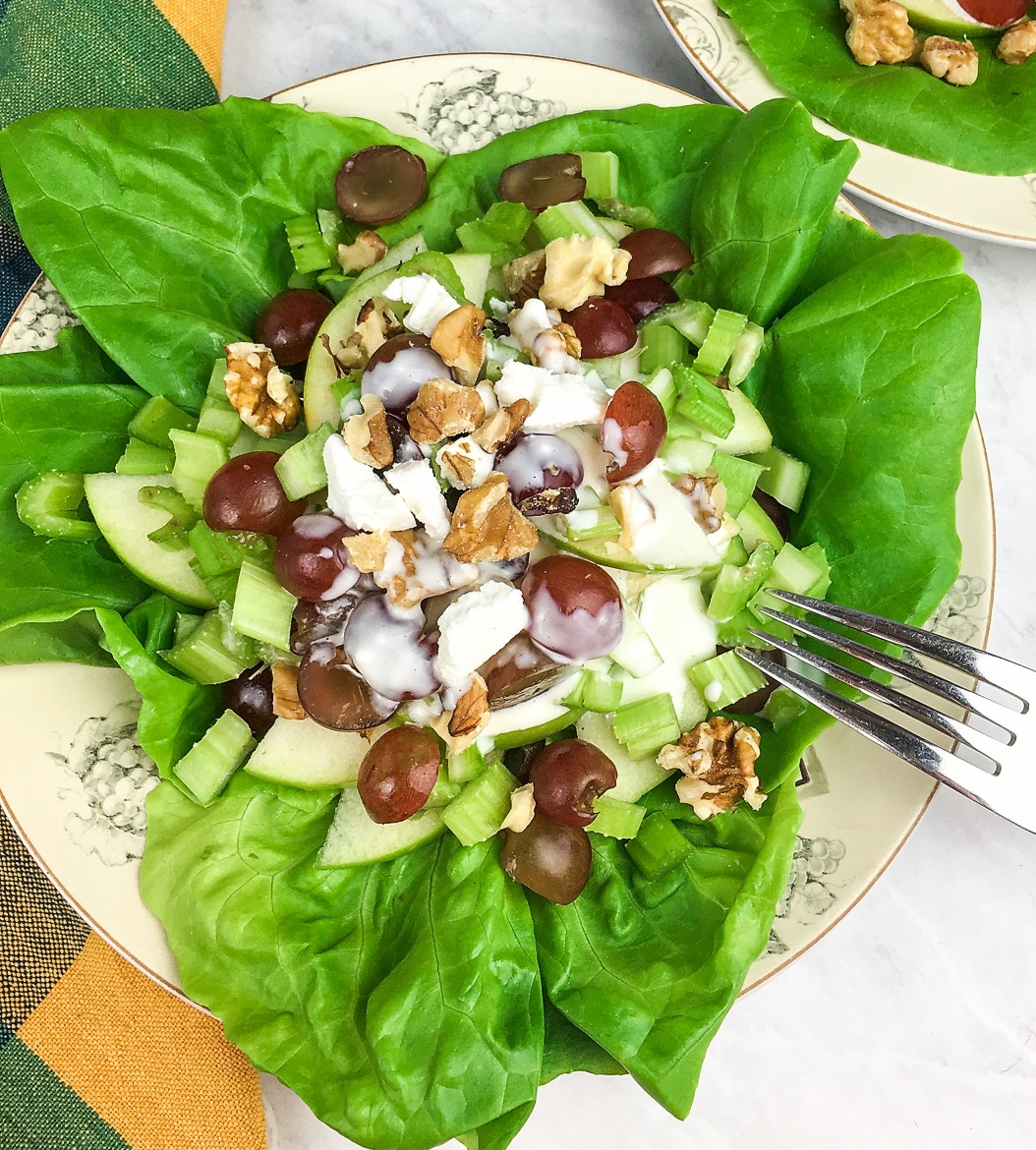 I think that making your own salad is the best way to keep it healthy. This salad is perfect as a side dish or for any special occasion.
What I Learned
This salad is named after the Waldorf-Astoria Hotel in New York City where it was first served at a charity ball honoring the St. Mary's Hospital for Children in 1896.

It's nicknamed as Oscar of the Waldorf after Waldorf Hotel's original executive chef at the time, Oscar Tschirky. Tschirky created the original recipe and it became a hit. To read more about its history, click here.
Some people spell it as Waldorph Salad but the correct spelling is Waldorf.
Recipe notes
Traditionally, Waldorf salads are tossed in a generous amount of rich mayo-based dressing. This lighter version uses a combination of sugar-free mayonnaise and Greek yogurt for the dressing, which is then drizzled sparingly on top before serving.

For best results, prepare the dressing in advance to give the flavors time to develop.
Prep time: 20 minutes
Cook time: n/a
Serves: 4
Salad Dressing Ingredients
¼ Cup mayonnaise (sugar-free)

¼ c. Greek yogurt

1½ T. Honey, preferably local

1 T. Fresh lemon juice

½ t. Garlic powder

½ t. Sea salt or kosher salt
Easy Deconstructed Waldorf Salad Ingredients
1 Large head Bibb lettuce, separated, rinsed, and patted dry

2 Medium Granny Smith apples, cored and sliced*

1 c. Red grapes (seedless), cut in half

2 Large stalks celery, chopped small

½ c. Walnuts, roughly chopped

Optional: 2 oz. Goat cheese, crumbled
*Tip: Granny Smith apples are crisp, but somewhat tart. Substitute any crisp of sweet variety, if desired. (One red and one green apple would make for a fun twist and nice presentation).
How To Make Deconstructed Waldorf Salad
Step #1. Prepare the dressing by combining all ingredients in a bowl and whisking until thoroughly combined. Taste and adjust seasonings, as desired. Cover and store in the refrigerator until ready to use.
Step #2. Assemble the salad by lining four chilled salad plates or a large bowl with the Bibb lettuce leaves. Toss apples, red seedless grapes, walnuts, and goat cheese, if using.
Step #3. Drizzle with some of the creamy dressing and serve immediately with remaining dressing on the side. Enjoy!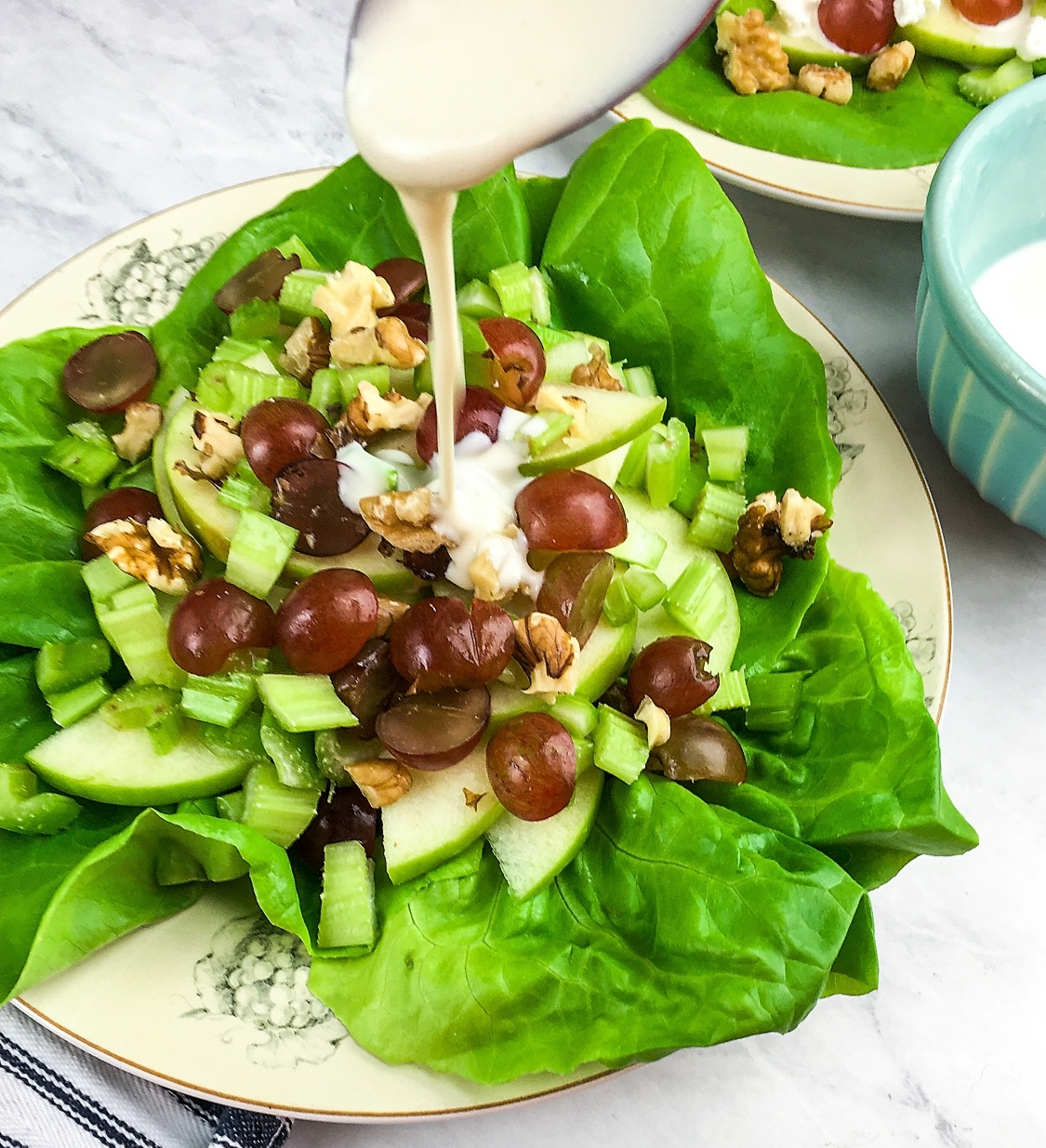 Enjoyed this Deconstructed Waldorf Salad recipe? Find more healthy salad recipes on my site when you click here.
Pin for later: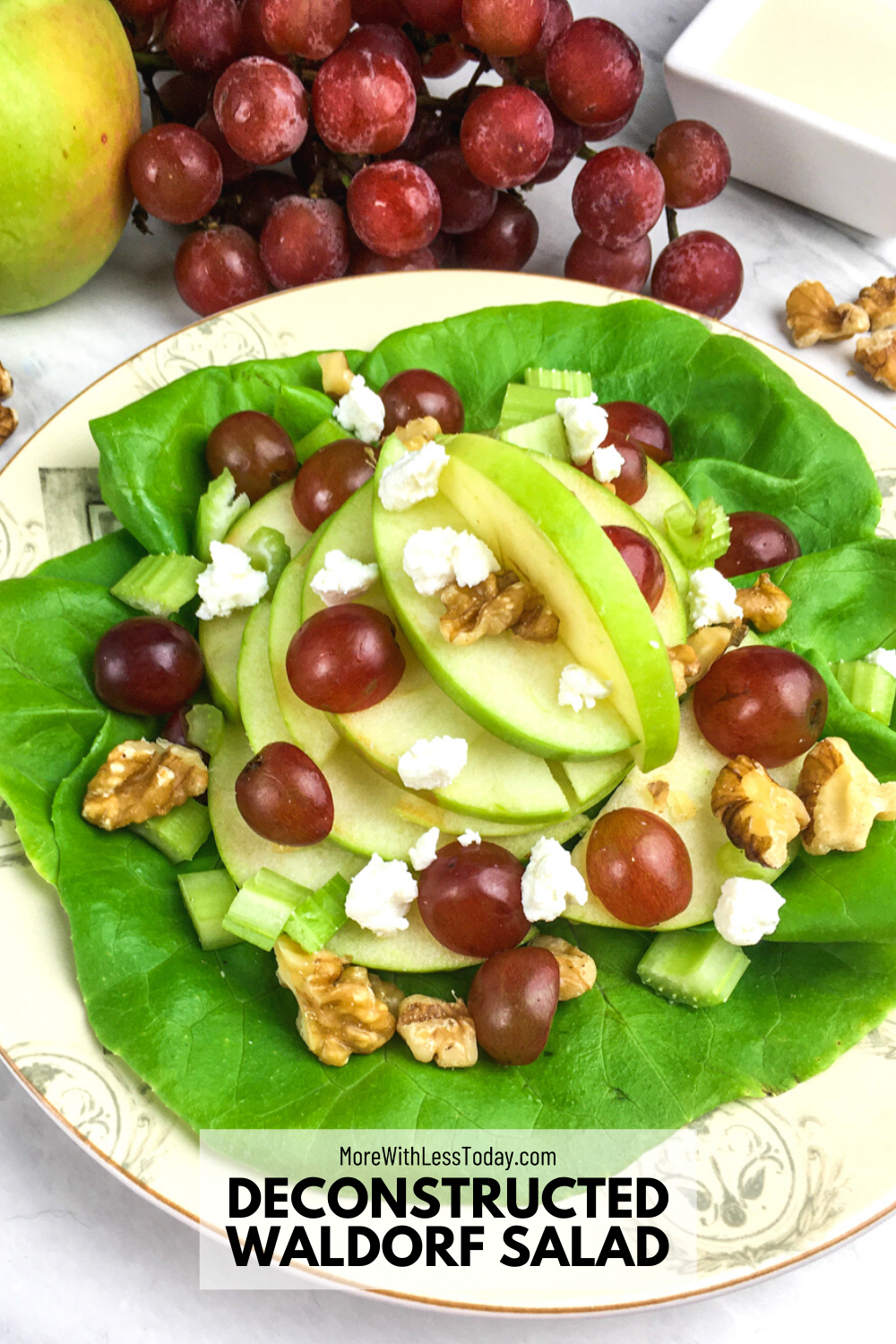 Don't forget to share this deconstructed salad recipe to your friends and loved ones! Follow me on social media to stay updated every time I post.