This week, I'm sharing with you a new recipe, The Best Calamari Salad. This seafood salad is incredibly tasty and unique! If you prefer, just follow the recipe to make Calamari rings and enjoy those by themself.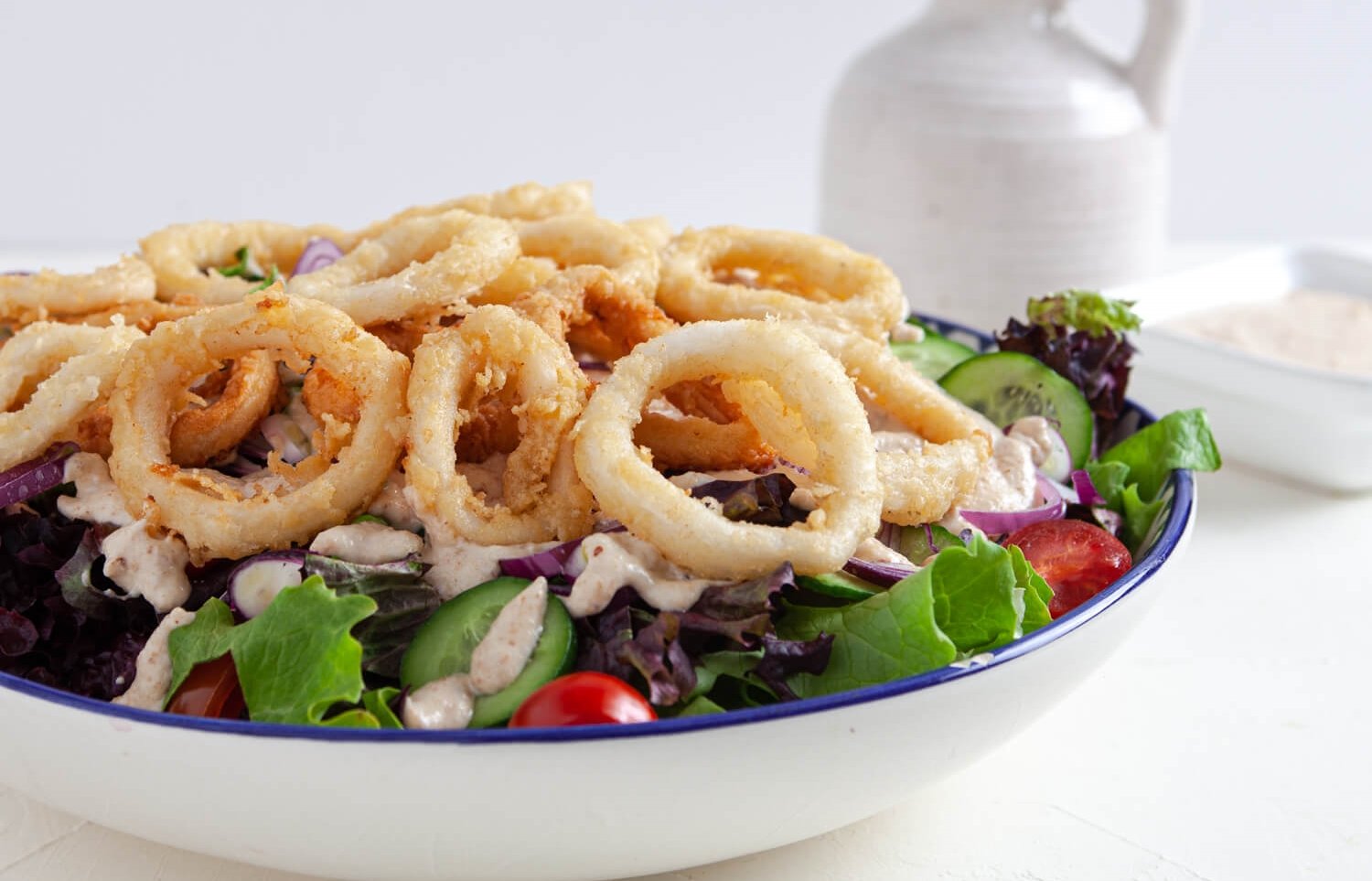 Calamari is a classic Greek meze. Paired with a very flavorful homemade sauce/dressing, it complements the calamari and light salad greens.
What to Serve with The Best Calamari Salad Recipe?
Other Salad Recipes To Try
Kitchen Notes & Tips
Use bread flour to create a crispier coating.

The perfect fry temperature for the calamari is 340˚.
Ingredients for The Best Calamari Salad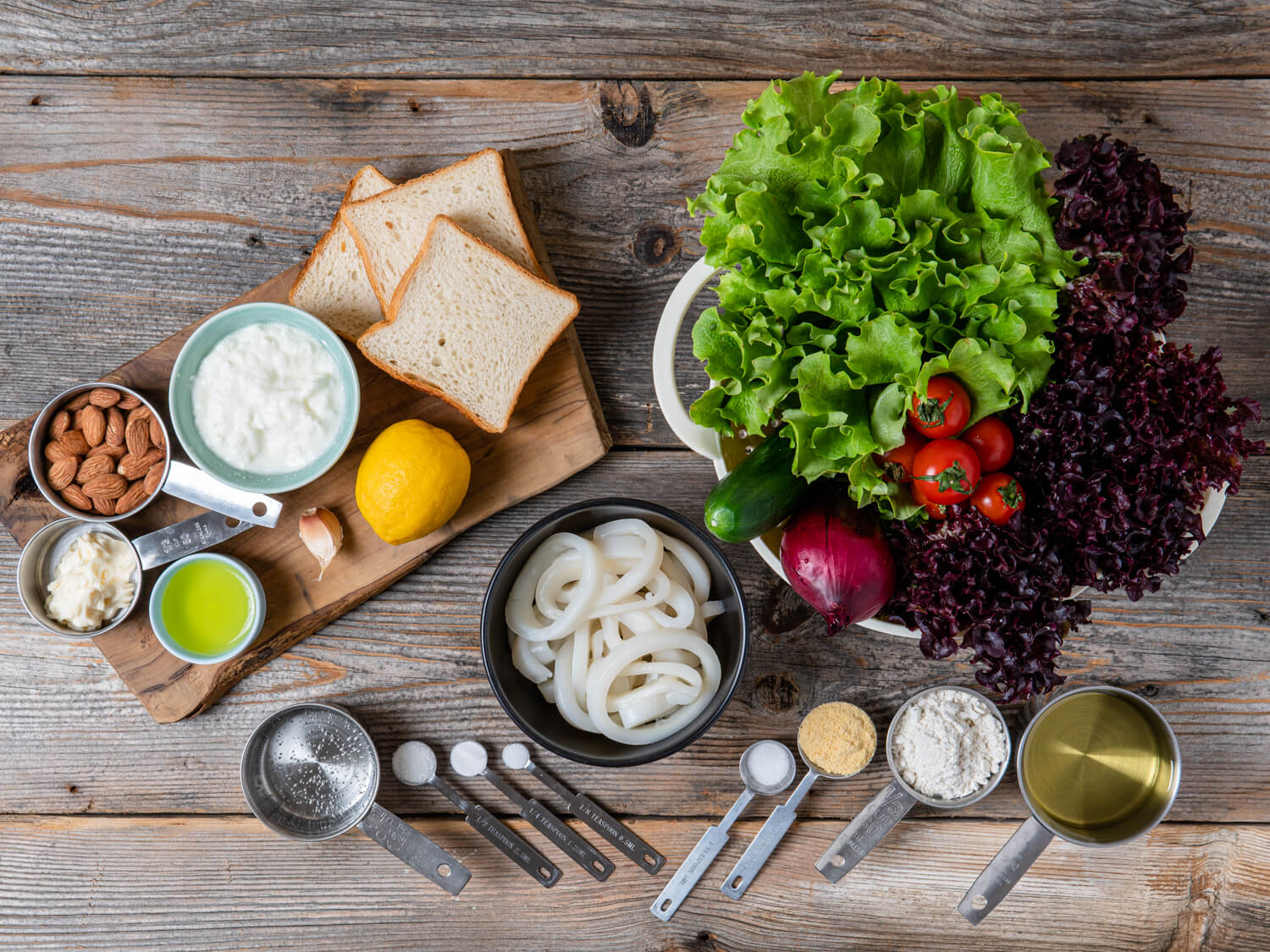 For the Calamari
1/2 C. Sparkling water

1/2 Lg. Fresh lemon, juiced

1/4 t. Baking soda

1/2 t. Sugar

1/8 t. Salt

15 oz. Fresh or Frozen Calamari, thawed
For the Salad Dressing/Dipping Sauce
1-1/2 C. Panko Bread Crumbs or homemade crumbs made from day old bread

1/2 C. Almonds

1 Garlic clove, minced

1/2 Lg. Lemon, juiced

2-1/2 T. Extra Virgin Olive Oil

6 T. Plain Greek Yogurt

3 T. Mayonnaise

Salt, to taste
For the Fry Coating
1 C. All-purpose Flour

2 T. Yellow Cornmeal

1/2 t. Salt

2-1/2 C. Vegetable Oil
For the Salad
4-5 c. Mixed Salad Greens of choice

1 med. Shallot or red onion, sliced

1 C. Cherry Tomatoes, sliced in half

1 English Cucumber, sliced
We have affiliate relationships which means we may earn a small referral commission at no additional cost to you if you shop using our affiliate links. As an Amazon Associate, I earn from qualifying purchases.
Supplies Used
How To Make The Best Calamari Salad
Step #1. In a large bowl, combine sparkling water, lemon juice, baking soda, sugar and salt. Add the clean calamari. Place it in the refrigerator to chill for 2 hours.
Step #2. To a food processor bowl add day old bread crumbs and pulse if making your own crumbs. Add in almonds and pulse them to crumble.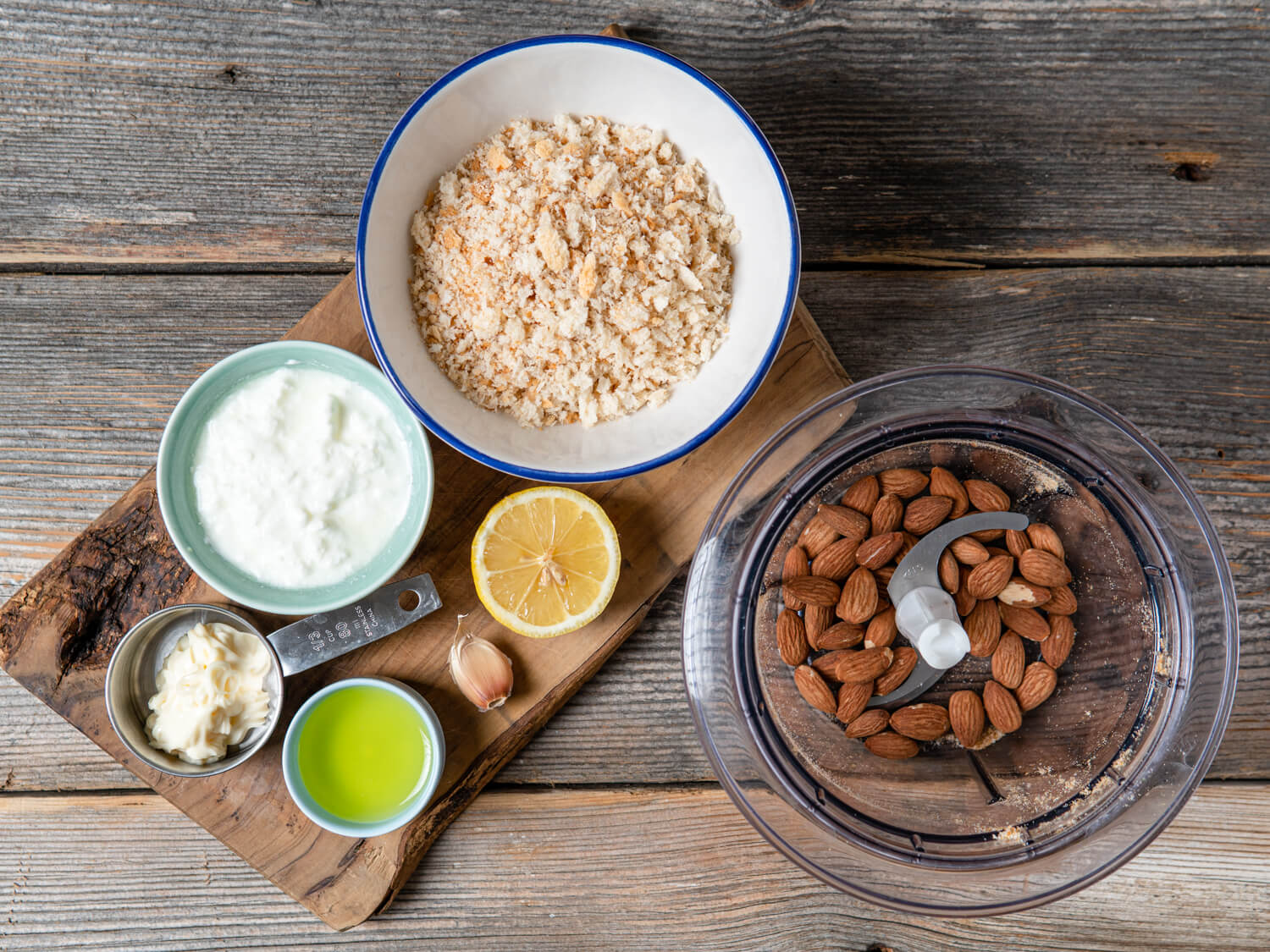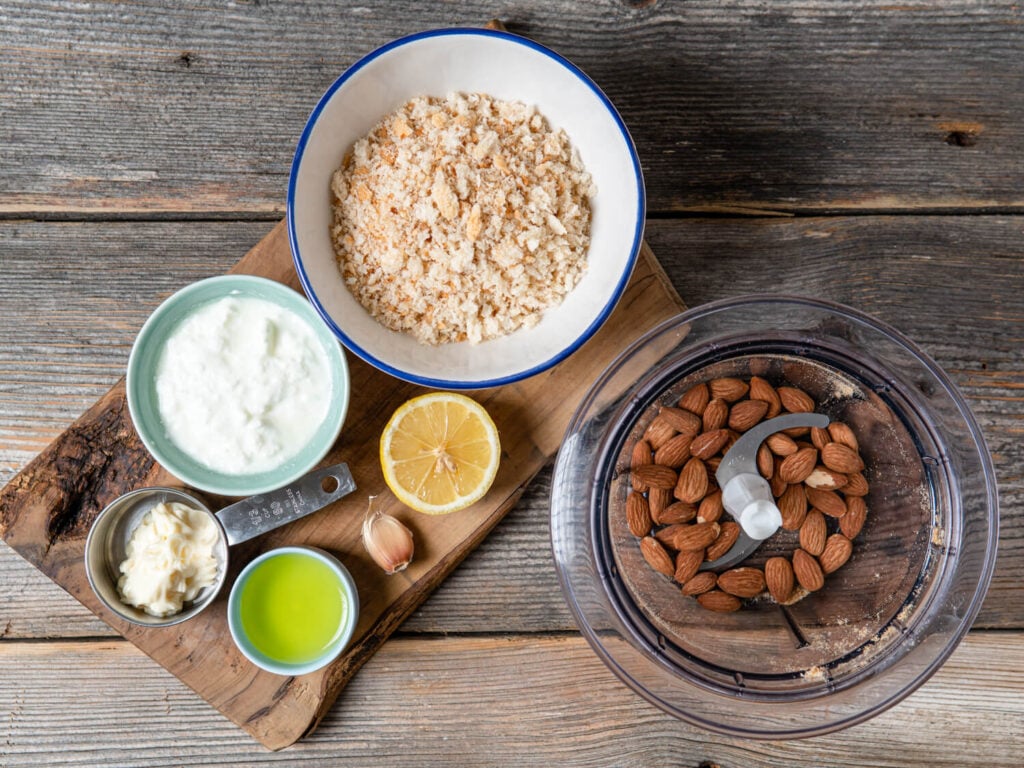 Step #3. Next add panko if using, garlic, lemon juice, olive oil, yogurt, and mayonnaise. Mix well and season with salt, to taste. Place in a covered bowl or jar in refrigerator.
Step #4. After 2 hours, take the calamari out of refrigerator and drain the cold water well in a colander but do not rinse nor dry. Just give the colander a good shake to remove excess moisture.
Preparing the Calamari Salad
Step #5. Divide salad greens between 4 plates or bowls. Top with shallots, tomatoes and cucumbers and set aside.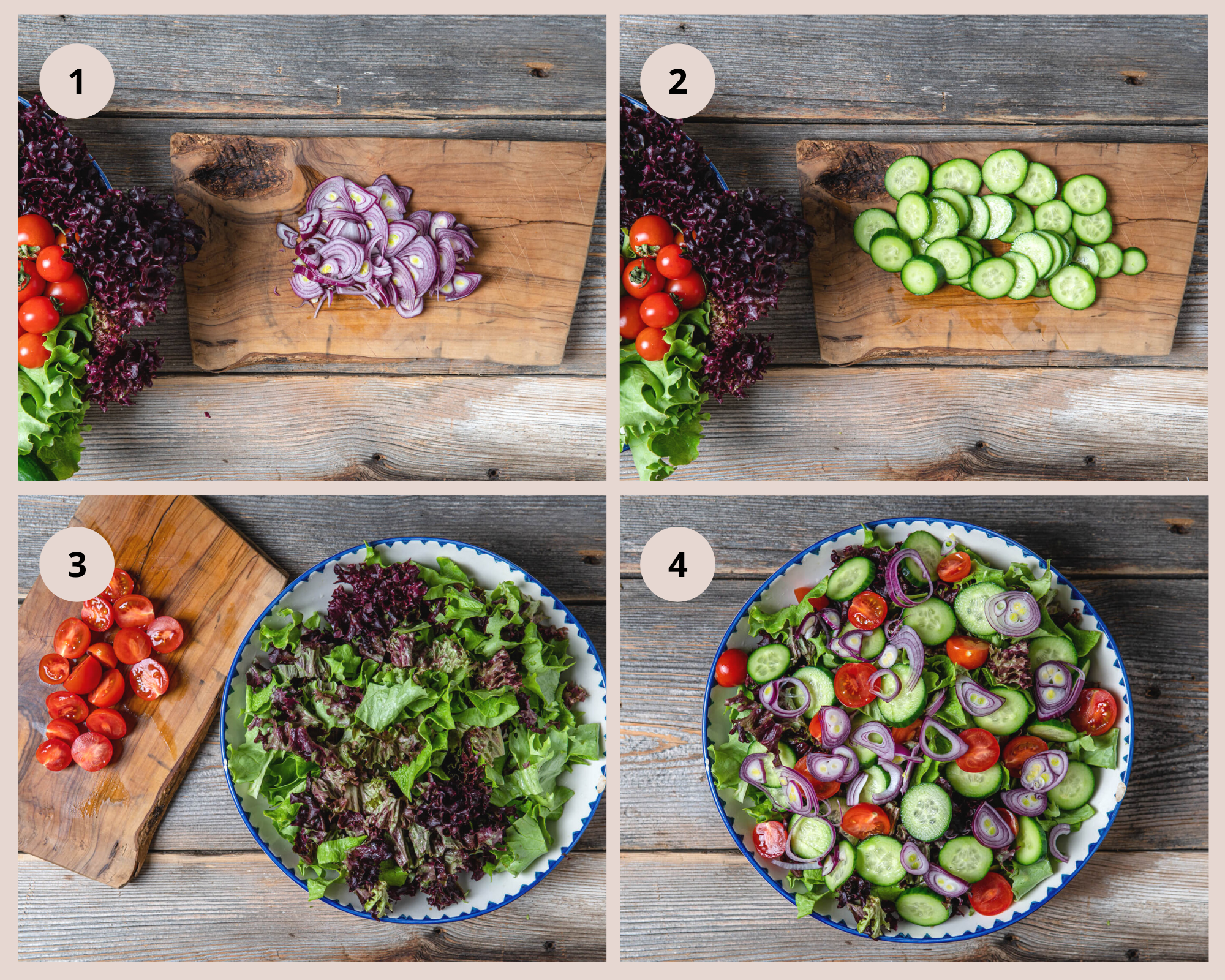 Step #6. Combine flour, cornmeal, and salt in a medium bowl. Set aside.
Step #7. Place the vegetable oil in high heat. Use a deep pot to 340˚.
Step #8. Place a double layer of paper towel on a plate to drain excess oil as the calamari is finished cooking.
Step #9. Add calamari rings, a few at a time to the flour mixture. Toss gently to coat. Shake off excess coating and test oil temperature by placing a corner of one ring into oil. If it sizzles, it is hot enough and you can add a few rings at a time to the hot oil. Do not overcrowd the oil or it will cool down too much and make your calamari greasy instead of crispy. Cook 1-3 minutes or until just lightly golden. Do not over cook.
Step #10. Remove the cooked pieces to a paper towel lined plate. Repeat until all calamari has been cooked.
Step #11. Add dressing to salads and top with cooked calamari.
Step #12. Season with a teaspoon salt and fresh cracked pepper to taste. Enjoy!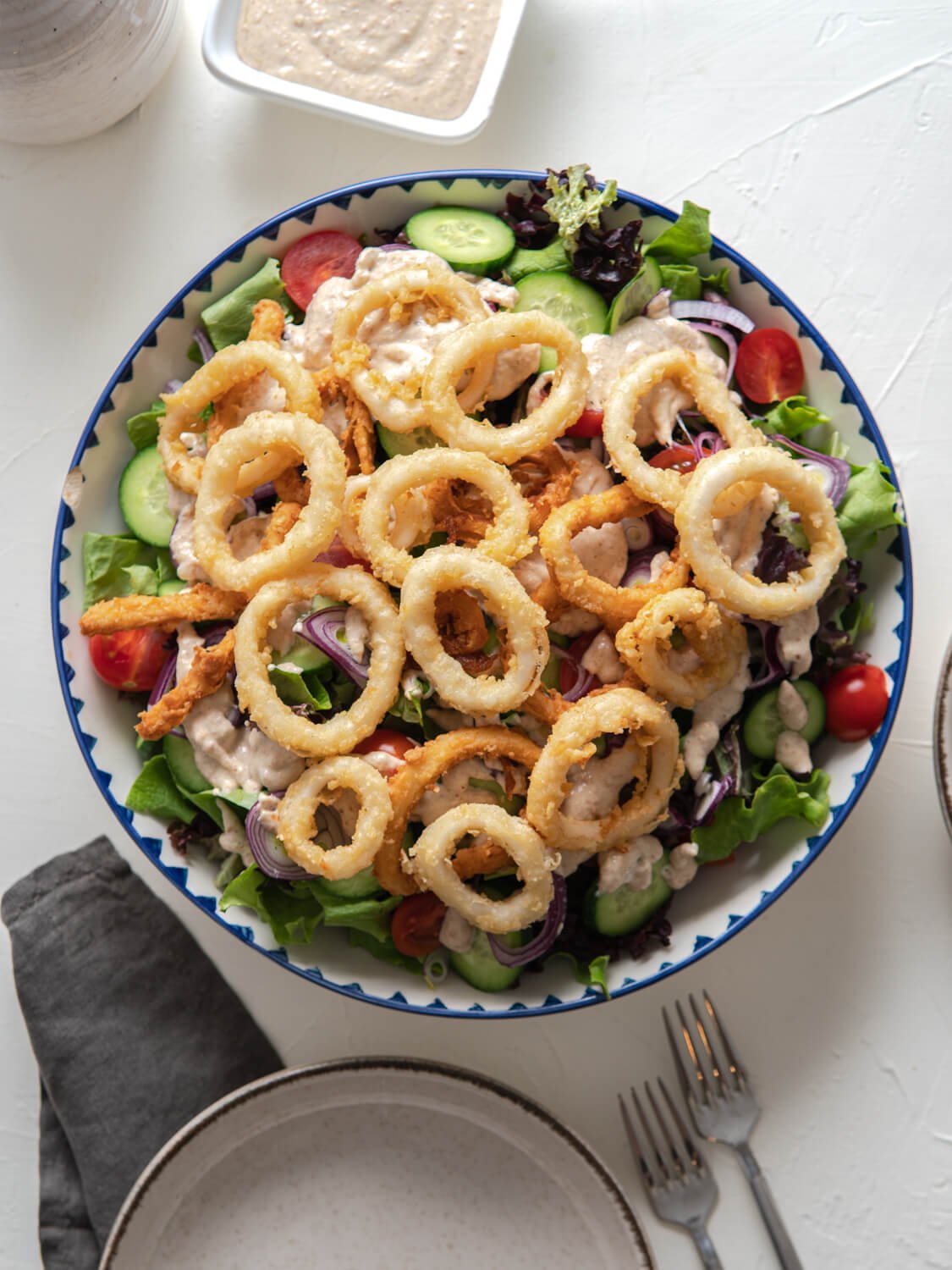 Use Walmart Plus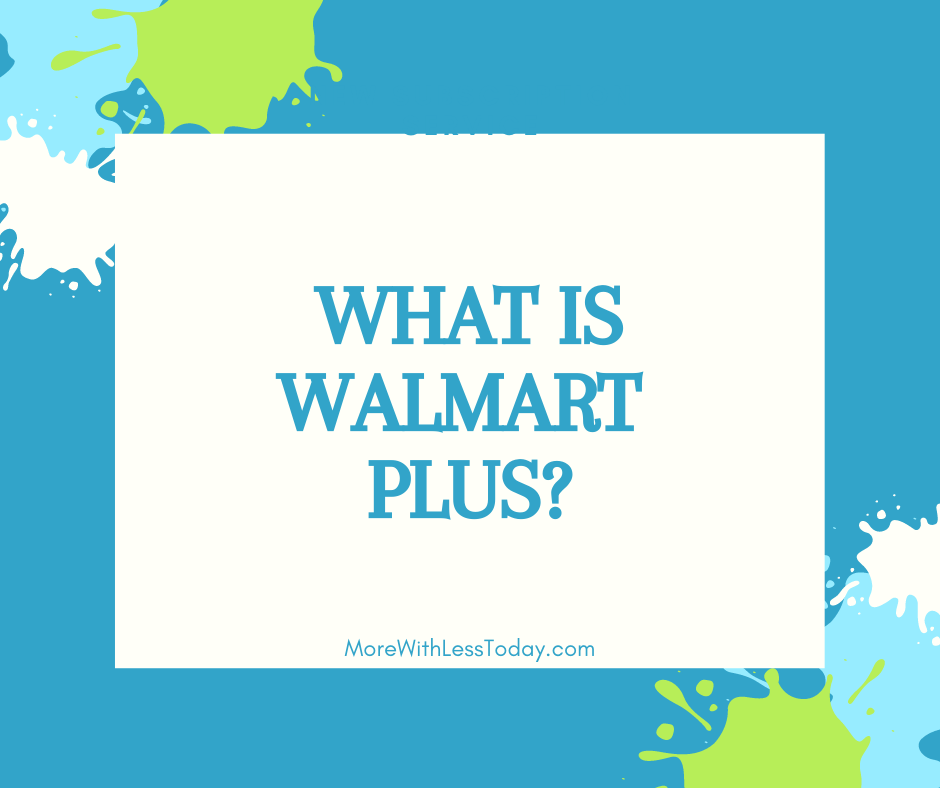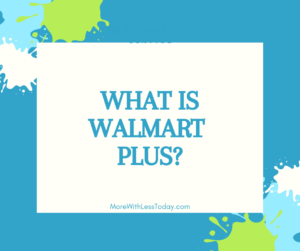 Have you tried Walmart Plus+? You can have your groceries and your household items delivered to your door! I am loving it. For us, the big box store sizes are too big. I find the prices at Walmart to be very competitive in the sizes we need. To be honest, I don't love going in the store but I place what I need in my shopping cart online and every few days I place an order-easy peasy!
Get $20 off a future order when you sign up using this link. You can also get a 30-day free trial to make sure you love it!
Sign Up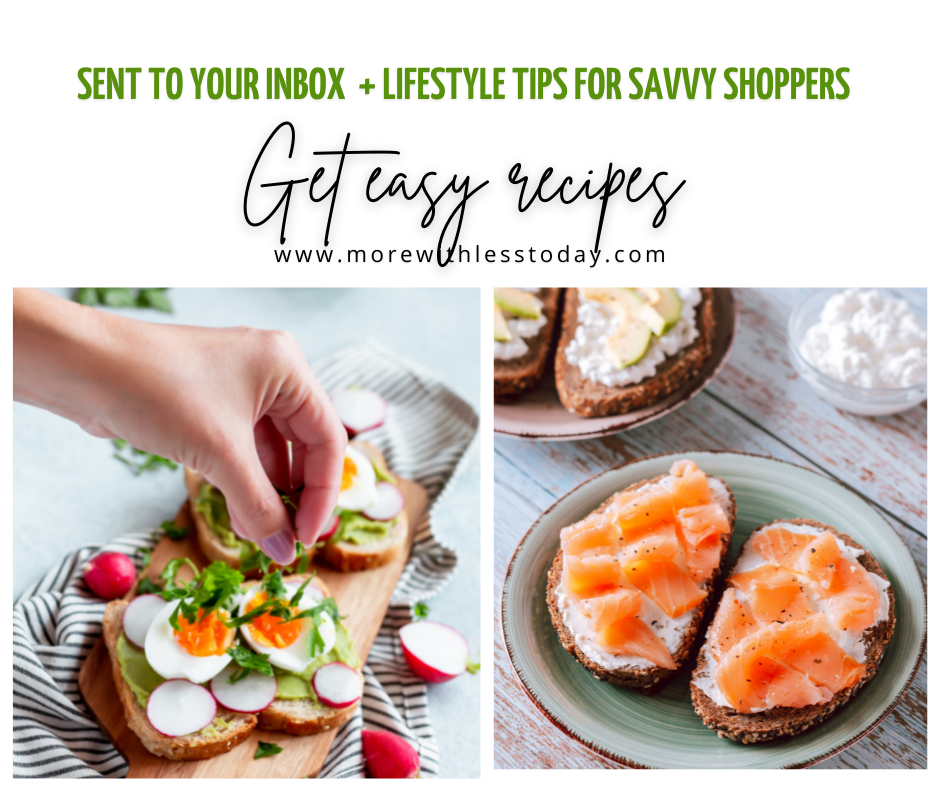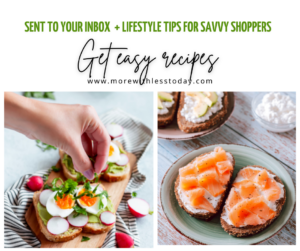 Have more delicious and easy recipes sent straight to your inbox! We also share lifestyle ideas for shopping, travel, pets & more. We would love to connect with you. Sign up for our emails and know we respect your privacy and will never share your email address with anyone else.
Our newest recipes:
If you are on social media, I would also love to connect on Facebook, Instagram, Pinterest or Twitter. Just click on the links to visit my profiles. Leave a message and I will follow you back!
PIN for later: