Recipes Using Leftover Hamburger Meat
Recipes using leftover hamburger meat can come in handy, especially when you are looking for an easy way to use up that stockpile of ground beef you have in the fridge or freezer.
Buying hamburger meat in bulk can save you money. Don't let it go to waste! Don't be afraid to cook it up before it goes bad and use it in dishes for the week or freeze it for future use.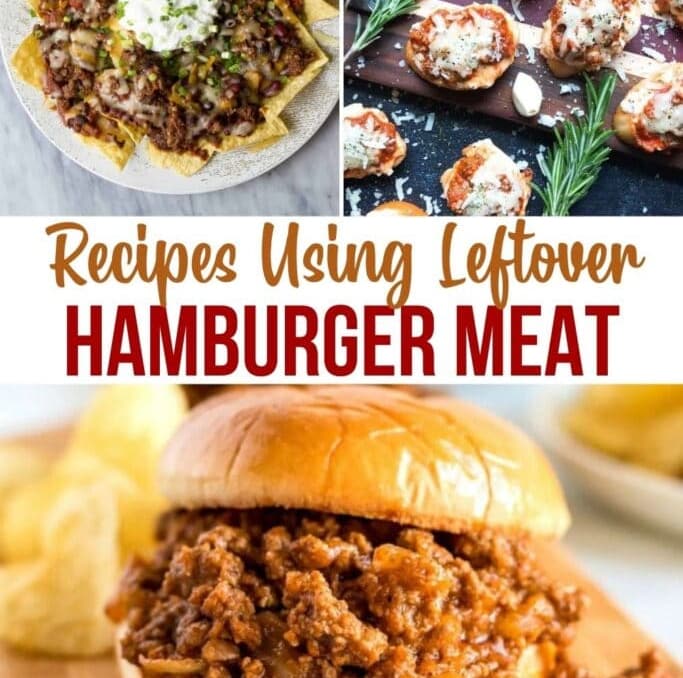 These recipes using leftover hamburger meat are delicious and easy. This collection of recipes includes a variety of different recipes. From soups and salads to sides and main dishes, these leftover hamburger recipes are easy and delicious.
"Hamburger soup is an easy and filling meal that you can use leftover hamburger meat to make in no time."
"Leftover hamburger can be used to create a delicious nacho dish that you can serve for lunch, a snack, or weeknight dinner."
"Using fresh hamburger meat or leftover ground beef, this tasty tater tot casserole recipe is easy and delicious."
"Add some leftover hamburger meat to some colorful diced peppers, rice, and other goodies to make this stuffed pepper soup."
"If you have some extra hamburger meat left over from the night before, add it to some pasta sauce and you can make an easy meat lasagna dish."
"Use your leftover hamburger meat to make these tasty air fryer chimichangas for a quick and easy snack or dinner."
"Add your favorite toppings, some leftover hamburger meat, and some nacho-flavored Doritos to make this tasty taco salad."
"Another delicious recipe you can make, these sloppy joes are an easy homemade dinner you can enjoy."
"Use leftover hamburger meat and combine it with marinara sauce, ricotta cheese, and other goodies to create this tasty crostini dish."
"If you are a fan of cheeseburgers, this cheeseburger soup is easy to make and delicious."
"To make this easy dinner dish, use leftover taco meat to make this easy cheesy taco potato bake everyone is sure to enjoy."
"Another easy dish –simply reheat your hamburger with some onions, eggs, and more to create this delicious dish."
"You only need a half-pound of ground beef to make this filling crescent roll pizza that will make a great main dish or snack."
"Serve this layered taco salad for friends and family at dinner parties or as a quick and easy dinner dish you can throw together."
Pizza Burgers with Mozzarella Cheese
"If you have leftover hamburgers from the night before, turn them into a whole new flavorful meal with this pizza burger recipe."
"Use your leftover hamburger meat to make this tasty Rotel dip that you can serve as a snack, on game day, or as a party appetizer."
Want More Leftovers Recipes?
Easy and Tasty Recipes for Leftover Ham?