If you are missing dining out at your favorite restaurants, we found famous copycat restaurant recipes you can make at home!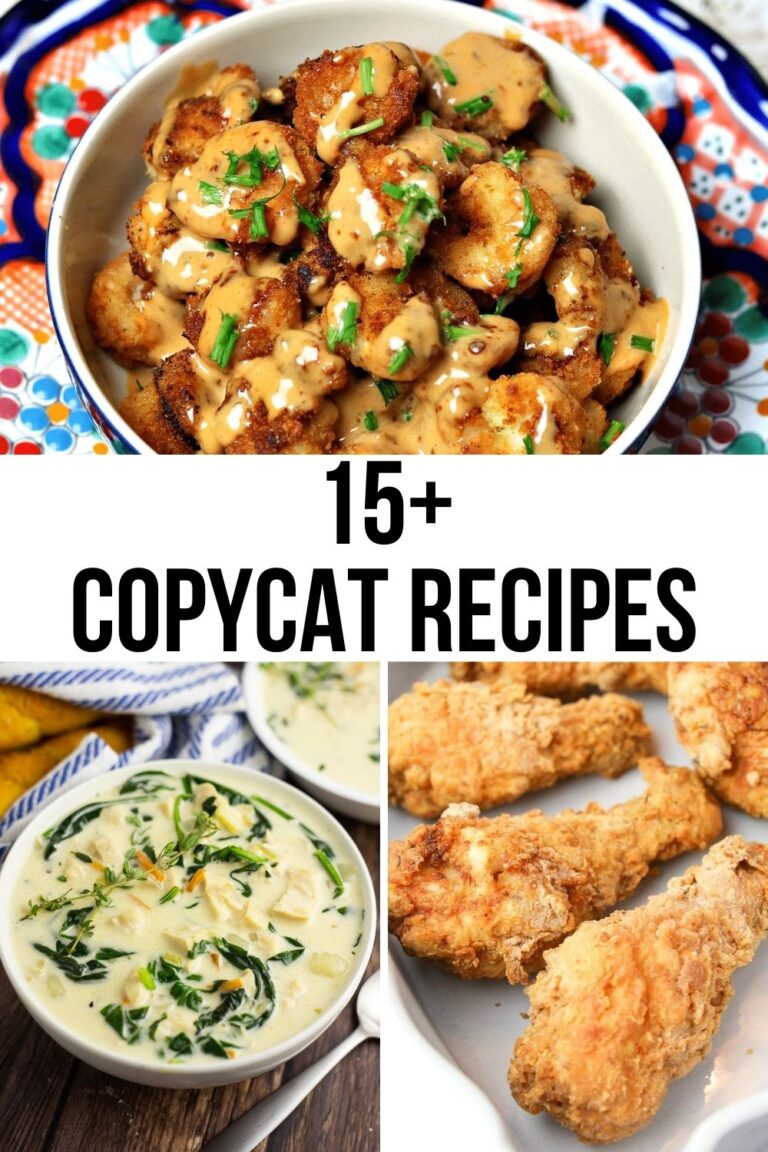 Here are 15 of our favorite restaurant copycat recipes from some of our favorite food bloggers.
Copycat Recipes
Sometimes, you just want to enjoy your favorite takeout meal in the comfort of your own home without having to go anywhere.
Luckily, no matter what you are craving, you can often find a delicious copycat recipe from your favorite restaurant. Copycat recipes are also a great way to enjoy your favorite dish that may no longer be carried at your favorite restaurant.
Here are some of the best and most popular copycat recipes that your family is sure to love. From your favorite chicken restaurants to that delicious pasta dish you can't resist, there is something here for everyone!
This recipe has been lightened up and is dairy-free and still delicious!
A classic and hearty meatless meal, this baked ziti is the homemade version of Sbarro's baked ziti dish.
If you are missing your favorite Texas Roadhouse green bean side dish, you are in luck because here is a version you can make at home.
Cinnabon Cinnamon Roll Cupcakes
Super easy to make and oh so delicious, these cinnamon rolls will remind you of those tasty Cinnabon treats.
Copycat Chipotle Chicken Burrito Bowl
This delicious homemade version of Chipotle's chicken burrito bowl will have you going for seconds.
Easy to make at home, this chicken sandwich is like enjoying your favorite Popeye's chicken in the comfort of your own home.
Copycat Starbucks Oven-Baked Egg White Bites
These delicious copycat egg white bites are the perfect make-ahead breakfast for those busy mornings when you don't have time to enjoy your morning trip to Starbucks.
Olive Garden Chicken Gnocchi Soup
The perfect way to warm up this winter, this copycat chicken gnocchi soup is rich, creamy, and delicious.
This easy copycat Kentucky Fried Chicken recipe will give you tender juicy chicken that's quickly fried and then baked to perfection.
Lawry's Famous Creamed Spinach
A popular steakhouse side dish, this creamed spinach is a copycat recipe that will have you wanting more!
This tasty chili is a copycat version of the delicious Panera turkey chili that is full of flavor and spices making it a great option for those chilly nights.
If you are missing your favorite Disney Dole Whip, you will be happy to know that you can make your own at home!
This remake recipe is inspired by a dish served at the Bonefish Grill. Make your own Bang Bang sauce at home and serve with some delicious, breaded shrimp for a tasty meal.
Packed with veggies and delicious Thai flavor, this copycat Thai chicken pizza is dairy-free and delicious.
Serve as a side with your favorite chili or main dish, this copycat cornbread mix is easy to make and will be a hit.
This easy and delicious snack is a copycat recipe that was inspired by the Thunderbird Bar.
Want more restaurant copycat recipes?
100 Famous Restaurant Recipes You Can Replicate at Home
The website copykat.com has the recipes that you are looking for to enjoy your favorite restaurant recipes at home for less! I think you will really enjoy her website. Come back and let us know which recipes were your family favorites!
Here are just a few that you will find!
Start your meal off the famous way with the help of these Appetizer Recipes:
Houston's Artichoke Spinach Dip
Carrabba's Bread Dipping Blend
P.F. Chang's Lettuce Wraps
Avocado Egg Rolls
Bloomin' Onion
Bennigan's Broccoli Bites
TGI Friday's Nine Layer Dip
The Everything Restaurant Recipes Cookbook
If you prefer to have a cookbook, this one has copycat recipes for Outback Steakhouse Bloomin' Onion, Long John Silver's Fish Tacos, TGI Friday's … Molten Chocolate Cake…and hundreds more!