Okay, talk about cute! Check out this awesome Christmas gift idea – individual Santa Hot Cocoa bags. I can see myself giving out bunches of these to teachers, aides, babysitters, girlfriends, co-workers, kids gifts, and more.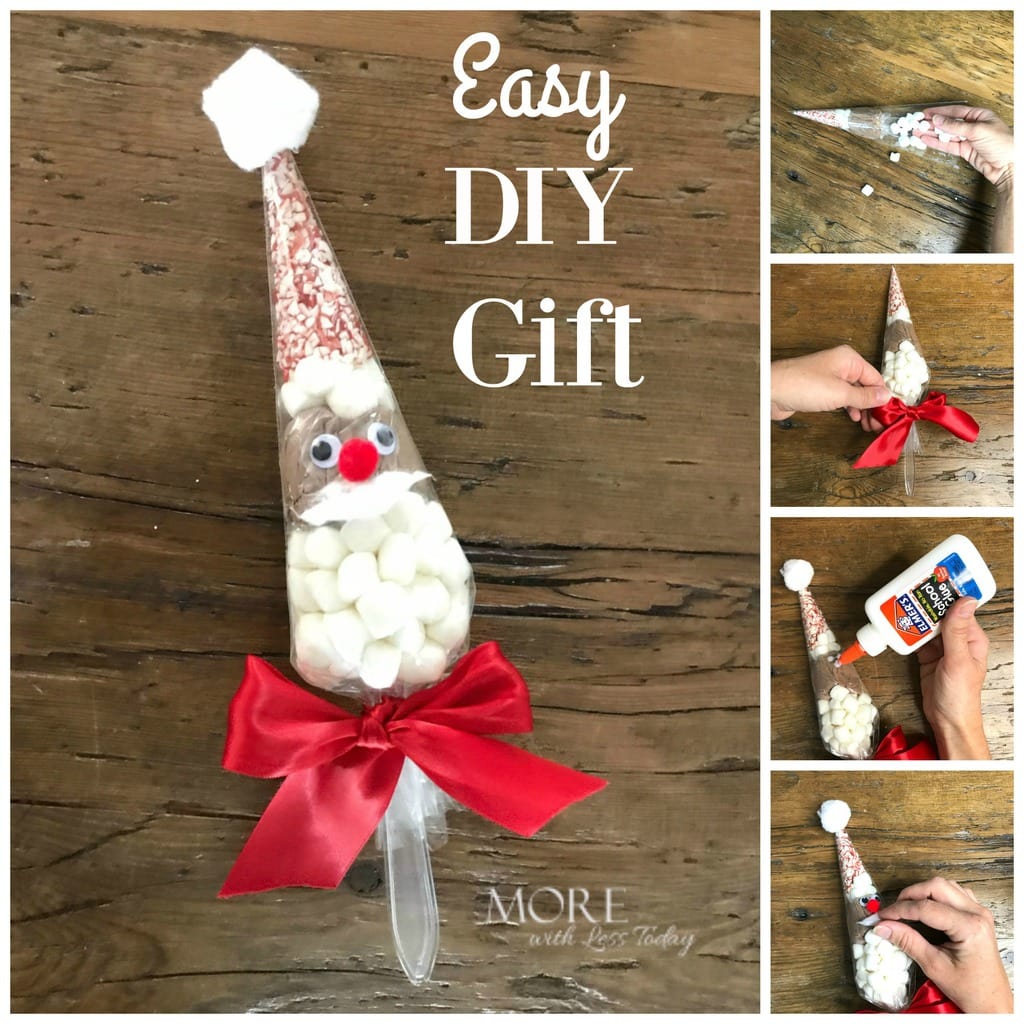 For me, there aren't many things that give a more fulfilling and satisfying feeling than making things for others and watching their faces light up when they realize my gifts are homemade. There's something about things that are handmade and/or homemade that adds an element of surprise to the exchange of gifting. I guess because life in this crazy world is so fast-paced and everything can be purchased these days, making things myself reminds me a little of the good ole days of simpler times.
Set aside a little time and get an assembly line going and knock out a bunch of these adorable Christmas gifts all at once. Plus. it is a very inexpensive DIY Christmas gift that is sure to bring a smile to everyone.
You can add a Christmas-themed coffee mug too! As an Amazon Associate, I earn from qualifying purchases.
The most important component of the Santa Hot Cocoa Bags are the Clear Cellophane Cone Shaped Treat & Favor Bags
Next, I poured roughly 2 tablespoons of crushed peppermints into the bag. The measurements for everything I filled the bag with are give-or-take; the fun part of DIY is you can tweak everything to make it uniquely yours!
To easily crush peppermint candy, use a hammer or the flat side of a meat mallet and pound the candy on a sturdy countertop or flat surface until crushed.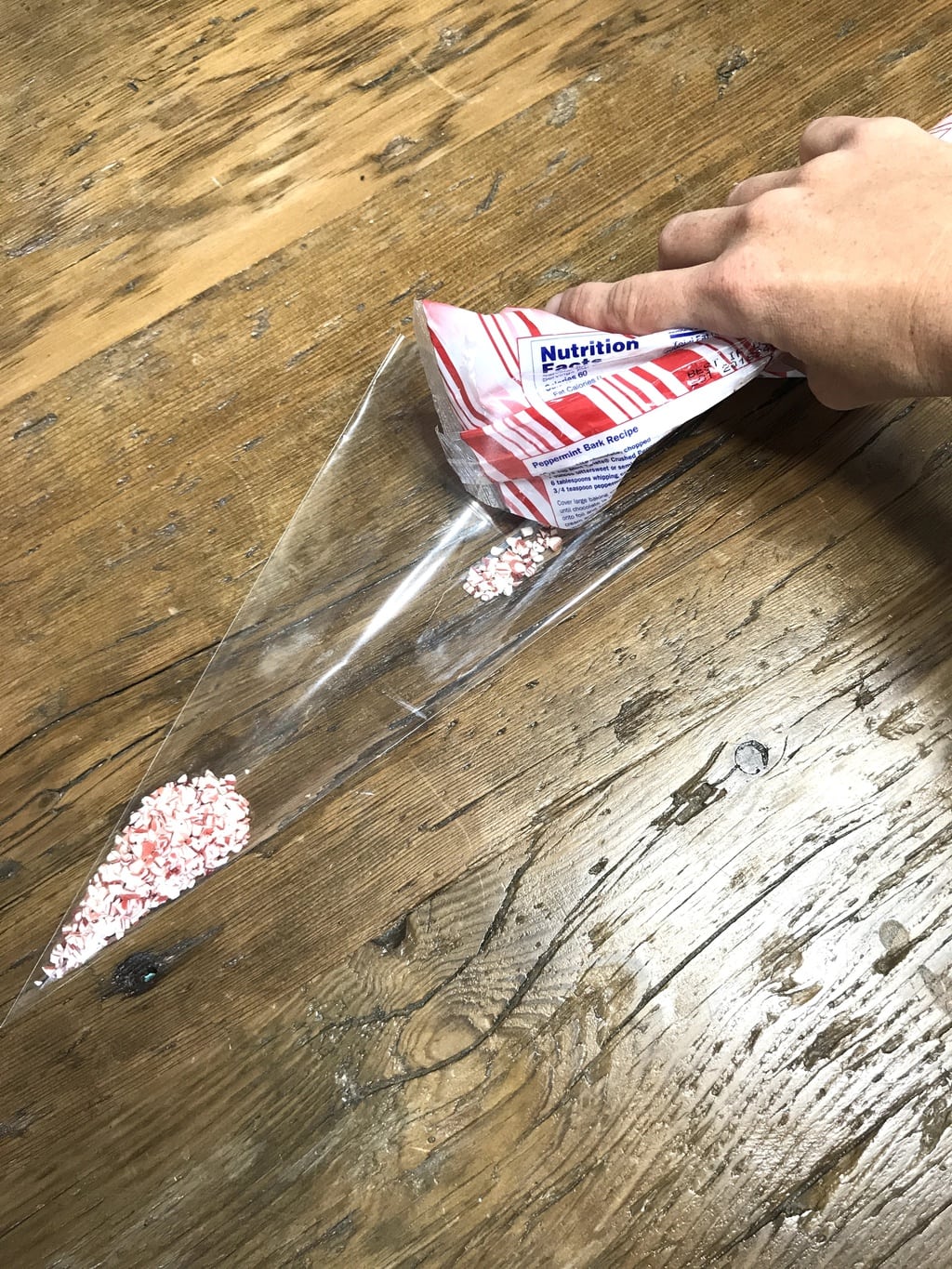 To continue with the Santa hat, I sprinkled in 5-6 mini marshmallows and pressed them to make them somewhat flat. I wouldn't recommend any more marshmallows for this step because you want Santa's face to fit nicely under these marshmallows.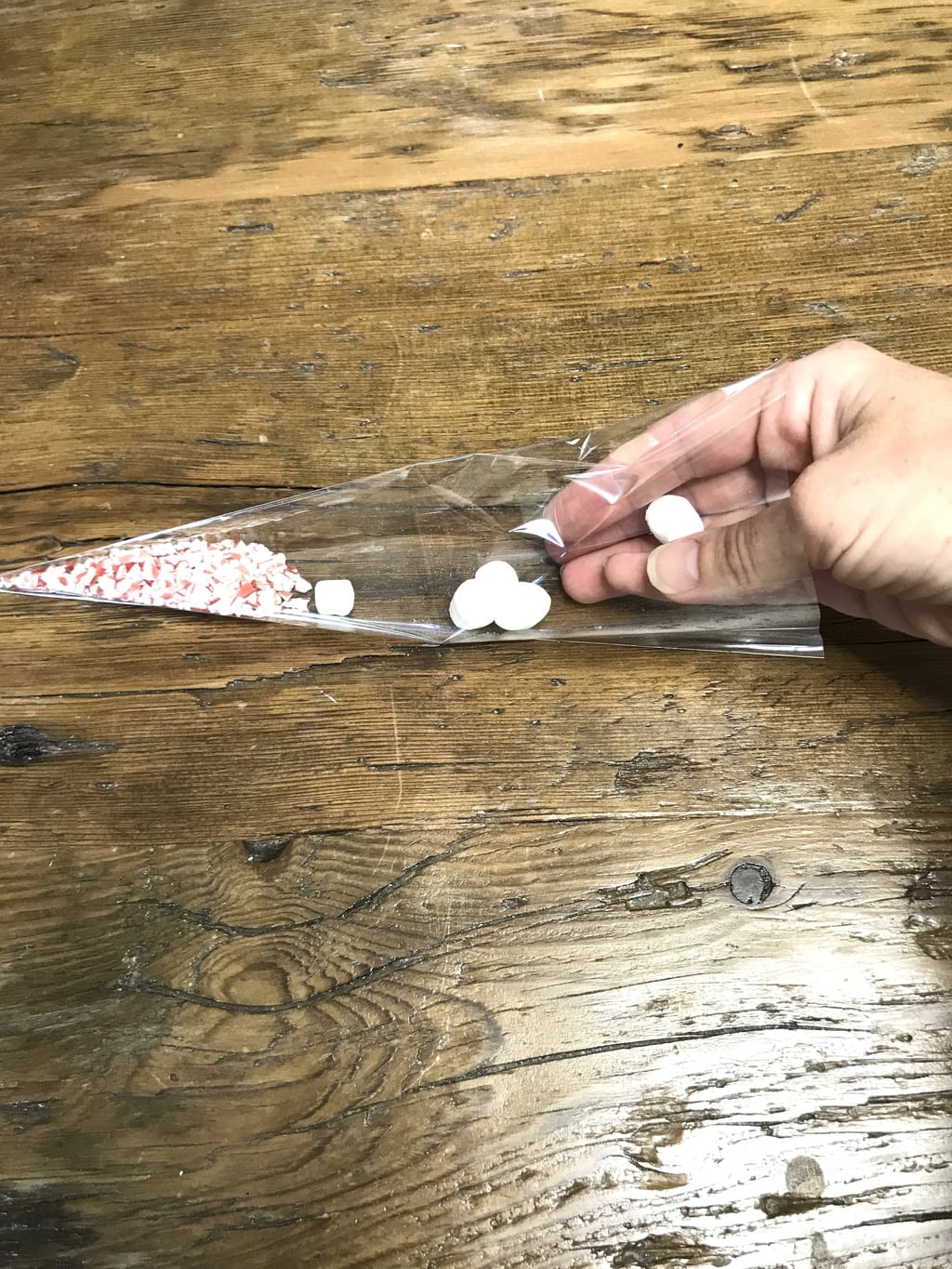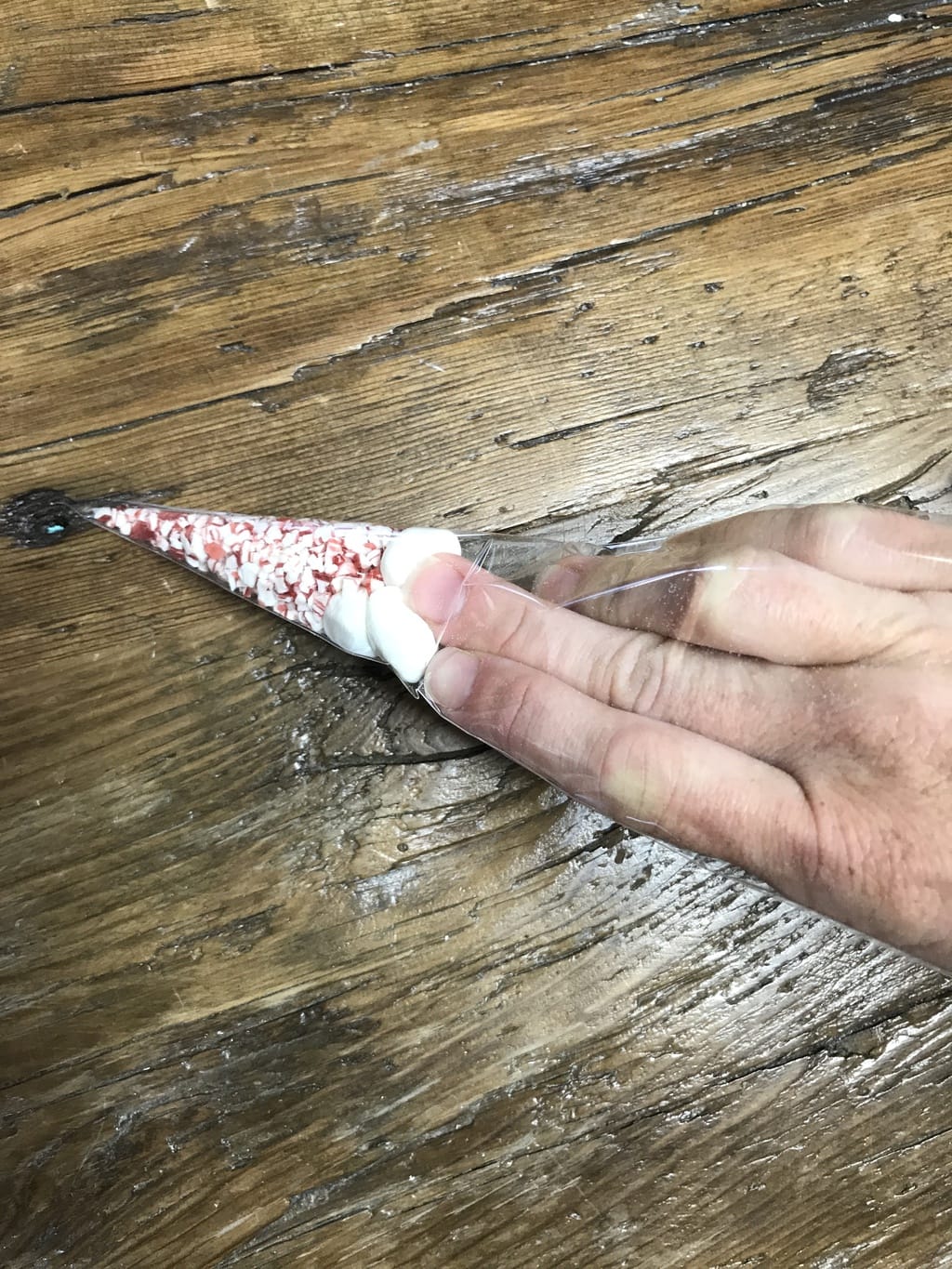 The trick for keeping Santa's face in place is using plastic wrap! I poured a package of Swiss Miss Dark Chocolate Hot Cocoa mix on a piece of plastic wrap, then gathered the ends and secured the "ball" of hot cocoa mix with a small rubber band. You can cut off any excess plastic wrap. After that, I placed the "ball" of the hot cocoa mix inside the Santa hat bag. You may need to manipulate Santa's face a little so that it sits nicely under the pressed marshmallows.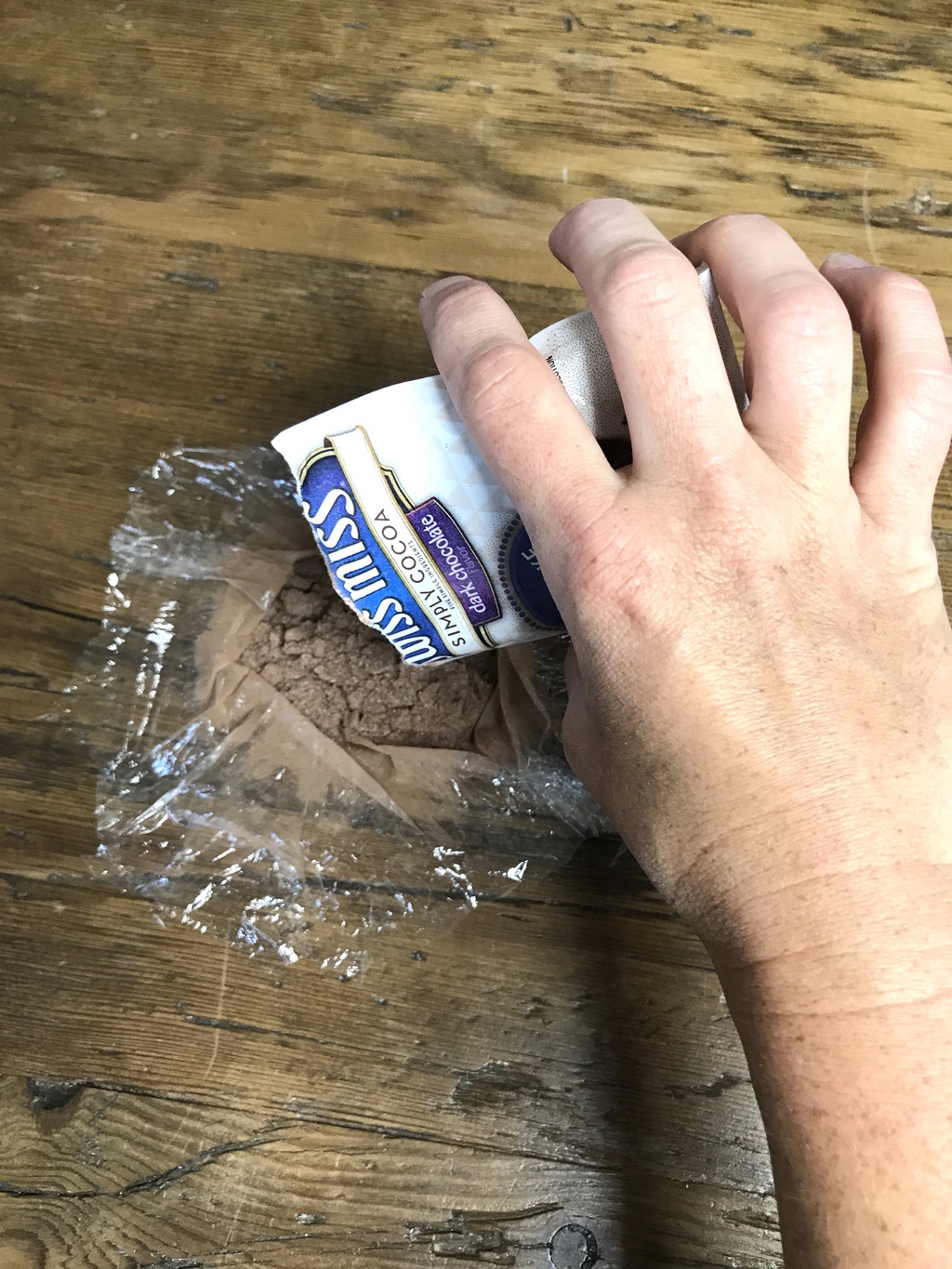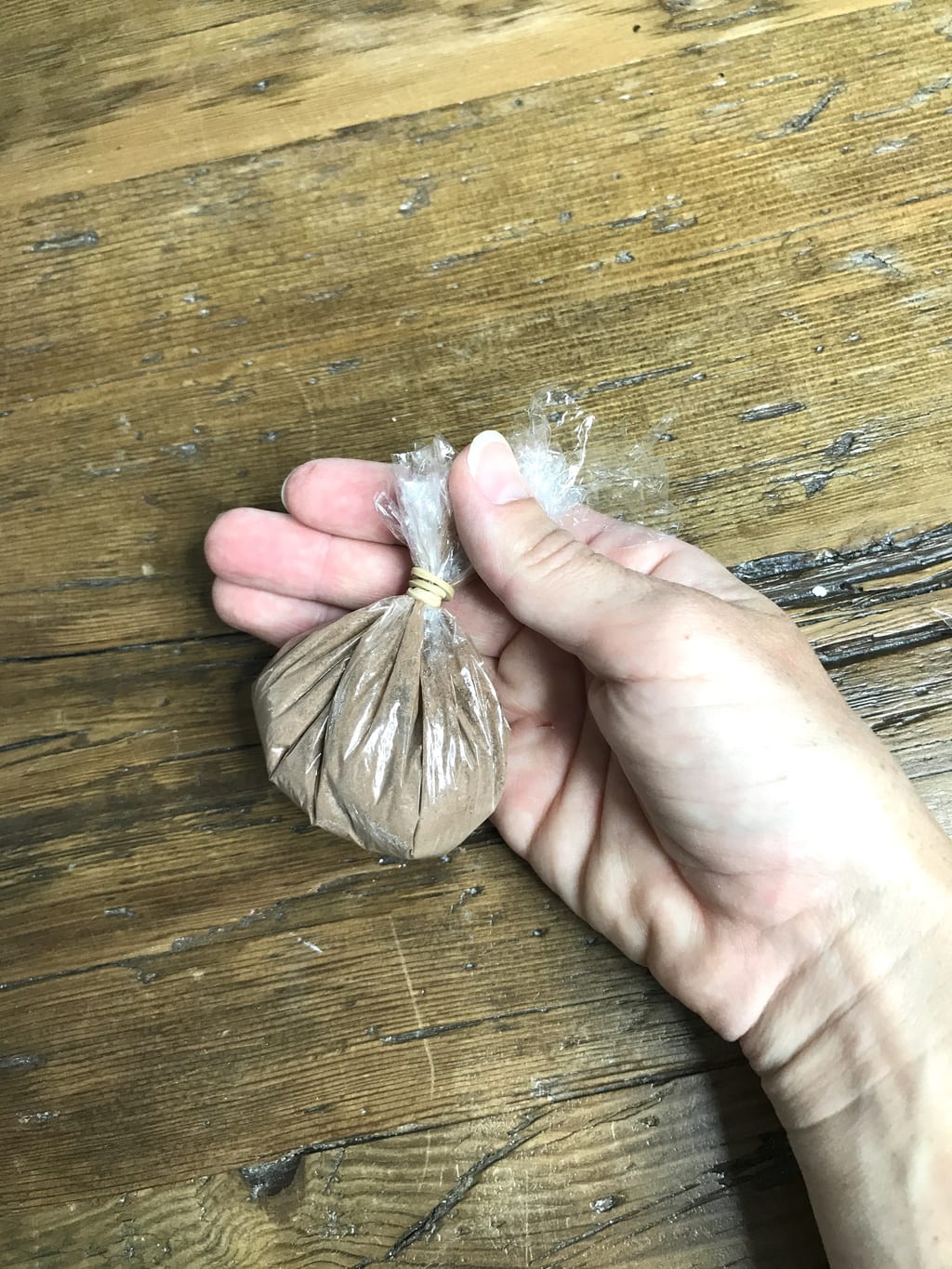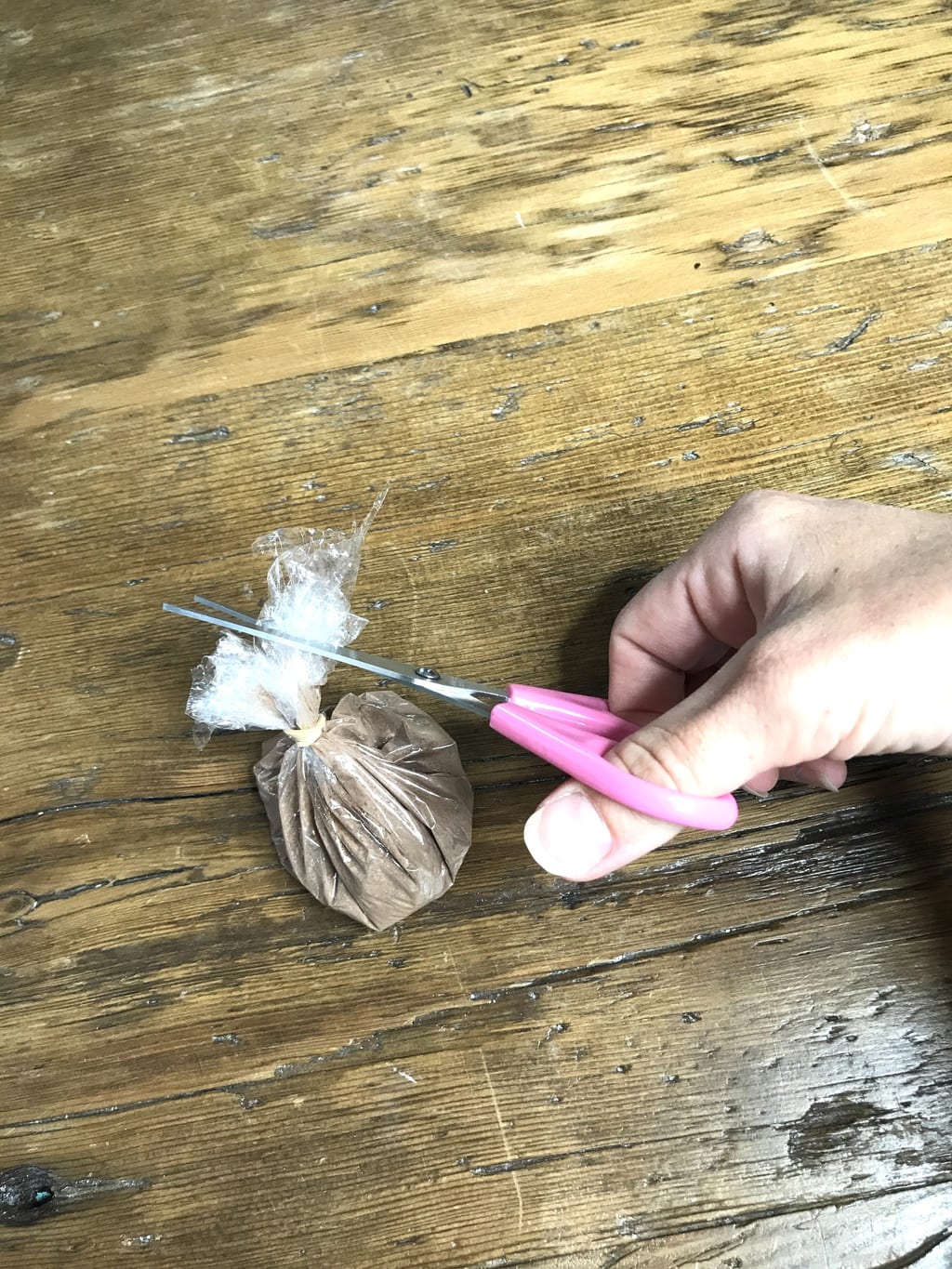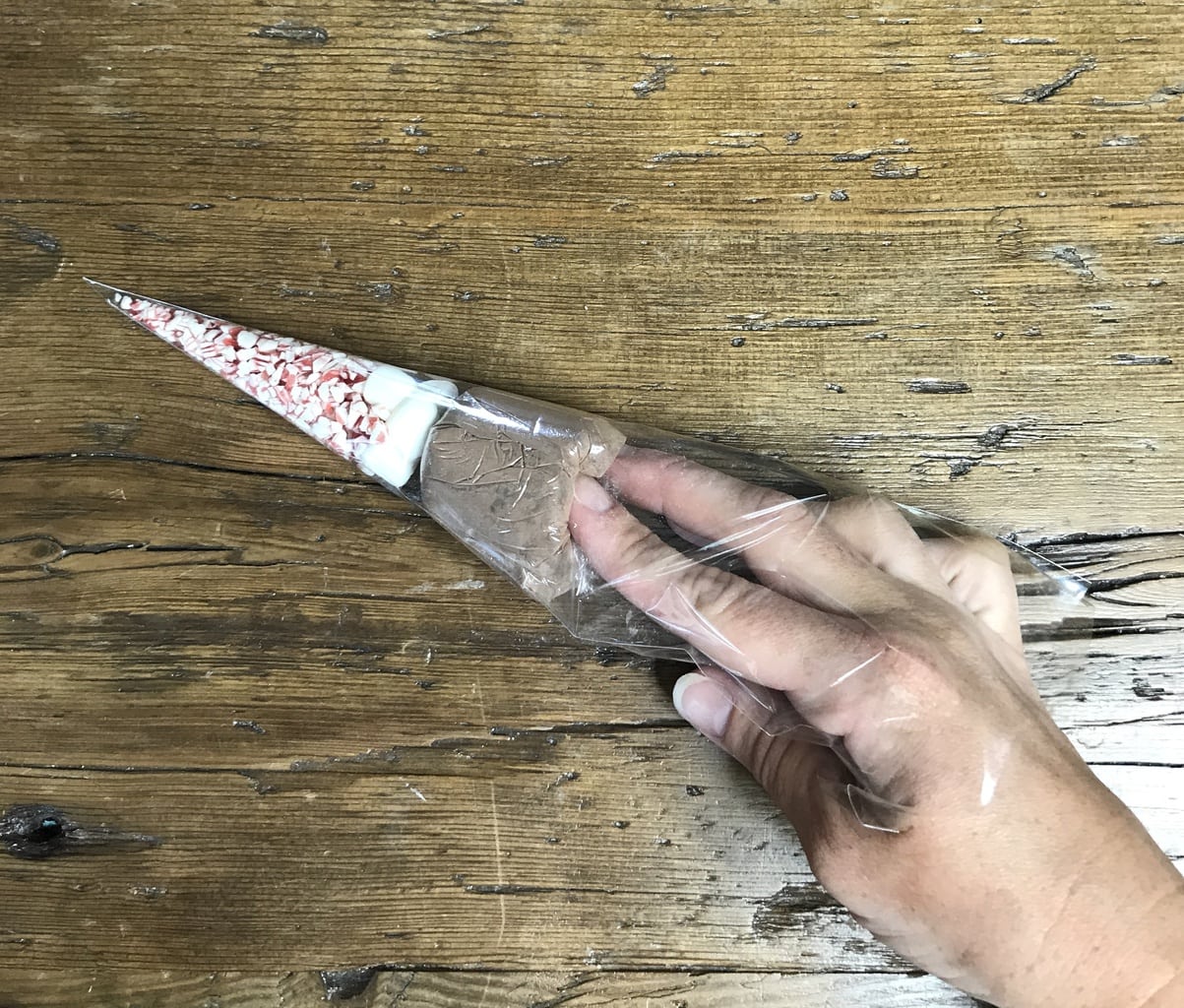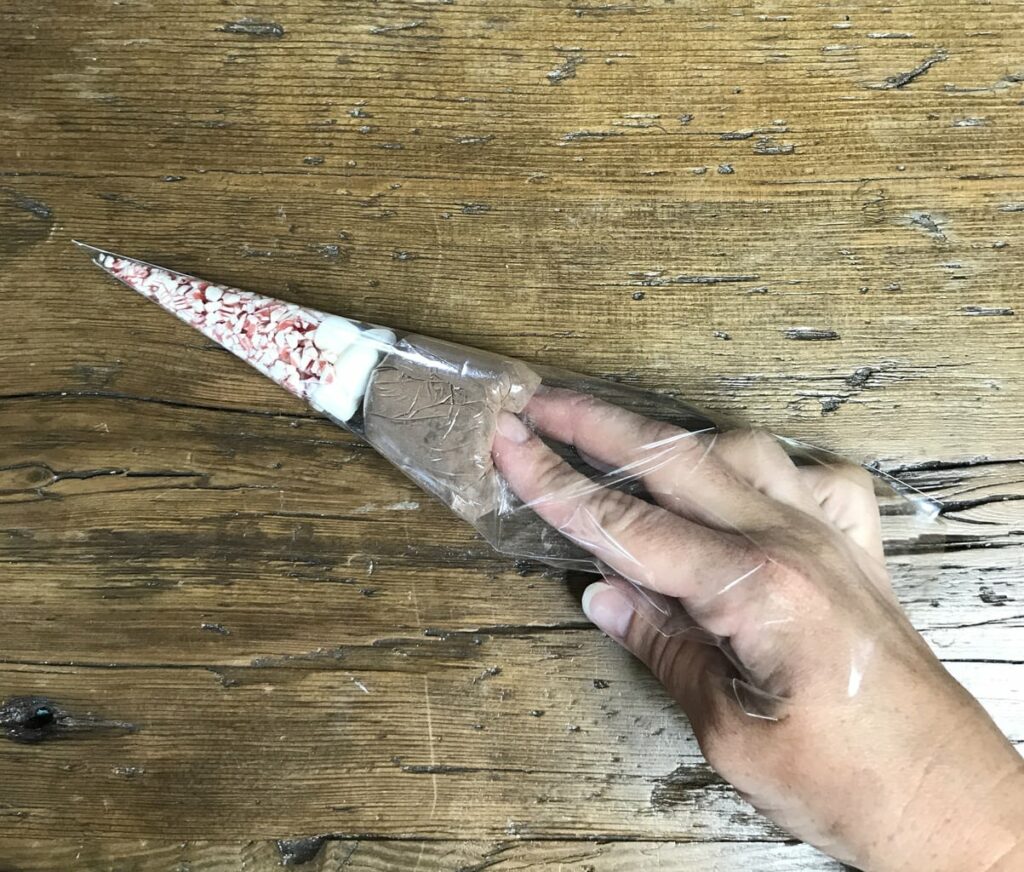 Who is Santa without his beard?! To make St. Nick's beard, I filled the rest of the bag with more mini marshmallows (I used about a half cup or so) but first, I inserted a clear plastic spoon. Then, I tied the bag closed with a rubber band and a nice, red satin ribbon. Again, you can really make these Santa hot cocoa bags uniquely yours by changing up the ribbon color or maybe not even using ribbon at all. Consider some twine for a rustic Santa!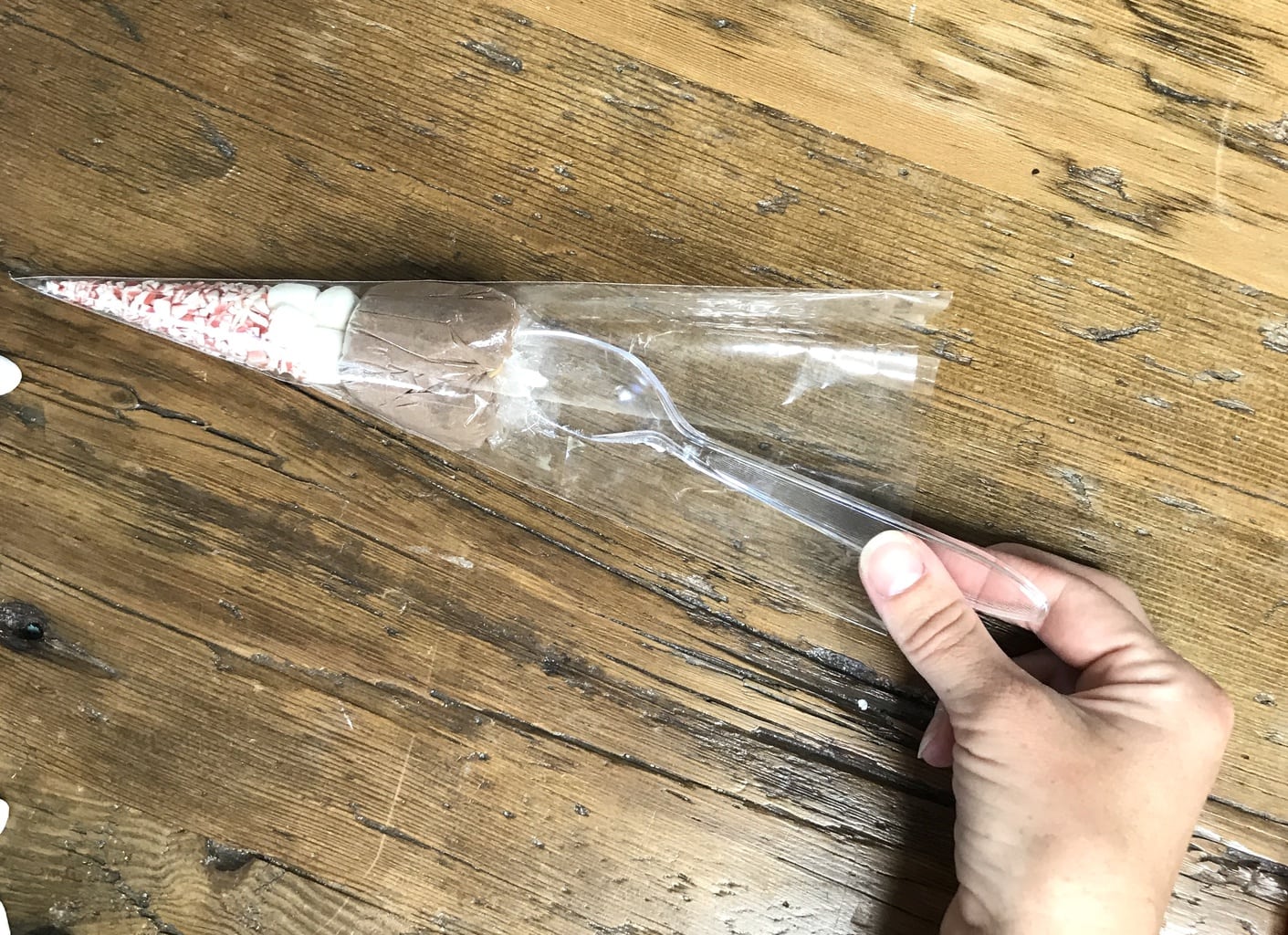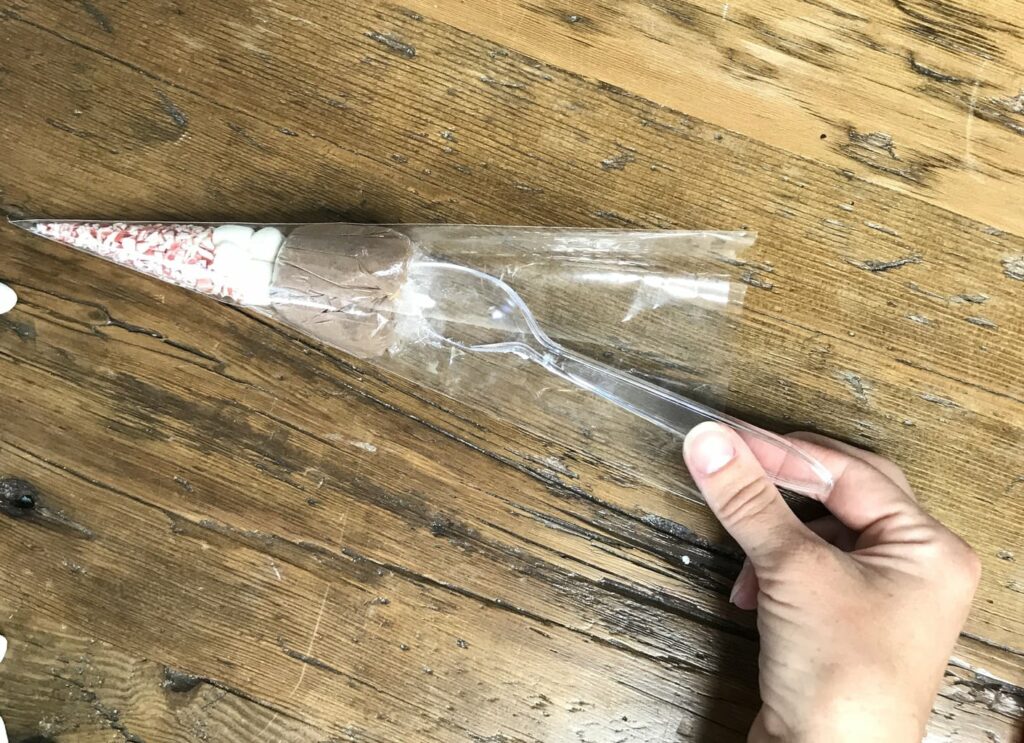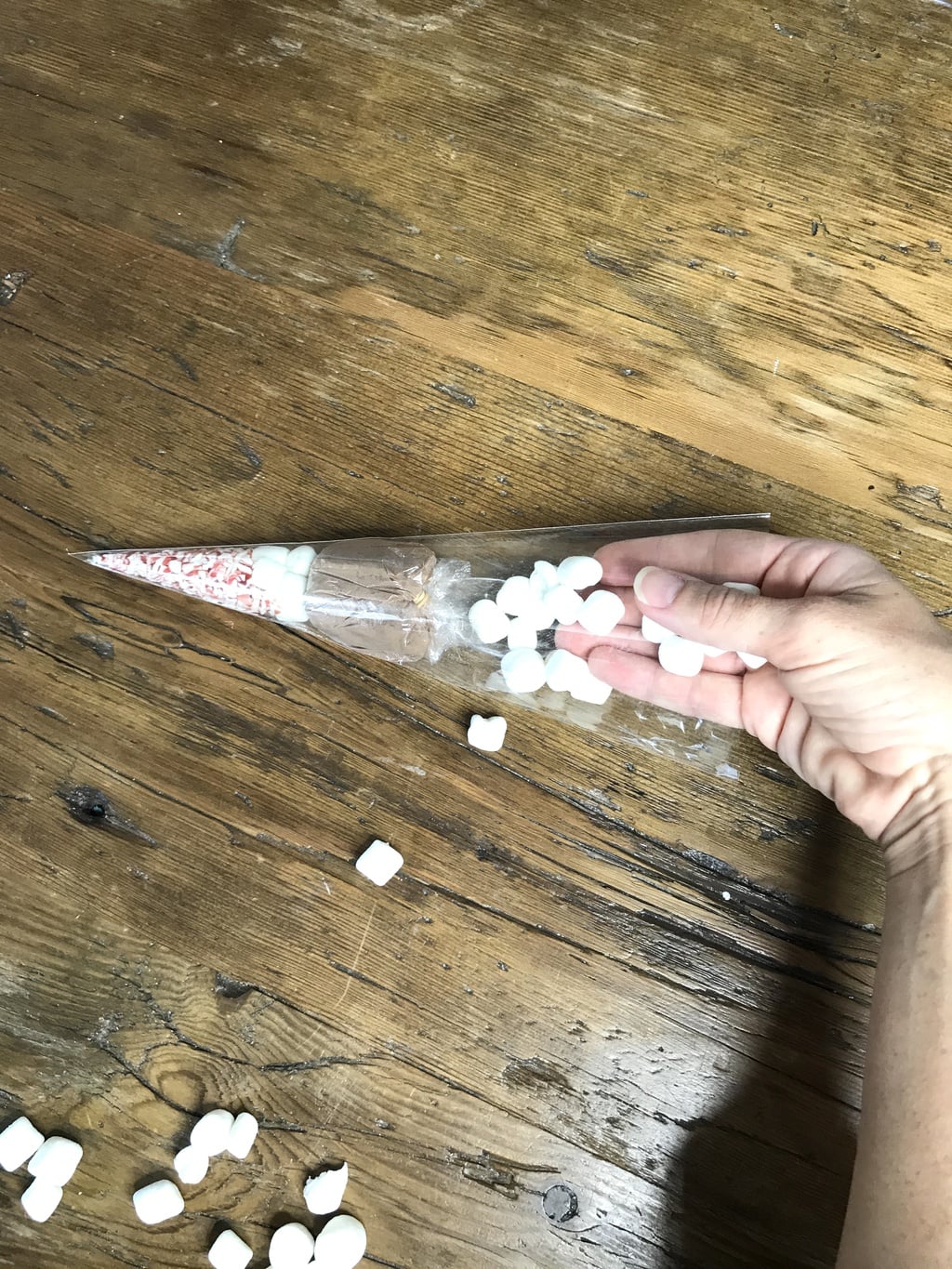 For the last touches to this adorable Santa Hot Cocoa bag, I used Elmer's glue to adhere a cotton ball to the top of Santa's hat. I purchased a small bag of craft eyes and red pom-poms and used two of the eyes and one of the pom-poms for Santa's eyes and nose.
Lastly, I pulled a small piece of cotton from a cotton ball to create Santa's mustache.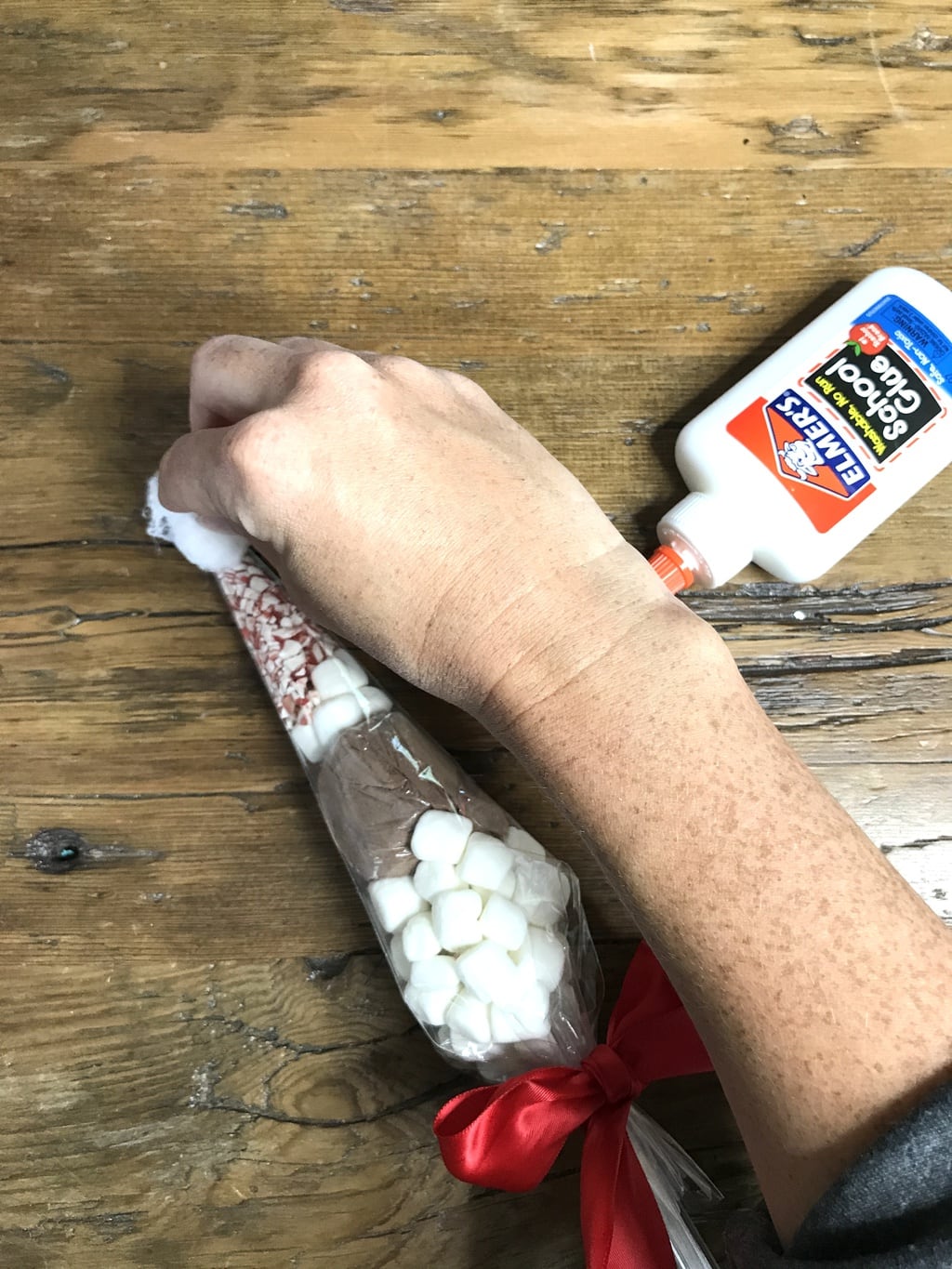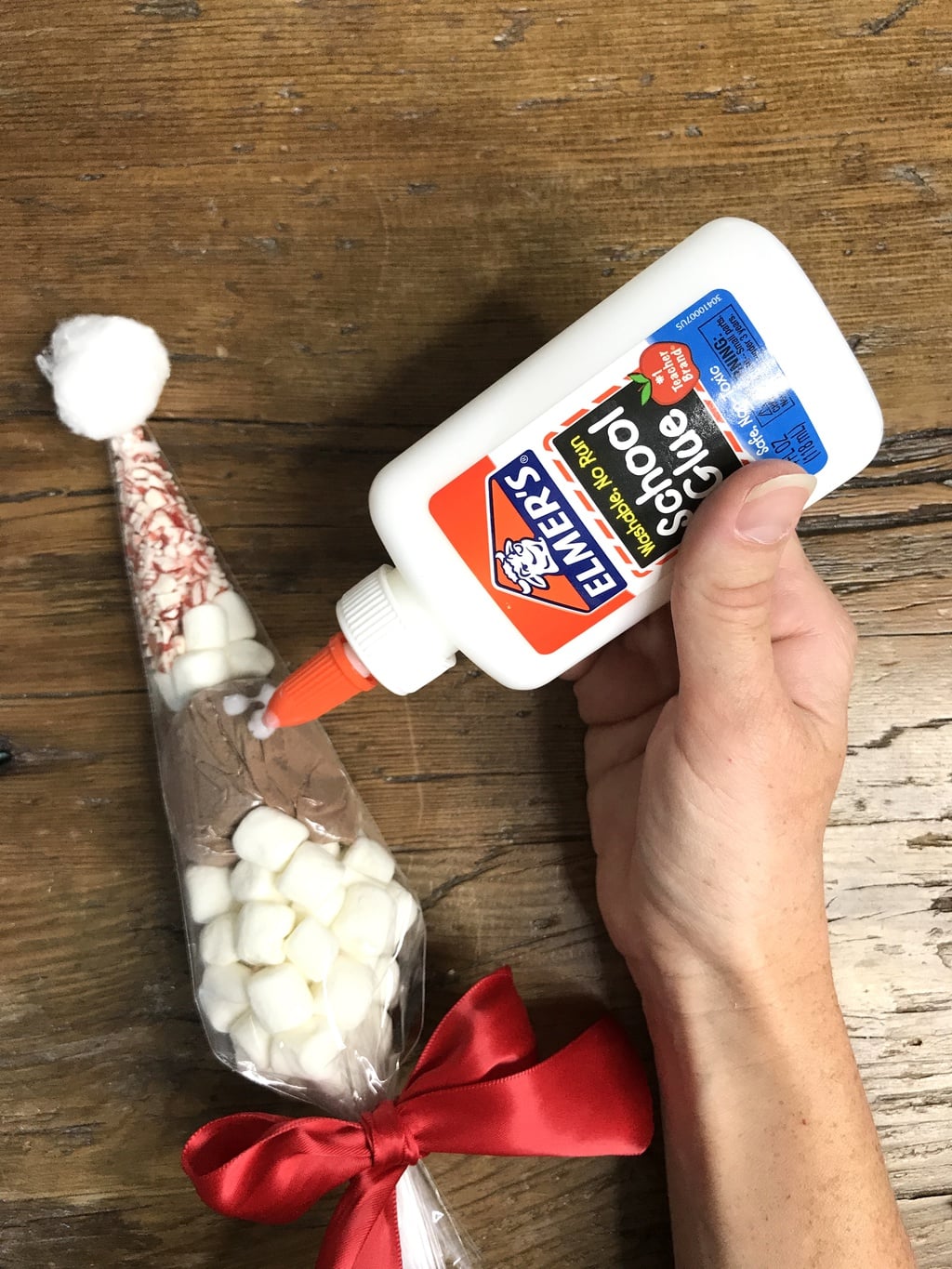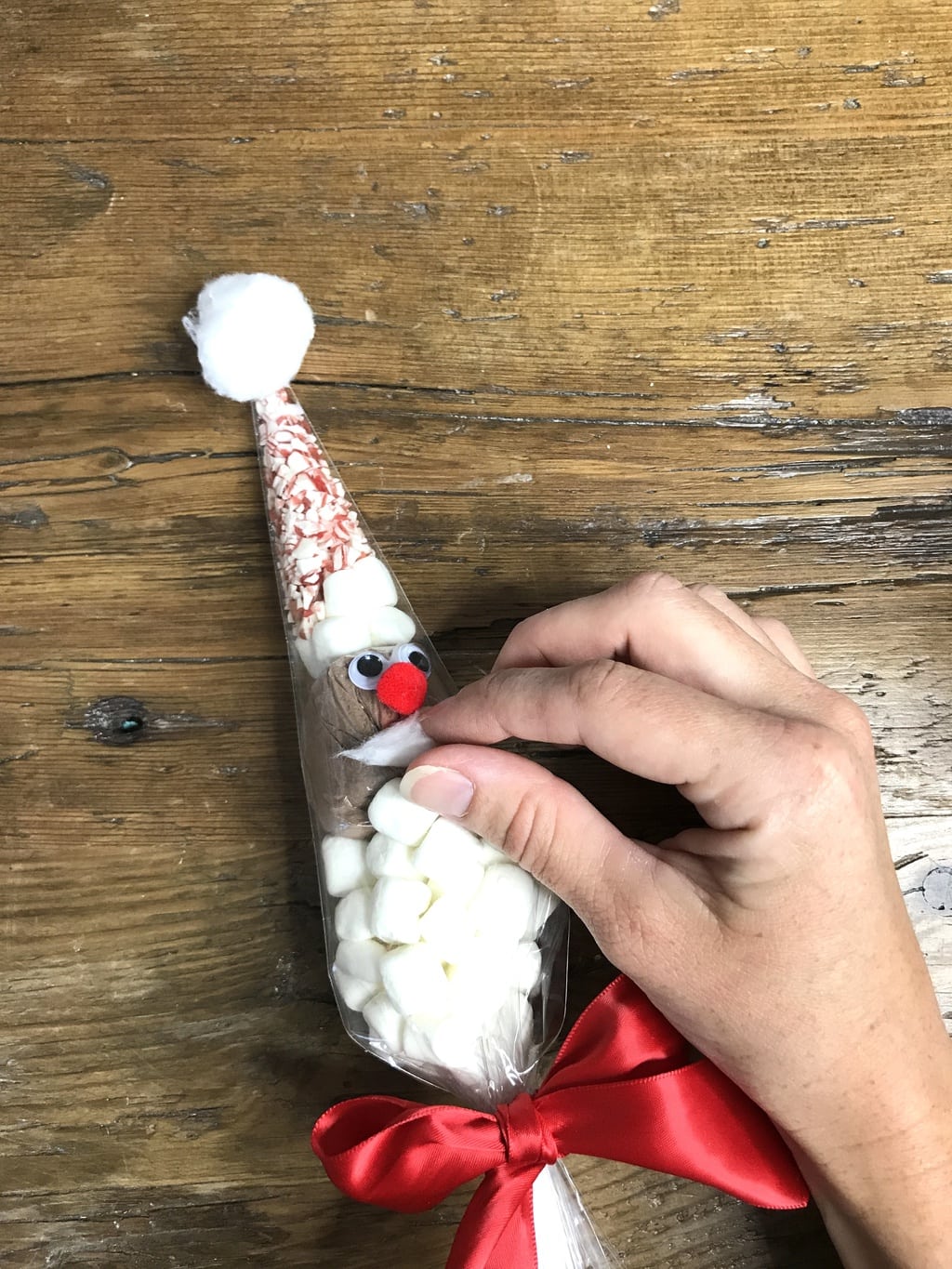 I just love these adorable Santa hot cocoa bags! They are perfect to give as gifts during the Christmas season and can be personalized by simply adding a little gift tag to Santa's bow tie.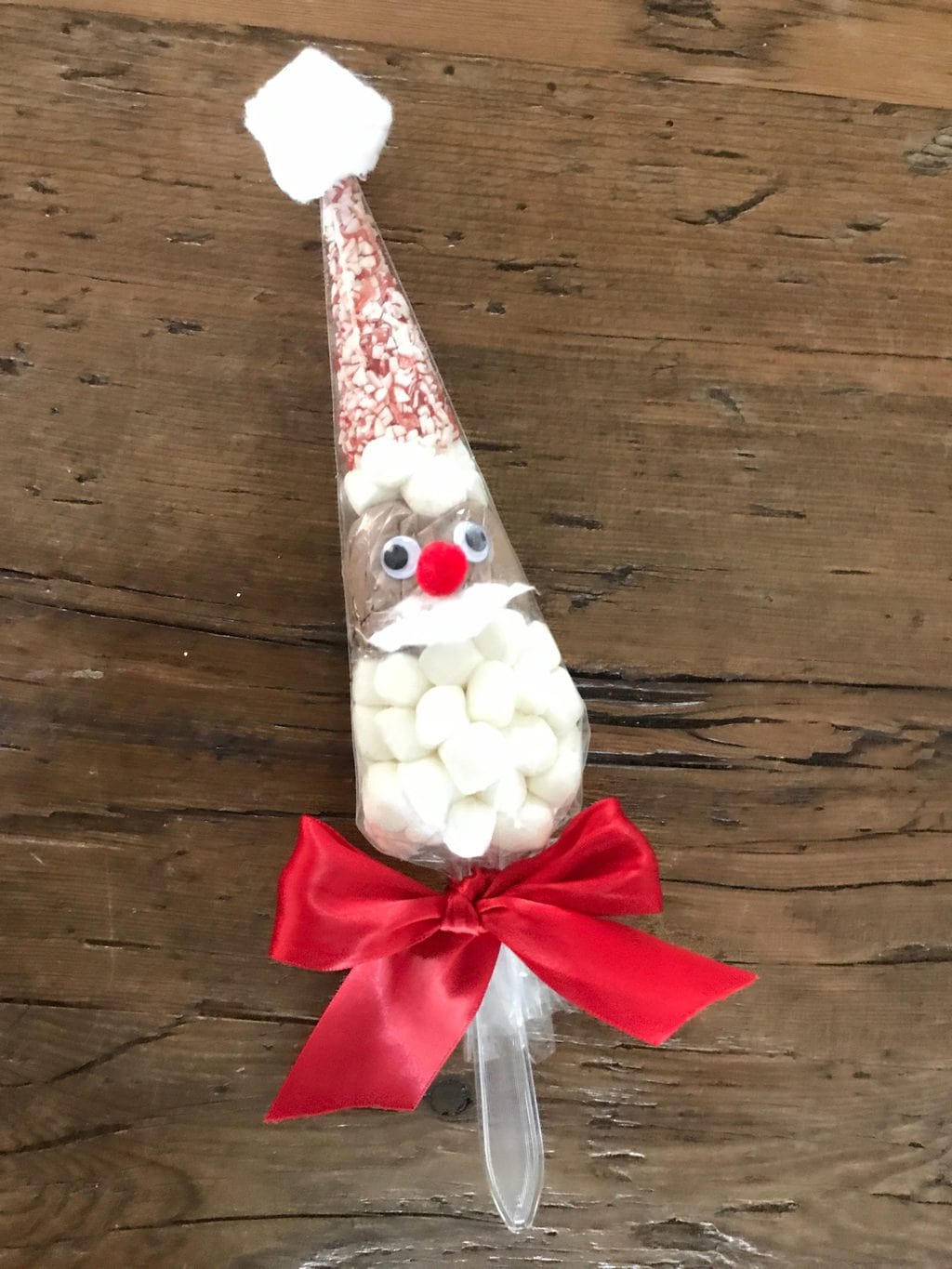 Checklist to make Santa Hot Cocoa Bags
Check out this video to see the how-to in action!
Happy Creating!
Thank you to Idelle Colon for posting this great idea on Pinterest. See the original link I found this here: http://pinterest.com/pin/169799848420611417/
I do not know who the original creator of this fun DIY Christmas gift was but if you do, please let me know so I can credit them accordingly!
You can even pair this with an inexpensive mug for a terrific, adorable gift!