Caramelized Onion Blue Cheese Focaccia Bread
This caramelized onion blue cheese Focaccia is everything you need right now. Soft and fluffy on the inside, with slightly chewy corners and mixing sweet and savory notes, this is an easy appetizer or side dish that looks incredible!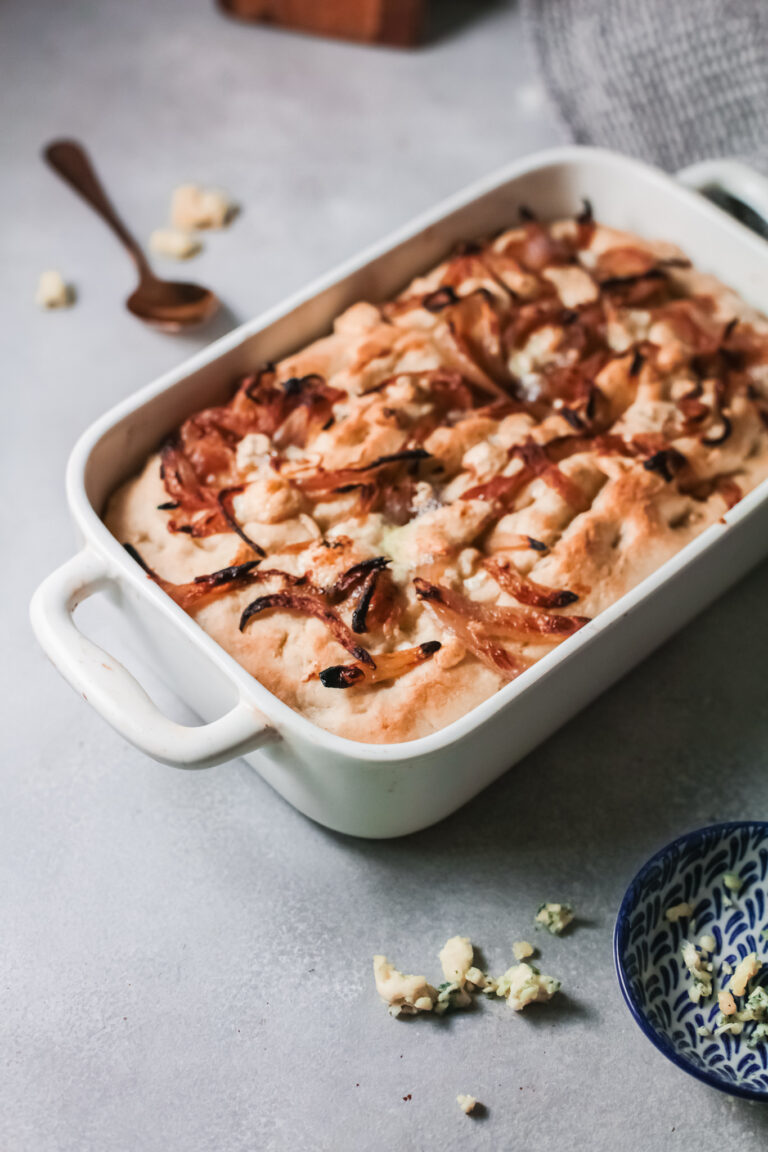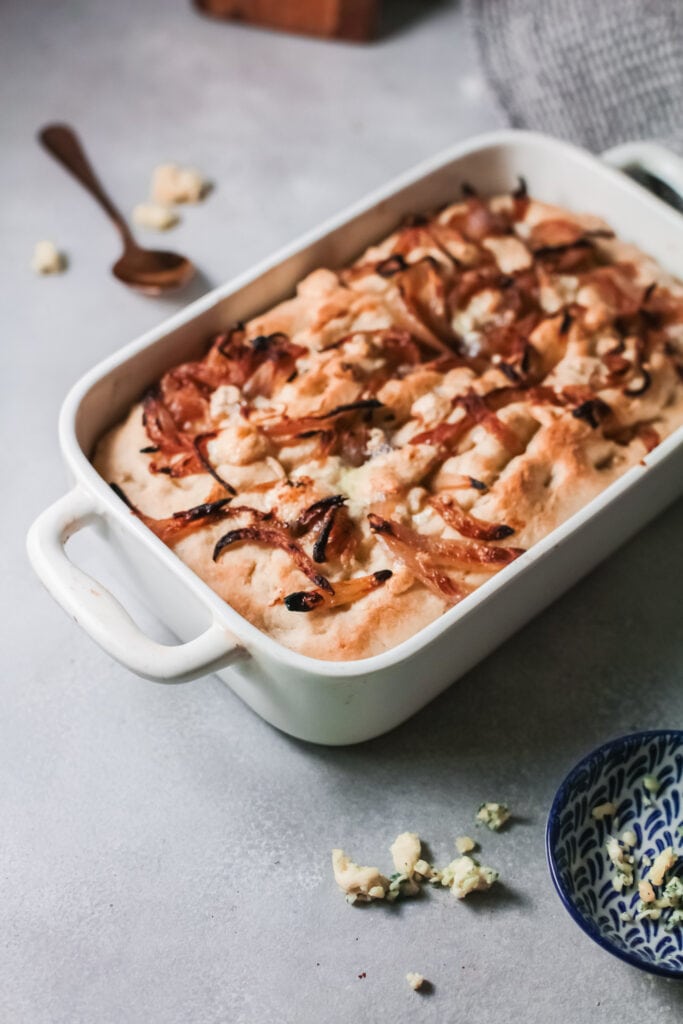 Oh my, if you've been wanting to make bread from scratch then you need to make this Focaccia recipe. I mean, it's simple and straightforward while also being incredibly indulgent. It's also a great way to get into bread making – at least in my opinion – since it's pretty much foolproof. All the good things about making bread from scratch at a fraction of the time and difficulty.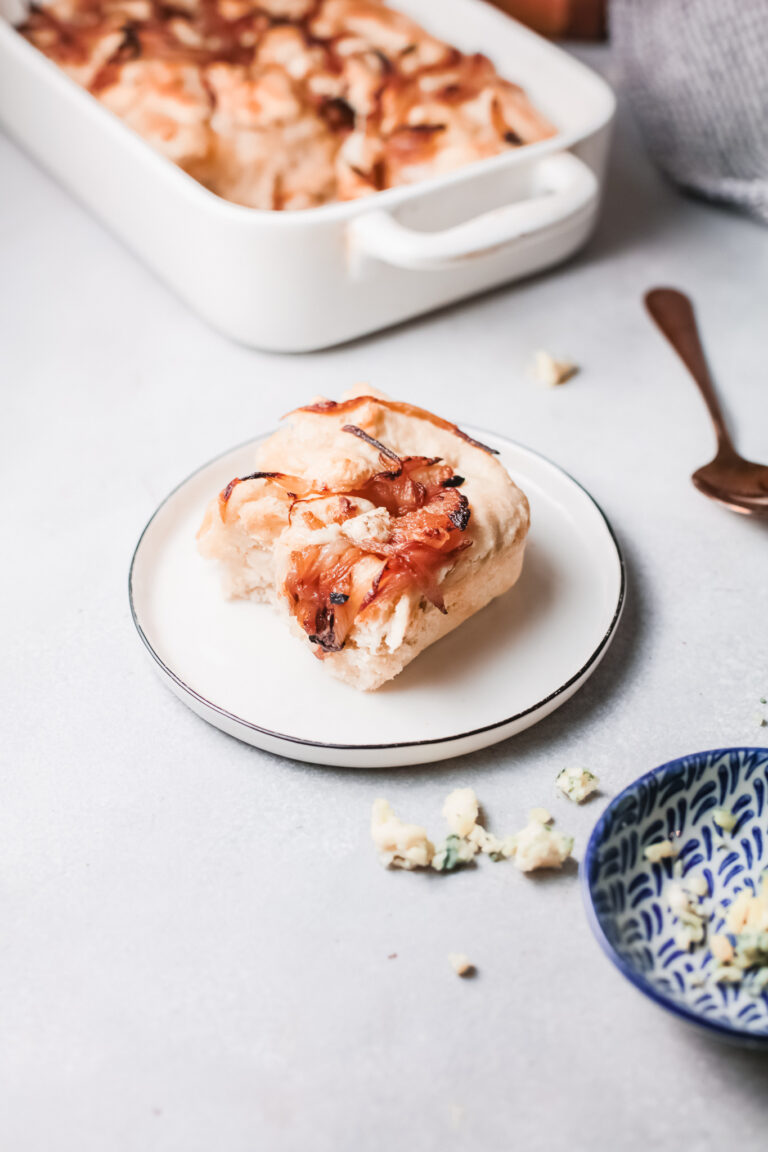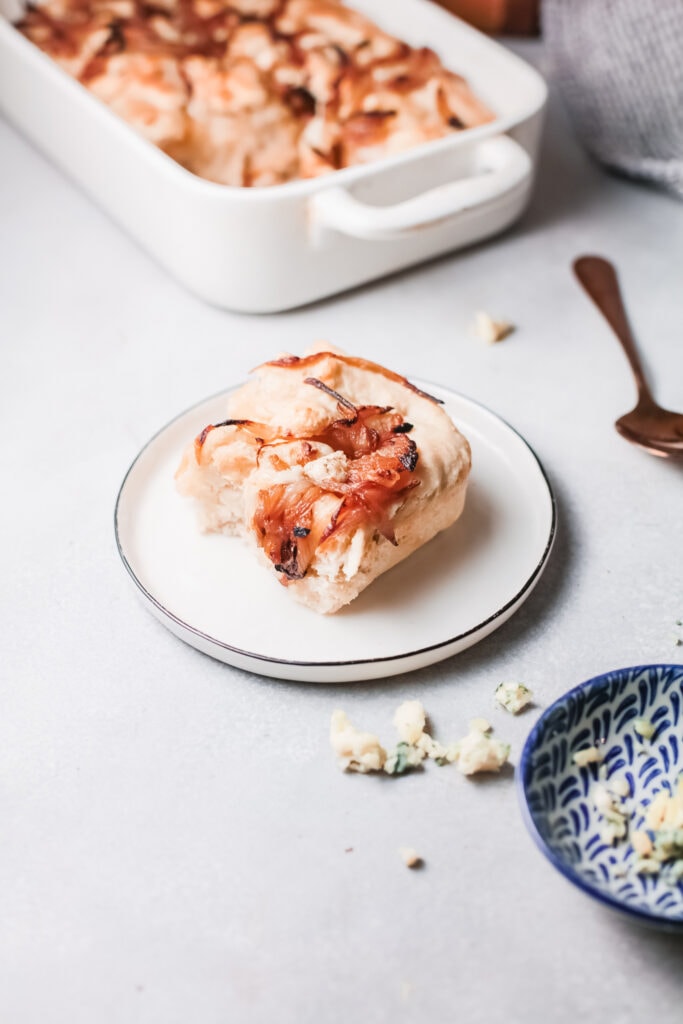 However, this is not your average Focaccia. No, not at all. This Focaccia is mind-blowing good thanks to all the delicious toppings. A drizzle of olive oil, a crack of sea salt, slowly caramelized onions (are you craving it yet?), and crumbled blue cheese takes this Focaccia from average to restaurant-quality good.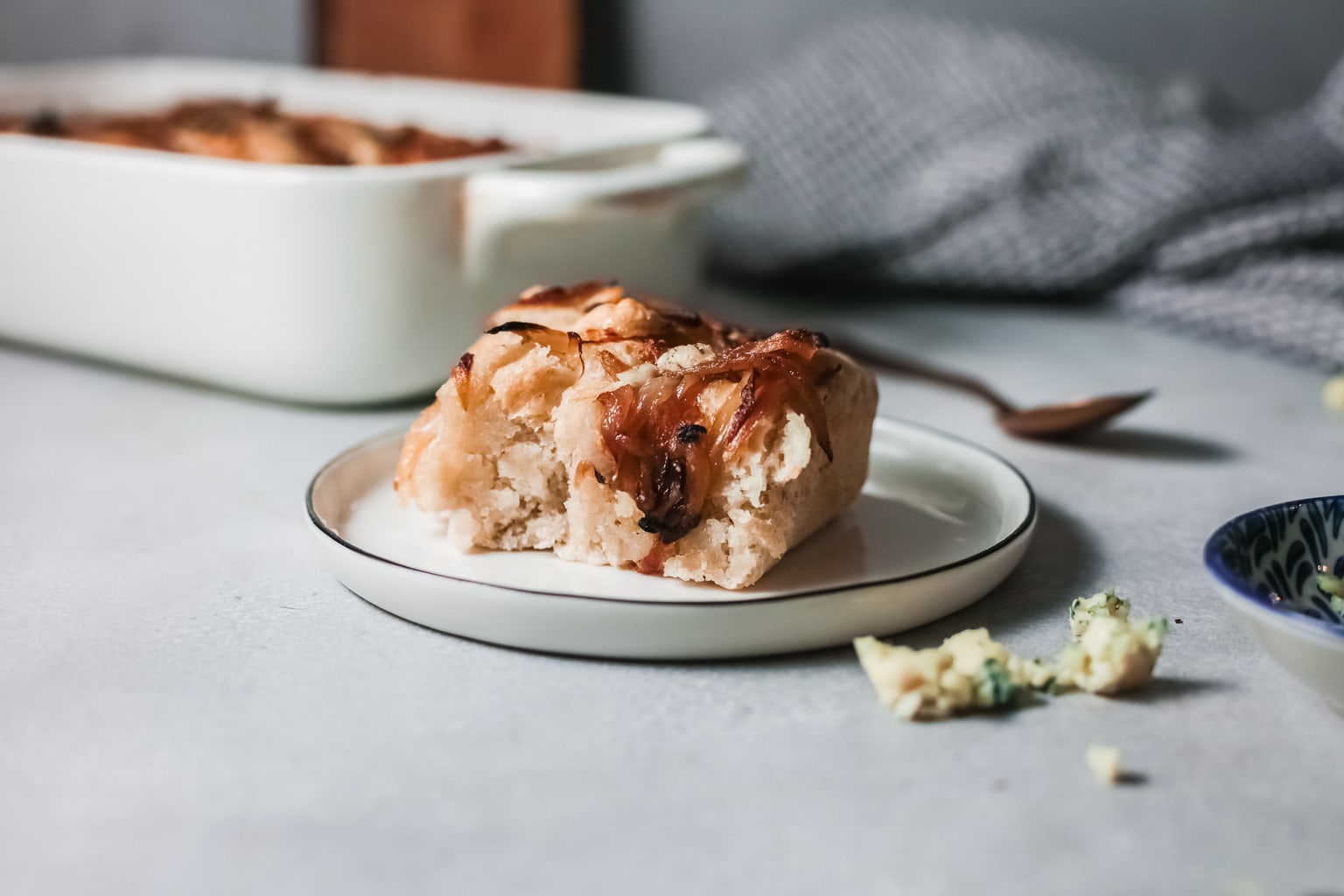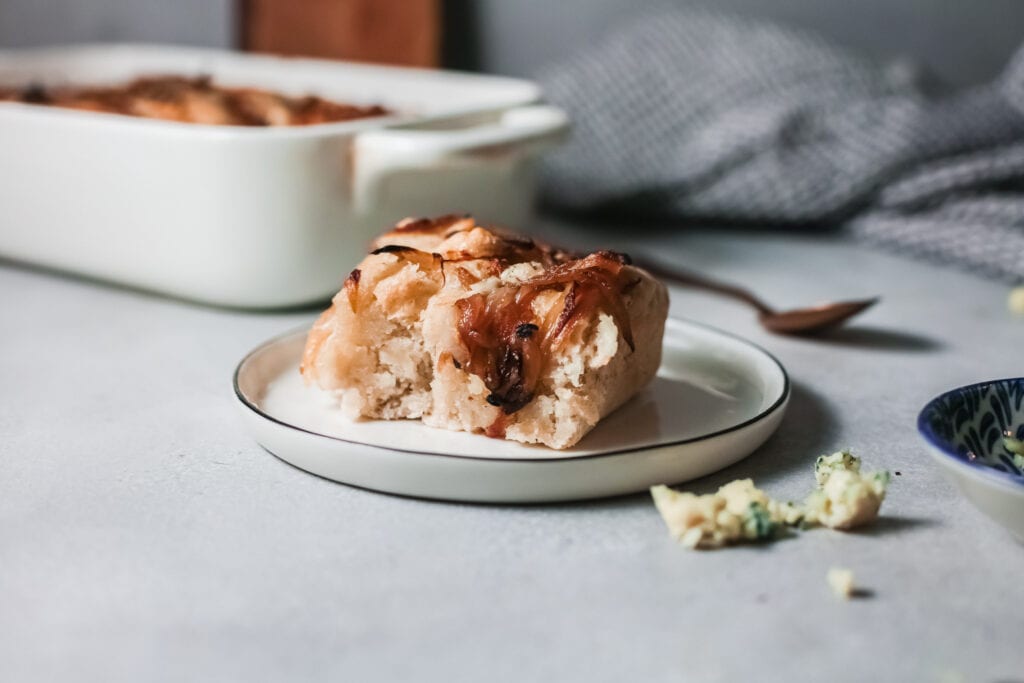 How to make an incredibly good Focaccia Bread
Making Focaccia bread at home is incredibly easy and there aren't a lot of complicated steps involved. However, there are a couple of trade secrets you need to know.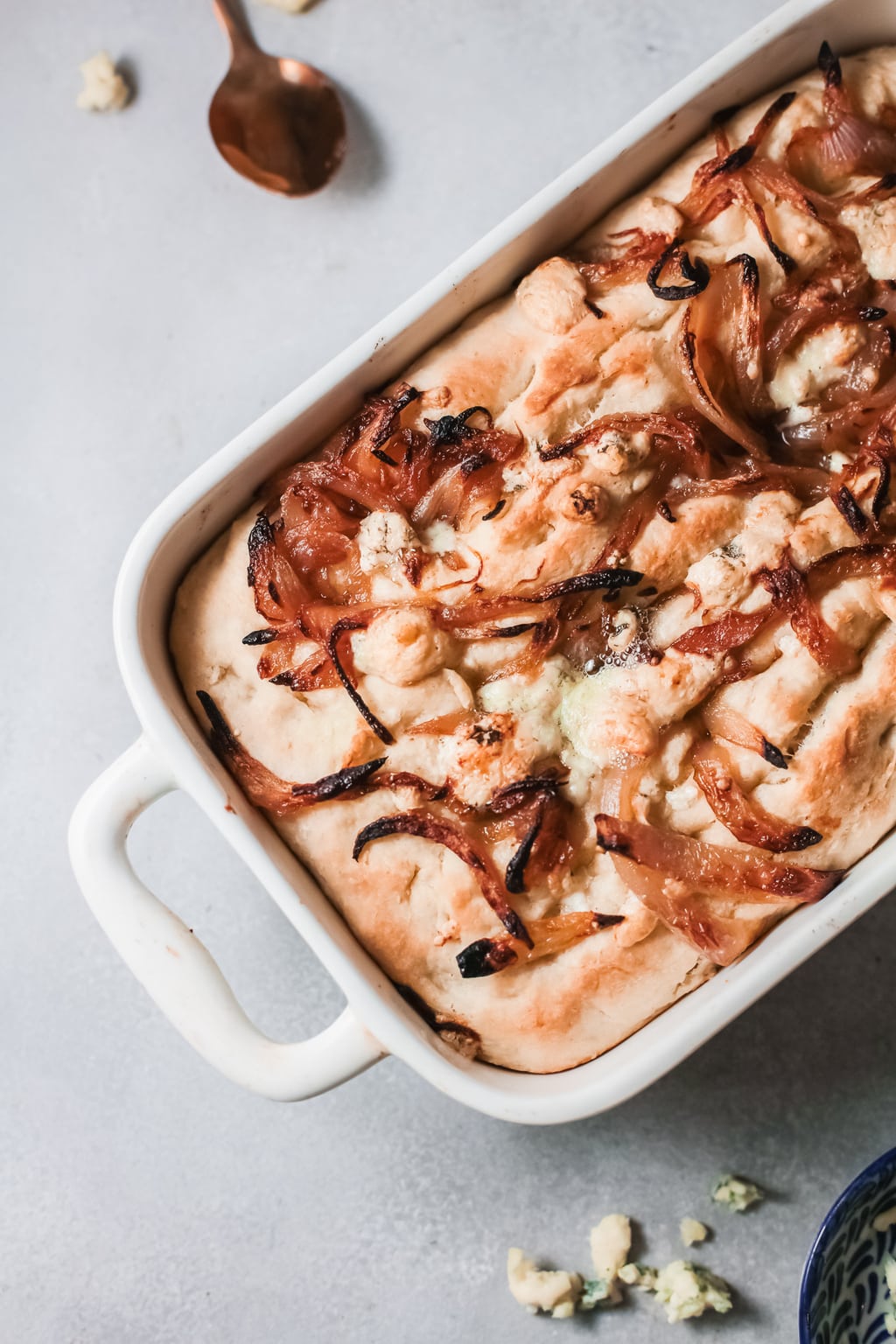 Don't go overboard with the flour. Focaccia bread requires a fairly wet dough which basically means it has a lot of water content. The dough will be slightly sticky and that's what you want! If you add extra flour to make it easier to work with you'll end up with tough Focaccia, not pillowy soft, and chewy.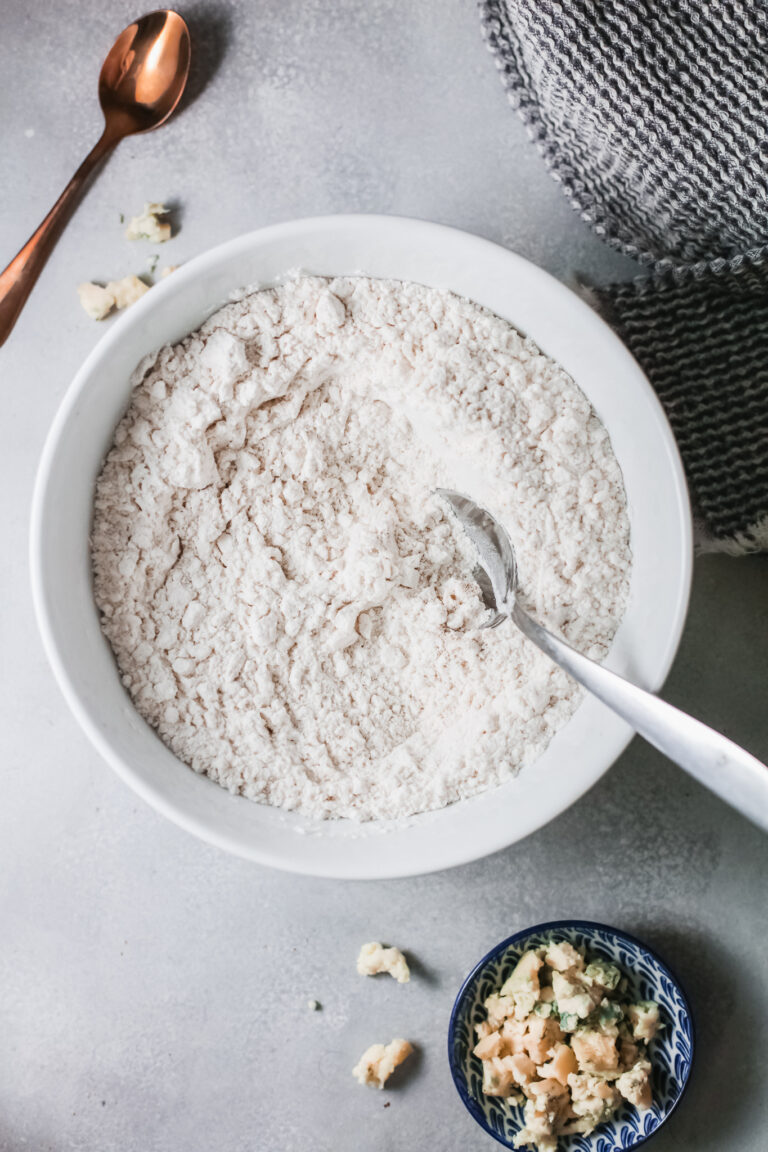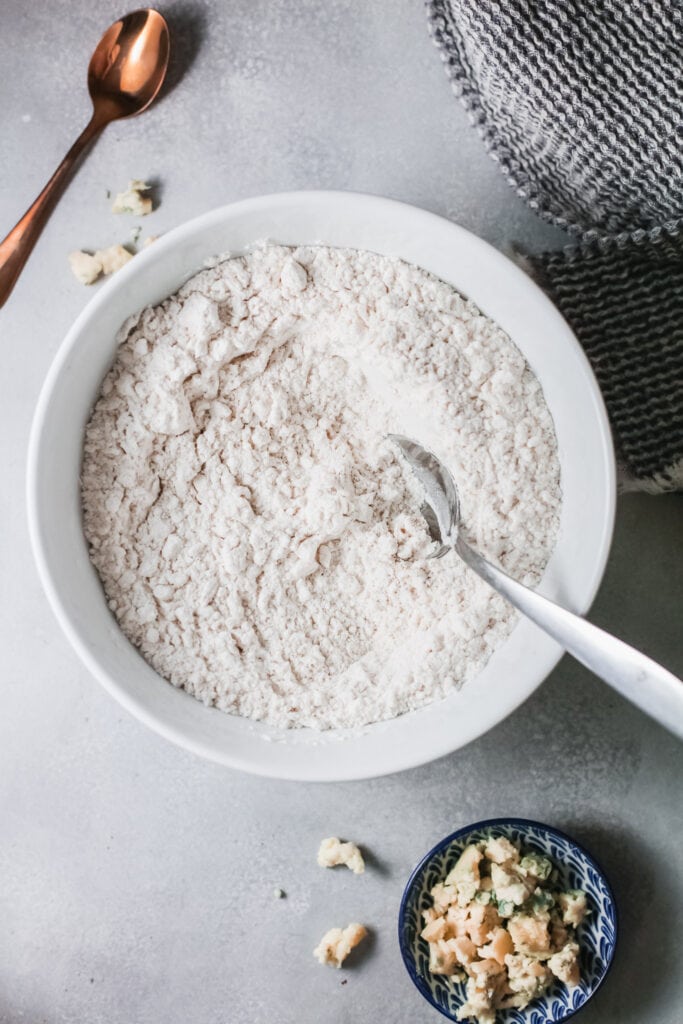 Let it rest and rise: Your Focaccia bread needs time to develop all those nooks and crannies so give it some time to rise. We are doing double proofing. Basically, we let the dough rise once in the bowl and then a second time when it's already in your baking dish.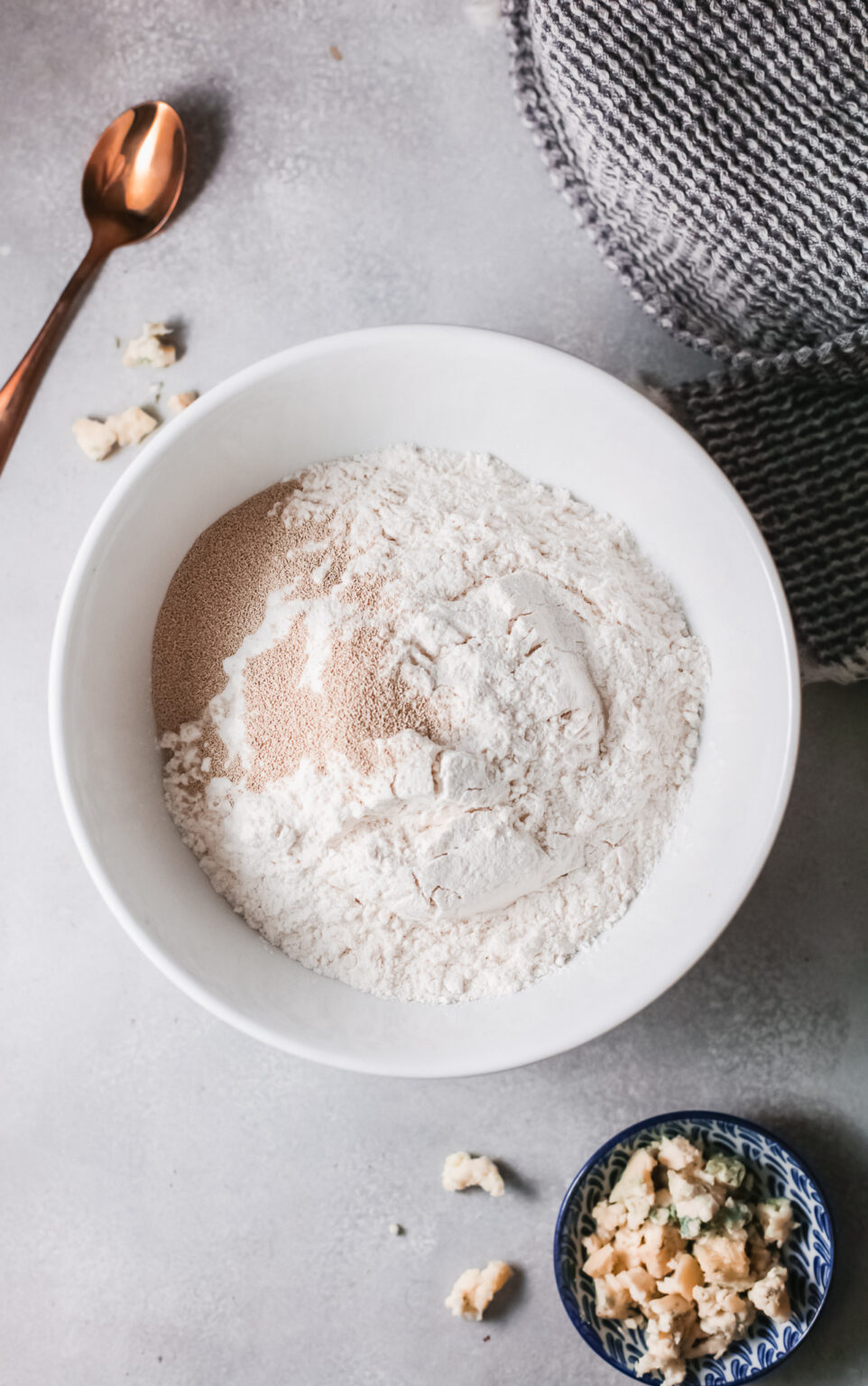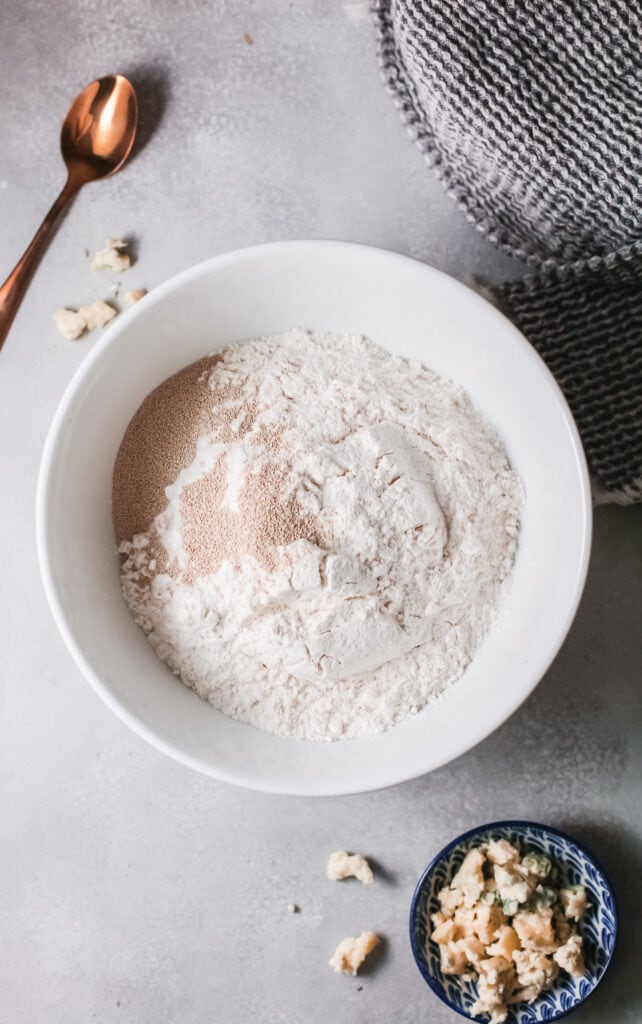 Mix everything, keep the flour to a minimum and let it rest and rise before baking it. Easy, simple, and delicious.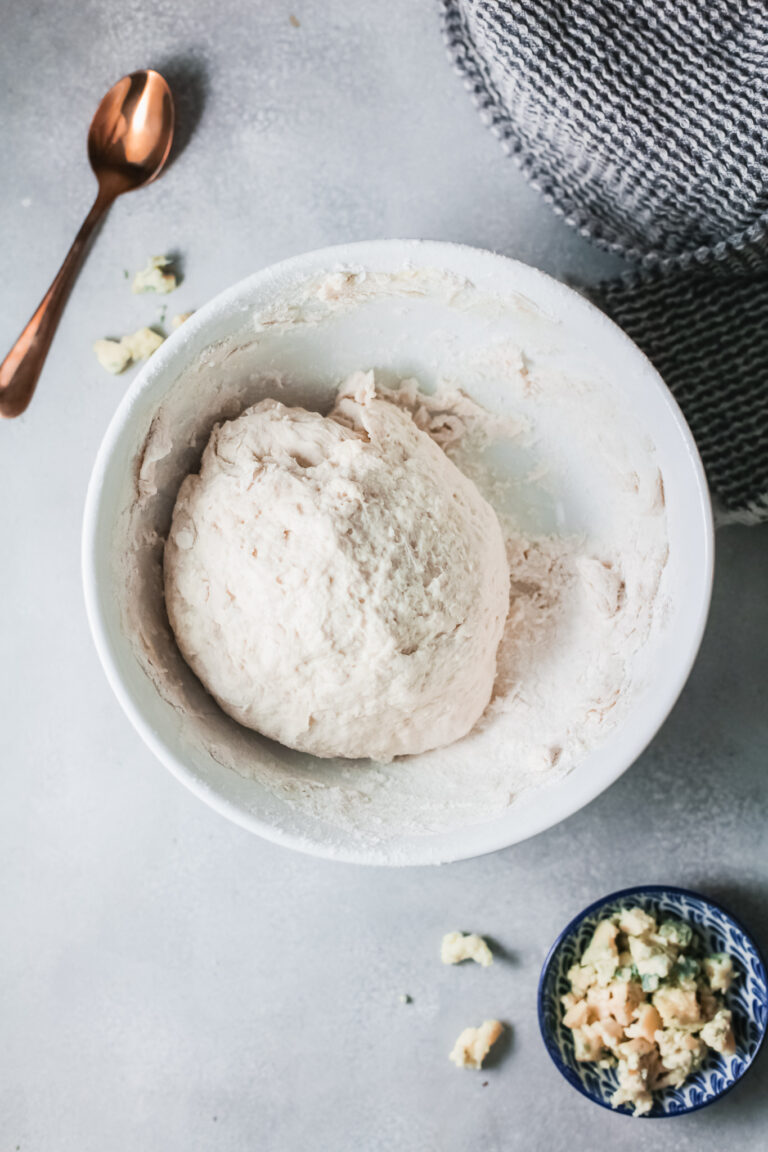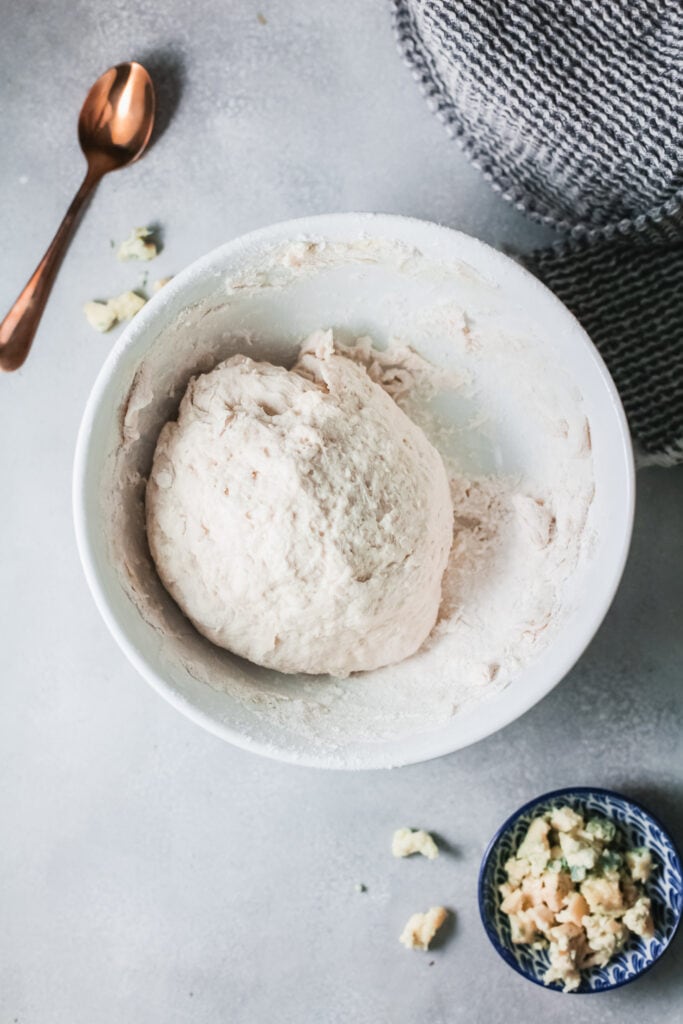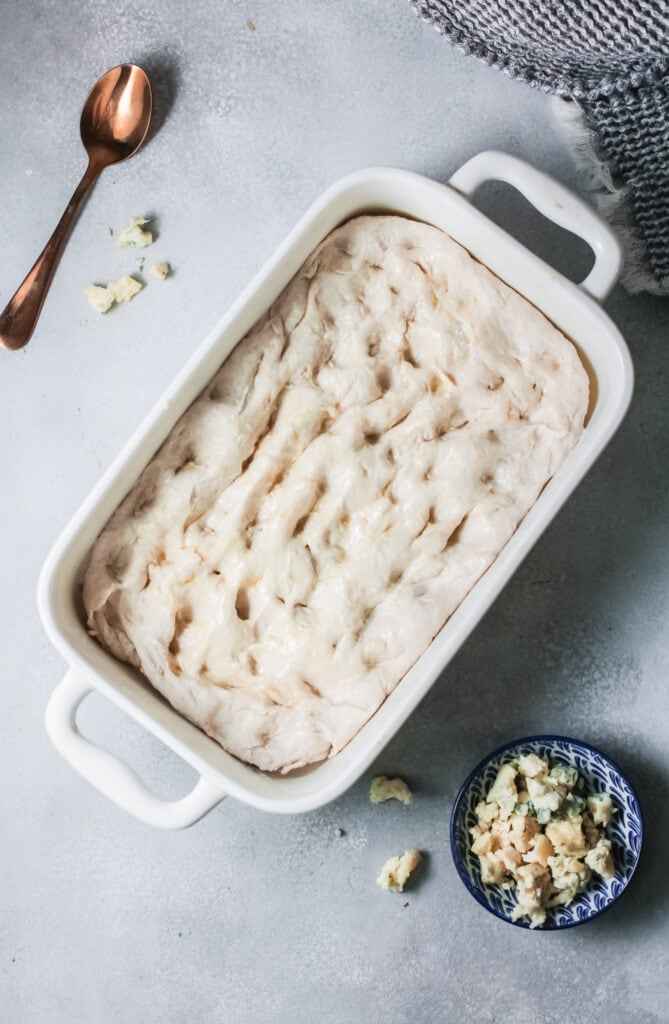 Caramelized Onion Blue Cheese Focaccia Bread Step by Step
Ingredients:
1 ½ cups water

2 tsp sugar

½ tbsp active dry yeast

2 tsp salt + more for sprinkling

¼ cup olive oil + more for drizzling

3 ½ cups flour

½ cup caramelized onions

¼ cup crumbled blue cheese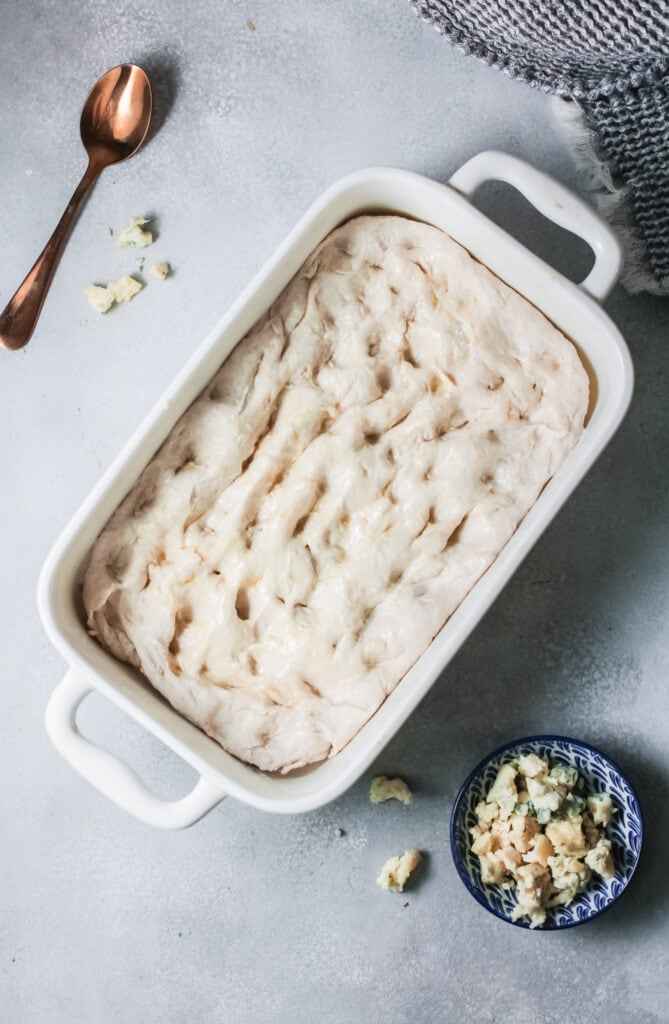 Directions:
In a bowl combine the water, sugar, and yeast. Add the salt, olive oil, and slowly start mixing in the flour. Knead the dough for 7 minutes or until it is elastic and softer (it will still be slightly sticky). Transfer to a bowl and cover with a cloth. Let it rest for 1 ½ hours.

Grease a baking dish and transfer the dough to the baking dish. Cover again with a cloth and let it rise for 30 minutes more.

Preheat the oven to 400 degrees. Drizzle some olive oil on the top and with the help of your fingers, poke deep dents into the surface. Sprinkle with salt and pepper and distribute the caramelized onion and crumbled blue cheese on top.

Take to the oven and bake for 20 minutes or until done.
Enjoy! this Carmelized Onion Blue Cheese Focaccia Bread is the perfect recipe to dazzle your friends and family.