I have been compensated by Immaculate Baking for this post; however, I am sharing my own thoughts. All opinions are my own.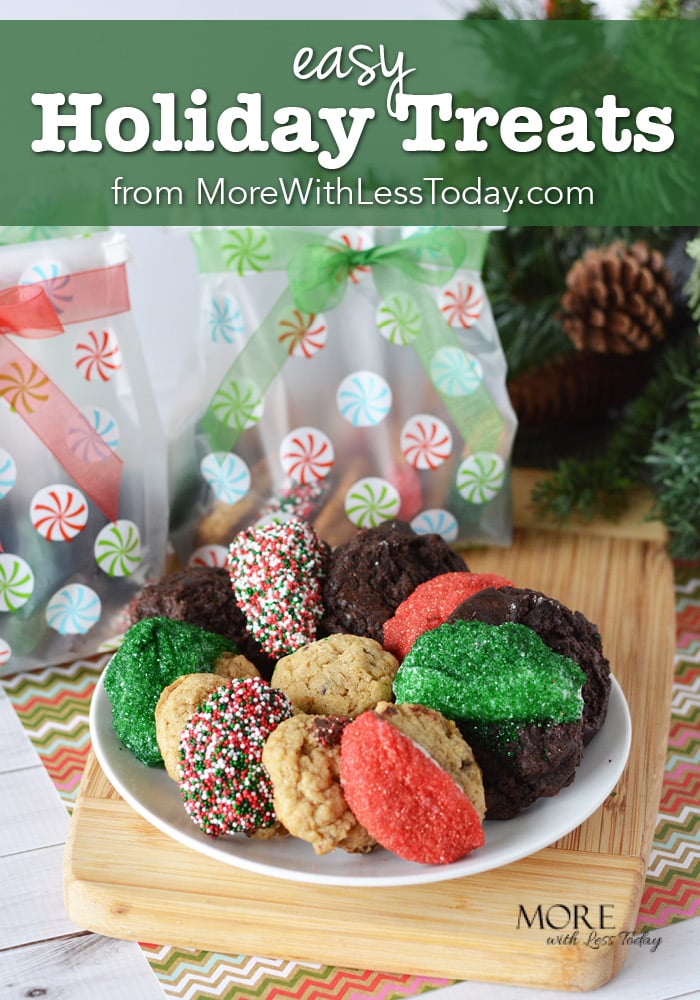 Is cookie baking on your long to-do list? Are you feeling like there are not enough hours in the day to get everything done? Let me show you how to make easy holiday treats with Immaculate Baking Cookie Mixes found at Whole Foods Market.
Whether you are baking for a cookie exchange or for friends and family, you don't have to go the 100% homemade route to serve up delicious treats! Watch how we "dressed up" classic cookies that everyone loved.
If you have someone who is gluten-free, they are going to love the Double Chocolate flavor! My husband devoured these and could not tell they were Gluten-Free. Isn't it great when you don't have to serve multiple options to those with and without food restrictions?
Just be sure that the sprinkles and any decorations you use are gluten-free too if you choose to go the Gluten-Free route.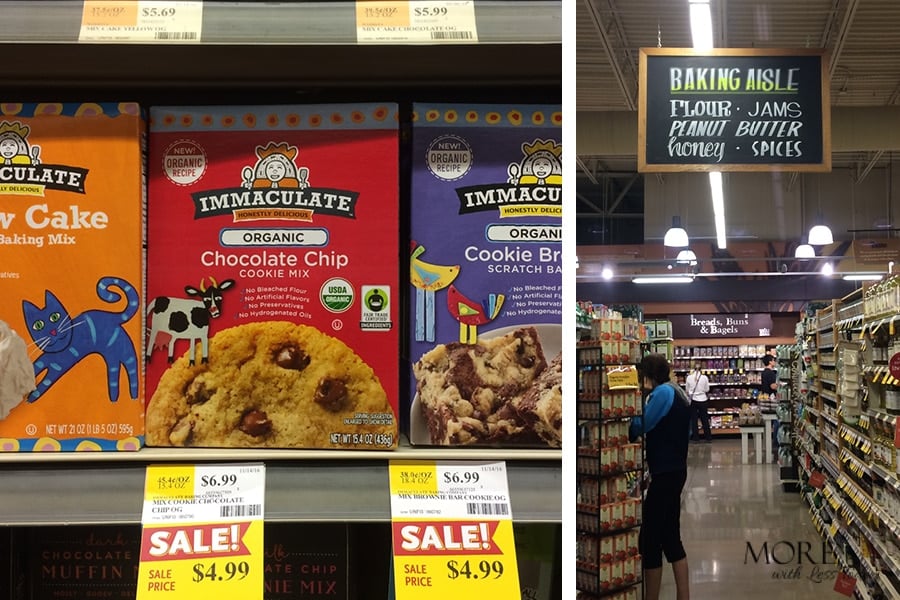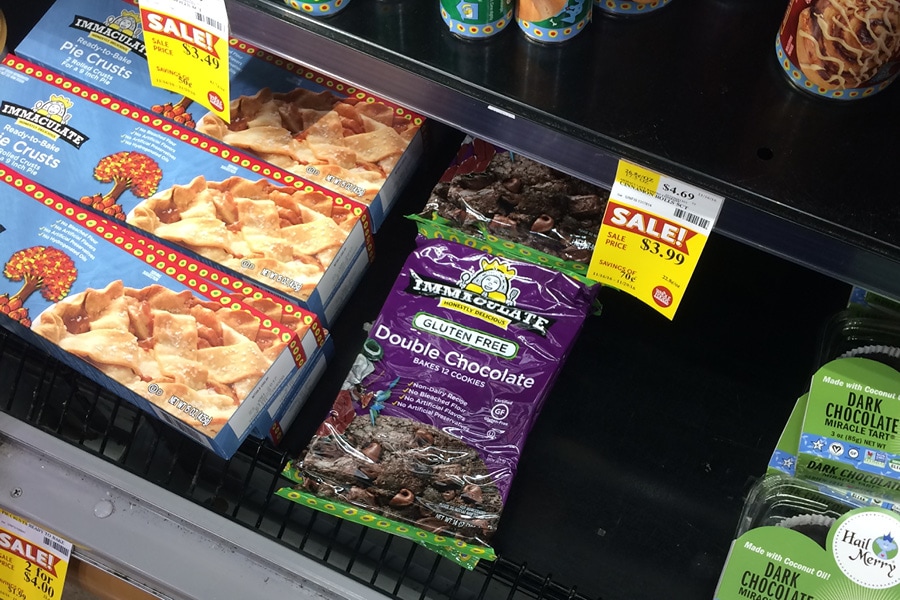 You can use the store locator on Immaculate Baking's website to find the Whole Foods location near you. Immaculate Baking Company's mission is to create wholesome baking products, many are certified gluten-free or organic so you can feel great about serving them to your loved ones.
Here are the ingredients for the Organic Chocolate Chip Cookie Mix and the add-ons: (this one is not Gluten-Free)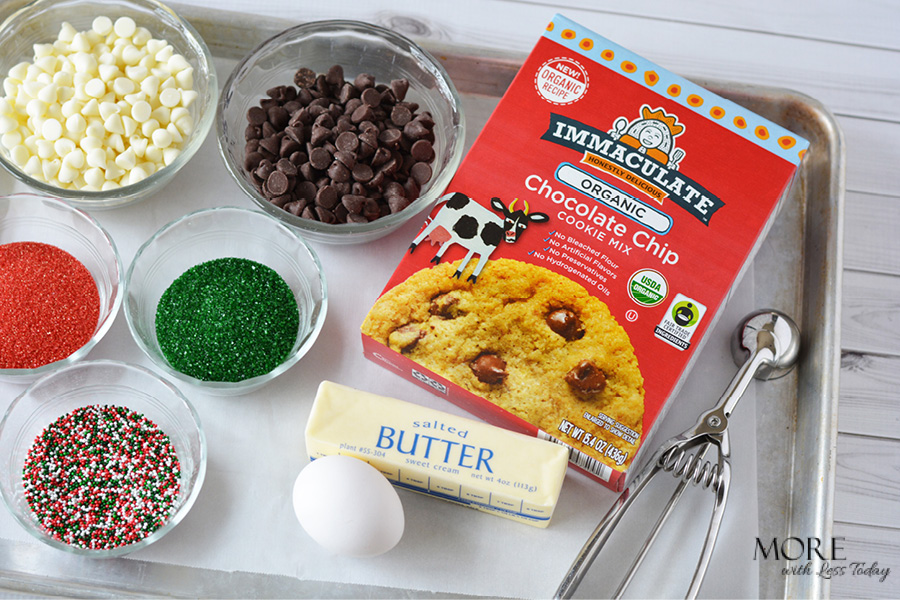 Follow the package instructions to make these delicious Chocolate Chip Cookies using Immaculate Baking mixes.

Here is the yummy Gluten-Free option: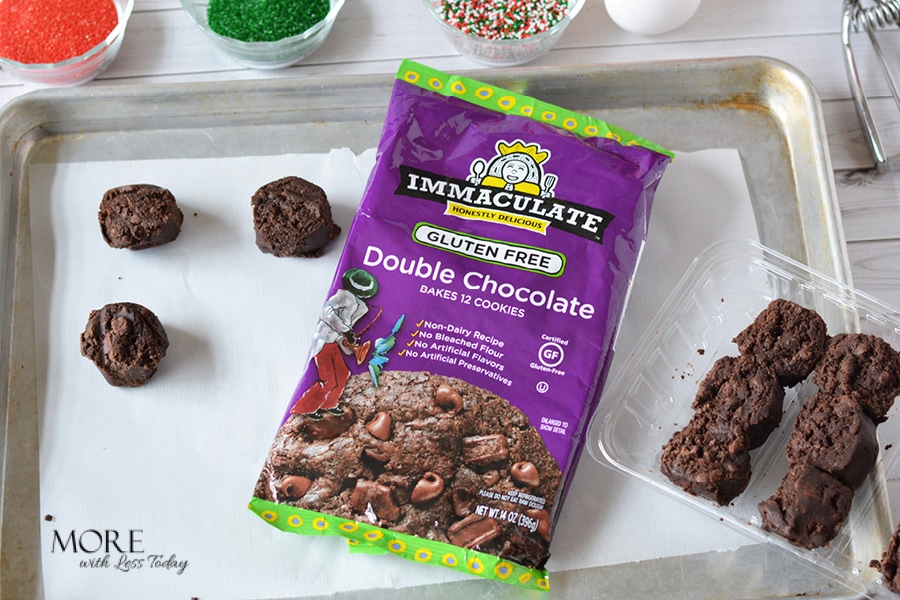 Here is the fun part… Dip them into melted chocolate, and add your sprinkles.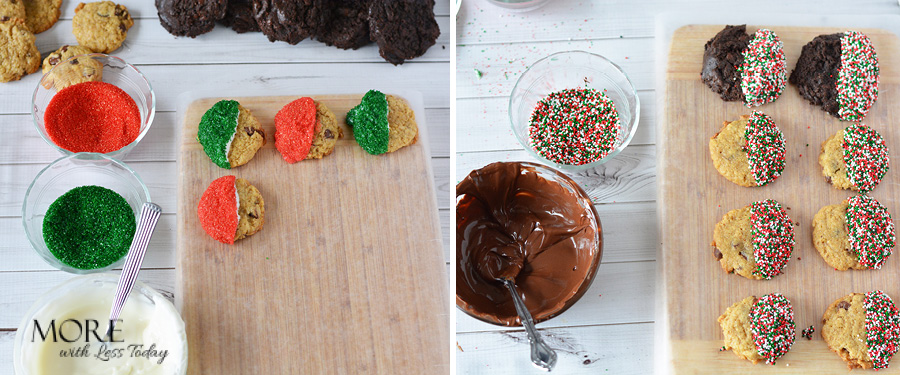 If you can keep them away from your family, package them up for your cookie exchange parties or other holiday events. You don't have to bake from scratch to serve up easy, delicious holiday treats with Immaculate Baking products.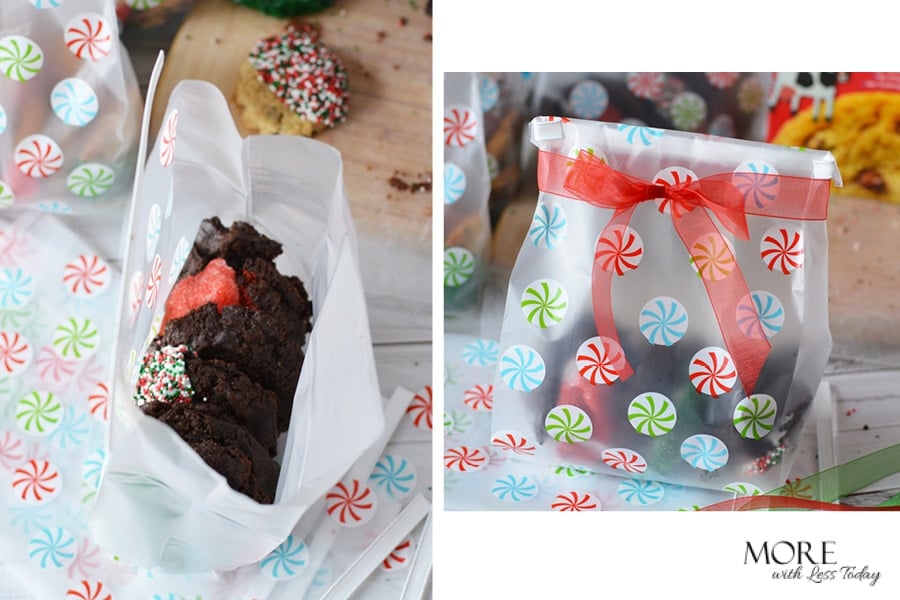 Before you head out to Whole Foods, grab a coupon to save $1 on one Immaculate Baking item. Get more recipe ideas from Immaculate Baking Co. and come back and tell us which one is your favorite!

Easy Holiday Treats with Immaculate Baking Cookie Mixes
Author:
MoreWithLessToday
Don't stress over holiday baking with these Easy Holiday Treats perfect for a work pot luck or cookie exchange or holiday dinner.
Ingredients
Chocolate Chip Cookies
1 box (15.4 oz) Immaculate Baking Company Chocolate Chip Cookie Mix
1 stick butter, softened
1 tablespoon water
1 egg
Gluten Free Cookies
1 package (14 oz) Immaculate Baking Company Gluten Free Double Chocolate Refrigerated Cookies
Cookie Toppings
1 cup chocolate chips
1 cup vanilla baking chips
½ cup each of red sugar, green sugar and holiday sprinkles
Cookie Packaging
Small Holiday Themed Bakery Bags
Sheer ⅝" Ribbon in Red and Green Colors
Scissors
Instructions
Chocolate Chip Cookies
Make cookies according to the package directions. Cool completely before adding toppings.
Gluten Free Cookies
Bake cookies according to package directions. Cool completely before adding toppings.
Cookie Toppings
Melt vanilla baking chips in a microwave safe bowl. Microwave for 60 seconds at 70% power and stir until completely melted. If necessary, return to the microwave for an additional 15 seconds stirring until melted. Dip half of your cookie into the white chocolate and let excess drip back into the bowl and scrape the white chocolate off the bottom of the cookie before dipping it into the sprinkles. Set on wax paper to harden.
Repeat until you have your desired number of cookies.
Melt chocolate baking chips on 70% power for 60 seconds and stir until completely melted. Return to the microwave in 15 second increments, stirring each time afterwards until melted.
Repeat as directed for vanilla baking chips.
Let cookies dry completely before packaging them.
To Package Cookies
I like to alternate decorated and non-decorated cookies in the bag. Place 6-12 cookies in each bag as desired.
Fold down the top of the bag, secure it shut with the tabs and tie a shear ribbon around the cookie bag. Now you're ready to deliver.
Notes
Red and green sugar work well on white chocolate. Red and green sugar usually won't show up on dark chocolate.
Save