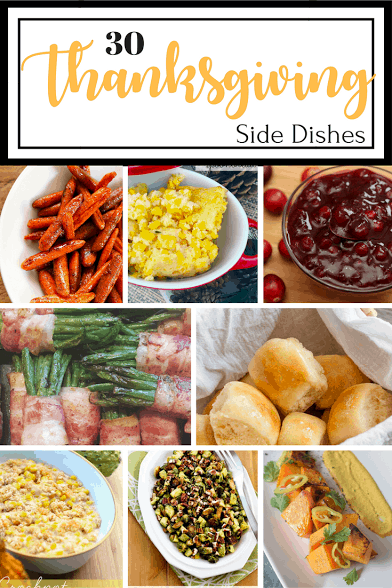 If you are looking for a Thanksgiving side dish recipe, we put together a round-up of 30 Easy Thanksgiving Side Dish Recipes Your Guests Will Love from some of our favorite food bloggers.
From appetizer recipes to corn recipes, green bean recipes, potato recipes, cranberry sauce, rolls, and more, we have them all. These Thanksgiving Day side dish recipes are making me hungry!
30 Easy Thanksgiving Side Dish Recipes Your Guests Will Love
Pumpkin Cheese Ball: By Baking Beauty
"Tangy cream cheese and sharp cheddar taste delicious in this cheeseball decorated to look like a pumpkin. Super easy and cute idea!"
Classic Stuffed Mushrooms: By Peas and Crayons
"These classic stuffed mushrooms are a total crowd pleaser! Serve them up as a quick and easy party appetizer or as a vegetarian side dish for the holidays."
Roasted Brussels Sprouts with Avocados and Pecans: By Kalyn's Kitchen
"Roasted Brussels with Avocados and Pecans take already-amazing roasted Brussels Sprouts to a whole new level, and this is such a fun idea!"
Deviled Eggs: By Intelligent Domestications
"My Deviled Eggs Recipe is a southern classic family favorite. Made with sweet relish and mayonnaise just like Mom always made hers."
Pecan Glazed Green Beans: By Intelligent Domestications
"Fresh cooked whole green beans are one of our family favorites. There are so many different ways you can prepare them. This particular recipe is easy and scrumptious! I simply call it Pecan Glazed Green Beans."
Pumpkin Mashed Potatoes: By Kudos Kitchen
"By simply adding canned pumpkin puree to Yukon gold mashed potatoes you'll be amazed by the beautiful fall color, and delicious taste, of these Fall Festival Pumpkin Mashed Potatoes!"
Gourmet Potato Recipe: By Lazy Budget Chef
"I wasn't sure what all the fuss was about until I savored my first bite of oozy gooey cheesy comfort food. So good!"
Pumpkin Hummus: By Smart Party Planning
"This pumpkin hummus recipe is incredibly refreshing and is perfect as a simple appetizer. Alternatively, if you are looking for a lovely afternoon snack with a glass of wine, this dip will hit the spot!"
Sweet Potato Curry: By A Sparkle of Genius
"Sweet Potato Curry is the best side dish for holidays and dinner parties. Super easy to make and chocked full of flavors!"
Simple Scalloped Potatoes: By Garden Matter
"This recipe for scalloped potatoes is so simple and delicious you may find yourself making them every week. Also a few variations suggestions too."
Sweet Potato Casserole: By Sugar Spice and Family Life
"Sweet Potato Casserole is always a hit! Everyone loves yummy sweet potatoes seasoned with cinnamon and nutmeg and topped with brown sugar pecan topping."
Easy Buttery Yeast Rolls: By Wholefully
"Think working with yeast is scary? It isn't! This recipe for EASY Buttery Yeast Rolls will make you the star of holiday dinner!"
Brown Butter Mashed Sweet Potatoes: By Wholefully
"These Brown Butter Mashed Sweet Potatoes straddle the line between sweet and savory. They are the perfect healthy alternative to the sugar-laden sweet potatoes normally served for Thanksgiving."
Havarti Dill Mashed Cauliflower: By Wholesome Yum
"Go ahead, call me crazy… I've never been a huge fan of mashed potatoes. Don't get me wrong, they are good. They just don't have that "wow" factor for me. I don't recall where I first heard about keto cauliflower mashed potatoes, but I was both a little skeptical and curious. Very curious."
Cranberry Sauce Corn Muffins: By Leave No Leftovers
"My Cranberry Sauce Corn Muffins are a great complement to the pot pies. Here's the recipe. "
Sausage Cornbread Stuffing: By Lydi Out Loud
"If you were to ask me what my favorite Thanksgiving dish is, before you could even get the question out I would exclaim, "the stuffing!" I honestly would be perfectly fine with having just stuffing as my Thanksgiving meal and then some stuffing for dessert. Yep, I'm a fan."
Parmesan Garlic Spaghetti Squash: By To Simply Inspire
"This low carb, healthy Garlic Parmesan Spaghetti Squash is an easy side dish. Serve it alongside chicken or fish and a simple vegetable for a balanced meal."
Roasted Green Beans: By To Simply Inspire
"These Roasted Green Beans are so simple and delicious with added sliced almonds. Add them to any meal as a limitless healthy side."
Baked Brown Sugar Cinnamon Acorn Squash: By To Simply Inspire
'This Baked Acorn Squash recipe is a simple side dish flavored with just the right amount of brown sugar, cinnamon and honey. It's perfect for Holiday gatherings that your whole family will love!"
Simple Baked Cabbage: By To Simply Inspire
"This simple Baked Cabbage is ridiculously amazing. The coconut oil, garlic and pepper crisp nicely for a wonderful new way to make a healthy side dish."
Sweet Corn Spoonbread Pudding: By Thrifty DIY Diva
"If you haven't yet tried this Sweet Corn Spoonbread Pudding recipe, you are missing out! I only make this for Thanksgiving and Christmas,, so it's a treat when family and friends come over for dinner! For this recipe, I made the creamed corn from scratch, but you can substitute a can of creamed corn if you'd like, as well. "
Knorr Homestyle Stock Gravy: By Deals From MS Do
"To me, the gravy is the best part! NO, don't reach for a jar, can, or packet of gravy, make homemade instead! It's really NOT hard at all."
Southern Style Cornbread Stuffing: By Deals From MS Do
"The one thing that I ALWAYS have to have for Thanksgiving, Christmas, and Easter is the Southern Style Cornbread Dressing that my mom made when we were growing up."
Broccoli Rice Casserole: By Deals From MS Do
"Broccoli Rice Casserole is also a recipe that can be made up in large batches and then frozen in the appropriate size containers to feed your family."
Cranberry Relish Crustini: By Carolyns Homework
"I thought this cranberry relish, cream cheese & turkey crostini would be a perfect Thanksgiving appetizer or even a Thanksgiving leftovers idea."
Cardamom Apple Pearsauce: By Snappy Gourmet
"Homemade Cardamom Apple Pearsauce, an easy kicked up version of a traditional applesauce recipe with cardamom and pear."
Honey Glazed Oven Roasted Carrots: By TOTS Family
"Not only is this great recipe very easy to make but this versatile side dish also tastes wonderful and works well with any main course."
Avocado Bacon Pasta Salad: By This Mom Can Cook
"This pasta salad has diced avocado, diced cherry tomatoes, olives and BACON! The flavor combo is delicious."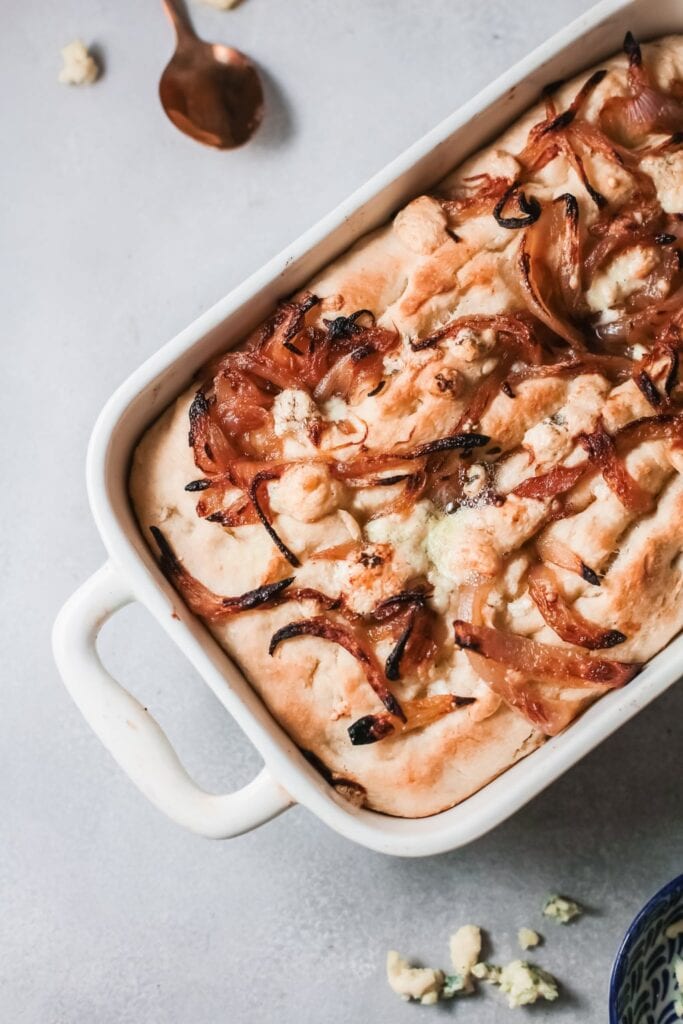 Caramelized Onion Blue Cheese Focaccia Bread: By More with Less Today
This aromatic focaccia bread can certainly be a side dish. It has gotten some rave reviews from my family. It is easy to make.
Which Thanksgiving side dish is your favorite? Share your favorite Thanksgiving side dish recipe!