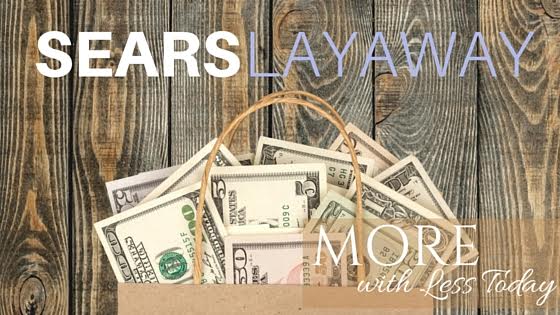 Sears layaway has easy terms for both in-store and online purchases.
With layaway plans, you can shop early, budget, and pay over time plus avoid the crowds. You can also avoid using credit cards and paying interest on those purchases. Layaway is not for everyone but can be a good alternative if you know the rules before you begin.
Shop for virtually anything. Bring your items to any register in-store or add them to your shopping cart online. Items that are eligible for online layaway will be identified as "Available for Layaway" on the individual product page. Your in-store total must be $300 or more. Not all Sears stores offer layaway. Find your closest Sears store here.
There are new Sears Layaway terms and conditions for in-store and online layaway programs, and they also have an app. If you are thinking about using layaway for large purchases, read on for some shopping and money-saving tips.
I was surprised to see Sears layaway information on their website. For those of us who have shopped at Sears for years, this is good news.
Why Use Sears Layaway?
Layaway is a very popular way to buy large purchases but not have to pay for everything upfront. If you are avoiding using credit cards, you may want to consider using a layaway program to save what you need to complete a purchase.
Layaway usually works best for large purchases when you factor in the store's fees. Be sure you will be able to make your regular payments and pay off your layaway contract in time.
Layaway isn't for everyone, but it can be an effective way to save for large purchases without breaking out the plastic.
Sears Layaway Terms
Read these terms closely, as many of them have changed. They offer an 8-week plan or an in-store only 12-week plan with a total purchase of $300 or more. The down payment for each layaway plan is $10. There is a service fee of $5 for the 8-week Sears layaway and $10 for the 12-week Kmart layaway plan. See the details for cancellation fees and other important information.
How to Start Sears Layaway Online
Add any item marked "Layaway Eligible" to cart and go to checkout.
Select "Pay with Layaway to get started.
Make a down payment – this is due when you initiate your contract and includes the service fee.
Make payments every 2 weeks. Pay online or at your pickup store using cash, check, or a credit or debit card. You can opt-in for payment reminder.
Get your items. Once you've made your last payment, you get an email letting you know your item is Ready to Ship or Ready for Pickup.
Read the new Sears Layaway Terms and Conditions for in-store and online purchases.
Top Categories for Sears Online Layaway
The top categories for Sears online layaway are:
Clothing & Shoes

Electronics & Appliances

For the Home & Outdoor Living

Fitness & Sporting Goods
The Sears layaway program includes both online and in-store contracts for popular items across dozens of merchandise categories, including:
Apparel – The whole family can top quality clothing at low prices with Sears brands

Home –Sears offers a wide selection of affordably priced home accessories and small kitchen appliances.

Toys – Parents can get a head start stocking up on Sears exclusive hot holiday toys.

Consumer electronics – Members and customers can gift the newest electronics.
There you have it! Everything you need to know about Sears layaway. They are one of the few retailers to offer online layaway.