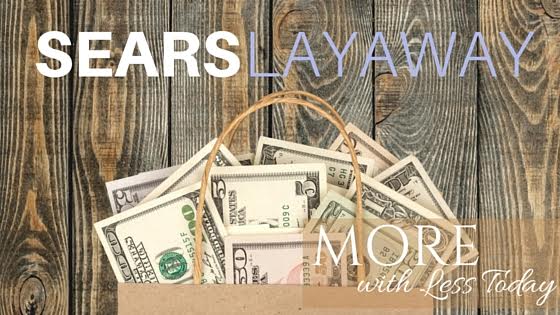 October 18 update- in light of the Sears bankruptcy filing, here is an article from USA Today that talks about what you should do if you have a current layaway at Sears (or Kmart). 
If you are looking for an alternative, you can get information about Walmart layaway here.
I don't feel confident at this time to recommend starting a new layaway at Sears or Kmart. I would love to be wrong and have them find a way to survive and thrive but until then, I am going to cross through my post.
Sears layaway has easy terms for both in-store and online purchases. Combine it with a free Shop Your Way membership and you can get can a cash back bonus, paid in points when you complete your layaway.
Offer valid in-store, online and mobile Sears layaway contracts. Only $10 or 10% down (whichever is greater) due at contract initiation. All fees are nonrefundable. Service and cancellation fees apply. No cancellation fees in Ohio. Requires biweekly payments. Total layaway contract is 8 weeks. For purchases of $400 or more, a 12-233k option is available in-store. Max 30,000 points per completed layaway contract. Membership is free. Subject to terms and conditions.
With layaway plans you can shop early and avoid the crowds. You can avoid using credit cards and paying interest on those purchases. Layaway is not for everyone but can be a good alternative if you know the rules before you begin.
How Does Sears Layaway Work?
Layaway at Sears can be set up in stores or online. The in-store layaway option is only for purchases of $400 or more.
Shop for virtually anything. Bring your items to any register in the store or add to your shopping cart online. Items that are eligible for online layaway will be identified as "Available for Layaway" on the individual product page. Your in-store total must be $400 or more. Not all Sears stores offer layaway.
Make a Down Payment
Only $10 or 10% down (whichever is greater) to start a new contract.
Are There Any Fees?
Except where prohibited by law, an 8-week contract requires a $5 Service Fee and a 12-week layaway contract requires a $10 Service Fee.*
How Do I Make My Layaway Payments?
You will make your payment every two weeks and you can pay online or at any Sears register with cash, check, debit or credit card.
Pick up your items if they are held at the store. For items held at the warehouse, schedule a pick-up or delivery time.
Are there any fees?
Except where prohibited by law, an 8-week contract requires a $5 Service Fee and a 12-week layaway contract requires a $10 Service Fee.*
Can I cancel a layaway contract?
Yes, you can cancel any layaway contract. You will receive a refund of your payments made to date minus the Service and Cancellation Fees. The cancellation fee is $15.
What if I miss a layaway payment?
You have a 7 day grace period after your payment due date before your contract is canceled and items are returned to stock. A nonrefundable Cancellation Fee will apply. A scenario for using layaway: Let's say your washing machine stops working and it is beyond repair. Let's say the replacement cost is $500. You can set up an 8-week layaway and make 4 biweekly payments of $125 plus the $5 fee to set it up. So the total for your washing machine is $505. Figure out what your interest payment on your credit card would be in 2 months (8 weeks) and if it is more than $5, then you will come out ahead using layaway. I'm not saying that layaway is appropriate for everyone and for every purchase, but it is a tool that you can consider especially when making a large purchase. If you think you will be tempted not to pay off the balance on your credit card, then layaway can help you to break the payments down into smaller amounts and get your purchase paid in full in a few months.
Electronics – Lawn & Garden – Outdoor Living – Appliances – Jewelry – For the Home – Bedding –  Clothing – Toys & more
YOU WILL ALSO LIKE:
Complete Guide to 2018 Layaway Plans
Walmart's New Layaway Plan – How Does it Work?