The Target Lilly Pulitzer Collection will be available online and in stores on September 14th and will feature some of their most popular items from twenty famous design partners. This looks like a great collection. We have highlighted some of favorites below but you can see the entire collection right here.
Back in 2015, there was a Lilly Pulitzer Collection for Target and the website crashed. I was covering it for my readers and I remember it well. If you are a Lilly fan and want a chance to snag a few pieces, the be ready to stand in line or come back here and be ready to shop.
Target makes it easy to return items so I would not hesitate to purchase what you think may work and then return what may not work for you. We have affiliate relationships which means we may earn a small referral commission at no cost to you if you shop using our links.
If you are new to Lilly Pulitzer clothes, they run a little small. I recommend sizing up one size, especially for the shift dresses.
How to Shop the Lilly at Target Sale
[now expired]
Tips for Shopping the Lilly Pulitzer Sale Online
Here are my tips for shopping Lilly for Target online. First, go to Target.com right now and sign in to your account. Make sure your billing and shipping information is correct. Also, make sure that the card that you're going to pay with is saved to your account and all information is correct.
Next, click here to browse the Lilly for Target 2019 collection and "heart" all of the items you may want right now. As soon as the sale starts after midnight, click favorites and start adding them to your cart. Move quickly and remember, you can always return what you do not want.
Tips for Shopping In-Store for the Lilly for Target Release
Store finder link – find out which designers will have items at your local Target. Just enter your zip code. Get there as early as possible and bring a friend if you can so you can help each other. It's going to be crazy from everything I am hearing.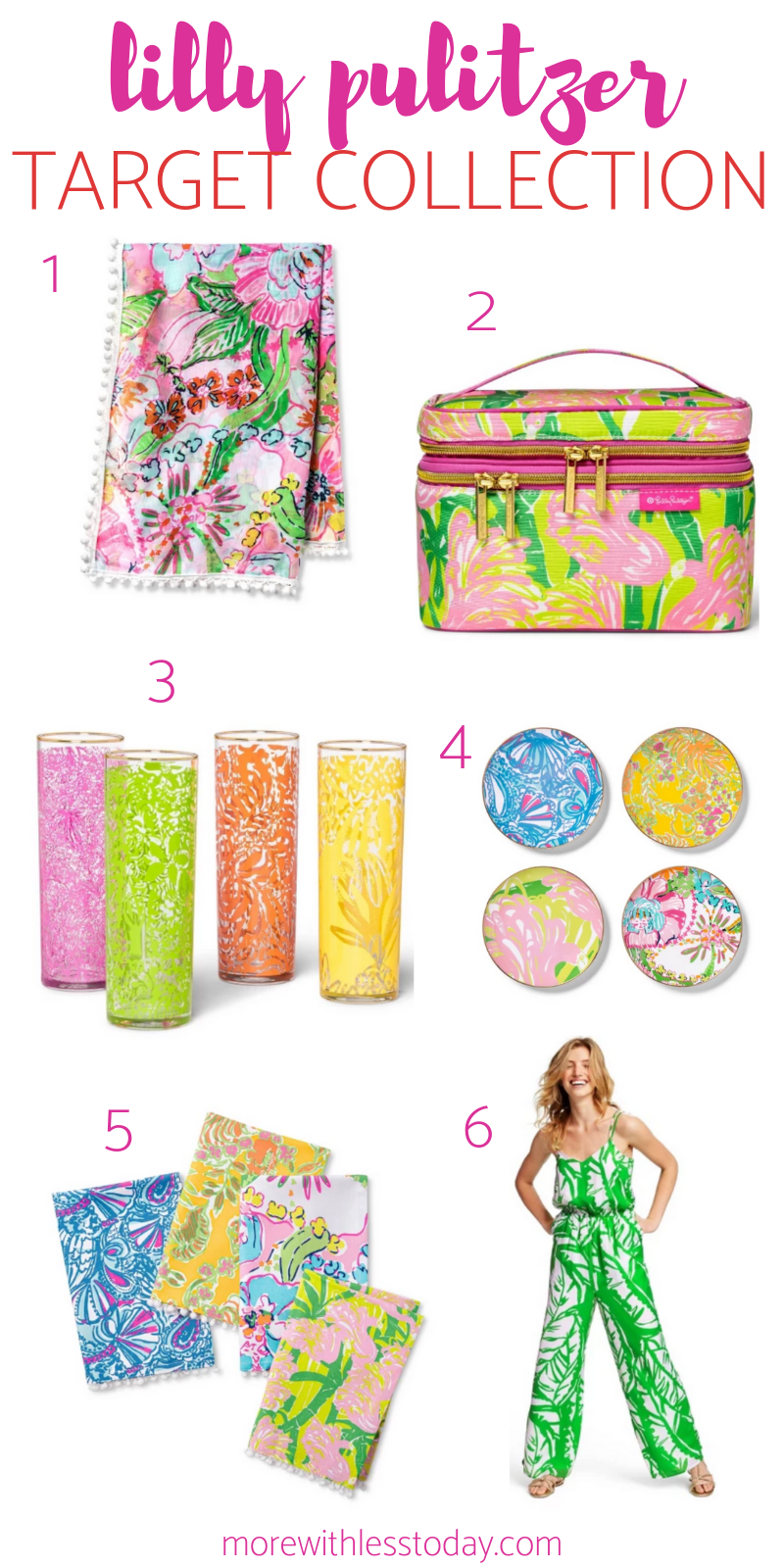 Lilly Pulitzer for Target Anniversary Collection Deals and Steals
There are 30 items coming on September 14th in the Lilly Pulitzer for Target Collection. Here are a few of our favorites.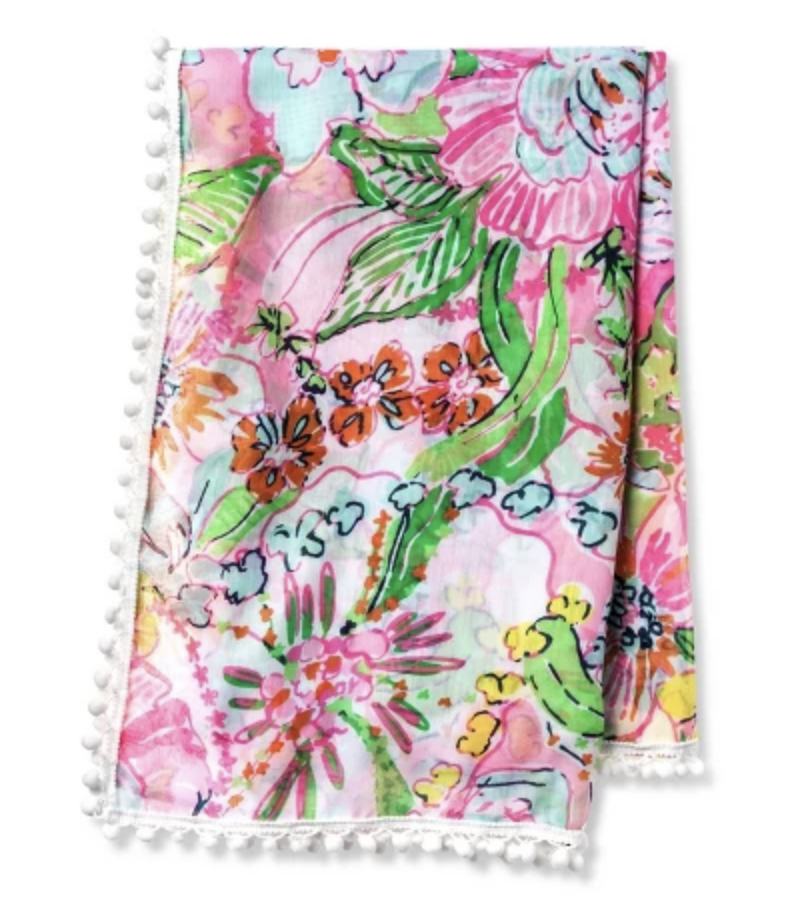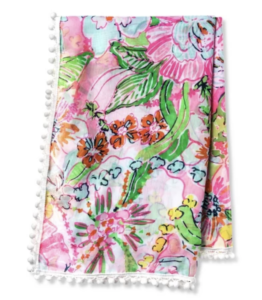 Women's
Nosey Posie Scarf – Lilly Pulitzer for Target
"The Nosey Posie Scarf from Lilly Pulitzer for Target lets you add Palm Beach aesthetic to any ensemble, keeping you in a vacation state of mind no matter where you are. Showcasing the vibrant colors of pink, yellow, green and blue of the Nosey Posie print, this patterned scarf brings vibrant and lively charm to your attire, and the playful white pompom trim adds the perfect amount of movement."
"Vacations, weekend getaways and everything in between, the Fan Dance Print Double-Zip Cosmetic Train Case from Lilly Pulitzer for Target holds everyday essentials so you're always able to look and feel your best. Covered in the pink, green and yellow hues of the charming Fan Dance print, this double-zipper train case adds the Palm Beach style and vacation-ready vibes Lilly Pulitzer is known for to any adventure you embark upon. The interior is highlighted by the Bullseye print in a matching color palette, revealing the attention to detail and lively charm Pulitzer puts into every piece."
4pk 13.5oz Cocktail Glass Set – Lilly Pulitzer for Target
"Toast to sunny days and lively style with the Cocktail Glass Set from Lilly Pulitzer for Target. Each of these tall glass tumbler comes complete with a different Lilly Pulitzer print — Giraffing Me Crazy, Pineapple Punch, See Ya Later and Boardwalk Cafe —showcasing the attention to detail her hand-painted prints are known for. Fill with a refreshingly minty mojito or aperol spritz and drink to your moment in the sun."
4pk Porcelain Round Appetizer Plate Set – Lilly Pulitzer for Target
"Serve up your most-loved meals on the Porcelain Round Appetizer Plate Set from Lilly Pulitzer for Target. Each round porcelain plate is accented with a Lilly Pulitzer print — My Fans, Fan Dance, Nosey Posie, and Happy Place — showcasing the Palm Beach aesthetic and lively charm the designer is known and adored for. The gold finish around the rim adds the perfect pop of shine. Dish up summery salads, fresh fruit, and other light bites as you enjoy the company and atmosphere around you."
4pk 20″x20″ Cotton Napkin Set – Lilly Pulitzer for Target
"Brighten up your next soiree with the Cotton Napkin Set from Lilly Pulitzer for Target. Each one of these cotton napkins is decorated with a different fashion-favorite print —My Fans, Fan Dance, Nosey Posie, and Happy Place — bringing the hand-painted attention to detail Lilly Pulitzer fans love to your dining room. They're finished off with white pompom trim along the edges, exuding the lively charm the designer is known for. From brunch with the family to dinner parties with friends, complete your table setting with the vibrant hues of this napkin set."
"With lush greenery at the heart of its design, it's no wonder the Boom Boom Sleeveless V-Neck Jumpsuit from Lilly Pulitzer for Target stands out as an iconic piece. With Lilly Pulitzer's classic vibrant style, this wide-leg jumpsuit boasts leaf-like patterns on a crisp white background for bright, playful cheer. Thin double straps grace each shoulder along with the dainty look of a subtle V-neckline, lending delicate detail to balance the drama of a large print and wide-leg design. Just grab your strappy sandals and a long pendant necklace to show off your sweet, playful spirit and a dose of iconic glamour."
Women's Plus Size Nosey Posie Sleeveless Round Neck Shift Mini Dress – Lilly Pulitzer for Target
"With beautiful florals and vibrant hues, you can bring summer style to your everyday look with the Nosey Posie Mini Dress from Lilly Pulitzer for Target. Designed with Lilly Pulitzer's iconic hand-painted prints, this patterned shift dress sports a delightful display of blooming florals, lush greenery and bright colors of teal, baby pink, yellow and orange. Crochet-like detail borders the center panel of the dress for a touch of dainty, feminine detail. A subtle scoop back draws your eye to the golden zipper, completing this piece with everything you love about Lilly — colorful detail, thoughtful style, and cheerful flair."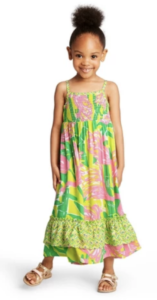 Toddler Girls' Fan Dance Sleeveless Square Neck Maxi Dress – Lilly Pulitzer for Target Pink/Yellow
"Every day can feel like a vacation when she's wearing the Fan Dance Sleeveless Maxi Dress from Lilly Pulitzer for Target. This sleeveless maxi dress is decorated with the bright and bold hues of Lilly Pulitzer's fashion-favorite Fan Dance pattern. Pair with sandals and a sun hat for a day at the beach or the park to enjoy the warmth of the sun together."
Another Option:
If you miss out on the Lilly/Target collab, go to Lilly Pulitzer website and click on the sale tab.
What items in the Lilly Pulitzer for Target Collection are your favorites? I am going to try and get some items to set aside for Christmas gifts.