What are Local Steals and Deals?
Local Steals and Deals is hosted by shopping expert, Lisa Robertson, and offers shoppers the chance to purchase brands at great prices.
*Important note from More with Less Today — We are not associated with Local Steals and Deals or the products they are offering. This website shares daytime deals from TV shows including Good Morning America, The Today Show, The View, The Talk, Wendy Williams, Kelly & Ryan, and about 10 more! As soon as they are available, I update them here on my blog. Now you never have to miss a good deal.
You can sign up to get my free email newsletter and get all the top TV deals today sent straight to your inbox. Plus, I respect your privacy and will never spam or share your email.
If you have any questions about your order, please direct them to customercare@localstealsanddeals.com.
Find great deals at great prices here!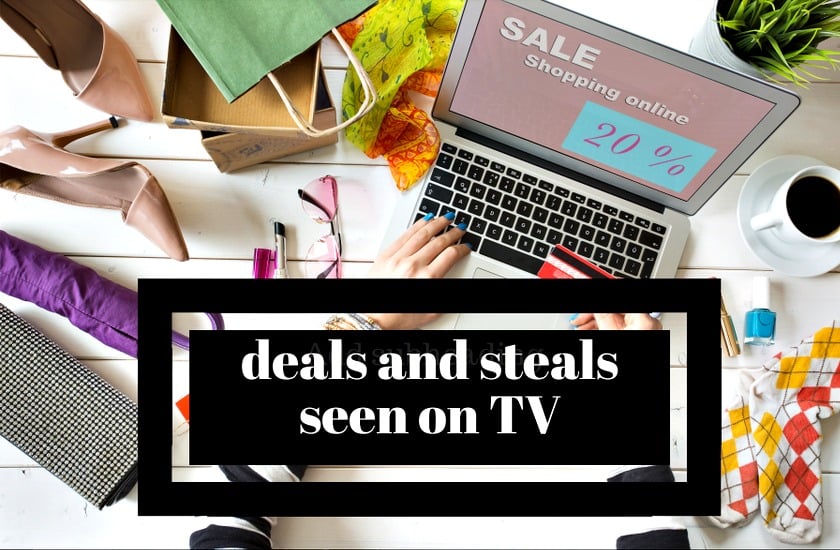 The skincare tool that delivers youthful, vibrant skin.
Advanced care for aging hair.
Turn your smartphone into a universal remote!
Whiter teeth for a better smile.
Combines soothing heat and relaxing vibrations inside a sherpa-lined wrap!
Buy One Purse, Get One Free!
Get relief from muscle pain-fast.
Listen to your favorite tunes anywhere!
Use the power of hear to soothe aches and pains.
Put your best face forward.
Our favorite at-home beauty treatment.
The gold standard of luxury hair care.
World's best way to charge any device on-the-go!
CLEANLIGHT SNOOZE by KEY SMART
Nothing better than white noise for a great sleep.
The most universal vehicle phone mount. Buy one now get one free!
The essential car escape tool for you and your family.
Effortlessly straighten your hair while brushing.
The world's most portable air cleaner. Buy one now, get one free!
Motion lights for all your home and security needs.
Cool yourself in the most natural way!
Grocery shopping just got cleaner and easier.
Transform your complexion from 'dull to glow'!
Jewelry classics that won't break the bank.
Buy one 3-pack, Get one 3-pack free!
Cool products for hot women.
Pain relief gel made from natural ingredients.
The original patented solution to reduce driver distraction.
The 10-in-1 portable vehicle jump starter, flashlight, power bank, and more!
Light your way through the rain.
At-home facial in under 5 minutes.
The 7-in-1 car charger that could save your life.
Premium Weighted Blankets.
Keep kids happy with a pillow-sleeping bag combo!
The Best, Most Versatile Insole for Standing, Running, Walking, and More!
Stay cool, comfortable and covered all year long.
Love your smile with these great dental products!
Extremely Functional Luggage!
Leep bugs out with this easy to install screen door.
These luxurious sheets and towels stay fresh, longer.
On-The-Go and At-Home Safety Alert System.
Turn your drawings into playable video games!
Ingenious while boarding tools that go where you do.
A necklace that alerts loved ones if you're in trouble.
Keep your hair dry and safe.
Modern personal safety for women.
Allows the placement of a security camera anywhere!
Keep your favorite drink hot or cold longer.
The ultimate in knife sets – exclusively ours!
Finally a rug that is fully washable!
Perfect posture and back pain relief.
Look great on camera – and in person.
Give yourself the perfect at home pedicure!
It's an air fryer. It's an oven. It's your new kitchen fave.
The chic bag that can be worn 4 different ways.
Lisa Robertson Luxurious Ponchos
Luxurious ponchos by your fave shopping expert.
A portable bonfire for all your outdoor adventures.
Luxury handbags for style and functionality.
Charge all your devices at once!
Indulge your skin with treats made from natural and rich ingredients.
Control your TV with your voice!
A mattress with top quality comfort and superior support.
Lock with the touch of a finger!
The only make-up mirror you will ever need.
Enjoy your TV without disturbing others.
Your answer to "Where are my keys?"
These smell good enough to eat.
Capture the feelings and memories of home.
See the rest of the Local Steals and Deals
Next up on More with Less Today…. great deals on fall fashion.