A few weeks ago, an unexpected get-together had me browsing my kitchen for the perfect appetizer ingredients

. One of my friends loves cucumber while the other likes spicy food. I thought to myself, how can I try and combine those two?
This Spicy Tuna Cucumber Bites recipe was the perfect answer. My friends loved it! You can make it in two easy steps in less than 20 minutes – perfect for any quick get-togethers at home or to bring to a party.
Yields: 16-18 appetizers*
*The total number of appetizers will depend on how thick the cucumber is sliced. For best results, aim for 16-18 slices per cucumber.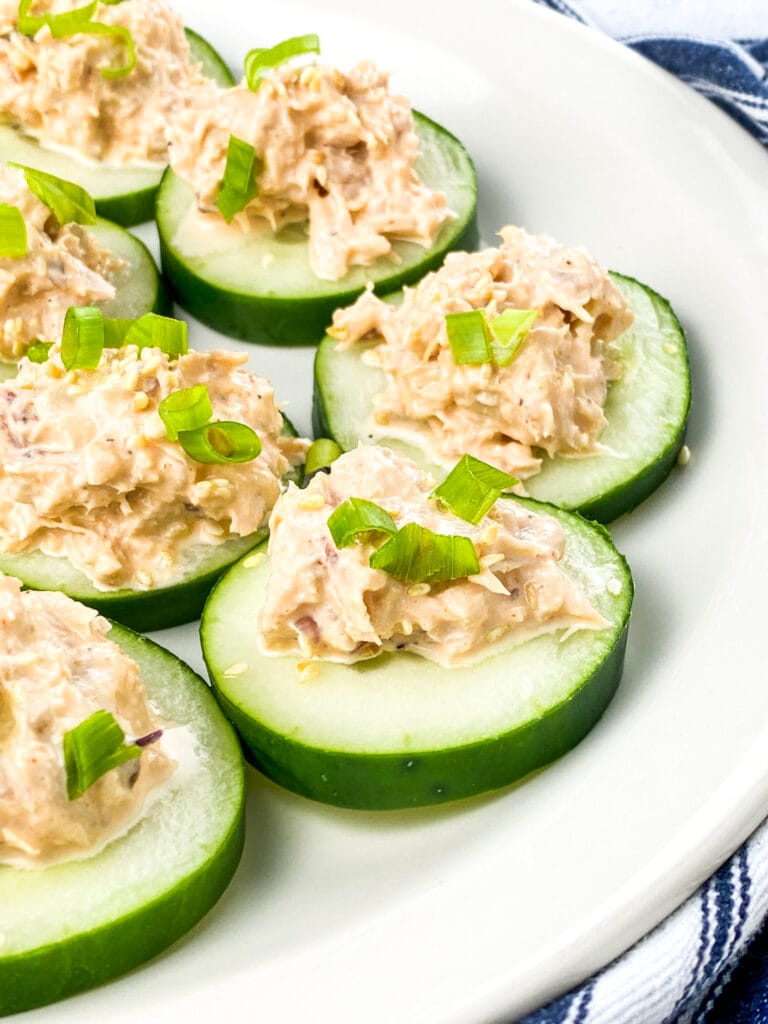 Spicy Tuna Cucumber Recipe Ingredients
1 8-oz. can water-packed tuna, drained

¼ c. mayonnaise

1 T. sugar-free Sriracha sauce**

½ t. garlic powder

Sea salt and black pepper, to taste

1 large English cucumber, sliced

2 large green onions, green parts only, sliced

2 T. white sesame seeds
**For more heat, adjust the amount of Sriracha sauce, as desired.
Instructions
Step 1: Add drained tuna, mayo, sriracha, and garlic powder to a medium bowl. Season with salt and black pepper, to taste, and stir to combine.
Step 2: Divide the tuna mixture between the cucumber slices and arrange on a serving platter. Garnish each appetizer with some of the sliced green onion and sesame seeds right before serving.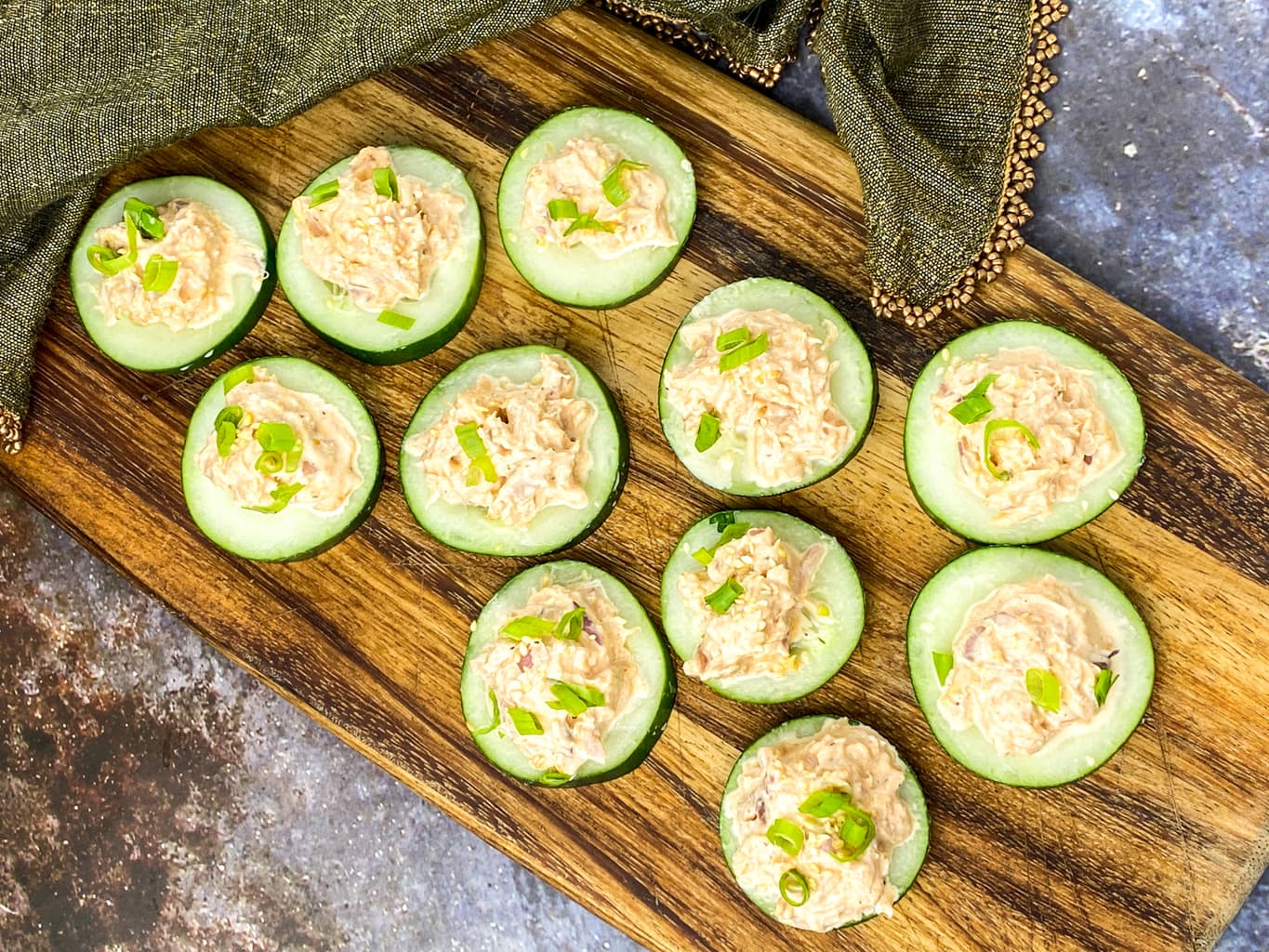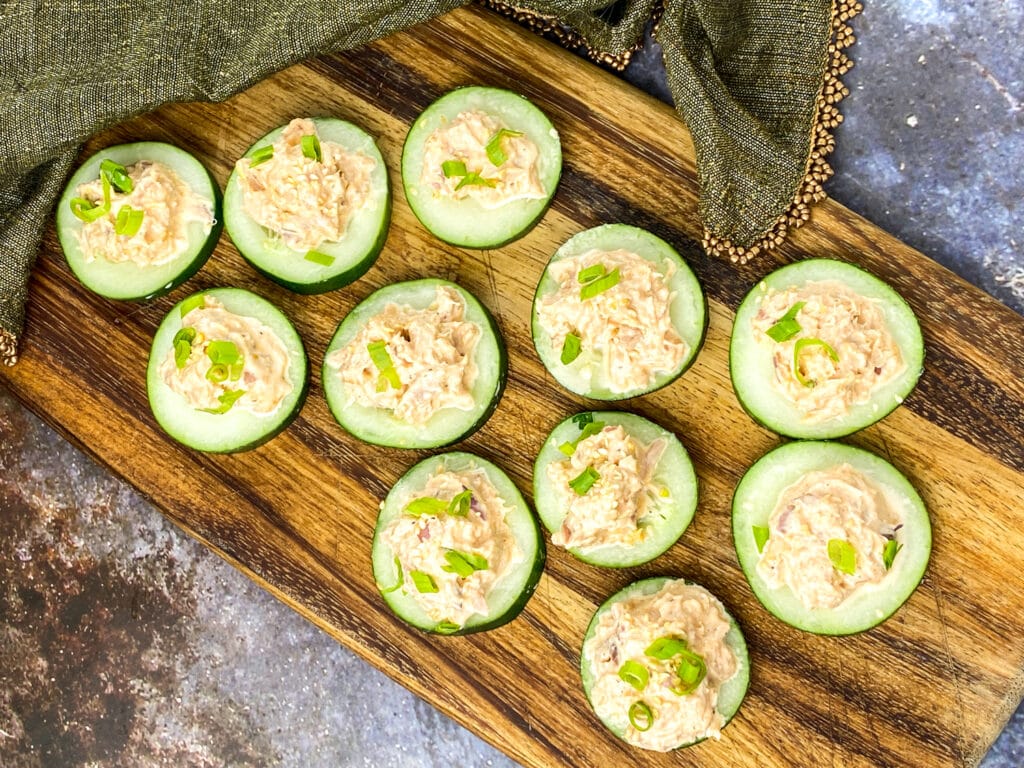 Here is another popular appetizer recipe you may enjoy:
Caramelized Apple, Onion, and Ham Bruschetta