If you need to bring a food dish to a party or if you hosting a gathering, we recommend this Caramelized Apple, Onion, and Ham Bruschetta, an easy recipe for a delicious appetizer.
Caramelized apples add great flavor to many recipes. In this bruschetta, they are paired with caramelized onions and black forest ham then topped with rich Havarti cheese. The appetizer is simple to make and will leave everyone asking for your recipe!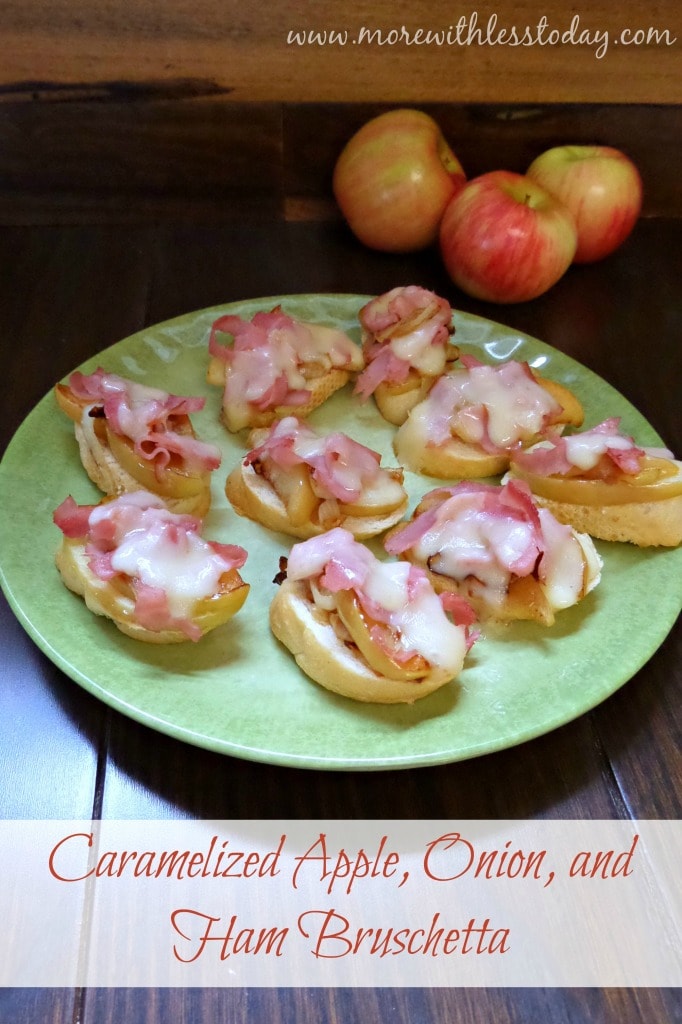 Ingredients:
3 medium-size apples – I use Gala apples

1 medium yellow onion

1 – 2 lbs Black Forest Ham

1 lb Havarti cheese

1 tbsp butter

1 loaf of French bread
Instructions:
Remove cores from apples and cut into slices approximately 1/4″ thick.
Remove skin from onion and cut into very thin slices.
Melt butter over medium/high heat in a medium skillet. Add the sliced apples and onion, cooking until the apples begin to turn transparent and both the onions and apples begin to caramelize.
While the onion and apples are cooking slice the black forest ham into small pieces.
Once the onion and apple are cooked through and caramelized, add the ham and continue cooking until the ham is heated through.
Slice the French bread on an angle, just under 1/2″ thick. Spread the bread onto a baking sheet and broil for 3-5 minutes or until the bread is toasted and golden brown.
Remove the toasted bread from the oven and top with the caramelized apple, onion, and ham.
Raise the temperature of the oven to 350 degrees.
Grate the Havarti cheese and top each toast with a small amount of cheese.
Return the now topped toast to the oven and bake for 10-15 minutes or until cheese is completely melted.
Serve this appetizer hot or at room temperature!
What is your favorite party appetizer to make?
We think you will also like:
Family Style German Apple Pancake Recipe
10 Favorite Apple Recipes to Make With Your Extra Apples
PIN to Save