This post was made in partnership with Poise® brand. All opinions are my own.
Being Prepared with Poise Plus a Favorite Savings Tip!
I am carving out more time in my day. I promised myself when I came back from my summer vacation that I would exercise more, volunteer and spend more time with those I love. There is nothing like some time away to evaluate how we are spending our days. Where is that extra time going to come from you ask? I'm automating tasks, delegating, and letting go of a few things that take up too much time.
One of the tricks and tips that I am loving is using Amazon Subscribe and Save. If you are not using it, I highly recommend it. I am making fewer trips to the store and saving time + money (plus gas which is so expensive now in California). It is really remarkable how much extra time you will have when you cut down on the number of store trips you make for things you use all the time!
Subscribe and Save is so convenient and shipping is always free. You can customize and update your Subscribe and Save orders as needed.
For example, I have a very fussy little dog and I have changed his food order on Subscribe and Save several times this year.
Buddy looks forward to our Subscribe and Save deliveries because he always thinks they are for him.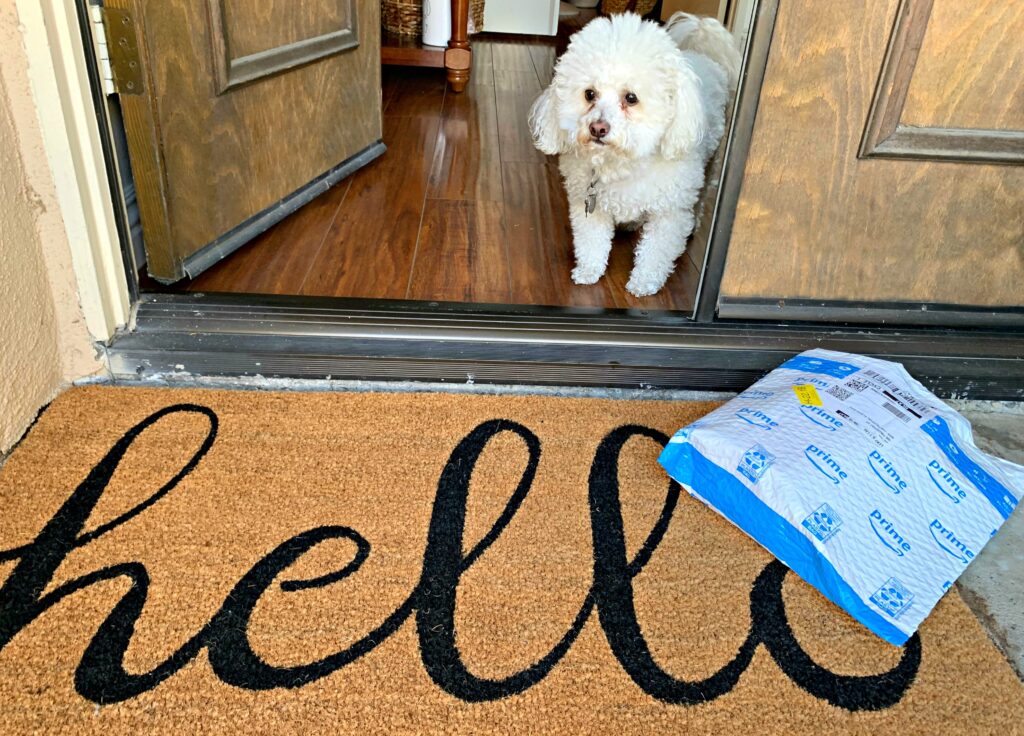 Sorry Buddy, this order is for me.
I have added one of my favorite brands, Poise®, to my Subscribe and Save order because I love having a product I frequently purchase on-hand. Delivery is always discreet, with no markings on the outside package to indicate what's inside.

I just got back from a bucket list trip with my husband. We took a two-week Mediterranean cruise to celebrate our anniversary. It was wonderful, however, we had some very long days. Our excursions involved hot weather, swarms of people, boats, buses, taxis, waiting in huge lines and lots of walking. I tried to stay hydrated and carried water everywhere we went.
If you have traveled to the Mediterranean, I don't have to tell you that the bathroom situation is not what we are used to. I don't want to give you TMI if you have not been, but let me just say that they can be hard to find, and often you have to pay with Euros to use the restroom, and there are very few amenities. Also, I did not want to be the one holding up the other travelers as I searched for a restroom and waited in line.
I was determined to stay comfortable. I did not want anything to ruin this wonderful trip we had been looking forward to (and saving for).
One of the smartest things I packed were my Poise pads. I used them every day and it took away the worry.
Did you know that 1 out of 3 women experiences incontinence, also known as light bladder leakage (LBL)?
Bladder incontinence can be caused by weak pelvic floor muscles, pregnancy, childbirth, menopause, complications from surgery, illness or weight gain. The little annoying leaks can be triggered by everyday occurrences like laughing, sneezing, coughing, running or even sudden moves.
You may only experience bladder control issues for a short season or you may have to deal with it for the long haul. But we won't let it hold us back! Dealing with LBL is just a part of life.
Fortunately, Poise has an easy solution with their new Active Collection of pads and liners so we can get on with the things we need to do with comfort and confidence. They have No-Slip Wings designed to stay in place and feature a FlexLoc™ core that instantly absorbs and helps lock in wetness and odor.
I can tell you that wearing Poise pads are very comfortable and they move when you move. I never sense them under my clothes or worry about bulges.
It's such a smart, easy solution to wear them and be comfortable and stay dry. When I wear Poise pads I enjoy life more, knowing that I can celebrate, laugh out loud and even sneeze without worry!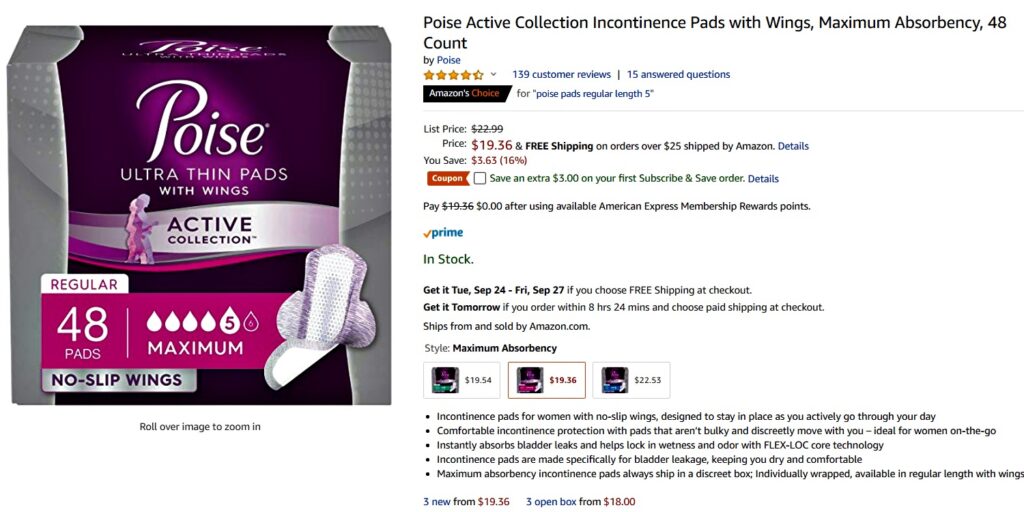 How to Save on Poise
When you sign up to get your Poise products through Amazon Subscribe and Save by October 13th, you'll save $6 on your first order and up to 15% off your total order. It is the perfect time to order!
Start saving today by signing up here.
If you have not yet used Amazon Subscribe & Save, you can thank me later, it is awesome!
First of all, you save money!
With thousands of products to choose from, I recommend getting the maximum savings of 15%. You'll find household products, beauty and personal care, grocery products, pet supplies, baby care and more.
Start adding the products that you always buy and enjoy the savings and convenience. Now when I do go to the store, I am in and out so much faster and not lugging a bunch of bags in the house. It has been a game-changer and I am still finding new products to add all the time.
Set up deliveries for quantities and the frequency that makes sense for you –from monthly up to every six months, and then adjust as needed.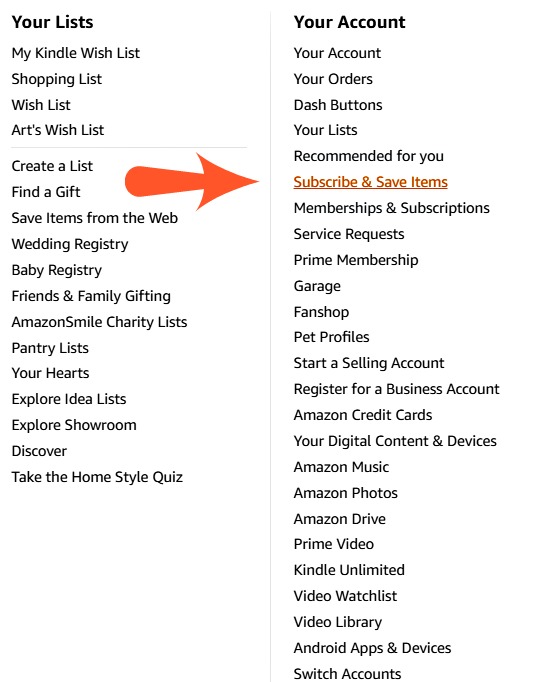 Under the Your Account tab, you can make any changes you need. It is so easy to manage! You can skip deliveries or cancel your subscriptions any time under the Manage Your Subscriptions tab. While we were on vacation, I skipped my deliveries. There is no commitment once you subscribe.
What I also like is they send you a reminder email before each delivery, showing the item price and any applicable discount for your upcoming delivery so if you have been meaning to make changes, you can do so then. Like with my fussy dog example, I have set up pet food delivery and then changed it as I tried other brands.
Did I mention that shipping is always free?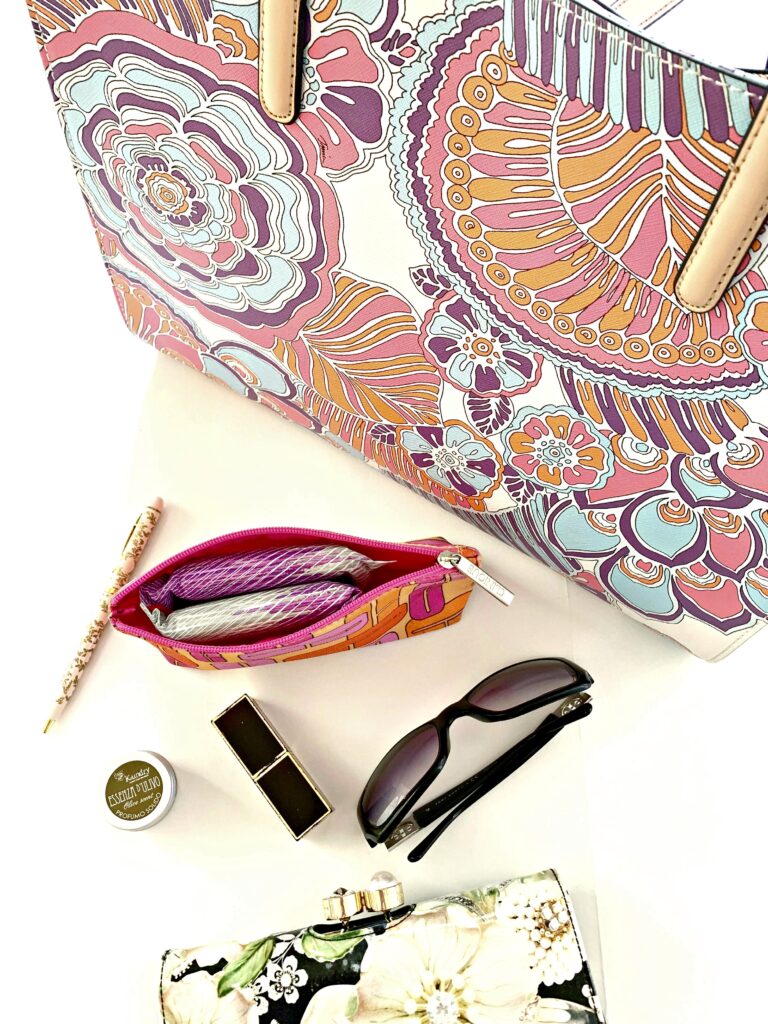 You can see my Poise pads in their discreet purple packaging, tucked inside my purse. I'm prepared and ready for my next adventure!
Don't forget to sign up here for Amazon Subscribe and Save by October 13th to save $6 on your first order and up to 15% off your total order. Make more time in your busy schedule with Subscribe and Save and be prepared for your next adventure with Poise!