This post is sponsored by Baskin-Robbins in conjunction with Blog Meets Brand and I have been compensated for my participation. All opinions are my own.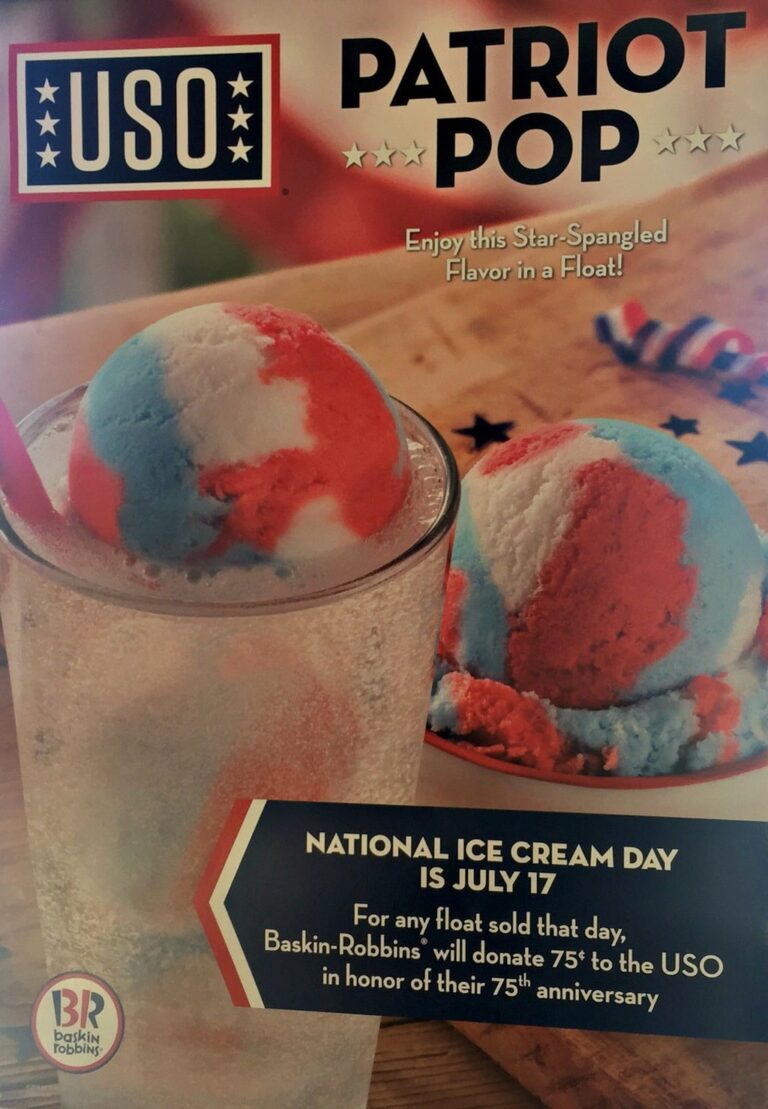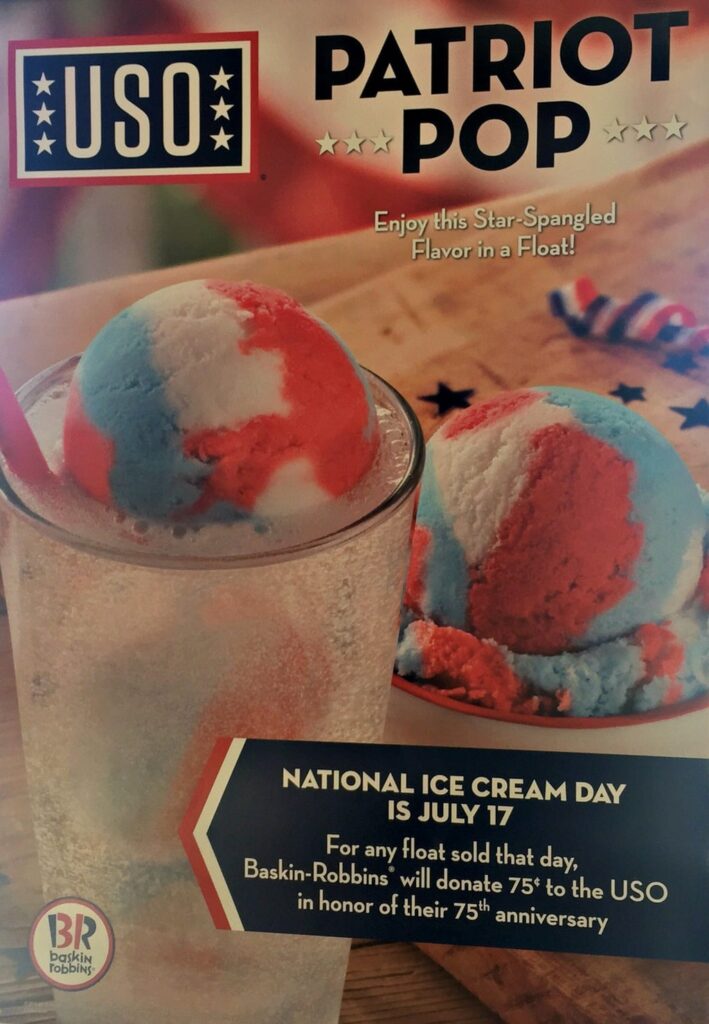 Celebrate National Ice Cream Day at Baskin-Robbins and Support the USO
Tomorrow, Sunday July 17th, is National Ice Cream Day and I have a delicious request. Will you consider going to Baskin-Robbins and enjoying an ice cream float? Why? Because you will support the USO and supporting our troops is near and dear to my heart. Baskin- Robbins is donating 75 cents from every ice cream float sold on 7/17 to the USO in honor of its 75th anniversary.
Those donations will go towards supporting the USO's mission of connecting America's military to their family, home and country, no matter the circumstances. Show your appreciation and take a moment out of your busy day together with your friends and family and enjoy fellowship over a delicious ice cream float and pause to support our troops. This donation is inclusive of all regular ice cream floats made with any ice cream and soft drink flavors on Sunday, July 17th, 2016.
You can also send a message of support by visiting www.uso.org/baskin-robbins. Learn more about the USO at uso.org.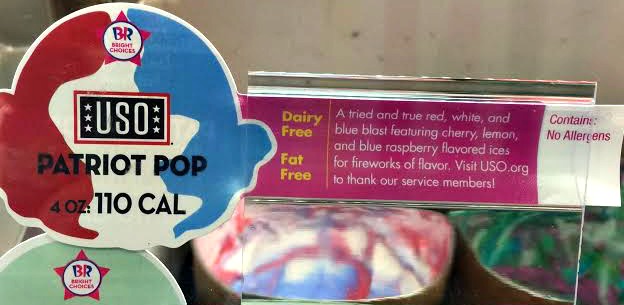 I recommend try the new USO Patriot Pop® flavor, which is red, white and blue and features cherry, lemon and blue raspberry-flavored ices, by the scoop or in a refreshing float.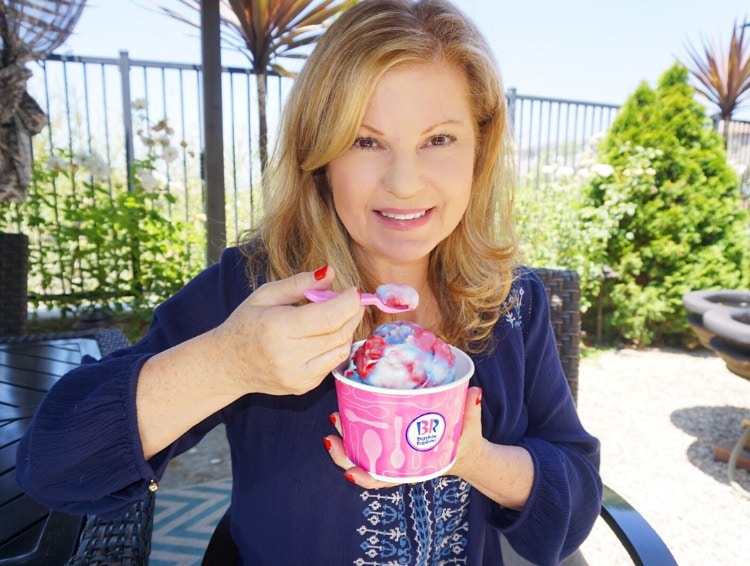 I got to try it yesterday when I visited my local Baskin-Robbins to take some photos for my post. I took it home to enjoy in the backyard last night. Tomorrow, my husband and I are returning for ice cream floats!
Many of my regular readers know that both my husband and I are a proud US Army veterans. We know firsthand how lonely the days away from loved ones can be. Anytime we can send a message of thanks and appreciation, we are all in. Will you join us?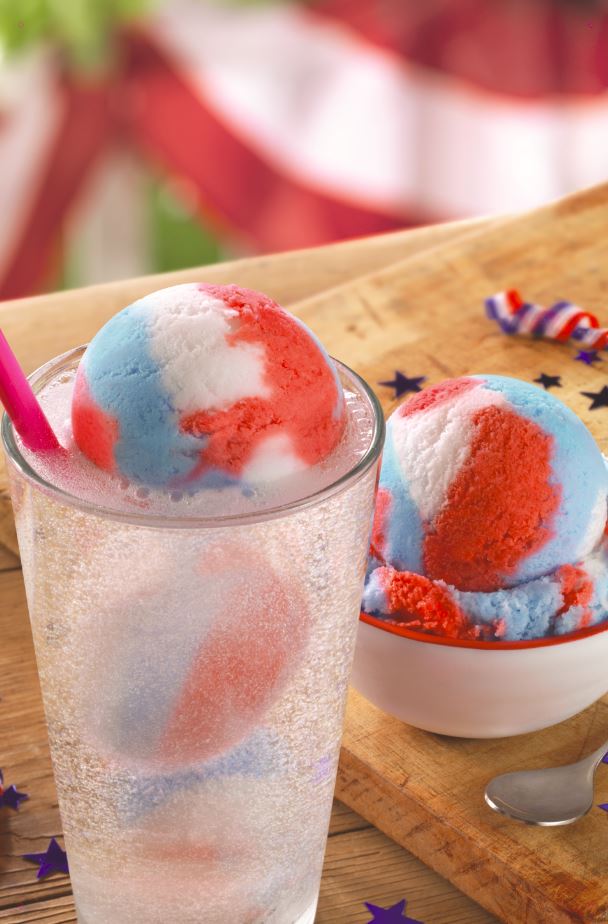 Celebrate National Ice Cream Month !
Having a summer party? Serve them a Polar Pizza from Baskin-Robbins. It's a customizable ice cream treat that you can enjoy like a pizza! How good does this look?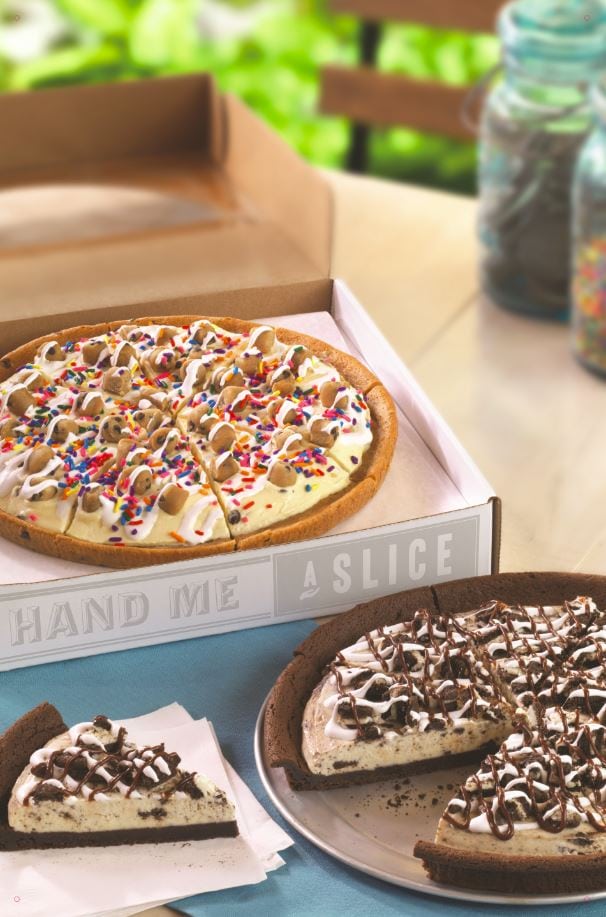 July is National Ice Cream Month and Baskin-Robbins is celebrating all month long with the launch of its Polar Pizza. It's available in four delicious featured flavor combinations: OREO® Cookies 'N Cream, Peanut Butter 'n Chocolate and REESE'S® Peanut Butter Cup, Jamoca® Almond Fudge and HEATH®, and Chocolate Chip Cookie Dough.
You can customize your own Polar Pizza by combining a tasty Chocolate Chip Cookie or Double Fudge Brownie crust with their favorite ice cream flavor and any combination of fun toppings.
About Baskin-Robbins :
Baskin-Robbins is the world's largest chain of ice cream specialty shops. You can enjoy it in 7,400 retail shops in nearly 50 countries, including nearly 2,500 shops in the United States. It was founded in 1945 by two ice cream enthusiasts whose passion led to the creation of more than 1,200 ice cream flavors and a wide variety of delicious treats
Baskin-Robbins offers an extensive library of ice cream flavors, customizable ice cream cakes, frozen beverages and sundaes including their Flavor of the Month. Baskin-Robbins' new July Flavor of the Month, OREO® Birthday Cake, features chocolate cake-flavored ice cream with Birthday Cake OREO® cookie pieces, frosting bits, and a candy confetti ribbon. This flavor can be enjoyed by the scoop in a cup, cone, or as a milkshake. You upgrade to a free, freshly-baked waffle cone with the purchase of a double scoop of your favorite flavor.
To find the closest shop to you, visit the Baskin-Robbins store locator.
Thank you in advance when you Celebrate National Ice Cream Day at Baskin-Robbins and Support the USO.