Several months ago I finally started to get answers to some health issues I've been struggling with for over a year. The first thing my doctor recommended was for me to do an elimination diet for 30 days. Those 30 days required me cutting out several foods that often are responsible for health issues due to food sensitivities, allergies, or unnatural ingredients. I removed sugar, gluten, corn, soy, dairy, eggs, peanuts, alcohol, and caffeine from my diet for the full 30 days. She also recommended that I only eat fish, meat, and poultry that was natural and hormone and steroid free. After the 30 days, I was able to gradually add foods back into my diet, noting any reactions. Even though I added foods back in, she insisted that I continue eating the natural, hormone, and steroid free meat and poultry or in my case, primarily chicken, since that is what I often serve my family.
.


One of my family's favorite chicken cuts is thighs and we love the Foster Farms Fresh & Natural Chicken Thighs. We recently made Chicken Thighs with Bacon Ranch Cream Sauce and it was delicious.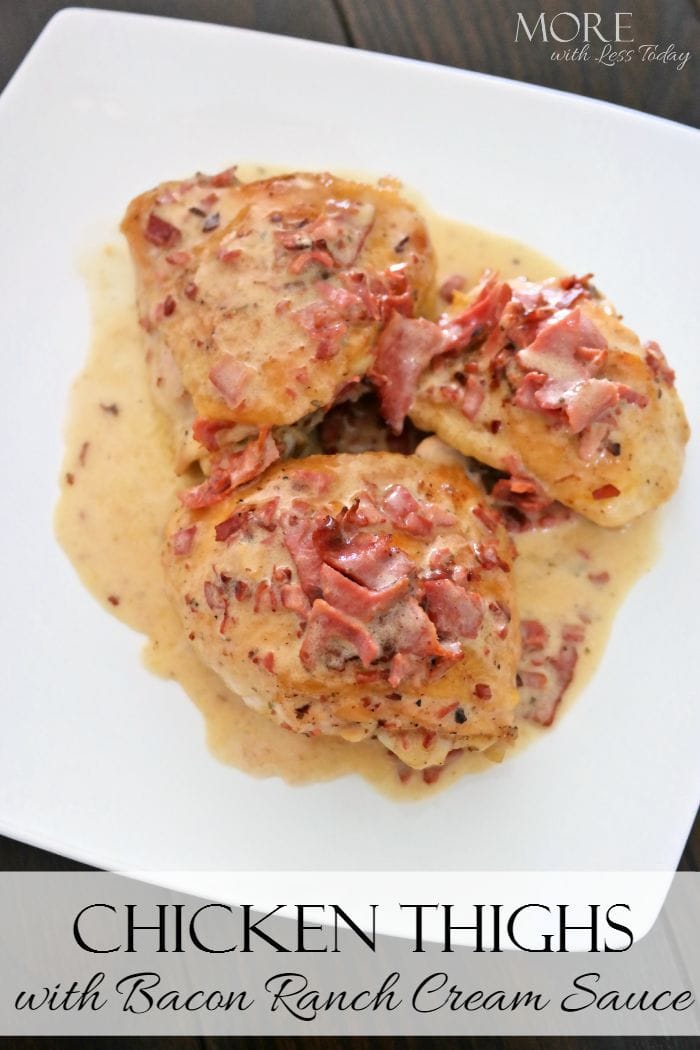 Chicken Thighs with Bacon Ranch Cream Sauce
Ingredients:
Foster Farms Fresh & Natural Chicken Thighs

5-6 oz turkey bacon

1 cup chicken broth

1 tbsp olive oil

Salt, pepper, garlic powder, and onion powder to taste

1/3 cup heavy cream

1/3 cup ranch dressing
Instructions:
Heat olive oil in a heavy skillet. When pan and oil are warm, place chicken thighs in the pan, skin side down.
Season the chicken with salt, pepper, garlic powder, and onion powder and cook for 5-8 minutes or until the skin has browned and a glaze forms in the pan.
While chicken is cooking, cook the turkey bacon and chop or crumble into small pieces and set aside.
After 5- 8 minutes remove the chicken from the pan. Pour the chicken broth into the pan and stir to deglaze the pan. Add the bacon to the pan and cook for 2-3 minutes.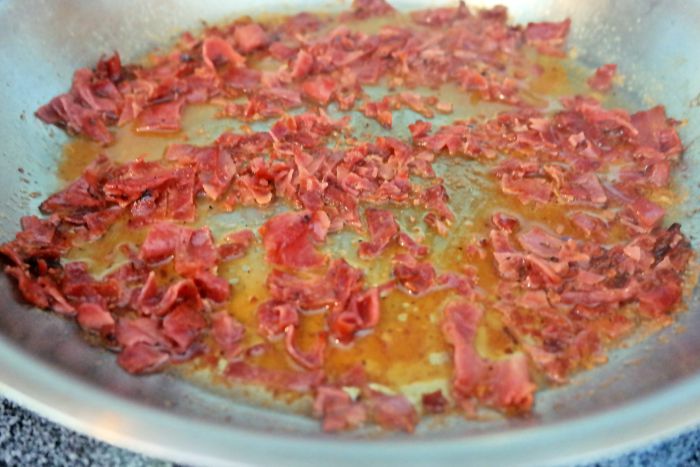 Return the chicken to the pan and simmer, covered for 20 minutes.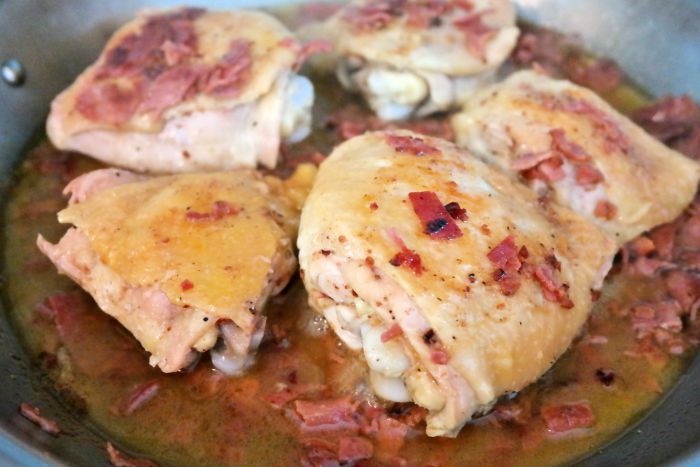 After the chicken has cooked for 20 minutes, again, remove it from the pan. Stir in the ranch dressing and the heavy cream. Stir the sauce well and bring to a low boil. As soon as the sauce boils reduce to a simmer and return the chicken to the pan.
Simmer until the chicken has reheated.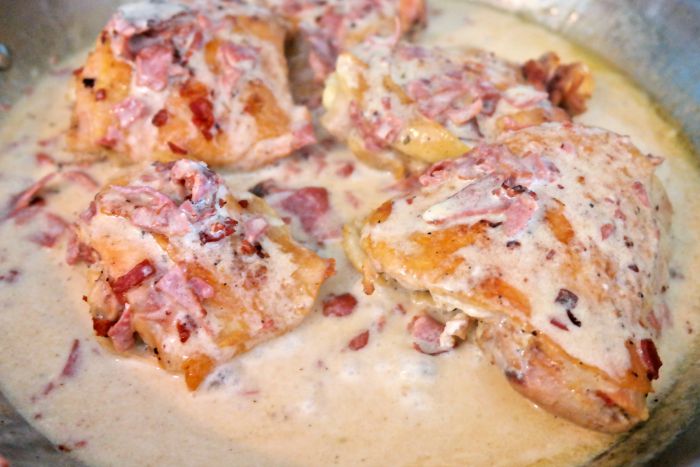 Spoon sauce over the chicken and serve with your favorite sides like locally grown potatoes and fresh sweet corn.
We love to use locally grown poultry and produce whenever possible because we know they are fresh. We also love to use locally grown products because we're supporting our local farmers. We live in a large agricultural area and the farms play a big role in funding our schools and supporting our community.
This post is sponsored by Foster Farms®, the opinions expressed are my own.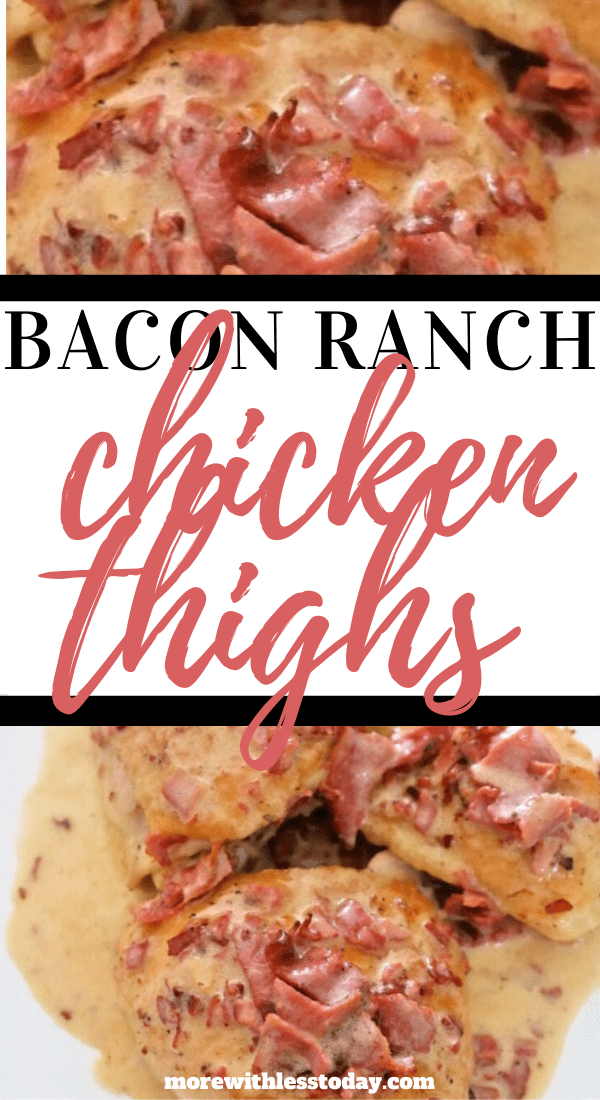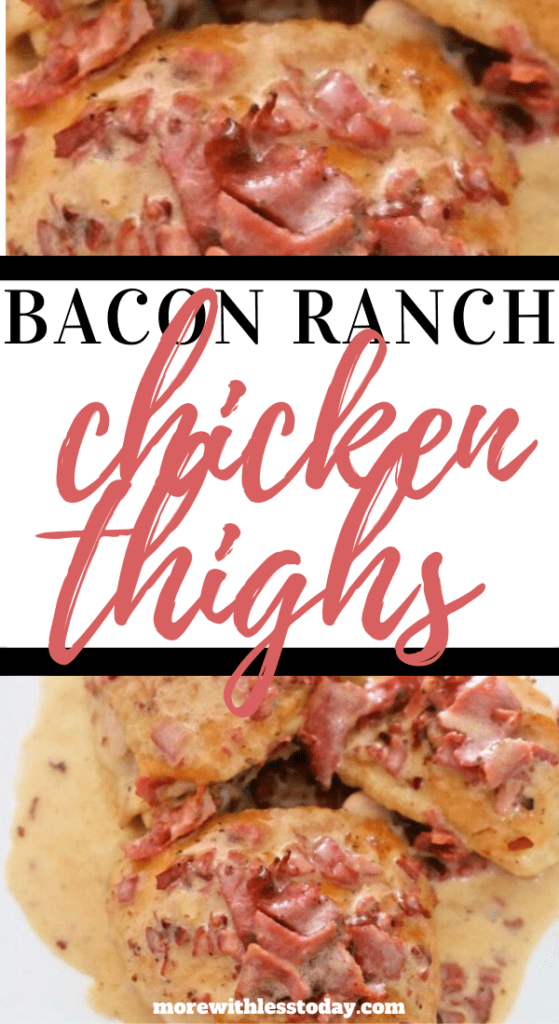 More Chicken Recipes
15 Crockpot Chicken Recipes for Easy Dump and Go Dinners
PIN these Easy Chicken Recipes for later!