This post was sponsored by Walmart as part of an Influencer Activation for Influence Central and all opinions expressed in my post are my own.
Easy Entertaining Tips for Summer Get-Togethers
Warm nights, life slowed down and spending more time with friends and family = summer goals.
Summer is the time for ballgames, cookouts, concerts, festivals, neighborhood block parties and simple get-togethers. When you have a pool or access to a community pool like we do, then you already know that is where many of the summer gatherings will take place.
When you think about a summer get-together, it's the time for relaxed, informal entertaining outdoors where your guests can enjoy themselves and you can enjoy your time with them.
We look for summer snack ideas that are easy, tasty and portable. Think hand-held bites served buffet-style that are easy to munch and easy to prepare.
Read on to see how you can Upgrade Your Summer at Walmart.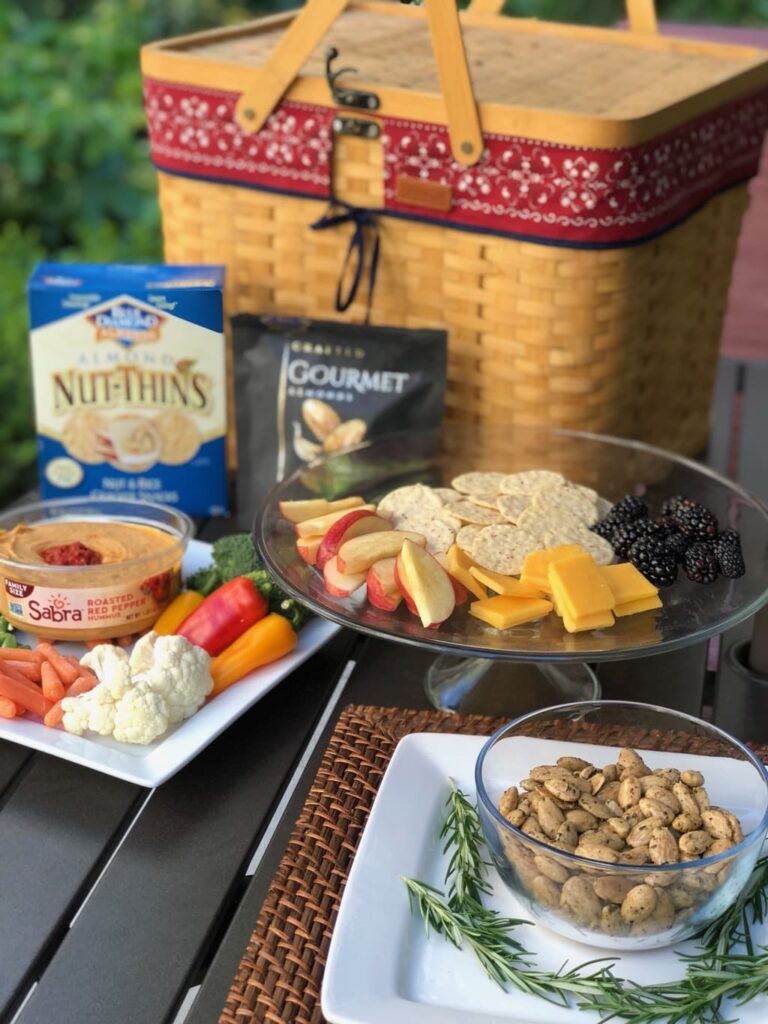 What makes this summer spread so easy (and budget-friendly) is that everything here is found at Walmart.
I shop at Walmart at least once a week. I know my local store so well that I can find everything I need quickly. Whenever I do need help, I appreciate how their employees will walk with you to find your item.
To stay organized, I keep a running list on my phone for our household products. I also shop for all our summer entertaining essentials at Walmart because it is "one-stop shopping" plus you just can't beat their prices.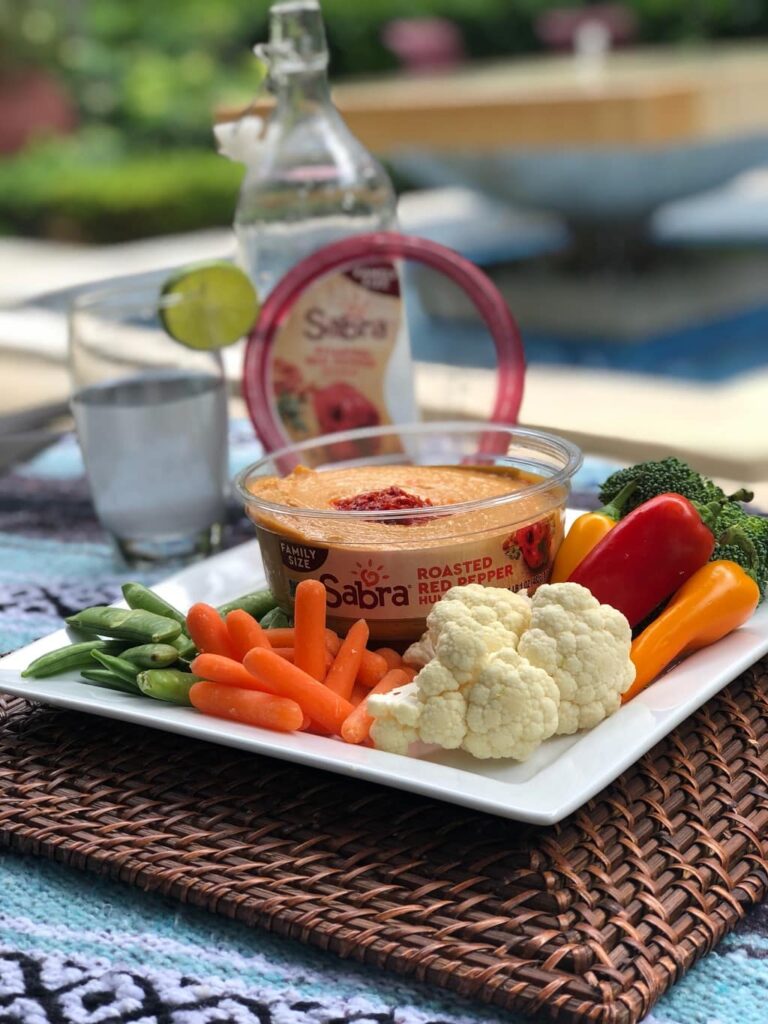 We have always been a fan of Sabra Hummus, but I just discovered Sabra Red Pepper Hummus and can't get enough of it. It has an extra kick with just the right amount of spiciness. It pairs perfectly with veggies and makes for a tasty and pretty veggie appetizer platter.
Added bonus – the leftovers are easy to save and serve again. The Sabra Red Pepper Hummus (if there is any left) can be enjoyed again on your veggies or crackers and with your favorite protein. We love it with chicken wings too!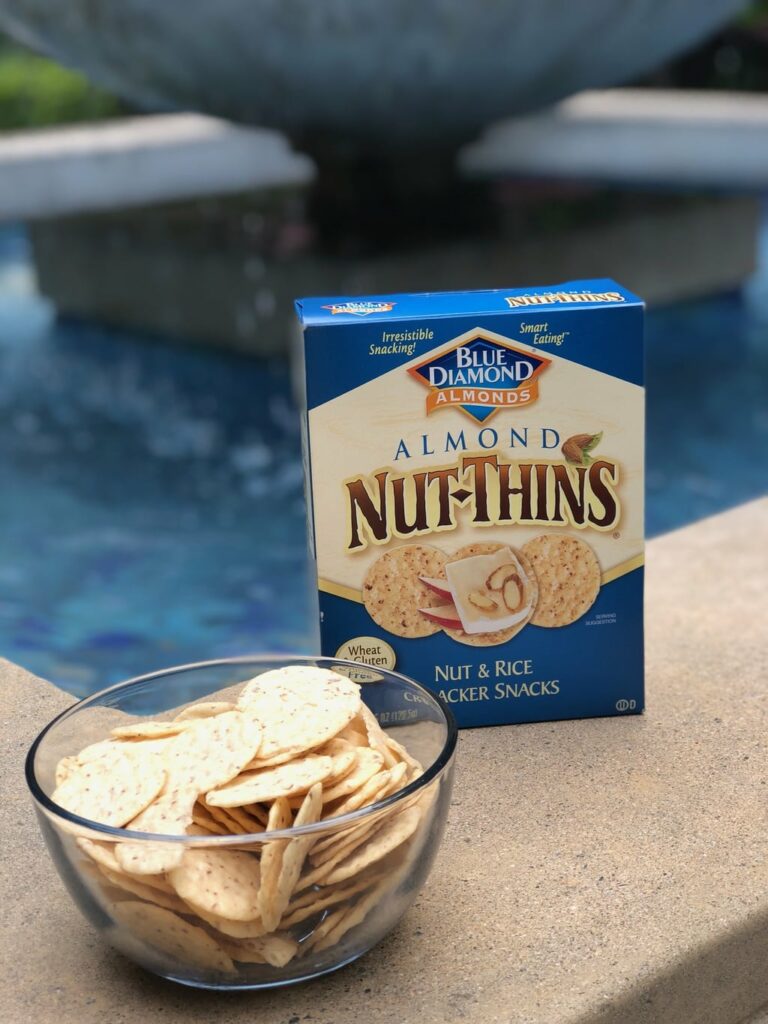 We also love these Blue Diamond Nut-Thins. These crispy crackers are gluten-free and are made with Real Blue Diamond® Almonds. They are wheat and gluten-free, with no artificial flavors. They have a crispy, crunchy texture. They are delicious right out of the box or served with your favorite cheese.
If you have not tried them, I recommend picking up a box the next time you are at Walmart. My son-in-law has a gluten allergy so whenever I can find snacks that he can enjoy and everyone else loves too, then that is a home-run.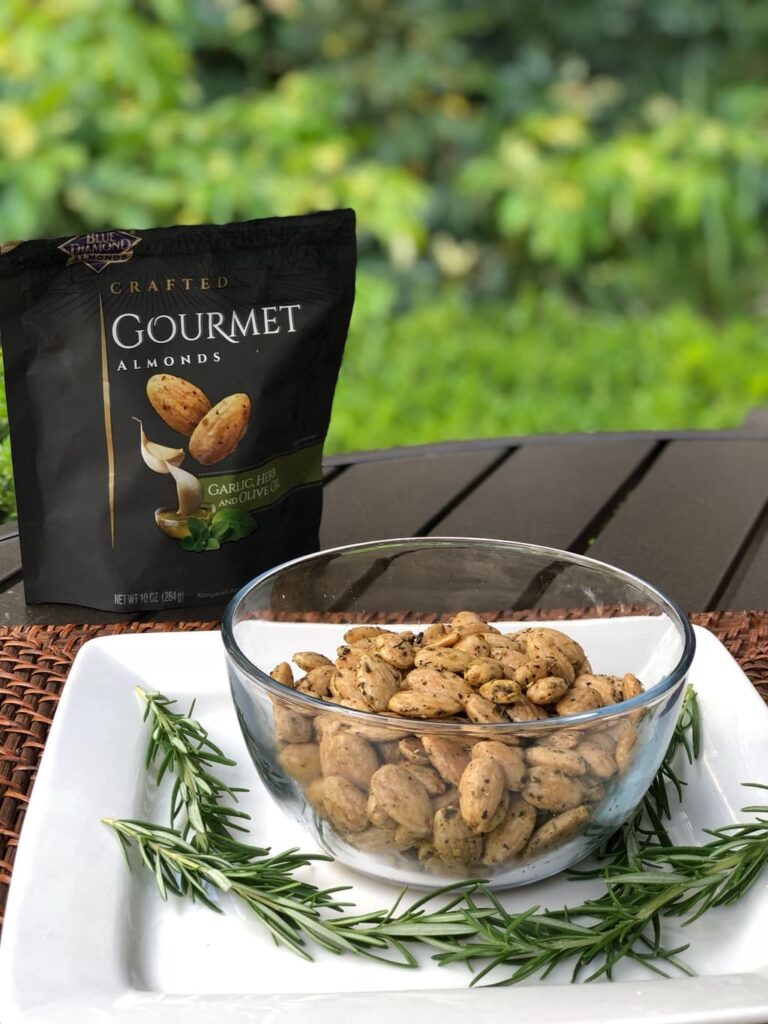 These Blue Diamond Gourmet Almonds might be the centerpiece of your summer snacking repertoire. Look for the Gourmet Garlic, Herb, and Olive Oil Almonds. You can thank me later!
They are a shareable handcrafted snack that will make any gathering feel even more special. Blue Diamond Gourmet Almonds are made with only high-quality Nonpareil almonds.
I have shared them with several friends and they raced out to Walmart to have them on hand. If you have unexpected company this summer, just open up a bag of these gourmet almonds and serve them with your favorite cold beverage. They are perfect on their own but they also pair well with your summer party foods.
The little touch of Rosemary I added around the plate is optional, but I think it takes the presentation up a notch! The greenery adds a designer touch plus it smells so good.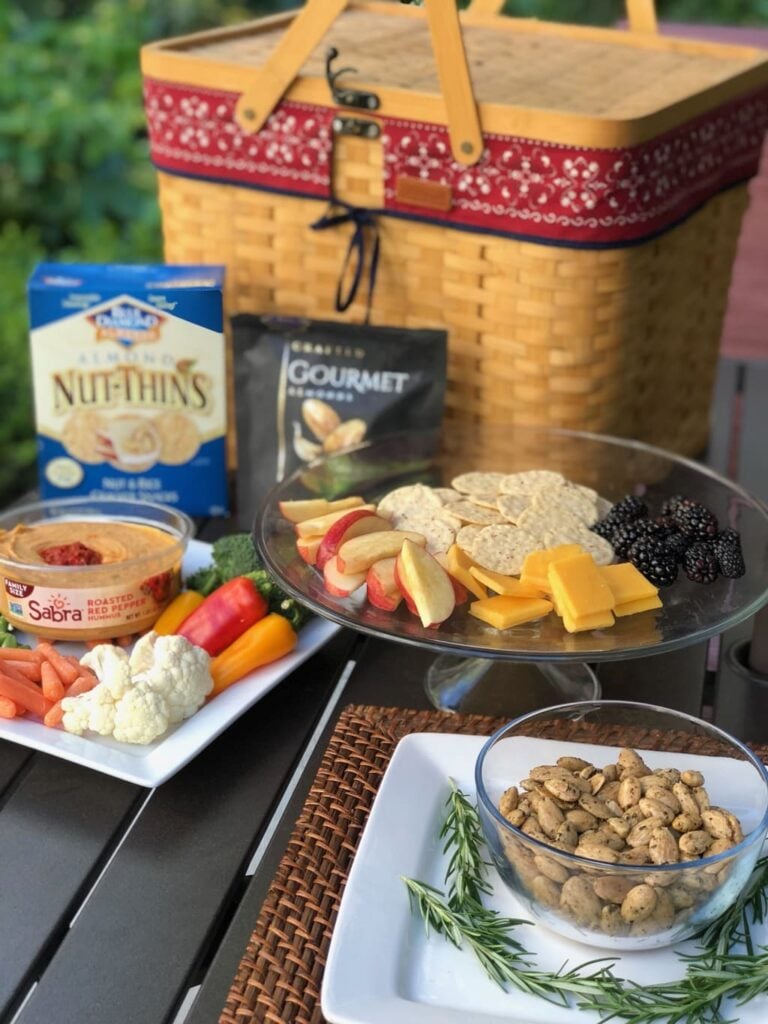 Easy Entertaining Tips for Summer Get-Togethers
1. Make your get-together a potluck and assign everyone to bring some easy finger foods, appetizers, dips, crackers, nuts, drinks, etc.
2. Consider entertaining in the mid-afternoon or after dinner. When you invite your guests, stress that you will be serving appetizers and snacks so they will know that a full dinner will not be served.
3. Enlist help from your guests. The hostess does not need to do it all. You can assign tasks such as manning the grill, setting up and refreshing the drinks, keeping an eye on the ice and emptying trash. I ask my guests to help ahead of time and let them know specifically what I would like for each of them to do.
4. Provide a variety of options so that those with food sensitivities or dietary restrictions will have options.
5. Buy already prepared vegetables and cut up fruit. All that is needed is a container of your favorite dip.
6. Entertain buffet style so that your guests can serve themselves. Have a solution for dealing with trash and recyclables so everyone can clean up as they go.
7. Have a sunscreen station in case your guests forget to bring their own.
8. If you end up with too much food, set up a to-go station so your guests can pack up some food to enjoy later and you don't have to store it all and use it before it spoils.
9. When dining outdoors, be mindful of any dishes that need refrigeration and arrange to move those inside into the refrigerator at the proper time.
10. If friends and family are coming over for a swim, remind them to bring their own towels. Provide plastic bags to bring home the wet towels. No one wants to face a mountain of laundry after a swim get-together.
11. Keep a picnic basket or cooler stocked and ready to go with disposable plates, silverware, napkins and a blanket. Include sunscreen and bug repellant and you will be ready to dine alfresco anytime.
What are your favorite easy entertaining tips for summer get-togethers?
Walmart Shopping List:
Sabra Red Pepper Hummus
Blue Diamond Nut-Thins
Blue Diamond Gourmet Almonds Gourmet Garlic, Herb, and Olive Oil
Fresh vegetables ready to serve
Fresh Fruit
Water and summer beverages