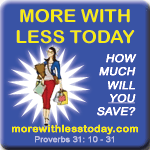 Visit some of the great sites and blogs that have linked to More With Less Today:
Alltop Frugal Blogs – find other great frugal blogs HERE
Nouveausweet and Nouveau Cheep
Richmond Frugal Family
Omaha Single Parent Examiner
ABC4.com -Salt Lake City
New Real Estate Investment site
Send me an email if you would like to be added or simply copy and paste my button from the front page of my site. More readers = more great money-saving tips to share.
If you are new to More With Less Today, welcome to my FREE blog. I search every day to find more ways to save money, stretch our resources and to give back from our surplus. I hope you will become a regular reader.