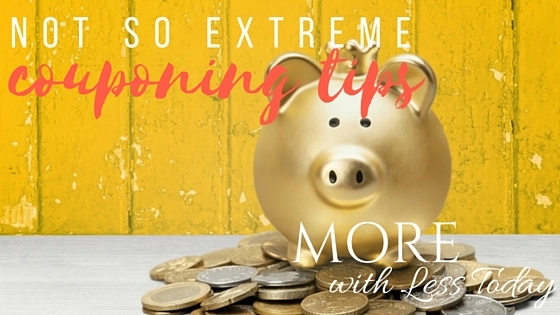 Have you ever watched Extreme Couponing on TLC? There is a fine line between stockpiling and hoarding. However, we can all learn a few new tips to stretch our dollars. My blog can suggest so many ways to save money, I hope you will become a regular reader!
Try these money-saving ideas one by one. See which ones work best for you and keep chipping away at that grocery bill. First, think about how much time you want to devote to your extreme or not so extreme couponing.
How Much Do You Spend?
The average family spends about $7,000 a year on food and groceries and the cost of buying groceries keeps going up! It's time to tighten things up, for you and for me. You don't have to resort to extreme coupon shopping, but you can cut down your grocery bills. A casual coupon clipper can save a thousand dollars a year. An organized one can save so much more.
Here are several tried and true ways to save money on groceries. You may want to bookmark this post so you can try these money-saving tips one at a time. It does take some time initially, but if you can get in and out of the store quicker, you will save more money.
1. Learn the coupon policies at the stores that you shop at. Do they double or triple coupons? Do they accept competitors' coupons? Can you combine a manufacturer's coupon with a store coupon? Do they have a rain check policy? Is there a limit to how many coupons you can use in one transaction? If there coupon policy is found on their website, print it out and always have it with you in case you encounter someone who does not know the store policy. Trust me, this happens often.
2. Get a map of the layout of the grocery store. Make a master list of your grocery items organized by the aisle on your computer in a word document. Don't write a new list each time you shop. Update your word document and add items to it as needed.
3. Find an organizing system for your coupons that works for you. I use one envelope for each aisle of the store and put the matching coupons in that envelope. Some people prefer a binder or a coupon holder.
4. Start small. Often, readers tell me that they just don't have the time for all that clipping and sorting. Don't let perfection get in the way of progress. Choose just a few items to start with and always clip those coupons. Perhaps start with cleaning supplies, or paper goods, or health care products. If you have a child in diapers, then you need diaper coupons. Ask friends and family to clip diaper coupons for you. You can never have enough diaper coupons. Donate or give away the ones you don't need. I ask my readers to leave them next to the diapers in the grocery store to bless someone.
5. If your kids are old enough, put them in charge of clipping and organizing the coupons. Split the savings with them and call it their allowance. Think of all the lessons you can incorporate by including them in the meal planning, price comparing, and the money-stretching needed to run a household.
6. Make a meal plan for the week based upon what is going to be on sale. If you will do just this step, you will save money! Plan one or two nights to cook once and eat twice. Cook a chicken or a roast and make two meals out of it. Pasta dishes are excellent dollar stretchers.
7. Shop from your pantry Plan one or two meals a week and make a meal with just the items you have in your pantry.
8. Stockpile the non-perishable items that you will use for the next 3 months. Typically items in the grocery store go on sale every 3 months. When you see a great deal, get your coupons and buy 3 months' worth of toothpaste, deodorant, pasta, etc. You can keep a running list of what you have in your stockpile on your master list. Note the price you paid on your master list so you can refer back to it. Once you take the time to do this, it will become routine and you will save money. If you end up with more than you need, or your family gives it a "thumbs down," donate it to the food pantry.
9. Try one or more of the FREE APPS for grocery store savings:
BerryCart will save you money, in any store, on natural, organic, gluten-free, non-GMO, and allergy free food and drink. Purchase your items, and then take a picture of your receipt, and BerryCart will send you a money back rebate which you can cash out through Paypal or by getting gift cards. You can find products offered in BerryCart in over 25,000 locations including Whole Foods, Sprouts, Walmart, Target, and Mother's Market just to name a few.
Checkout 51 Get cash back on produce and other personalized offers.

Ibotta has added Whole Foods coupons, milk and several other new, high value offers

SavingStar – add ecoupons right to your store card!

Favado – learn what is on sale at your store and neighborhood stores. All the research is done for you.
10. Start and edible kitchen garden. Read about the easiest plants to grow.
11. Find coupons for organic, gluten, natural and healthy food here.
12. Find grocery stores with senior citizen discounts here.
Wow, that's not too extreme, is it? It is a subject that I feel passionate about but you won't see me dumpster diving for coupons. I try my best and strive to save money at every opportunity, but I'm busy, just like you! I don't have hours and hours to devote to extreme coupon shopping.
Do you have any tips to share? How are you saving money on groceries without getting extreme? I welcome your ideas!