Today, we are sharing the deals seen on The Wendy Williams Show. The show features hot deals called Trendy@Wendy from Ruelala, exclusive deals offered through MorningSave and the best fashion and beauty products from expert guests. We are sharing them here for our savvy readers. Find the hot deals on beauty, fashion and more. Wendy Watchers deals are the best!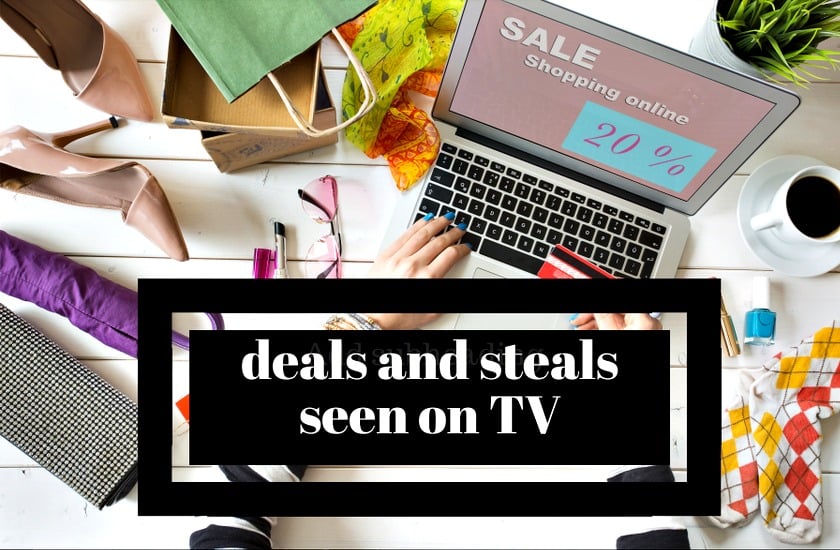 *Important note from More with Less Today  — We are not associated with The Wendy Williams Show or Trendy@Wendy. We just share them here along with our other favorite TV deals for our readers to evaluate. We have affiliate relationships and may earn a small referral commission at no additional cost to you if you shop using out links. We proof our posts after we share them, but occasionally we don't catch a typo. Please let us know if you see an error. 
New deals seen on Trendy@Wendy offered by Ruelala  (updated 5/20/19)
Ruelala Trendy @ Wendy for the week of May 20th
Some Hot Beauty Gadgets were featured on Wendy's show recently and we tracked down almost all of them!
ST. TROPEZ TANNING ESSENTIALS PRO LIGHT 
"Spray tanning is such a huge trend. The St. Tropez Tanning Essentials Pro Light has smart technology so you can never overspray. It also dries in 60 seconds. The tan last up to 10 days and looks extremely natural.
But here's why I also like it. As someone who used to get spray tanned, you stink afterward for 8 hours. This solution doesn't smell at all."
HOMEDICS MINI MASSAGER
"People don't realize that stress can do some major damage to your beauty. Stress leads to hair loss, zits, lack of sleep, dark circles. The Homedics mini massager is small enough to fit in your bag so you can give yourself a massage to help you unwind."
MICHAEL TODD SONIC REFRESHER WET/DRY MICRODERMABRASION SYSTEM
"Sonic Refresher is a Wet/Dry Sonic Microdermabrasion System with MicroMist Technology. The diamond tip wet/dry sonic microdermabrasion and micronized misting combine to remove, reset, refine rehydrate for a completely rejuvenated complexion with a more youthful radiant glow. This skin rejuvenating system combines diamond encrusted tips, sonic technology, vacuum suction and micronized misting to dramatically enhance the complexion."
LATME Electric Scalp Massager Portable Handheld with Deep Tissue Kneading 84 Nodes 
"Stress can also lead to hair loss. There are a lot of health benefits to scalp massage too; it reduces muscle tension, promotes hair growth, and stimulates the scalp."
JEOBEST SAUNA STEAM (HOME SAUNA SPA)
"The benefits of Saunas are detoxing skin, losing weight, opening up pores and increased circulation to the skin. This home sauna spa comes with a folding chair and has a remote. All you have to do is pour water in the steam hose and turn it on. The waterproof fabric holds all the heat."
Some fab beauty finds were featured on Wendy's show recently and we tracked down almost all of them!
Huda Beauty Liquid Matte Lipstick
Just one coat provides long-lasting, buttery pigmented color that literally lasts for hours, even if you're traveling or eating.
Its Hydrating formula is infused with antioxidants and an exclusive complex to help maintain your lips' hydration, really nourishing the lips and giving them a lightweight, silky feeling.
MAC Cosmetics Extreme Dimension Lash Mascara
MAC's lightweight whipped CARBON BLACK FORMULA adds dense volume, extends length and creates curl. The gigantic moulded brush stores the optimal amount of mascara in THREE reservoirs; allows for maximum amount of mascara with each stroke, while keeping the lashes from clumping together.
Wander Beauty Dual Bronzer
This on-the-Glow Bronzer and Illuminator is a multitasking beauty enhancer that adds natural color and a luminous sheen to every complexion. On one side, cream to powder formula delivers a pure matte, sun-kissed hue to cheeks/face. On the other side, illuminator imparts a subtle, healthy glow with dimension.
St. Ives Apricot Scrub
An iconic, cult classic, this scrub has been a favorite of beauty editors for years! This deep cleaning scrub is comprised of 100% natural walnut shell powder.
Mario Badescu's Oil-Free Moisturizer
This moisturizer is ultra-absorbent and lightweight on the skin. The skin-brightening lemongrass extract and soothing allantoin are infused into this simple formula, leaving skin feeling balanced, soft, and supple.
Christophe Robin Volumizing Mist for Your Hair
This volume-boosting, leave-in mist provides easy styling and lasting body. Whether your hair is dyed or natural, the mist protects your hair fibers and doesn't dry out your hair. The alcohol-free formula is composed of 96% rose water with softening properties –which delivers natural hold, while natural rose extracts prevent oxidation of color for a refreshed, healthy look.