This is a sponsored post from Groupon but as always, all opinions are 100% mine.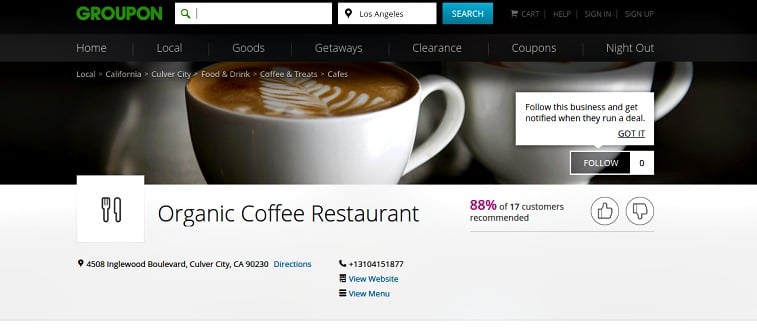 Groupon recently launched a feature called Pages. Groupon Pages is a directory of businesses all across the country, which includes thousands of restaurants. Each restaurant's page includes basic information (address, takes credit cards, etc.), tips for what to order, reviews, links to Groupon deals, and more. If you don't see a Groupon deal featured for the restaurant of your choice, you can click on "request a deal."
If you are looking for a place to dine out, whether you are grabbing a quick bite, looking for authentic food from a non-chain restaurant or researching a new spot for a romantic date night, all while staying within budget, Groupon Pages gives you all the information you need before you dine.

Here is what you can do with Groupon Pages:
Find contact information, directions and hours
See specials and request a deal from the restaurant
Follow your favorite businesses and get updates and be the first to know when new offers are available
Recommend a business and leave helpful tips for other customers. You can even get verified and serve as a local expert
I live in Southern California. Here are some examples of Groupon Pages for restaurants near me:
Organic Coffee Restaurant (LA)
Bernard'O Restaurant (San Diego)
Urban Bar & Grill (San Diego)
Give the Gift of a Groupon
Giving a Groupon is my new favorite gift to give. The recipient can use it on thousands of choices from a meal to a massage or even add more money to it and enjoy a Groupon getaway.
You can send the recipient the Groupon electronically on the day of the event (if you almost forgot) or set it up to send on the day of the event (if you are super-organized.) Just type in "gift card" in the search box and you can mail a plastic card or email an eGift Card. You can specify an experience or let them choose their own. It could not be any easier!