This post was sponsored by Ling Ling and all opinions expressed in my post are my own.
No plan for dinner tonight? How about making delicious fried rice? I found a dinner you can make that is faster than takeout. You can have it on your table in 7 minutes. You need this in your life and in your freezer!
The Ling Ling brand started over 20 years ago with their signature potstickers. Our family has been enjoying them for years. If you are a fan, then you already know about the high quality and deliciousness of the Ling Ling brand. They've now launched a new line of five unique fried rice varieties to continue to bring their authentic family recipes from China, Japan, Korea and Thailand for us to enjoy at home.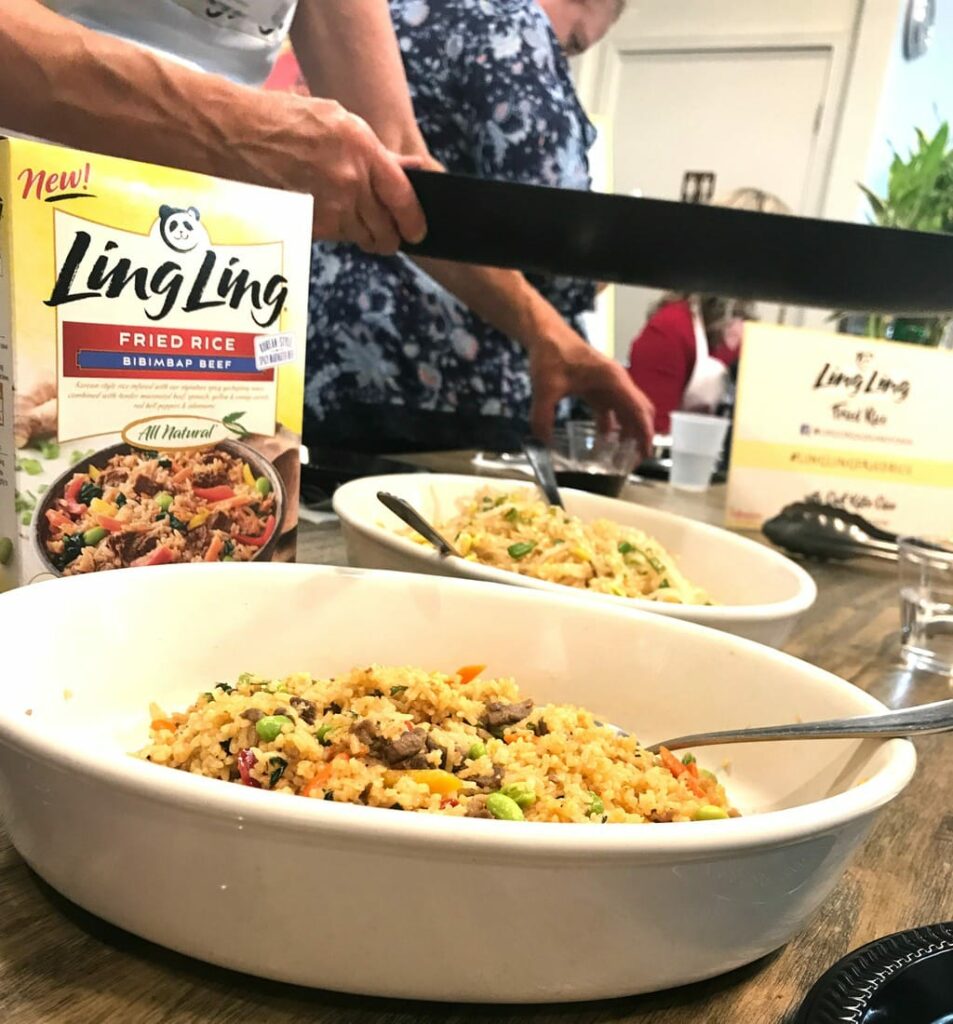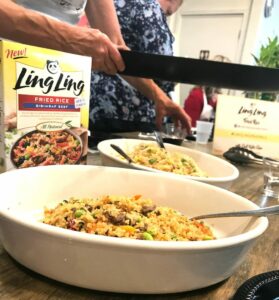 Here are the new Ling Ling Fried Rice Flavors:
Yakitori Chicken
Yakiniku Beef
Thai-Style Chicken
Chinese-Style Vegetable
Bibimbap Beef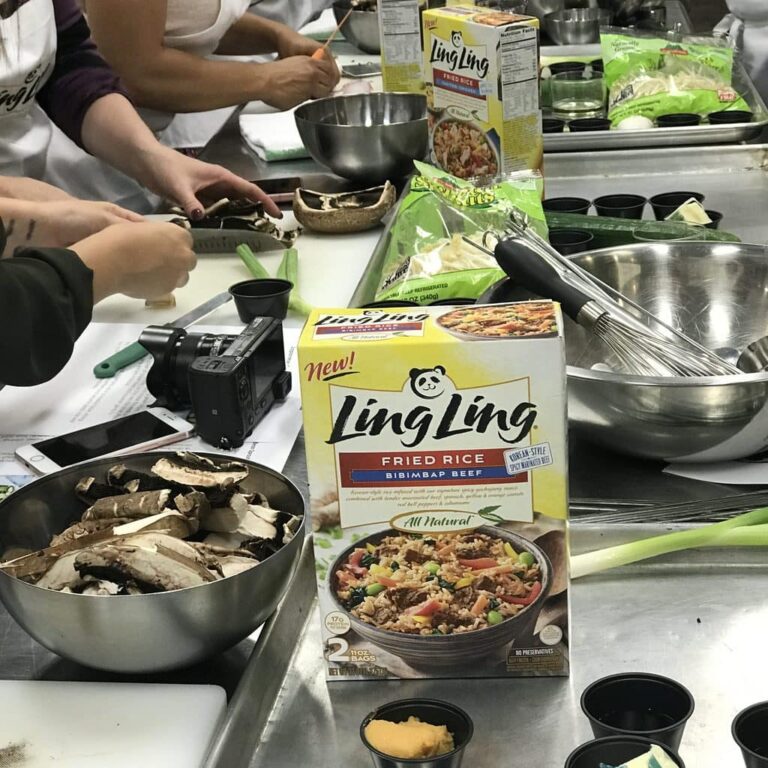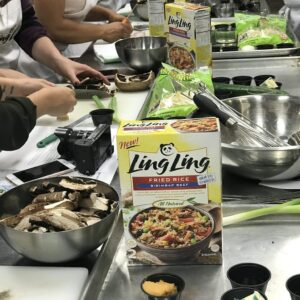 Last week I was fortunate to attend a cooking and tasting class at BLVD Kitchen along with other Los Angeles area bloggers. We were treated to a special night of food and fun where we met Chef Katie Chin.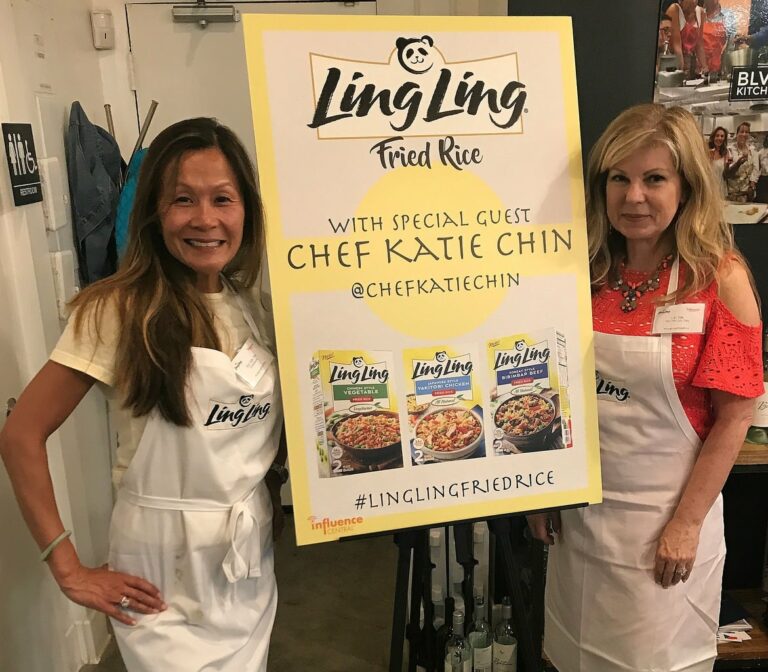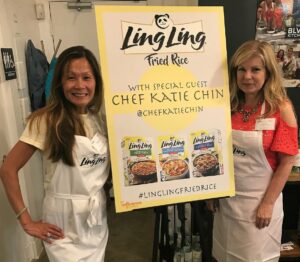 I have to tell you, the fried rice is very very good. They have a special infusion cooking method where each grain of rice has the flavor of the signature sauces so every bite is delicious. Every variety I tasted was better than any fried rice I have eaten in a restaurant. It did not have that heavy soggy effect. It was light and fluffy and very satisfying. Their foods are minimally processed and they use high-quality ingredients so you can feel good about serving it to your family.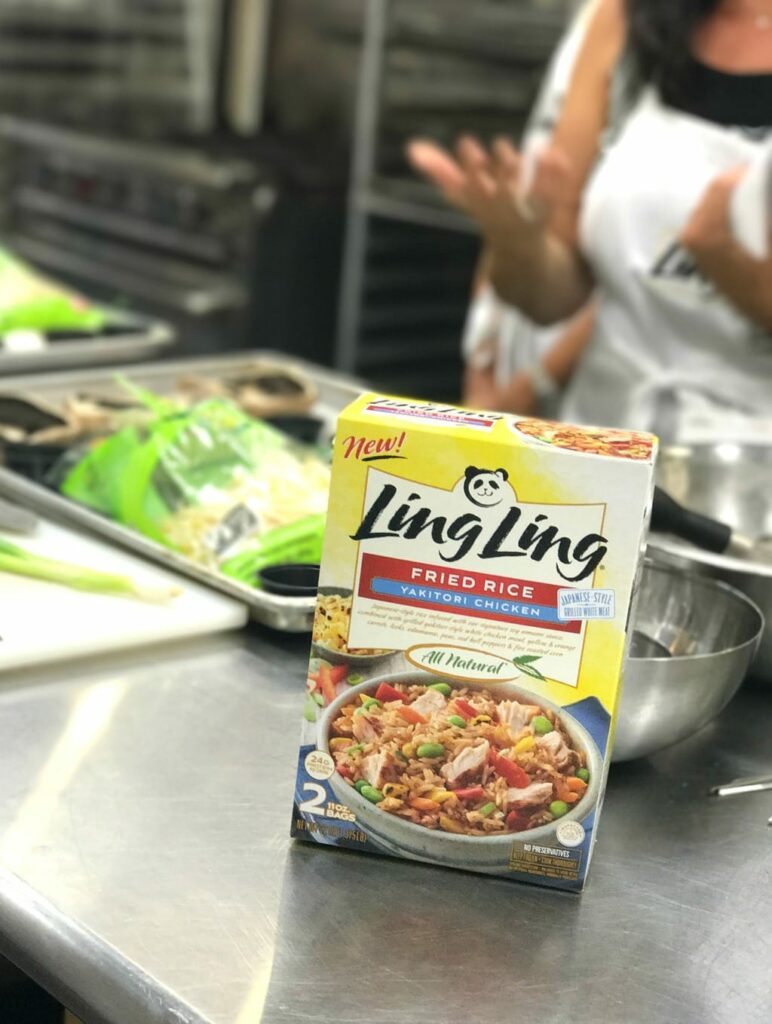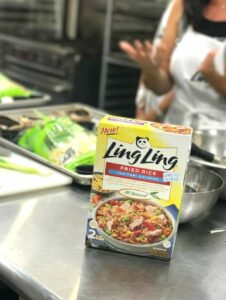 If I had to choose one favorite variety, it would be the Yakitori Chicken. You can taste the traditional Japanese flame-grilled chicken combined with the umami sauce along with brightly colored vegetables and long grain rice. I loved it.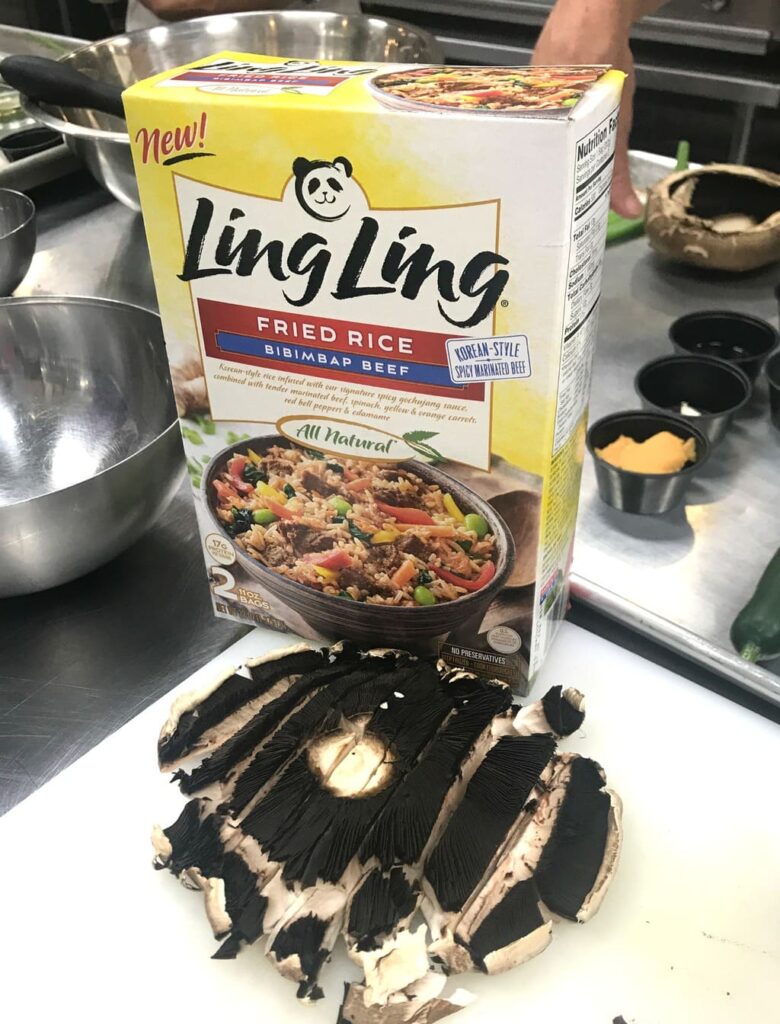 During our time together, Chef Katie showed us how to make easy and authentic pairings to go along with the fried rice. I came away with some new skills, some new recipes and the confidence to recreate these dishes at home.
I was also quite taken with these giant portobello mushrooms. She said she bought them at Costco. I'm going to give her recipe a try this weekend.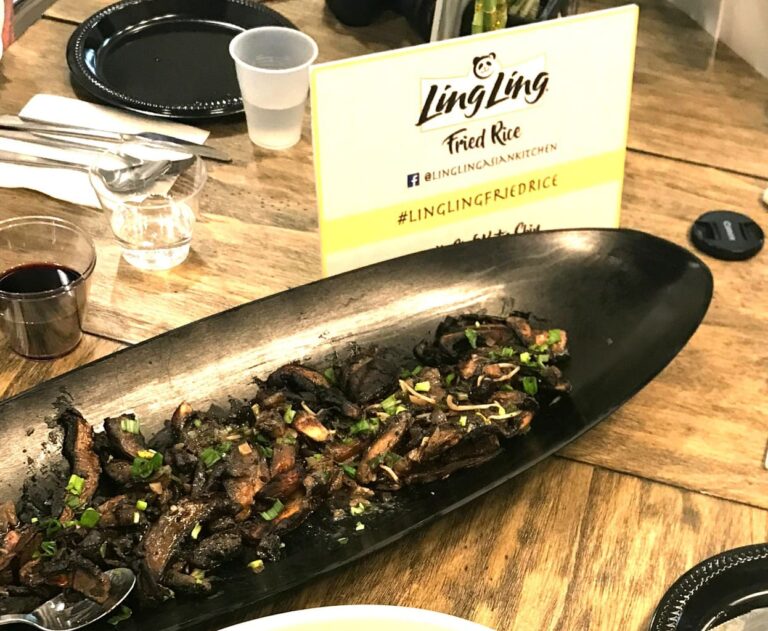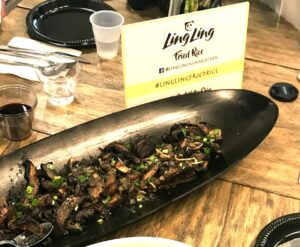 When they were sauteed, this is what the finished dish looked like. There were no leftovers!
Miso Butter Portobello Mushroom Skewers
Here is the recipe provided by Chef Katie Chin
Ingredients:
Wooden skewers soaked in water
2 tablespoons butter
2 garlic cloves, minced
1 tablespoon minced shallot
1 green onion (white and green parts) finely chopped
2 tablespoons white miso paste
1 tablespoon soy sauce
1 tablespoon sake
1 tablespoon chicken broth
1 teaspoon oyster sauce
1 pound Portobello mushroom, sliced 1/4 inch thick
More finely chopped green onions for garnish
Instructions:
Heat the butter in a sauce pan over medium heat until melted, add the garlic, shallot and green onion and saute for 30 seconds until fragrant. Add in the miso, soy sauce, sake, chicken broth and oyster sauce and stir for 30 seconds. Allow it to cool for 10 minutes. Transfer to a medium bowl. Add the mushrooms and allow to marinate for 30 minutes. Skewer the mushrooms and grill over medium-high heat until just tender and slightly charred, about 2-3 minutes per side. Brush with remaining marinade occasionally while mushrooms cook. Garnish with green opinions and serve immediately.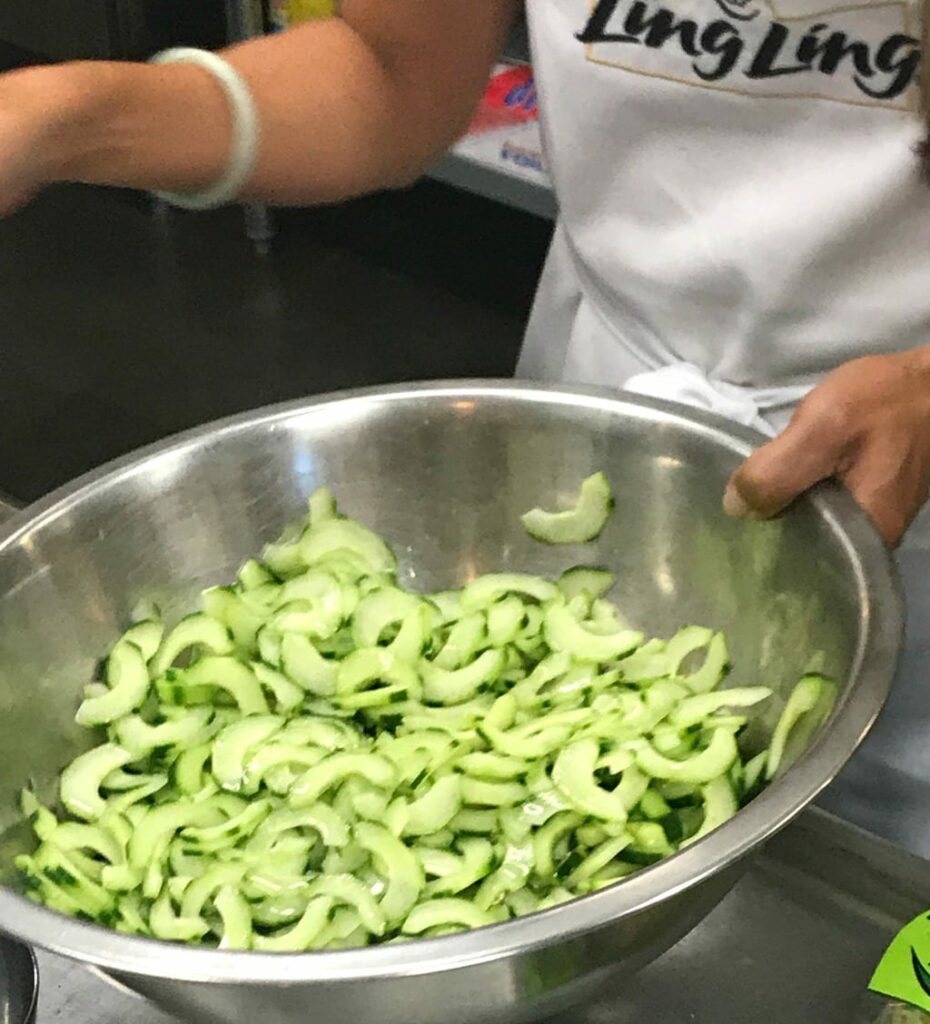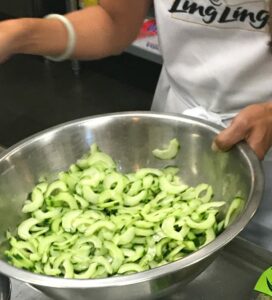 Japanese Cucumber Salad – This was so light and delicious. I plan to make extra to have for lunch the next day.
Here is Katie Chin's recipe:
Ingredients:
2 medium cucumbers, or 1 large English cucumber
1/4 cup rice vinegar
1 teaspoon sugar
1/4 teaspoon salt
2 tablespoons sesame seeds, toasted
Instructions:
Peel cucumbers to leave alternating green stripes. Slice the cucumbers in half lengthwise and scrape the seeds out with a spoon. using a sharp knife, cut into very thin slices. Place in a double layer of paper towel and squeeze gently to remove excess moisture.
Combine vinegar, sugar, and salt in a medium bowl, stirring to dissolve. Add the cucumbers and sesame seeds; toss well to combine. Serve immediately.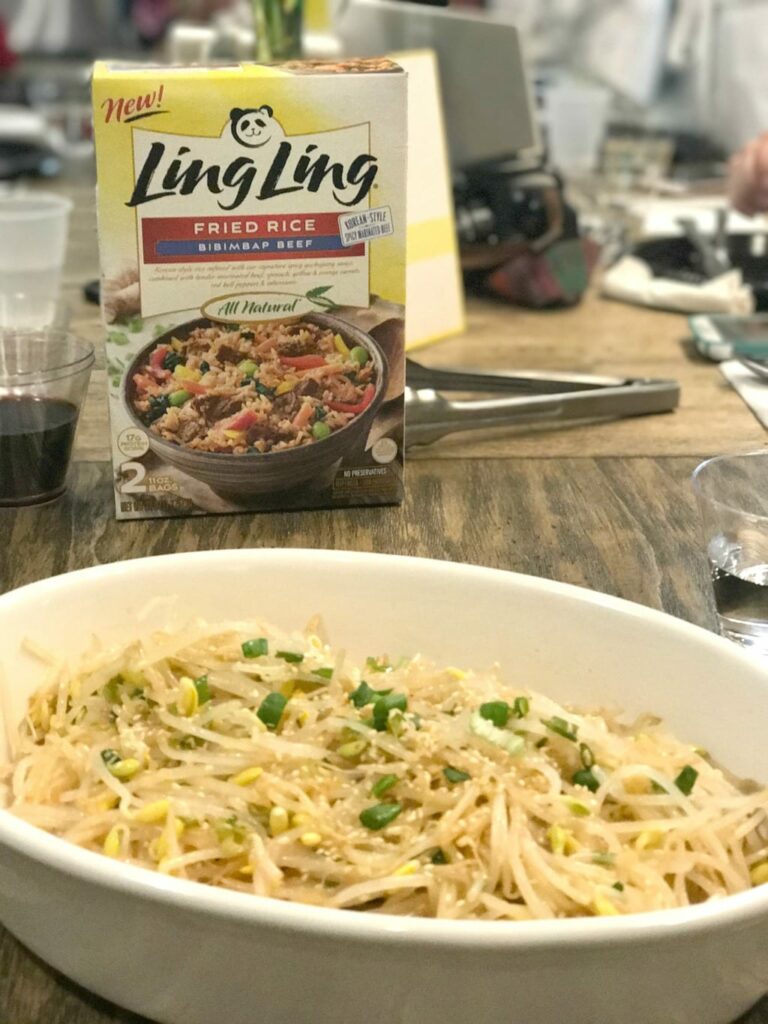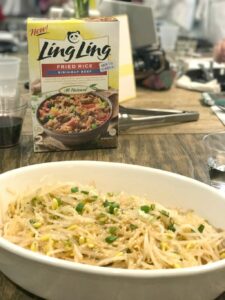 I learned how to blanch food which is a fancy way to say put it into an ice bath. It made me feel like a real chef!
Marinated Soy Bean Sprouts (Kongnamool)
Here is Katie Chin's recipe:
Ingredients:
2 tablespoons light soy sauce
1/4 cup toasted sesame oil
1-2 teaspoons sriracha sauce
2 garlic cloves, minced
2 teaspoons rice vinegar
1 pound soy bean sprouts
3 tablespoons finely chopped green onions
Instructions:
Whisk the soy sauce, sesame oil, sriracha sauce, garlic, sesame seeds, and rice vinegar until blended. Set aside. Bring a large pot of lightly salted water to a boil. Add the sprouts and cook uncovered for about 15 seconds until tender crisp. Remove from the water with a strainer and immerse in ice water until cold, at least 5 minutes. Remove from ice water with a strainer and transfer to a bowl. Add the reserved sauce and toss to coat. Garnish with green onion and serve.
Each of these side dishes was so good!
You can microwave the Ling Ling Fried Rice, but we added it to a skillet with a bit of oil and it was done to perfection in just 7 minutes. Why order takeout when you can make something so flavorful and delicious in one pan, in just a few minutes?
To get more information, including where to buy it in your area, visit the Ling Ling website. You'll find it in the freezer section. I found mine at Costco.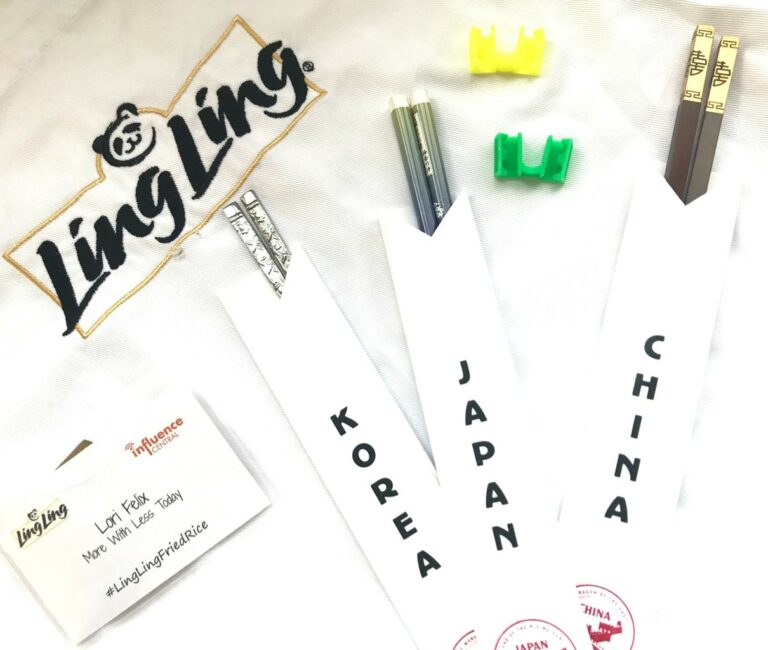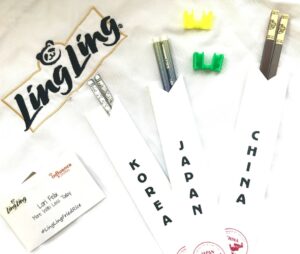 Fun Fact!
I learned that each country uses a different type of chopsticks to better enjoy their cuisine.