Shrimp Recipes
From grilled shrimp skewers to delicious shrimp appetizers, like dips, these shrimp recipes are perfect for weeknights, summer parties, or weekend BBQs with friends and family.
Shrimp is versatile which means that you can make it with a ton of different flavors and seasonings or pair it with a variety of different flavorful sides.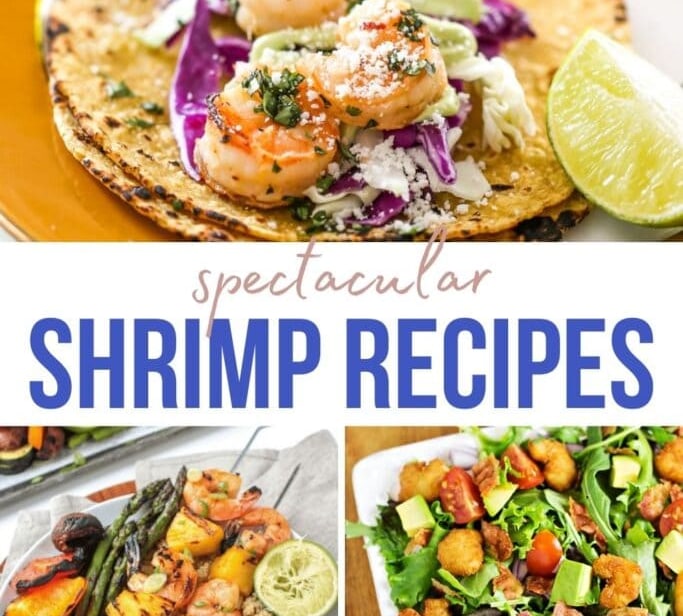 If you are looking for a few easy to make shrimp recipes that you can use for a quick weeknight dinner or family gathering, this list is for you. These recipes include everything from filling comfort dinners to party appetizers that are sure to impress your guests.
Easy Honey Garlic Shrimp Recipe
Combining honey+garlic+shrimp makes this a flavorful shrimp recipe.
Grilled Shrimp and Pineapple Skewers
"These tasty shrimp skewers are grilled with pineapple and go perfectly with coconut quinoa for a tasty meal."
"No need to travel to New Orleans to enjoy your favorite shrimp and grits! This homemade recipe is something you can enjoy at home."
"Full of flavor and extremely easy to make, this barbecued shrimp is sure to please your summer tastebuds."
"A delicious appetizer for any BBQ or summer party, this Caribbean shrimp spread is ready in just minutes."
"This versatile stir fry includes shrimp, asparagus, and your favorite seasonings and spices to delight your taste buds."
"Gluten-free and easy to make, this keto-friendly shrimp risotto is a creamy and delicious comfort dish."
"The perfect meal for backyard grilling, these grilled shrimp tacos are topped with a tasty avocado cream."
Bacon Wrapped BBQ Stuffed Shrimp
"Stuffed with a Ritz cracker stuffing, wrapped in bacon, and covered with a chipotle BBQ sauce, this grilled shrimp is sure to impress."
"Everything you love about shrimp scampi, just made into a hot cheesy tip that will make the perfect appetizer or snack."
"Mixed with chopped avocados and bacon, this popcorn shrimp salad will be a hit with friends and family."
Grilled Garlic and Shrimp Po'Boys
This New Orleans-style garlic grilled shrimp Po'Boy is a delicious dish that everyone in the family will enjoy.
Roasted Asian Shrimp and Vegetables
"If you are looking for an easy dinner with little cleanup, this roasted Asian shrimp and vegetable dish is the perfect solution."
"These shrimp nachos aren't your typical nachos, they are nachos with a very spicy kick for a delicious nacho alternative."
"Another easy shrimp recipe that you can throw together without much cleanup, this crockpot bang bang shrimp is delicious."
Shrimp Avocado and Cucumber Bites
"These bites feature blackened shrimp that sits on top of sliced cucumbers and a creamy avocado dressing."
Lemon Shrimp Scampi with Pasta
"Make extra to enjoy for lunch the next day!
PIN to Save