I'm partnering with Omaha Steaks as an ambassador to tell you about some delicious options for the best Father's Day gift to send or to enjoy at home with dad.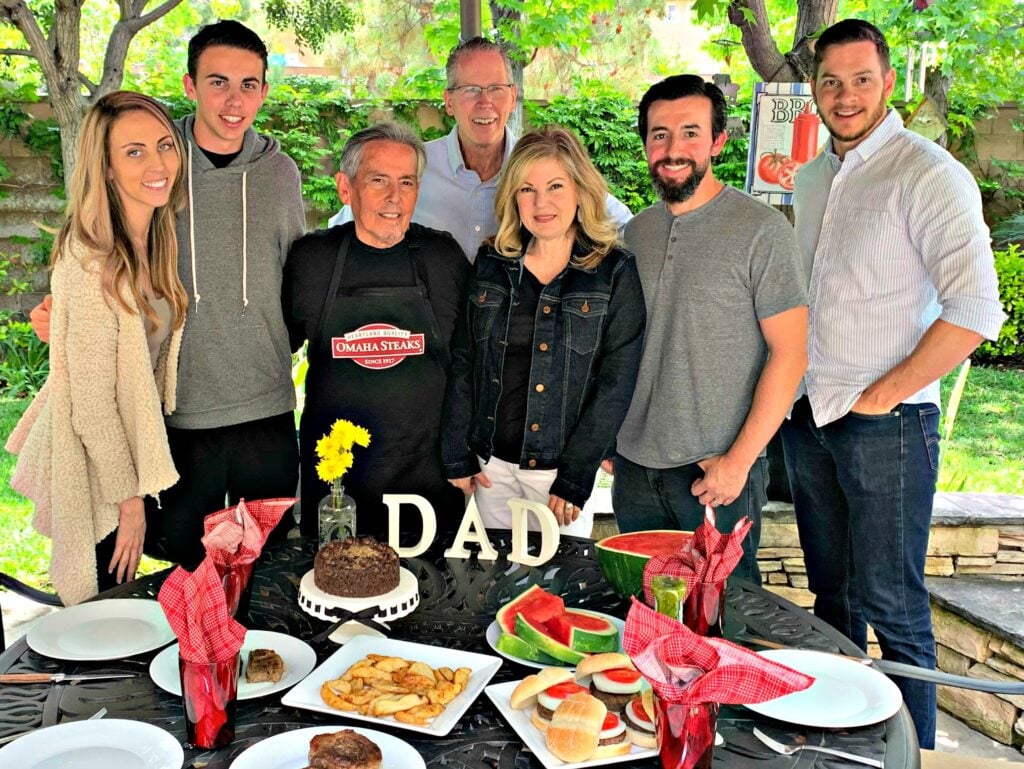 We got together with family and friends last weekend for an early celebration for Father's Day, two graduations, two birthdays and an upcoming wedding. We have so much to celebrate and the summer is just beginning!
Thanks to my partnership with Omaha Steaks, I've learned to stock my freezer so we can have friends and family over for casual get togethers all summer long. Many of their delicious selections go from freezer to table in minutes including their appetizers! Everything I have ordered from Omaha Steaks has exceeded my expectations and now everyone gets excited when they see the cooler of goodness delivered to our door.
If you are looking for the perfect gift for Dad for this Father's Day, I highly recommend one of the many delicious options available at Omaha Steaks. Let me show you what we enjoyed!
Delicious Father's Day Meal Options from Omaha Steaks
I learned that Filet Mignon from Omaha Steaks are aged at least 21 days for maximum tenderness. Then they are hand-trimmed, vacuum wrapped and flash frozen to lock in freshness. Caution… their Filet Mignon will spoil you like no other steak. They rival any steak I have enjoyed at the finest (and most expensive) restaurants.
These are very special hamburgers made from 21-day aged Omaha Steaks beef and each bite is bursting with juicy flavor. They are thick quarter-pound burger patties and they come individually sealed and ready to grill or cook indoors. They have an 80/20 lean-to-fat ratio with no added ingredients or preservatives. They are so delicious!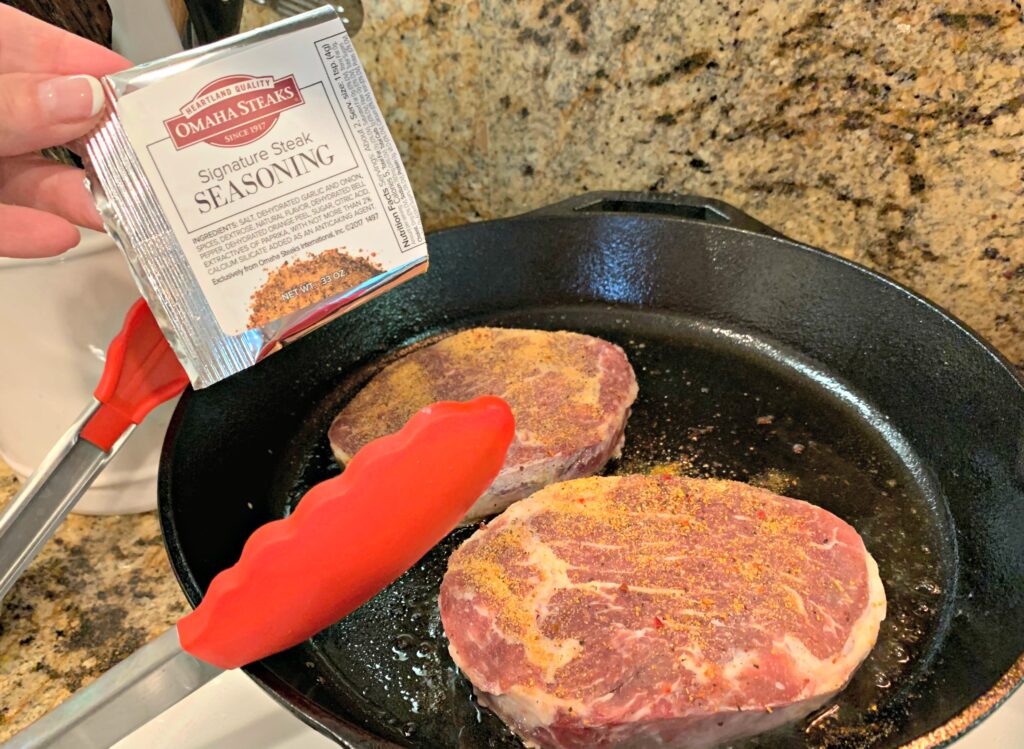 Because our grill was busy, I cooked the Ribeye steaks inside and they turned out great. The Ribeyes are hand-carved from grain-fed beef ribs and are aged 21 days for maximum tenderness. You can see they have a little bit of marbeling which creates that buttery rich steak flavor.
They can be cooked on the grill, pan seared and roasted in the oven.
This seasoning packet is the perfect addition to any steak dish. It has an onion and spice blend that enhances but does not compete with the delicious meat.
Every dessert I have tried from Omaha Steaks has been my new favorite. I first said it about their Apple Tartlets, then the Carrot Cake and now this rich and delectable German Chocolate Cake. It comes with traditional coconut flakes and hand-piped c

hocolate ganache and p

ecan icing and is oh so good!
No baking needed, just thaw and serve. This dessert has limited availability so don't delay!
If you have a birthday gift to send or want to send congratulations, consider sending a dessert from Omaha Steaks. Your recipient will be delighted!
I love having one of their desserts in my freezer for impromptu get togethers. I have to hide it in the back of the freezer though!
This is a new exclusive recipe. These hearty wedge-cut fries are the perfect balance of crispy on the outside and tender and fluffy on the inside. The best part? They are oven ready and will go well with steaks, hamburgers, hot dogs, and sausages. Our family loved them!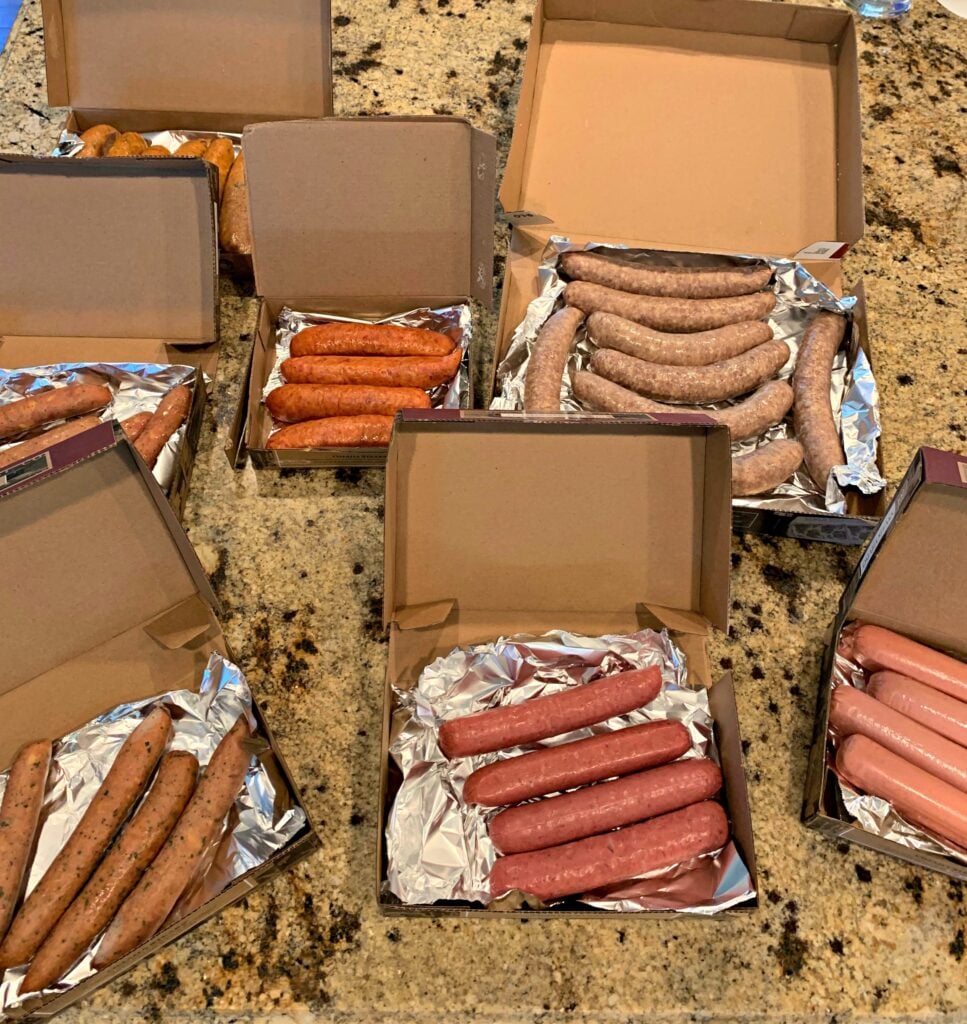 The Franks & Sausage package contains 36 servings! Even our party could not eat them all. We cooked up quite a few and saved the rest for another summer party.
4 (2.25 oz.) Roasted Garlic & Asiago Chicken Sausages

4 (2.25 oz.) Apple & Gouda Chicken Sausages

4 (3 oz.) Filet Mignon Polish Sausages

4 (3 oz.) Kielbasa Sausages

8 (4 oz.) Gourmet Bratwurst

8 (3 oz.) Italian Sausages

4 (3 oz.) Gourmet Jumbo Franks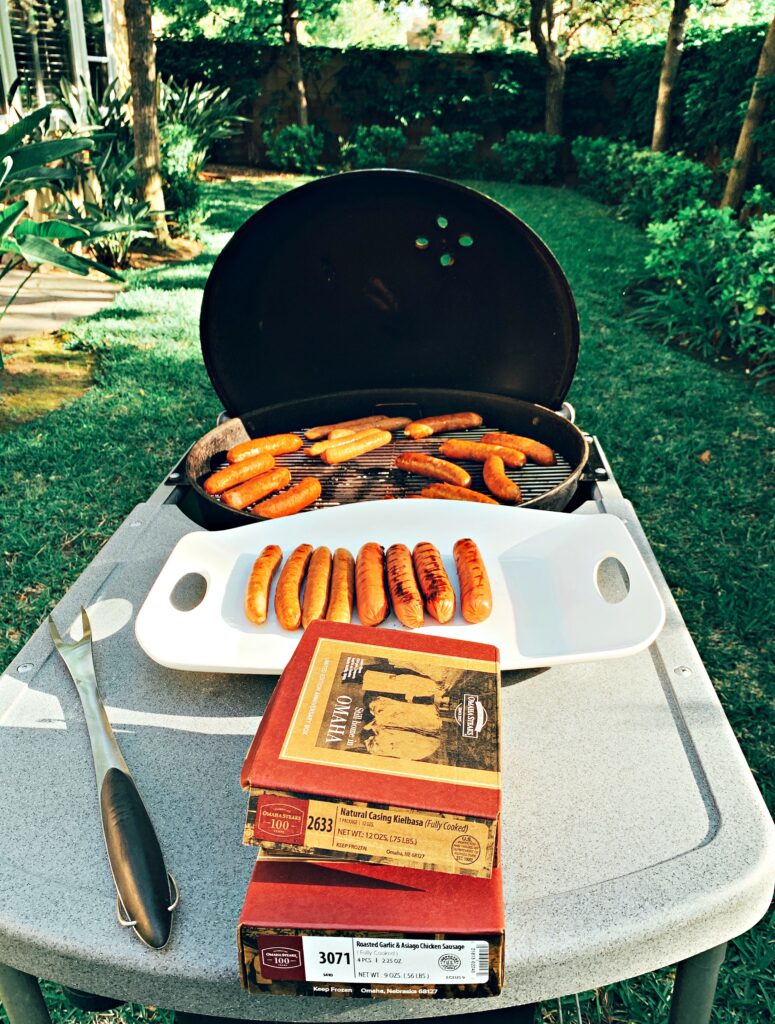 For a twist on the typical summer cookout fare, try the Franks & Sausage package. Your guests will enjoy the trendy options such as Apple & Gouda as well as the classic Kielbasa Sausages and Bratwurst. Order now and stock your freezer for summer!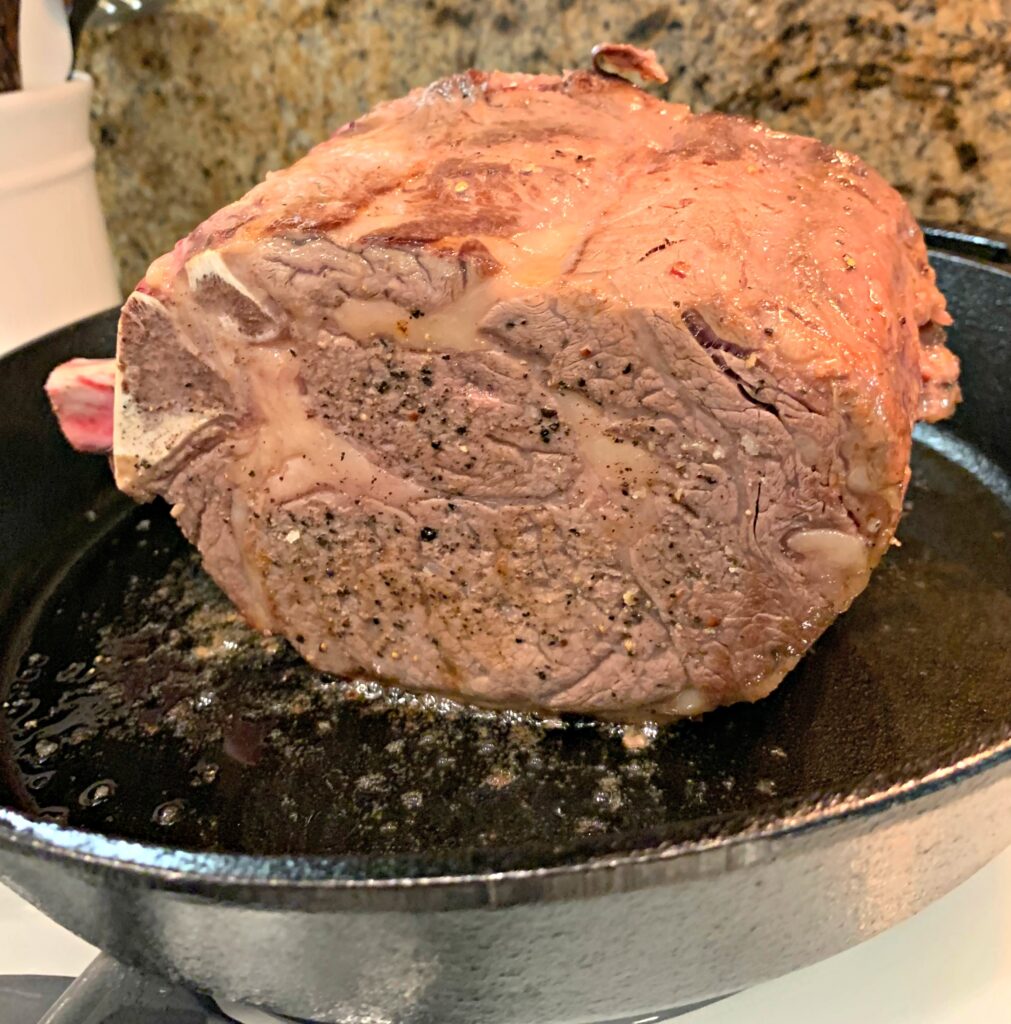 48 oz King Cut Ribeye on the Bone
Seriously, this 3 lb Prime Rib is a sight to behold. It was the talk of the party. We just kept looking at it and repeating, I cannot believe how big this is!
We enjoyed it for several days after the party.If you want to send a gift that will not be forgotten, then this is it!
I seared it on the stove top in olive oil per the directions on the package to brown it and seal in the flavor. Then I roasted it in the oven. You can follow the easy directions on the package. It does take time to cook of course, but wow is it worth it. We are still talking about it!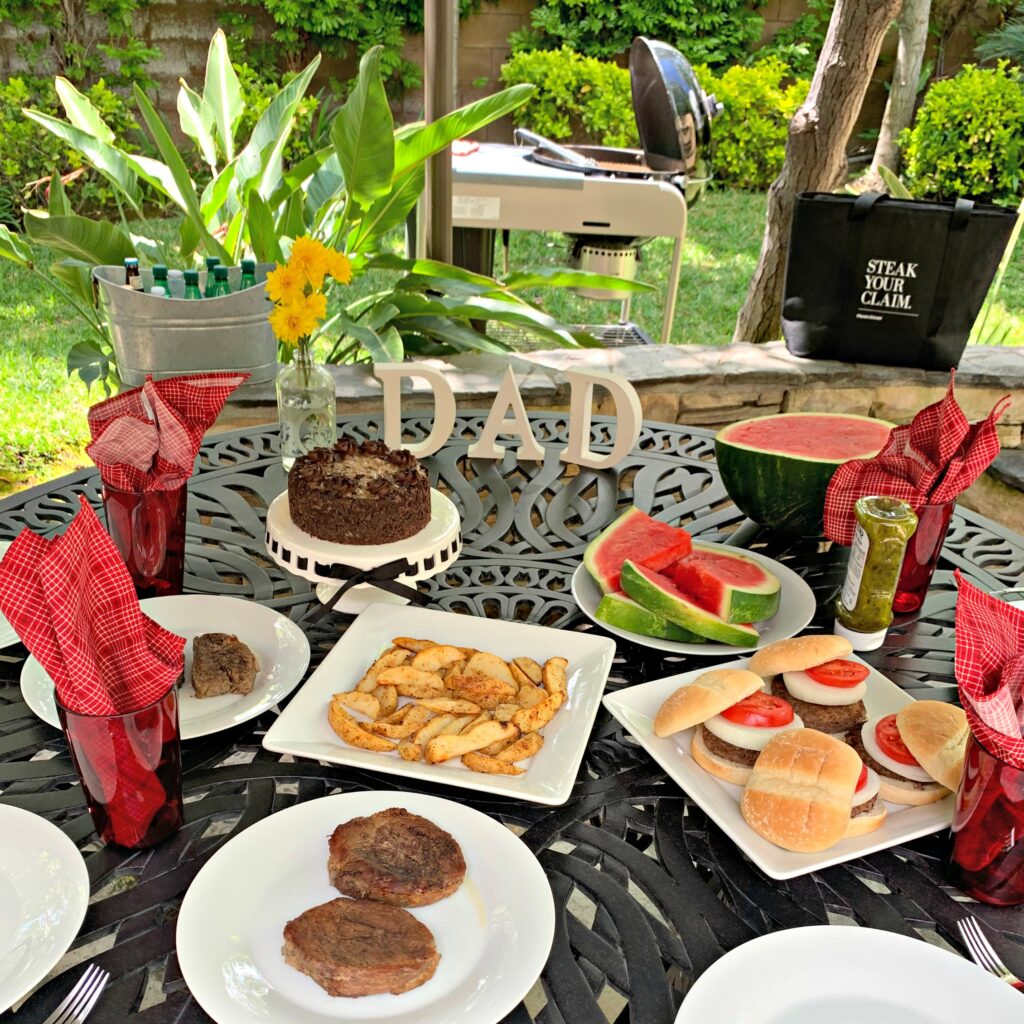 This guy still makes me laugh. I'm blessed to have celebrated so many Father's Days with him.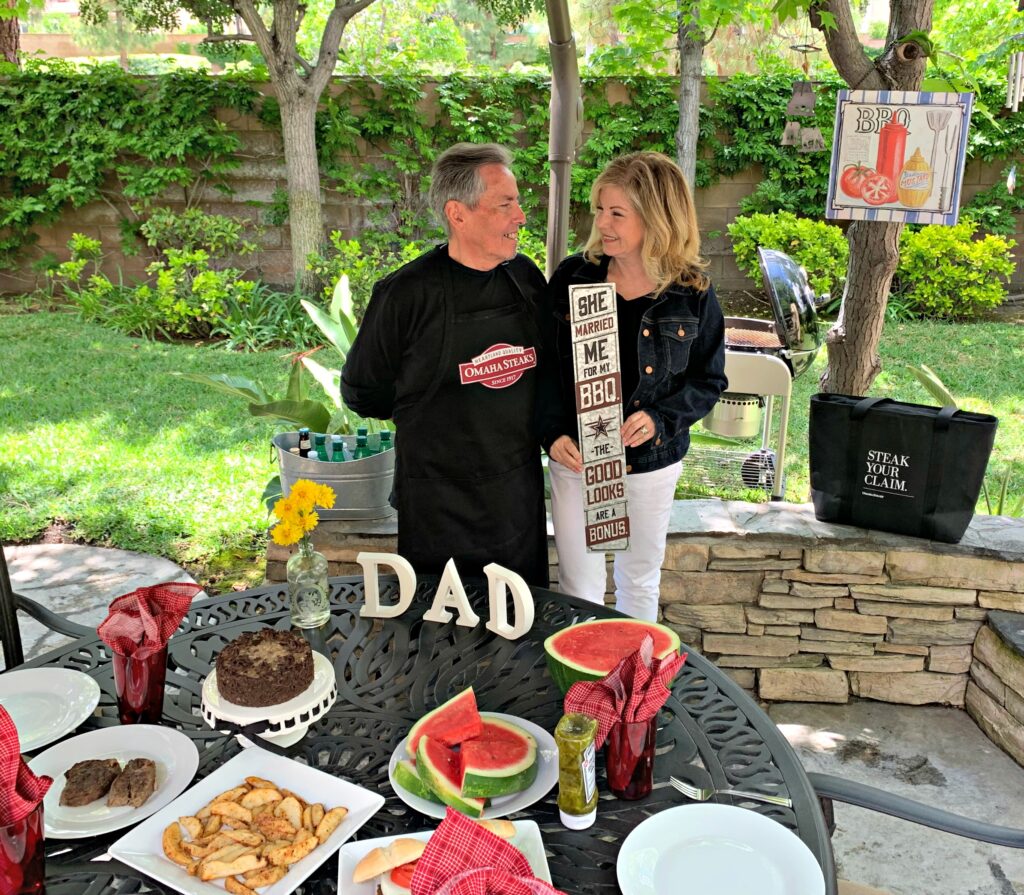 Whether you will be celebrating together or sending a gift across the miles, there is no better Father's Day gift than a delicious meal from Omaha Steaks.
About Omaha Steaks
Omaha Steaks has a stellar reputation as America's original butcher. They are known for only the highest quality cuts of meat, all delivered right to your door (or at one of their store locations).
When I was introduced as an ambassador with Omaha Steaks, I got to meet the Simon brothers, the fifth generation of this family-owned company that dates back to 1917, and the Omaha Steaks family of employees who take such pride in their work, their attention to food safety, quality control, and customer care. They made me feel both comfortable and proud to share their story and their products with my family and with you.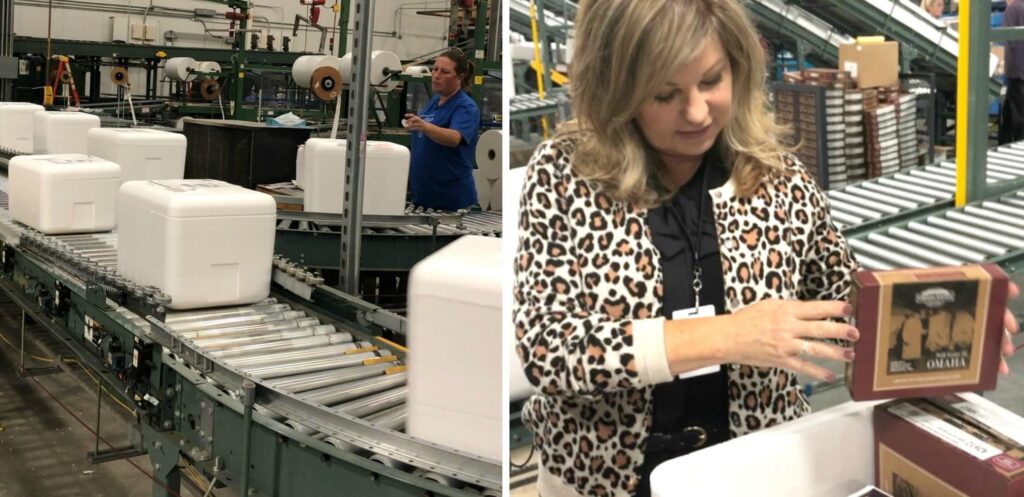 I toured the shipping facility that packs and ships out their products. with so much care. It is quite an operation!
For more delicious options, check out these Omaha Steaks selections our family has enjoyed:
Easy Appetizers for a Party from Omaha Steaks
The Omaha Cut Ribeye from Omaha Steaks
Boneless Chicken Breasts from Omaha Steaks
Argentinian Shrimp from World Port Seafood/Omaha Steaks
Butcher's Breakfast – one pan skillet breakfasts
My Thanksgiving Meal Delivered from Omaha Steaks
Easy Easter Meals to Order Online
Here is one of my most popular posts: Money Saving Tips for Omaha Steaks
Omaha Steaks has a 100% guarantee and they stand behind every item on their menu with no questions asked. You can order from them with complete confidence knowing that they will deliver the highest quality food to you in the safest way possible.
Omaha Steaks is also very community-minded and they support many local and national charities. They also provide products and discounts to the military which as a veteran, is near and dear to my heart.